A week from today, we will have a full evening of college football.
Folks, we're nearly there.
ICYMI:
Word of the Day: Adscititious.
 BRAXTON'S BACK. The Browns offense had plenty of toys already, but it seems Cleveland has now officially become the Fun Zone with the addition of Braxton Miller.
From Scott Patsko Cleveland.com:
"I'm still here," he said. "It's an opportunity each and every day to go out there and showcase your talents and get better. I converted to wide receiver. Coach (Urban) Meyer and the (Ohio State) staff helped me out with that. And now I'm here back in my home state."

Miller was born in Springfield, Ohio, and starred at quarterback for Huber Heights Wayne High School before heading to Ohio State, where he was twice named Big Ten offensive player of the year. He said Wednesday that he often forgets he played quarterback until someone brings it up.

"It's like five years in now (to being a receiver)," Miller said, "so it's like so far away."

...

Miller said he chose the Browns over other options because he wanted to be close to his family in Columbus, as well as play in the state where he has spent so much of his life.

"Feels great. The atmosphere is different when you go out of state, different cities," Miller said. "Just being back, breathing the air that you breathe since you've been young. You get that sense of, this is where you started."
"Often forgets he played quarterback," huh? I uh... do not ever forget that he played quarterback. In fact, I think about it almost once a week.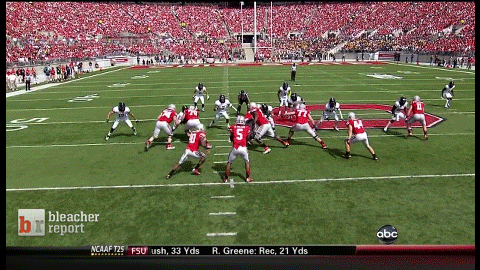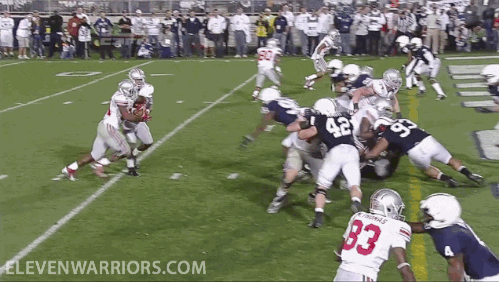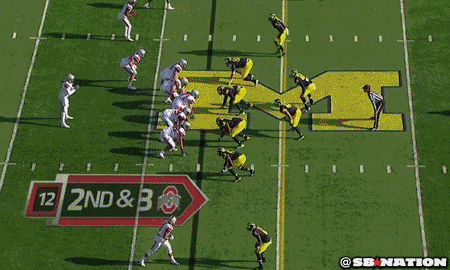 I deeply apologize for exposing you to such pornographic content this morning, but it had to be done. I'm sure your superior – be it your boss or a significant other – will understand. If young eyes happened to glance at your computer, it might be time to have the Brax talk.
I'm not sure if it's possible for Braxton Miller to make the already-deep Cleveland Browns receiving corps (that would have been one HELL of a sentence six years ago), but my own eyes have seen what he can do to ankles in open space, and I'd say it's worth a shot.
Shit, even if all this gets me is a couple preseason games with a vintage X-Brax play or two, I'll be eternally grateful.
The real question: is he ever going to throw?
 FULL CIRCLE. As a kid, Malik Harrison took part in Ohio State's LiFEsports summer camp, which gives more than 600 underprivileged Columbus youth a chance to learn life skills through competition.
A few years later, Harrison is helping lead it as an intern.
From Blake Baker of OhioStateBuckeyes.com:
"It's always great for our kids to see someone that grew up just like them and see them succeeding," said Becky Wade-Mdivanian, LiFEsports' Director of Operations. "It's great for our kids to connect with student-athletes, especially one like Malik, and see how they can give back to their community."

...

"Malik knew how he conducted himself was going to determine these kids' experience," said Ryan Stamper, Ohio State football's Assistant Athletic Director for Player Development. "His dedication is extremely high, and he knew these kids were going to have a great summer if Malik Harrison did a great job on his internship. He was committed to it and made it happen."

As a senior leader for his team, Harrison sets the example for his peers. As a devoted intern and a voice representing children who could really use one, he sets an even more impactful example for the next generation growing up just like he did.

"He makes sure the first and second grade Malik Harrisons in Columbus or whatever other community have the same opportunities that he had," Stamper said.
No word yet on if those first and second grade Malik Harrisons were given scholarship offers, but you have to assume they're coming. Ryan Day can't let central Ohio talent slip away like that.
 BIA, IN REVIEW. After watching last season's defensive atrocities occur almost weekly (save for the last one in November, praise God), it seems like seven lifetimes ago that Ohio State had three (four, counting Denzel Ward) first-round picks in the same secondary.
I know my spoiled ass didn't appreciate that 2016 defense nearly enough, so I'm going to try my best to make up for it by appreciating the hell out of how they inevitably dominate at the next level.
Here's how they've done so far, from Ali Bhanpuri of NFL.com:
PICK 11 Marshon Lattimore - CB

Grade: A- | School: Ohio State 

The first pick in what will go down in Saints history as a franchise-altering draft class, Lattimore picked off five passes in Year 1, had the second-best passer rating allowed among corners, per PFF, and took home the Defensive Rookie of the Year award at NFL Honors. After an incredible start like that, some sort of drop-off was to be expected. But Lattimore took a step back last season, breaking up half as many passes and allowing 44 percent more receiving yards than he did as a rookie. In a recent interview with The Athletic, Saints secondary coach Aaron Glenn said Lattimore recognizes some of the distractions that arose after his spectacular first season affected his play in Year 2. That willingness for self-reflection and self-improvement bodes well for the young corner, who still has every bit of the skill set he needs to be a top-10 player at his position.

PICK 15 Malik Hooker - FS

Grade: B | School: Ohio State 

A rangy, ball-hawking safety who NFL Network draft guru Daniel Jeremiah raved "had the best ball skills of any safety I've ever evaluated in college," Hooker picked off three passes in his first six NFL games before tearing his ACL in his seventh. Similar to Lattimore, Hooker couldn't keep pace with his own precedent, failing to produce the same gaudy stats as a sophomore as he had in his abbreviated rookie campaign. But interceptions and tackles aren't everything, as the young safety acknowledged back in December. With a full offseason to work on his craft, a clean bill of health and a talented supporting cast, Hooker should flourish this season. The Colts have an uber-talented secondary, and Hooker will have a chance to show he's the best of the bunch (and why the grade above is grossly premature).

PICK 24 Gareon Conley - CB

Grade: C | School: Ohio State 

One of the highest-rated prospects at his position going into draft week, Conley saw his stock plummet when a woman accused him of rape two days before Round 1 kicked off. After conducting their own investigation into the allegations, the Raiders felt confident enough in the young corner's version of events that they ended his draft slide. (A grand jury would later opt not to charge him in the case.) Hampered by a shin injury that extended into the season and eventually claimed all but two games of his rookie campaign, Conley entered Year 2 with much to prove. Unfortunately, it would get worse before it got better. After playing the majority of the team's defensive snaps to start the season, Conley was on the field for just 12 total plays in Week 5 against the Chargersbefore being benched outright against the Seahawks the following game. That heavy serving of humble pie seemed to go down well, however, as he returned from the team's Week 7 bye seemingly a different player. From Week 8 until the end of the regular season, Conley started every game and allowed the fifth-fewest yards among CBs (min. 200 snaps). That span included two separate meetings with the Chiefs, whom he limited to just 26 total yards on three catches, per PFF. With the good finally starting to outweigh the bad in Conley's young career, there's plenty of reason to believe the best is yet to come for No. 21.
So we've got one "Very good!" and two mostly incomplete grades, which means breakout seasons for young Malik Hooker and Gareon Conley, cause there's just no way in hell those guys finish their NFL careers with "C" grades.
 BACK TO SCHOOL. It looks like Ryan Shazier's going to get that smart paper.
From Brian Batko of the Pittsburgh Post-Gazette:
... When Pitt students return to campus Aug. 26 for the fall semester, they'll be able to count a very athletically accomplished classmate among them. Shazier is going back to school, working to finish the psychology degree he never completed at Ohio State before entering the NFL draft a year early in 2014.

...

"I think it's really important that you have your degree, just to get the best amount of education you can get because you never know where in life you could be. … I know these teachers are helping so many children and so many kids," Shazier said, "and I'm glad to help them."
Traitor!!!!!!!!!!!!
In all seriousness, this is a great thing for Shazier to do and it makes all the sense in the world for him to finish his degree at Pitt while he continues to serve as essentially an extra coach for the Steelers.
An a congrats is in order for the Panthers, as this is as close as they'll get to an All-American linebacker this decade.
 WIFI COMETH. Fear not, ticket holders, you'll all have the full power of the Internet coursing through your thumb computers in time for Joey Freshwater's Ohio Stadium debut because WiFi has officially come to the 'Shoe.
From an Ohio State release:
Workers will have pulled 47 miles of copper and fiber wire throughout Ohio Stadium when the project is completed. The wire is connected to a massive number of access points – 2,009 – that have been installed since the project began in January of this year. The installation of 4,018 antennas is also included in the project. Equipment has all been seamlessly placed to blend in and to not disrupt the iconic integrity of the facility.  

"Ten access points could typically cover an area the size of the stadium," Null said, "but we needed significantly more to service the Wi-Fi needs of so many fans in close proximity, plus ticketing functions and the press box, suites, club rooms, concourses and outdoor areas."
I know Dan and Colin are pumped as hell about the fact that they'll be sharing Wi-Fi with 100,000 people uploading Blair Witch-esque footage of a mediocre play to their Instagram stories. Just know that if the instacap is ever late, it's because Chad is eating all the bandwidth trying to send a snapchat of a blacked-out Brock blowing chunks into a trashcan in C-Deck.
Also, "We probably need 10, so let's do 2,009 to be safe," is the most Ohio State way to ever address a problem. I'm almost in awe.
 NOT STICKING TO SPORTS. The inside story behind the funniest baseball card ever made... Inside the twisted, worldwide hunt for a $7 million stolen car... Plague-infested prairie dogs have thrown a Phish concert into chaos (Chris is going)... Flawed algorithms are grading millions of students' essays... How the gruesome sounds in Mortal Kombat were created... Purple doesn't actually exist and red, yellow and blue aren't actually the primary colors...