Congrats to all Ohio State graduates, including presumably the largest one, pictured above.
You now join me, the guy graduated with two degrees from this fine institution a year ago only to take over for a college dropout as lead blogger at a sports website.
Also, the guy who sat next to me at graduation and got hoodwinked into being my coworker a few months later.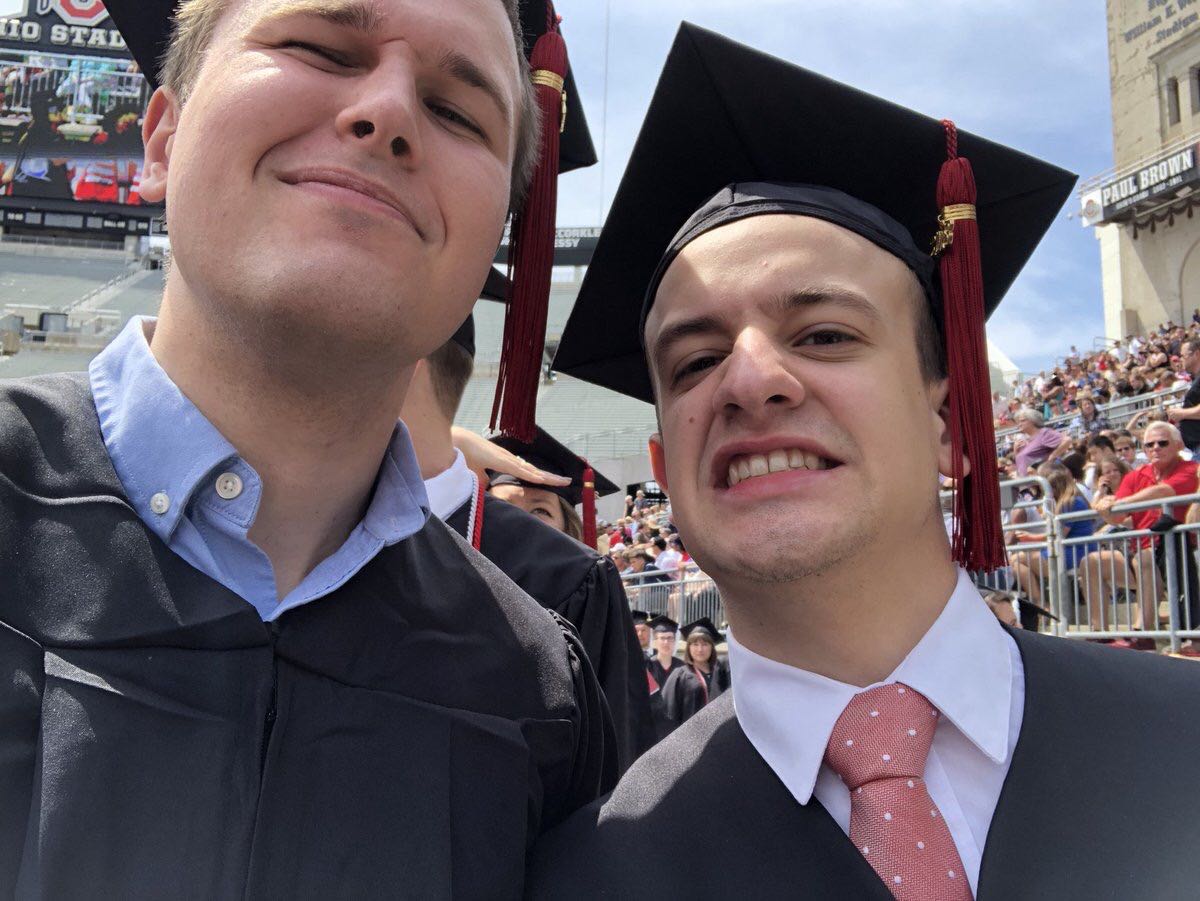 Don't mind us, we're just bringing down the value of your diploma!
ICYMI
Word of the Day: Elysian.
 IMPRESSING EARLY. It's only *checks calendar* the first possible chance to see Parris Campbell on the field as a professional, but he's already turning heads with the Colts folks.
From Zak Keefer of the Indy Star:
It's May, they're in shorts, and half the players on the field with him Friday probably won't ever see a meaningful snap in the NFL. A proper amount of perspective is needed.

That being said: you can already see it in Parris Campbell — the size you didn't expect, the speed you can't teach, the hands that'll serve him well at this level. You can see what had Frank Reich giddy in the draft room; you can see why he has the Indianapolis Colts so excited.

Campbell, the second-round pick out of Ohio State, flaunted his receiving repertoire Friday afternoon at the team's first workout of a three-day rookie minicamp. For most of the practice he was the best player on the field, and it was an early glimpse into how Reich envisions using Campbell once the real football arrives: Shots deep, slants across the middle, screens they hope No. 15 turns into massive gains.

"I'm just excited to come into an explosive offense and add another piece," Campbell said Friday.

Here's a guess: It won't take long.
And just to give you some #MultipleSources action, so you know Zak Keefer ain't lying:
Parris Campbell has shown the full gamut today. Snatched a pass behind him on a cross, played outside receiver and showed unreal SPEED.

Im sold.

— Stephen Holder (@HolderStephen) May 3, 2019
If Parris can reliably play outside, the Colts might have just got the steal of the draft.
 THOSE WHO STAY. Michigan lost one of its quarterbacks this weekend when Brandon Peters announced he will transfer from the program.
This isn't a trashing Michigan opportunity, because our house is extremely glass, but it is another sign of The Transfer Portal Era. With Peters' transfer, almost 70 percent of the top-25 quarterbacks in the 2016 class have transferred.
One of the big names who didn't seems to have done well for himself.
Top 2016 QBs who havent transferred (247 ranks)

3. KJ Costello, STAN
5. Feleipe Franks, UF
7. Jarrett Guarantano, TEN
8. Dwayne Haskins, OSU
14. Jawon Pass, UL
19. Jake Bentley, SC
21. Dillon Sterling-Cole, ASU
25. Seth Green, MIN (now a WR)

— Max Olson (@max_olson) May 4, 2019
I think the wilder stat is that Dwayne Haskins was the only 2016 quarterback drafted this year. I guess all those kids who said "I'll be spending my next three years at..." were lying.
 HASKINS HAS HIS HEAD. Dwayne Haskins got the birthday gift of a lifetime a few days ago: his own head.
Remember this gigantic foam mascot head Lee Corso donned ahead of the draft?
Corso! pic.twitter.com/yRxiB2HjAp

— Bryan Fischer (@BryanDFischer) April 26, 2019
Now it's been turned over to its rightful owner.
From Doug Lesmerises of Cleveland.com:
A week ago, Lee Corso put on Dwayne Haskins' head. Now, Haskins could put on his own head. Ohio State's former quarterback celebrated his 22nd birthday on Friday, and ESPN gave him an early birthday present last week.

...

This time, Corso was asked which player he would take No. 1 overall if he was running the Arizona Cardinals. Somehow, out came the oversized head of Haskins.

"The headgear is obviously a big part of College GameDay and we wanted to bring that flavor to telecast," ESPN spokesperson Derek Volner told cleveland.com. "There were different ideas bantered about, but ultimately it was decided that we can do a headgear for who Coach would pick with the first pick of the draft if he was the Cardinals."
I thought I needed that head for myself, but it turns out, what I really need is Dwayne Haskins wearing his own mascot head in full uniform.
Please, Dwayne. The Internet needs you.
 BRUTUS BEAT CANCER. In case you had any doubts that the heros behind the Brutus head are proper badasses, here's the story of Gabe Gemberling, who openly taunted his cancer, beat it, then kept right on being Brutus.
From Jennifer Smola of the Columbus Dispatch:
Gemberling refused to learn the name at first.

"I was so set that I wasn't going to learn the name of the cancer because I was going to beat it before I had to learn the name of it," he recalled.

"Really, from the get-go, he sort of attacked this thing with just a positive attitude about it," recalled Dr. Thomas Scharschmidt, surgical oncologist at the Arthur G. James Cancer Hospital at Ohio State. "... One of his first comments was 'Man, I'm glad this is me and not someone else that has to go through this.'"

...

"I just remember thinking, it's crazy how yesterday, I was Brutus, visiting patients in the James, to now going in to be one of the patients," he said.

Gemberling had two surgeries at Ohio State, the second of which, in June, removed the tumor and a large portion of bone in his humerus, Scharschmidt said. Doctors inserted part of a cadaver bone, a plate and screws to reconstruct his arm.

Gemberling's recovery sidelined him from the Brutus costume for much of the Buckeyes' football season, but under doctors' watchful eyes, he was able to step into the big nut's shoes — and head — for a brief pre-game appearance at the Michigan game in November. He continued in his role through the rest of the school year at other games, alumni events and fundraisers.
"I'm glad I got this cancer instead of somebody else" is the most swagger way anyone has ever approached a cancer diagnosis. That sounds like Steve Rogers as a cancer patient.
You'll be shocked to learn that Gabe beat it rather quickly, and technically graduated on Sunday – he just wasn't there to do it because he was too busy summiting a 14,400-foot mountain exactly a year after his bone cancer diagnosis.
Y'all, I think cancer picked the wrong guy to mess with.
 BUT CAN HE THROW? It looks like I've got some stiff competition as best golfer in Columbus.
What a gamer this kid is! Literally the weekend he moves back home to Columbus, @GunnarHoak12, @OhioStateFB newest QB drains a hole-in-one! pic.twitter.com/XR37OrEMLe

— Nathan Takitch (@NathanTakitch) May 5, 2019
Gunnar, if you want my Top Golf throne, you know where to find me.
 LINK LOCKER. The bad news about delivering bad news... The city the Chernobyl disaster left behind, then and now... Could smart diapers be coming to the United States?... Teen dresses up like Spider-Man and beats up a pedophile... The case for doing nothing... Why the Kentucky Derby is a 145-year-old celebration of hats...