More than 12 years after playing his final basketball game as a Buckeye, Greg Oden will receive his diploma and officially graduate from The Ohio State University on Sunday.
Oden's path to completing his degree certainly hasn't been traditional, but not much in his life has been.
When Oden left Ohio State after just one season to enter the 2007 NBA draft, he appeared to be on a clear path to basketball superstardom. He earned first-team All-Big Ten and second-team All-American honors in his lone season with the Buckeyes, leading them all the way to the national championship game, and was drafted by the Portland Trail Blazers with the No. 1 overall pick.
Repeated knee injuries, however, limited Oden to just 82 games in five years with the Trail Blazers. He missed his entire rookie season due to microfracture surgery, was sidelined for portions of the next two seasons and was released by the Trail Blazers after missing two more consecutive seasons after that.
After a third straight season on the sidelines, Oden played in 23 games for the Miami Heat in 2014, but never played in another NBA game after that. That wasn't only because of his injuries; Oden was arrested for battery after an altercation with his ex-girlfriend in August 2014, and was sentenced to probation and domestic violence counseling after pleading guilty. He spent the 2015-16 season in China playing for the Jiangsu Dragons, but another NBA opportunity never came.
While Kevin Durant, the No. 2 overall pick in the 2007 NBA draft, became a global basketball superstar – making hundreds of millions of dollars in the process – Oden could only think about what could have been. He didn't know what he was going to do with the rest of his life and was left without a sense of purpose.
He turned to alcohol to ease the pain.
"The summer after I got done playing in China, we'll say it was February, by the time I got back, I probably drank every day," Oden said last month while speaking at a 'When Sports End' event hosted by Ohio State's Sports and Society Initiative. "You just keep on just numbing yourself and just trying not to think about it until you find some direction."
Oden wasn't ready to face the reality that his NBA career was over, and he felt lost emotionally.
"I never thought this was going to be over. I thought I was going to keep on playing. And you never really look at the end while you're playing," Oden said. "But when you see it, it's like 'Oh gosh, did I really prepare?' And it kind of caught me off-guard. I went a whole month, really, without talking to people, without knowing what I'm doing."
Fortunately for Oden, he still had people who cared about him to help pull him up – including his former coach at Ohio State, Thad Matta, who invited him to come back and be a part of the program once again.
So Oden re-enrolled at Ohio State in 2016, through the university's degree completion program for former student-athletes, and became a student assistant coach for the Buckeyes. Matta's tenure as Ohio State's head coach ended in June 2017, but Oden continued to serve as a student assistant for the past two years alongside Chris Holtmann and his staff.
Now, armed with an Ohio State degree and three years of learning the craft from Matta and Holtmann, Oden has plans to pursue a coaching career of his own. Being back with the Buckeyes in a new capacity gave Oden a renewed sense of purpose, and he believes he can draw from his own experiences in the sport – both good and bad – to help the next generation of young basketball players.
"That's a big thing for me is trying to give back and actually teach the kids what basketball's taught me," Oden told Eleven Warriors after last month's event. "I love being around the younger kids, the younger generation and seeing how they think and how they use basketball."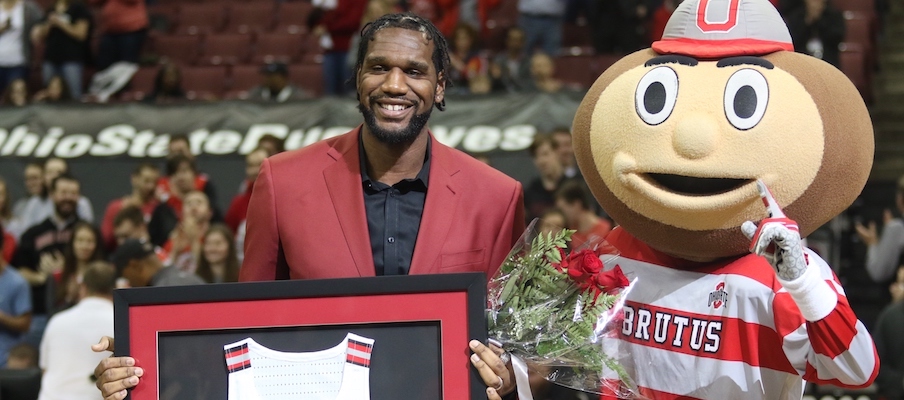 Oden isn't completely done playing basketball yet. After being selected with the No. 7 overall pick in this week's BIG3 draft, Oden will spend part of his summer playing 3-on-3 basketball against other former NBA players in the league's third annual season.
That said, Oden's life is no longer defined by his ability to play basketball.
He's had a new perspective on his life since his daughter, Londyn, was born in 2016 – which, along with his return to Ohio State, has helped him get back on the right path and live a healthy and righteous life.
"Now I have a 2-year-old baby girl, so my time that I really enjoy that was going out partying is spent at home running around the house with her," said Oden, who married Londyn's mother Sabrina in 2017. "She's a sponge. So I need to be the best person I can be so she can see that, and she can realize, that's what a man's supposed to be, this is what a woman's supposed to be, and we need to be happy and we need to be good people."
Being a positive role model for his daughter served as Oden's primary source of motivation over the past three years as he completed his academic coursework, which he will celebrate alongside more than 12,000 other graduates at Ohio Stadium on Sunday afternoon, when he will officially become an Ohio State alumnus.
"My No. 1 thing about it is being able to show my daughter what a degree can do for you," Oden said. "How that higher education can make you feel, be a better person. And I can tell her that if she doesn't get it."