Folks, I'm officially logged back on.
Tip of the cap to the five gentlemen who performed my job better than me for the past week while I frolicked with adults dressed as wizards and drank expensive butterscotch water in an extremely accurate recreation of a nonexistent place.
I do apologize if you became too accustomed to perfect spelling, proper grammar and the guarantee that this would be published at the correct time each day. But if you're ready to hop back on the rollercoaster that is my Skully Watch, I'm rested and ready to post.
Note: I'm well aware this is the bad joke day, but I will not be observing. If I wanted to disseminate a lie for my own enjoyment, I'd do that any day I pleased with no remorse. Why the hell would I wait for the one day a year everyone else is doing it too?
ICYMI:
Word of the Day: Recrudesce.
 WIDE RECEIVER U. Parris Campbell and Terry McLaurin have been climbing draft boards all offseason with their workout numbers and measurables, but adding context to those measurables makes me even more sure they're going to blow up a the next level.
For example, they're not only fast and athletic, they've got great hands in traffic, especially compared to the other fast and athletic fellows in this year's draft.
Contested catch numbers last two seasons for every sub-4.4 WR at the combine (catches-opportunities):

Parris Campbell 9-17
Andy Isabella 16-46
Mecole Hardman 2-9
D.K. Metcalf 11-29
Terry McLaurin 13-26
Emanuel Hall 6-24
Darius Slayton 8-28

— Mike Renner (@PFF_Mike) March 30, 2019
For those of you who aren't about to do any math on this fine Monday morning, Campbell and McLaurin have the highest contested-catch percentages on this list.
Given that I'm not at all a D.K. Metcalf believer, I think there's a real chance Ohio State has the top-two receivers in this draft class.
 HOOK 'EM HORNS? If you want a sneak peak at Jordan Peele's Twilight Zone that debuts today, behold:
Love seeing @JT_theQB4th and @Cardale7_ again. 2 of the Best ever ! #Family pic.twitter.com/wyA7bpgLVA

— Tim Beck (@Coachtimbeck) March 30, 2019
As my good friend Tony Gerdeman points out, it really is good on Texas for finally deciding J.T. Barrett is worthy to wear the Burnt Orange. And as for Cardale, I think we all know him well enough to know he's going to do, wear and say whatever he damn well pleases.
Usually dont entertain jerks but lets get something clear, Buckeyes FOR LIFE. We came to visit & support men we look up to and who helped developed us to be the men we are today. I support former teammates & coach, no matter what school they are at but 1, ichigan. So fuck off https://t.co/KEqeZtCvCG

— Cardale Jones (@Cardale7_) March 31, 2019
I don't really know the correct reaction here, but I do know that it looks weird as hell. I also know that they're the two most talented quarterbacks to wear Texas gear in about a decade, which is probably why the Longhorns are using their visit for recruiting purposes.
Hes a guy that mentors me to this day - @Cardale7_ Hes like family to me - J.T. Barrett ...on Texas Head Coach Tom Herman.
#ThisIsTexas #HookEm pic.twitter.com/vSlc7jmBLW

— Texas Football (@TexasFootball) March 31, 2019
"Come to Texas! You could be the next great Ohio State quarterback."
 SCHIANO TOLD THE TRUTH. I'll be honest, Greg Schiano's abrupt departure from New England seemed sketchy as hell to me, especially given his quite vague rationale that he wanted to spend more time with his family.
But it turns out, it might actually be legit.
From CBS Boston:
Sorry, soap opera fans. That doesn't appear to be the case in this instance. Albert Breer of The MMQB, an alumnus of Ohio State (where Schiano served as defensive coordinator last year), said it is exactly what the coach said: He wants to be close to his family.

"My understand is this is pretty much exactly how he laid it out in the statement; this is family related," Breer said during his Friday morning appearance on 98.5 The Sports Hub's Toucher & Rich. "He has a daughter who is a big-time soccer recruit, and will wind up going to a really big school for soccer. [She is in high school] and I think that was a factor. Picking up and moving his family was a factor, and a piece of this at the very least."

...

Breer said that maybe Schiano didn't like the dynamic in New England, but that is purely speculation.

"What you can speculate on of course is the idea the Bill's defensive coordinators don't have a lot of autonomy. Greg has been a head coach and is used to having a lot of autonomy," said Breer. "But I think it's probably more about the family than anything else, that is at least that is my understanding. But I would leave the possibility open that part of this had to do with how he fit into the staff as well."

"It's a strange situation and I'm not trying to downplay that part of it," Breer continued. "But as far as I can tell right now, there is nothing crazy about this one. … Maybe there is [a scandal], but I haven't been able to find it. I know a lot of people at the Ohio State program, and the idea that he would do this and pull the plug because his family is important to them doesn't seem foreign to them."
That's not really fun, so I'm going to stick to my personal theory that Schiano simply fell victim to a power grab by Bert Bielema, who insisted that he would be the Patriots' defensive coordinator before Schiano was given the job.
 SICK BURN, NASHVILLE. As a professional online boy, I absolutely love and respect a good troll, but I hate a bad one even more. And folks, this one was a bad one.
We're still watching Nuti clown on Predators. #CBJ pic.twitter.com/v3flHY639i

— 1st Ohio Battery (@1stOhioBattery) March 31, 2019
If you listen closely, you can hear the Predators play "Hail to the Victors," for some reason, after Columbus scores. And according to my dear pal Jeff Svodoba, this happened at least once more.
I have no idea what they were even trying to achieve here.
"Oh you scored on us? Well, remember that team your local college football team very much dislikes and beat for the seventh-straight time a few months ago by a score of 62-39? Here's their song! Haha, got you good!"
To be fair to the Preds, the score 5-2 Columbus domination was pretty reminiscent of what Ohio State typically does to Michigan, so if we're making comparisons, I guess it works.
 NEED A NEW ALBANY CRIB? If you, like me, are in the market for a new dwelling place in central Ohio, and you, unlike me, have a cool $4 mil to drop, you could be the proud new owner of the Michael Redd mansion.
The house, designed in a Frank Lloyd Wright style by Columbus architect George Acock, is listed for $3.9 million by New Albany Realty agent Alan Hinson.

The 10,186-square-foot home includes five bedrooms, six full baths, two half baths, a four-car garage, a swimming pool, and - of course - and indoor basketball court. The home sits on 4.4 acres
Given that it has more bathrooms than I have pairs of shoes, I expected nothing short of a damn palace, and the photograph did not disappoint!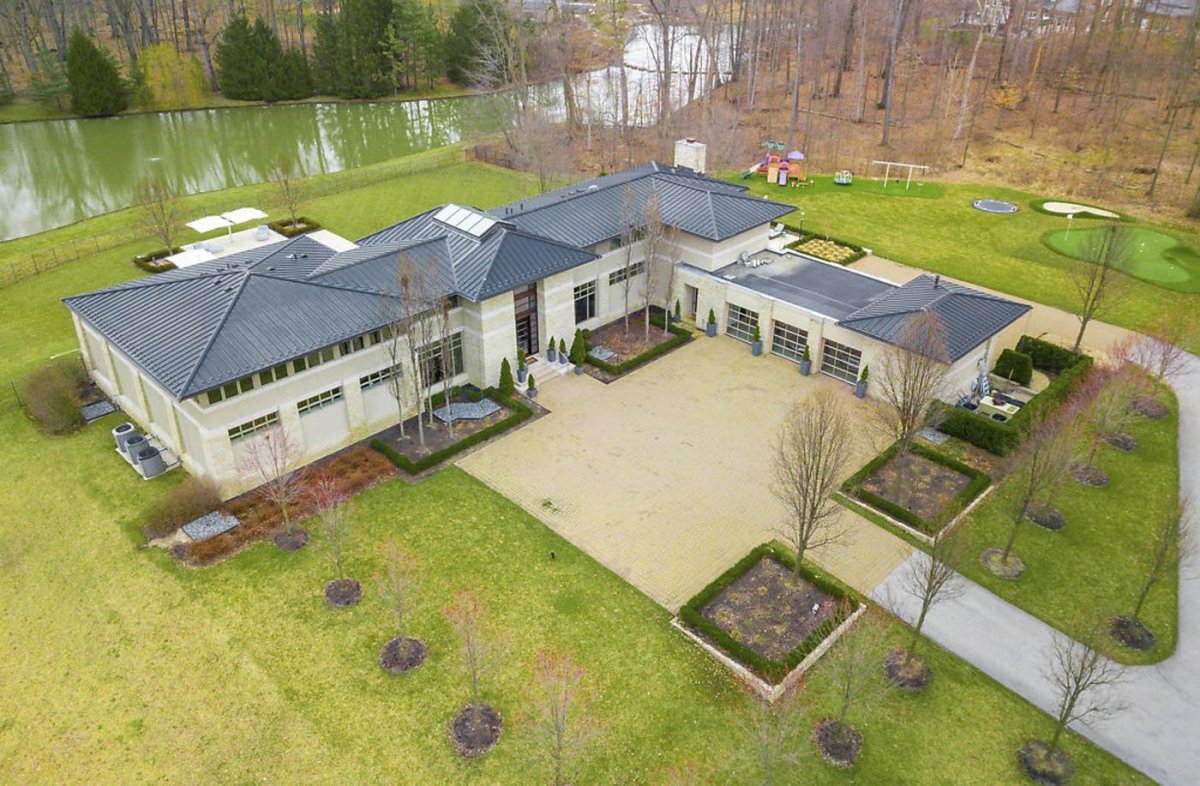 I think it's a bit out of my price range, but maybe we can crowdfund it and make it 11W HQ? I'm down if y'all are down.
 LINK LOCKER. "Soho Grifter" Anna Sorokin is using stylist to plan her courtroom outfits... The day the dinosaurs died... The amateur sleuth who searched for a body – and found one... Airbnb has a hidden camera problem... Nirvana manager Danny Goldberg on what everyone gets wrong about Kurt Cobain... Why do we put off doing this we actually love to do?... A glimpse inside Florida's synthetic cadaver factory... Why shooting 95 percent from the free throw line is almost impossible...