Jaedon LeDee, who views himself as a small forward or power forward, never wanted to play center at the collegiate level. But given the lack of depth in the middle, partially stemming from the transfer of Micah Potter two days before the beginning of the 2018-19 season, Ohio State needed him at center to back up Kaleb Wesson.
Following the transfer of LeDee, which the program announced on Thursday afternoon, the Buckeyes are left once again searching for a backup to Wesson. They also will have an additional scholarship at their disposal, increasing their amount of open scholarships for the 2019-20 season to three.
With LeDee no longer in the mix, Ohio State currently has four players taller than 6-foot-6 on its roster next season: E.J. Liddell (6-foot-7), Kyle Young (6-8), Alonzo Gaffney (6-9) and Wesson (6-9). Among them, only Wesson is a true center. Liddell and Young are power forwards, and Gaffney will slot in at either power forward or small forward. Adding at least one more big man to the fold to back up Wesson is an absolute necessity.
Ibrahima Diallo, a 7-foot native of Senegal, could be the Buckeyes' next addition. He's a raw offensive player without much experience posting up who contributes most of his points off pick-and-rolls, by finishing alley-oops and by grabbing offensive rebounds. However, Diallo uses his 7-foot-9 wingspan to alter shots and control the paint.
"He blocks shots, he changes shots, he rebounds everything," Billy McKnight, Diallo's coach at Prolific Prep, told Eleven Warriors on March 19. "He runs really well, he moves well. So it's one of those things where he just has a huge effect on the game if he doesn't score a point the whole game."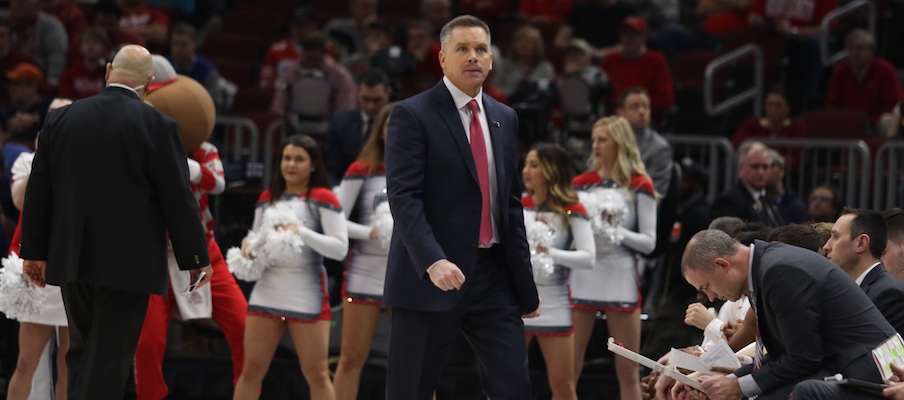 LeDee played in 26 games, averaging just 6.6 minutes per game due to defensive deficiencies that stemmed from his lack of experience playing center, which Holtmann cited as the reason why his minutes were limited even when Wesson missed three games while suspended at the end of the regular season.
Thus, if the Buckeyes don't land Diallo, adding a graduate transfer center with defensive chops would make sense. 
Holtmann has shown a willingness to add transfers – especially graduate transfers – to Ohio State's roster. He landed Andrew Dakich from Michigan for the 2017-18 season. Then the Buckeyes picked up Keyshawn Woods from Wake Forest as a graduate transfer for the 2018-19 season. They also brought in C.J. Walker, an undergraduate transfer from Florida State, who sat out last season and now has two remaining years of eligibility. 
Even if the Buckeyes land Diallo, they might want a more polished player on both ends of the court and could add an additional center to the mix through a graduate transfer.
During Wesson's suspension, Ohio State played poorly on both ends of the court. Without a true center on defense, the Buckeyes no longer had their anchor in the post. And while the offensive woes the team endured during his absence might not be present next season with the additions of DJ Carton, Liddell, Walker and Gaffney, Holtmann would certainly prefer not to be forced to play power forwards – Young, Liddell, Gaffney and Andre Wesson – out of position at center if Kaleb Wesson missed games for any reason. 
Holtmann can't afford to risk not having a quality backup for Wesson. With LeDee leaving, the addition of another big man went from a preference to an absolute requirement.
LeDee's transfer also clarifies Ohio State's approach to the 2020 recruiting class.
In February, Holtmann expressed assurance in having at least two open scholarships for the 2020 class. However, until LeDee's transfer, it wasn't clear how the Buckeyes would free an extra scholarship if they added Diallo or another player to their 2019 class. With LeDee's exit from the program, the team now should have at least two scholarships to use in 2020.
Without LeDee in the picture, here's a look at the scholarship grid for next season.
POS
SENIORS
JUNIORS
SOPHOMORES
FRESHMEN
C
–
KALEB WESSON
–
–
PF
–
KYLE YOUNG
–
E.J. LIDDELL
SF
ANDRE WESSON
–
JUSTIN AHRENS
ALONZO GAFFNEY
SG
–
MUSA JALLOW
LUTHER MUHAMMAD
DUANE WASHINGTON
–
PG
–
CJ WALKER
–
D.J. CARTON
If the Buckeyes don't add anyone or add only graduate transfers who will be seniors, they would have three open scholarships for the 2020 class since Andre Wesson will be a senior. They're allowed to have 13 players on scholarship.
More than likely, Ohio State will target adding one graduate transfer who will be a senior in order to preserve at least two scholarships for 2020 even if the team adds Diallo as the fourth member of its 2019 recruiting class. 
The Buckeyes recruited the top Big Ten's top class in 2019, and Holtmann's challenge will now be to stack high-level classes together. With LeDee heading out of Columbus, Ohio State could now have another spot to fill in its 2020 class.