"Gave you a tape of dope beats / to bump when you stroll through in your hood / And when your album sales weren't doing too good / who's the Doctor they told you to go see?"
Okay, David and Ramzy might've played nice, but the hell with that. I'm coming for the throne, baby! Watch your freaking neck, Kevin Harrish. While you're on the spinning teacups or Mr. Toad's Wild Ride or whatever the hell you're doing in Florida, I'm up here in Columbus running this damn thing.
I hope all of you early morning Skully Stans appreciate this, the return of the king, because it's supposed to be my off day and I'm still going to dominate this little piece of internet real estate.
WHERE'S MY THEME MUSIC? YOU KNOW, THE ONE WITH THE NOT SAFE FOR WORK BAD WORDS?
Oh, here it is.
Yeeeaaah that's the stuff. Let's roll.
 Y'ALL FORGOT ABOUT TUESDAY, AND THAT'S DISGRACEFUL
 COLUMBUS MAN HAS BETTER BRACKET THAN YOU 
And you and you and you and you and you and you and you and you and you and you a
This year, tens of millions of brackets were entered into major online NCAA tournament bracket games. Midway through Sunday's second-round action, all but one of them had gotten at least one game wrong.

The exception: "center road," a bracket entered into our Capital One NCAA March Madness Bracket Challenge game that has gone an astounding 48-for-48 so far, correctly predicting every single game through two rounds of the 2019 NCAA tournament. That's worth repeating: the center road bracket has not missed a single game yet.

...

Monday, we tracked down the owner of the record-breaking "center road" bracket. His name is Gregg Nigl, and he's a 40-year-old neuropsychologist who lives in Columbus, Ohio.
This sounds like a very impressive feat until you find out that Gregg filled out four brackets, greatly increasing his odds of doing this from one in ten thousand trillion billion to like... four in ten thousand trillion billion.
Columbus man picks perfect bracket heading into Sweet 16 https://t.co/2dSnZRPmCs #10TV pic.twitter.com/4loB7CfG5z

— 10TV.com (@10TV) March 26, 2019
If you want to feel better about your own bracket, note that Gregg picked Gonzaga to win the whole thing. Which will never, ever happen.
 JIM HARBAUGH, MOTIVATIONAL GENIUS 
Remember how Tom Izzo got in a little bit of hot water recently because he grabbed a kid and yelled at him? This is way, way worse.
"Coach Harbaugh gave us some shirts the other day with the co-Big (Ten) East champs on the front and then all the scores of the games we lost on the back," tight end Sean McKeon said Friday night after practice. "I took that shirt and hung it up in the tight ends room with the scores (showing), just a reminder how the season ended. We don't want to do that again, obviously."
Oh... that seems... effective.
Where is his new T-shirt?

"Mine is in the bottom of my locker," [left guard Ben Bredeson] said.

Buried?

"Yeah," Bredeson said. "It's not coming out. I remember all of (the losses), so we're good."
So, to recap: 1. Michigan looked like ass at the end of 2018, 2. Jim Harbaugh made some demotivational shirts about it and gave it to his players, 3. Harbaugh's players threw 'em on the ground, 4. I made fun of them for it. Works for me!
 YEAH, DAYTON, YEAH! 
Did you know that the very first NFL game was played in Dayton in 1920, between the Dayton Triangles and the Columbus Panhandles?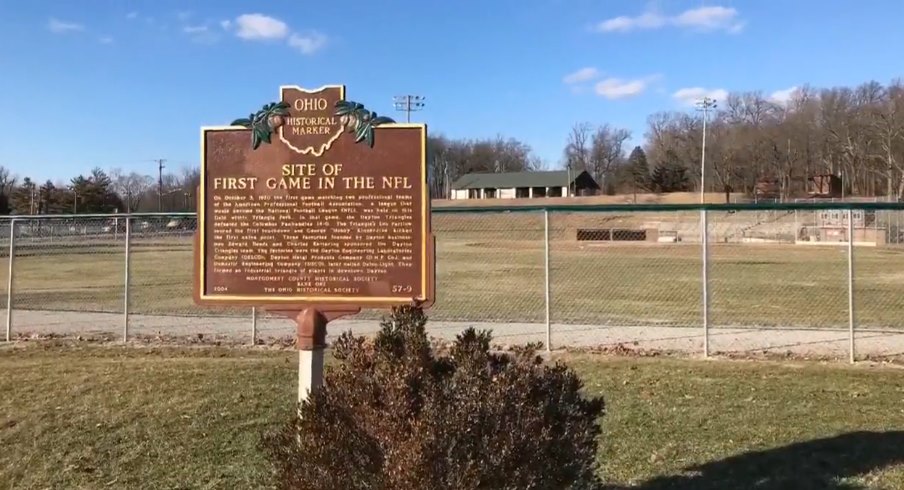 Uh, well, yeah. M-me too. So thanks to this shared knowledge that we all definitely already have, we'll collectively take a lot of joy in knowing that the NFL is putting a ton of money to give the site of that first game a field worthy of its history, complete with artificial turf and donations to local youth football leagues. Plus, the Bengals will hold a practice there this summer, which is harder to get excited about.
 OH LOOK ANOTHER "I CAN'T BELIEVE THAT THE ENTIRETY OF THE MIDWEST ISN'T A VAST HELLSCAPE POPULATED BY CHUDS" ARTICLE 
I appreciate that the New York Times and other news outlets are venturing out into the terrifying wilds that are the lands between the coasts, but just once I'd like to read one of these travelogues to Columbus that doesn't follow the template of "Short North, then Book Loft, then some expensive restaurant, and maybe Jeni's or something."
Columbus is a big city and getting bigger. It's got a weird history as being a post-WWII growth city smack dab in the Rust Belt, has a vibrant and unique immigrant population, and a pretty diverse music scene. Somewhere there's an outsider's view of this place that does it justice. I'm just letting you know that this ain't it.
 SNAP CRACKLE POP POP POP POP POP POP
Potato got the boot... OBJ's gross custom cleats... One month, baby... This is, no joke, a legitimately important story in SW Ohio... Tim Miles, nice, fired, guy... Clemson and Oklahoma schedule games after the robot apocalypse... This is why they're called "greenbacks"... Love that chicken from Popeyes... Here is a picture of Kevin eating some wings...
WORD OF THE DAY: Tiffin.