INDIANAPOLIS – Less than four months before he signed his National Letter of Intent to play football at Ohio State, Dawand Jones was thinking about signing with Kent State to play basketball instead.
As a kid, Jones didn't dream of being the next Orlando Pace; he wanted to be the next Shaquille O'Neal or Dwight Howard. Basketball has long been Jones' favorite sport, and as his senior football season at Ben Davis High School neared its end, he still hadn't yet received any offers to play football from major programs.
When Jones finally received his first Power 5 offer to play football from Mississippi State on Oct. 31, however, his outlook for his future began to change.
From there, Jones' recruitment picked up quickly, as he received offers from Indiana, USC, Cincinnati, Florida State, TCU, Michigan and Ohio State – with the offer from the Buckeyes coming after he attended a practice in Columbus just days before their 62-39 win over Michigan – before Thanksgiving.
As Jones thought about his long-term future, he realized that playing college football – not college basketball – was the right decision for him.
"It's hard to go to the NBA when you're only 6-8, but you see that everywhere (in the NFL)," Jones said. "And then you got Power 5 schools offering you to play D1 football, I think that was the easiest choice for me."
At the high school level, Jones has been a dominant center on the basketball court. Earlier this month, Jones led the Ben Davis basketball team all the way to the Indiana state finals. He was named the Marion County Player of the Year after averaging approximately 18 points and nine rebounds per game for his senior season.
Measuring in at 6-foot-8 and 360 pounds, however, Jones' physical attributes give him the potential to be an even better offensive tackle.
Because his offers came so late in the process – with more offers, including Auburn, Florida and Penn State, coming in December – Jones and Ben Davis head coach Jason Simmons decided it would be best for Jones to delay his college decision until National Signing Day in February, giving him time to weigh all of his options before making his final choice.
That gave Ohio State the opportunity to put the full-court press on recruiting Jones, as he became one of the Buckeyes' top two targets – along with four-star Hawaii offensive lineman Enokk Vimahi – after the early signing period in December, which left them in need of a couple offensive linemen to fill out their 2019 recruiting class.
USC took the early lead in Jones' recruitment when he traveled to Southern California for an official visit with the Trojans in early November upon receiving his offer from them. Penn State also drew consideration from Jones, as he traveled to State College for an official visit with the Nittany Lions just two weekends before National Signing Day.
Once Jones made his unofficial visit on Ohio State on Nov. 21 and got to see the Buckeyes up close, though, both he and Simmons had a feeling that Ohio State could be the right place for him.
"When I went into that week, I was like, 'I don't know about these cats.' But my coaches told me just go look at the practice and just go see what it's like, and I went and did that, and I just fell in love ever since that day," Jones told Eleven Warriors during an interview at his high school in February.
While Jones didn't start receiving offers from major college football programs until the end of October, Simmons could tell from his first practice coaching Jones this past July that his new offensive tackle had the potential to play at the next level.
"When his AAU (basketball) season was over and his first practice here in late July, I watched him and I thought to myself, 'This is a no-brainer,'" said Simmons, who became the head coach at Ben Davis last March. "Just watching him in practice, watching a young man that big, that raw, move like he moves, play with the amount of passion that he played with even in practice, and be as athletic as he was, it was no doubt in my mind that this is a Power 5 offensive lineman."
That's not to say that Jones is ready to play at the Power 5 level right now. Because he's spent so much of his time growing up playing basketball, he's still raw as a football player, which is why he was rated as a three-star recruit and ranked as just the 86th-best offensive tackle in the recruiting class of 2019, according to 247Sports' composite rankings.
That said, Simmons saw Jones make significant strides in his senior year that give him confidence Jones will succeed at the next level as long as he continues working hard.
"When you watch his junior film, he doesn't jump off the film, doesn't wow you much. Really, really raw. You can see his athleticism, his length is obviously there with somebody his size. However, he just didn't look like an offensive tackle as a junior," Simmons said. "What I saw the first two weeks of having him, was like, 'It's a different player.' And his senior film really showed that. He showed flashes of being a big-time Power 5 offensive lineman."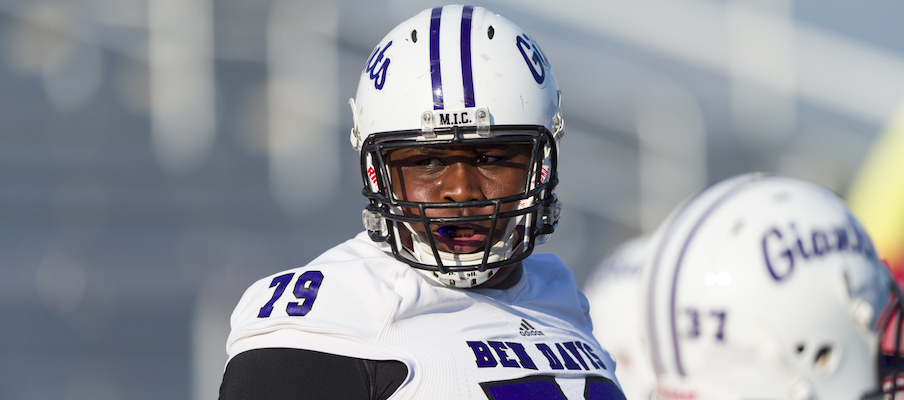 Simmons describes Jones as "an untapped potential star" on the field and "an unbelievable young man" off the field.
"His length and athleticism are things that you cannot replicate, and those are probably the two strengths of his game right now," Simmons said. "When you look at his length, he understands how to use it. Having played basketball, his athleticism is the same way. He knows and understands the things he has to work on.
"But you're going to get a great man who's got a great spirit, treats people the right way and he's got a great personality that will carry him," Simmons continued. "He is raw, but he's willing to put the work in and he knows what he has to do."
New Ohio State head coach Ryan Day and his coaching staff – including offensive coordinator Kevin Wilson and offensive line coach Greg Studrawa, the two coaches who primarily recruited Jones – believe in Jones' potential, too, which is why they made the effort to bring him in as one of the final pieces of their 2019 recruiting class.
"We are really pleased to add Dawand Jones to our 2019 recruiting class," Day said in a statement after Jones' signing. "He is a terrific, two-sport athlete who was offered scholarships in both football and basketball. We love his athleticism and length. He comes from one of the premier high school programs in Indiana and the Midwest. We are thrilled he chose to become an Ohio State Buckeye."
"His length and athleticism are things that you cannot replicate, and those are probably the two strengths of his game right now."– Ben Davis head coach Jason Simmons on Dawand Jones
Now that Jones' high school basketball career is over, his priority over the next few months – along with getting his high school diploma, of course – will be preparing himself to be ready to take the football field when he arrives at Ohio State this summer.
Even though he's not with the Buckeyes for spring practice, he's able to follow a workout plan that has been provided to him by Ohio State director of sports performance Mickey Marotti, while Simmons also plans to continue working with Jones on his football development until he leaves for Columbus.
Jones is working on getting stronger in the weight room, but while his size is one of his biggest calling cards, he is also looking to lose some weight before he arrives at Ohio State. The Buckeyes typically prefer their offensive linemen to be closer to 300 pounds than 360, and he knows he will need to continue working on his agility and endurance in order to be successful at the next level.
"I'm trying to hit 330 before going into my year, or at least 340," Jones said. "At least be a little lighter, so I can be light on my feet, because there's going to be some good pass-rushers in the Big Ten, of course, and just in general, in the nation. So me being lighter and being light on my feet is going to mean a lot this season."
Jones has been eating healthier – broccoli is his favorite food, he said – and working out regularly in his efforts to slim down a bit.
Unless there are a rash of injuries on the depth chart in front of him, Jones probably won't see much playing time – if any – in his first year at Ohio State, and it could be two or three years before he's ready to play a significant role. As a freshman, Jones will provide some much-needed depth to the Buckeyes' offensive line, but redshirt seniors Joshua Alabi and Branden Bowen, junior starting left tackle Thayer Munford and redshirt freshmen Nicholas Petit-Frere and Max Wray will all likely be ahead of him on the depth chart.
Nonetheless, Jones plans to hold himself to a high standard as he works toward his development for the future, and he is confident that he will be ready to play when his opportunity to do so comes.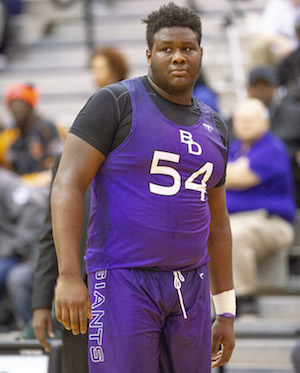 "I'm going to crush some guys, most likely," Jones said. "I'm going to do my job up front, make sure my quarterback doesn't get touched, nothing like that. Just making sure I handle everything up front, no penalties of course."
Although he hasn't had any conversations with Chris Holtmann and his staff about playing basketball at Ohio State, Jones admits that basketball is still the sport he loves most. But with a new goal of eventually playing in the NFL, Jones' passion for the sport of football is progressively growing.
"I'm always gonna say I love basketball," Jones said. "But (football) does grow on me every time I play it. I love the physicality and stuff like that. So every time I play it, I just enjoy it even more."
Simmons is confident Jones made the right decision, and he believes Ohio State will be the right fit that enables him to be successful both on the gridiron and his life outside football – as long as he does his part.
"He's tired of hearing it right now, but I talk to him every day about embracing work. He has the competitive drive within him that if he will embrace work every single day and stay committed to the fine details of what it takes to be a Division I offensive lineman, he'll have that ability," Simmons said.
"When you look at the program and the resources and the support that Ohio State's going to provide for him, he's going to be successful in the classroom. He'll be successful in the community and on campus. With Coach Marotti in the weight room, Coach Stud and Coach Wilson in the offensive line room, and obviously Coach Day has taken over the reins of the program, if he stays committed to those guys and owns waking up every day and striving to be great, the sky's the limit with his length and athleticism."