I know y'all don't read these here Skull Sessions to witness somebody doing great at their job, but that's what you're going to get today.
Not from me, from Ohio State video legend Zach Swartz:
A day spent turning @youngchase907 into an alien is a good day pic.twitter.com/GTm0xqgpOZ

— Zach Swartz (@zswartz) January 21, 2019
If I was half as good at my job as Zach is, I wouldn't need y'all to catch my mistakes at 4:59 a.m.
ICYMI
Word of the Day: Munificent.
 MIKE THOMAS MAKES HIS CASE. The opening paragraph would go here. You may include the first item of your Skull Session along with any optional welcome to the readers.
Rule 17 Section 2 Article 3 @NFL

— Michael Thomas (@Cantguardmike) January 21, 2019
Hey Roger pick up the phone.

— Michael Thomas (@Cantguardmike) January 21, 2019
Here's what he's referencing, from Pro Football Talk:
Consider Rule 17, Section 2, Article 1: "The Commissioner has the sole authority to investigate and take appropriate disciplinary and/or corrective measures if any club action, non-participant interference, or calamity occurs in an NFL game which the Commissioner deems so extraordinarily unfair or outside the accepted tactics encountered in professional football that such action has a major effect on the result of the game."

...

Rule 17, Section 2, Article 3: "The Commissioner's powers under this Section 2 include . . . the reversal of a game's result or the rescheduling of a game, either from the beginning or from the point at which the extraordinary act occurred."
Here's the thing: There's a better chance my cat evolves into an Ewok than Roger Goodell evoking this rule. I think this would apply more to a situation where the Rams hired a group of fans to run onto the field and break Drew Brees' knee.
But that doesn't mean this wasn't absolute robbery. Everyone watching and involved knew it, except the stripes.
From the Washington Post:
In the postgame locker room, Robey-Coleman had still not seen the play. He promised an honest answer if a reporter showed it to him. Upon viewing the play, Robey-Coleman burst out laughing.

"Oh, hell yeah," Robey-Coleman said. "That was P.I."

...

"I just know I got there before the ball got there," Robey-Coleman said. "And I whacked his ass."

...

"I thought it was going to be a bang-bang play," Robey-Coleman said. "But when I [looked] up, I thought it was P.I., because I didn't look back for the ball. My teammates were like, 'Think about if you were to look back, that could have been a pick-six.' Because he threw it kind of short. But that didn't happen. I seen his hands go up, and I just hit him, bro. I just hit him.
I respect the hell out of those extremely honest quotes from Robey-Coleman. Take that extra life and use it to ruin Tom Brady.
 PI A REVIEWABLE PLAY? That no-call was so bad, it not only has sports books refunding folks money, it might force a change in the rules of the game.
From the Washington Post:
The officiating debacle acknowledged by the NFL at the end of Sunday's NFC title game in New Orleans, which prompted widespread criticism from fans, players and coaches over what many deemed an outcome-changing call, could lead to a significant rule change. The league and its competition committee plan to give consideration in the offseason to making pass interference calls subject to instant replay review.

"It will be discussed at length along with additional fouls that coaches feel should be subject to review," one person familiar with the league's inner workings said Monday.

A high-ranking official with one NFL team confirmed that making pass interference reviewable will be considered, adding: "And there will be discussion on [replay] review of calls and non-calls."
I'd like to point out that our friends north of the border have already been doing this in the CFL for quite a while, and it works out pretty well. This isn't a groundbreaking and completely reactionary idea, it's something that probably should have been in the game for a while.
God forbid we get all of the calls right instead of just the non-penalty calls. In my humblest of opinions, this is a much-needed addition to football, and especially the NFL, where pass interference is a spot foul. If you're going to call a 65-yard penalty, you better be damn sure it's the right call.
And let's not pretend this is the first egregious blown pass interference call in the history of football. Hell, the Saints were boned on the other end of the spectrum earlier this year because this was flagged as a 40-yard pass interference penalty:
The CFL allows coaches to challenge pass interference calls. I wasnt on board with that at first, but if stuff like this keeps happening... pic.twitter.com/PaOzzUGofV

— Kevin Harrish (@Kevinish) December 23, 2018
I know there will be backlash to this, but I don't see a huge downside. I'm team #GetTheCallRight, I don't really care how long it takes.
 TOURNAMENT RESUME AIN'T LOOKING GOOD. Remember when we were all hype that the Ohio State hoops team was criminally underrated once again?
It's probably long past time to pump the brakes on that one. Yeah, the Buckeyes started 10-1, but their non-conference slate did not age well.
Worth noting: The #Buckeyes went 10-1 in the non-conference portion of the schedule. KenPom ranks the Ohio State non-conference schedule as the 253rd toughest in Division I men's basketball.

— Adam Jardy (@AdamJardy) January 21, 2019
That ain't good, and it doesn't bode well for Ohio State's NCAA Tournament hopes unless shit gets turned around in a hurry. But even if it doesn't, a disastrous season is a lot easier to stomach when you've got three program-changing freshmen coming in next season.
Remind me of this suffering when DJ Caron is wearing a net around his neck next April.
 SILK CONTINUES TO BALL. The good news is, as bad as the Buckeyes have been the past few weeks, D'Angelo Russell has been ridiculously good.
Silk was named the Eastern Conference Player of the Week after a 40-point game and a 34-point game, and followed the honor up with 31 points and eight assists on Monday.
D'Angelo Russell mic'd up for the @BrooklynNets in BKN. #WeGoHard pic.twitter.com/oajzbJYwdx

— NBA (@NBA) January 21, 2019
D'Angelo Russell of the @BrooklynNets has scored 71 points over his last 2 games without attempting a single free-throw.

He is the first player in the last 50 seasons to score at least 70 points with 0 free-throw attempts in a 2-game span.#WeGoHard pic.twitter.com/HJrDhhPEzA

— Stats By STATS (@StatsBySTATS) January 22, 2019
I still can't believe the Lakers traded him. The guy has a legit chance to be an All-Star this season. A pick and roll with DAR and LeBron would have been absolutely #NSFW.
 YOU CAN'T DO THAT *CLAP* *CLAP* *CLAP CLAP CLAP* Ohio State landed a fresh #teen commitment last night, which had current commit Paris Johnson Jr. talking about the Cincy to Columbus pipeline.
A certain Kentucky tight ends coach was slightly jealous about that.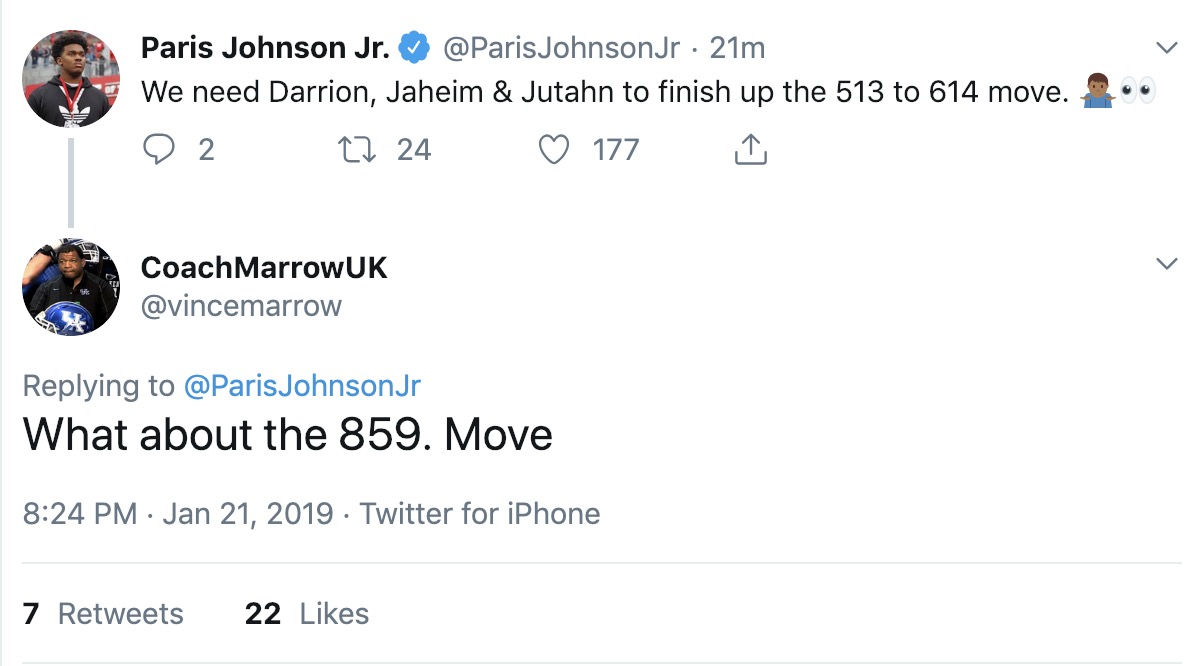 Yeah, that's an NCAA Violation. You can't Tweet at prospects.
It seems the nice fellow got the memo quickly because the Tweet was deleted with the quickness, but screenshots are forever.
 LINK LOCKER. Student who pretended to be cocaine snorting policeman may face prosecution... How do you calculate the emotional cost of ghosting someone?... A company wants to sell you ugly fruits and vegetables for cheap... People are renting out their Facebook accounts in exchange for cash and free laptops...