Hey, Tate Martell wants to remind y'all that as a quarterback, he is in fact capable of throwing a football.
holy shit... i can throw the ball guys

also.. coach day bringing the juice! https://t.co/5dqjLRbVrO

— TATE MARTELL (@TheTateMartell) December 29, 2018
I'm sure this is directed at some online #takes from fans, but maybe he should have tagged the coaches in the Tweet. I think they forgot as well.
ICYMI:
Word of the Day: Obambulate.
 QB GURU HIRING QB GURU? The worst part about head coach Ryan Day is that Ohio State loses quarterbacks coach and offensive coordinator Ryan Day.
But head coach Ryan Day might have a plan in place for that.
From Austin Ward of Lettermen Row:
Multiple sources have indicated to Lettermen Row that Oklahoma State offensive coordinator Mike Yurcich is a name to watch for the Buckeyes once the Rose Bowl is in the rearview mirror and Day gets to work on putting his imprint on the staff. At the moment, Ohio State has been using Corey Dennis to fill the 10th spot on the staff as a recruiter, and it will be interesting to see what role the senior quality control coach will have moving forward since the only other potential change on that side of the ball would likely be on the offensive line. It feels like a reasonably safe assumption that Kevin Wilson would be retained to continue his prolific partnership with Day, but adding another quarterback guru with Ohio ties and recruiting experience like Yurcich would be a strong, savvy move.
Hey, works for me. I can't recall a time I've watched an Oklahoma State game the past five years and thought bad things about the quarterback play. That team averaged 36 points a game this year and 45 the year before.
Sure, let's do it.
I also love this little bit Ward tucked in there: "the only other potential change on that side of the ball would likely be on the offensive line."
Curious, to say the least.
 GRINCH OUT? It sounds like Oklahoma might be coming hard after Alex Grinch after bowl season wraps up.
From FootballScoop.com:
When we first wrote about Riley's defensive coordinator search earlier this month, the focus was centered on two candidates in Alabama co-defensive coordinator Pete Golding and Ohio State co-defensive coordinator Alex Grinch.

Since then, sources have indicated that Golding will not be the hire, turning the focus toward Grinch.

...

To reiterate: nothing is imminent at this time. Oklahoma plays Saturday, and Ohio State doesn't play until Jan. 1. Oklahoma could play again a week after that if the Sooners win the Orange Bowl.

But if a meeting between he and Riley goes well, the job could be Grinch's if he wants it.
Honestly, this makes complete sense for both parties.
From Oklahoma's standpoint, your defense is an absolute revolving door. Grinch has already fixed one atrocious defense for an offensive-minded team, hopefully he can do it again.
From Grinch's standpoint, he came to Columbus expecting Greg Schiano to be on his way out, which was a fair expectation, since Schiano had literally accepted a head coaching position at Tennessee. He came here to be the defensive coordinator, not Schiano's sous chef. If Schiano stays for another season, I totally understand why he'd bolt.
But also, he's a local guy and his heart and family roots are in Ohio. If it makes sense for him to stay, he would probably like to.
 BUCKEYE TAKEOVER. This may shock you, but it's looking like the Rose Bowl crowd will be Buckeye-heavy on Tuesday.
According to the bowl game crowd projector tool at Vivid Seats, you can expect about a 75 percent Ohio State crowd for Urban Meyer's curtain call.
From VividSeats.com: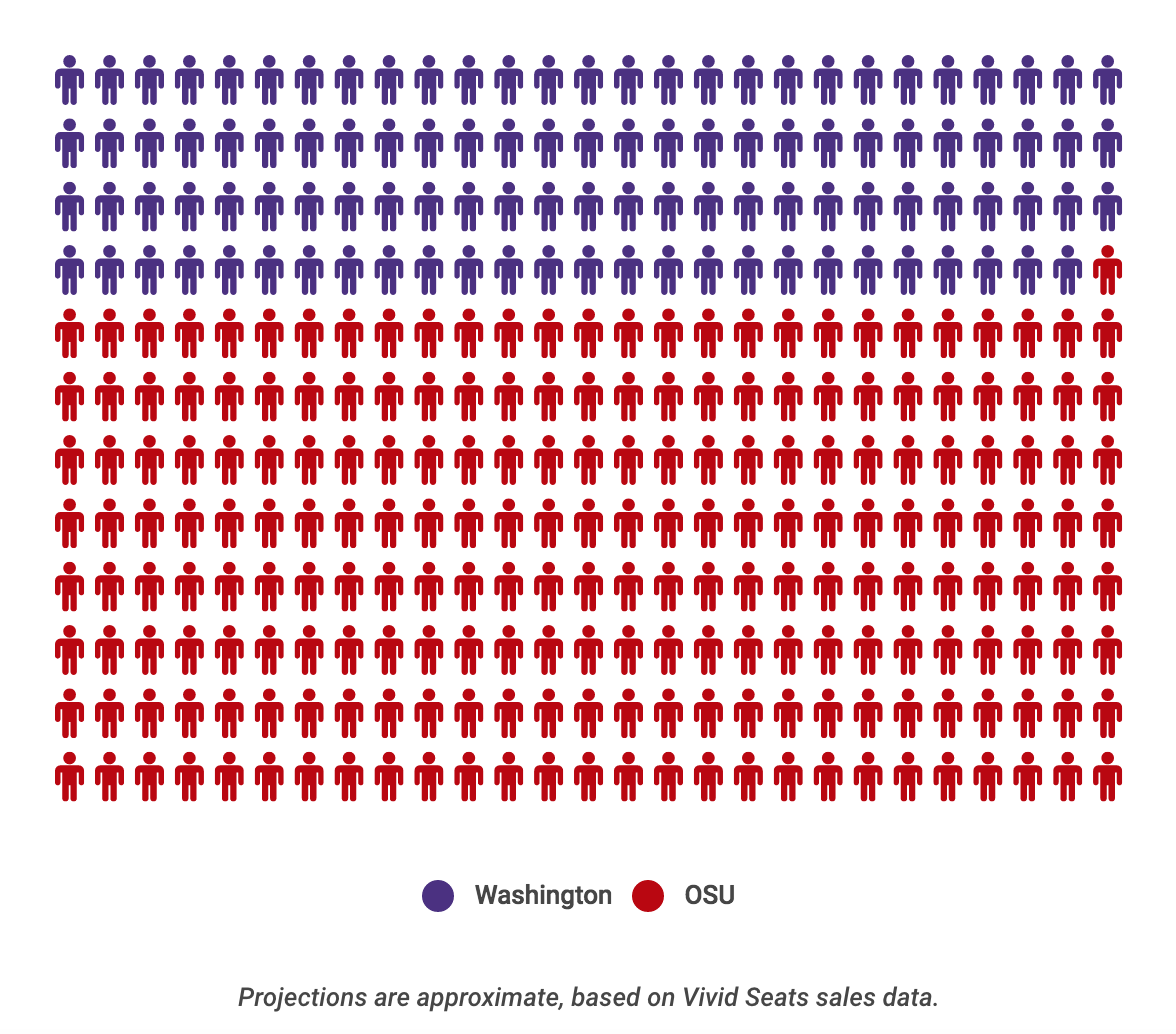 Honestly, I'd be shocked by anything otherwise. It was always going to be a Scarlet crowd anyway, Meyer's retirement just locked it up.
 IT'S A PARTY! I sincerely believe bowl games began with the with the most honest of intentions, and they still produce some fantastic football games that I very much enjoy watching.
But they're gigantic cash grabs for a few people, and Jim McVay is a perfect example of that.
Last year, buddy made $1,045,000 to run a single second-tier bowl game between two third-place teams. One game, and he took home over a million dollars. The entire bowl game raked in $11.9 million in revenue, meaning McVay pocketed about 9 percent of the entire organizations annual revenue.
To put that in perspective, the Pasadena Tournament of Roses Association generated $96.7 million in revenue. McVay's Rose Bowl equivalent made $412,000.
If you think that's insane, you ain't the only one.
From Will Hobson of the Washington Post:
When informed of McVay's pay and the Outback Bowl's revenue, one expert on the economy of college sports laughed.

"You really can't justify this salary," said Richard Southall, professor and director of the College Sport Research Institute at the University of South Carolina. Southall said McVay benefits from working in a niche industry with unique market factors beneficial to executives, such as cheap entertainment (the players in bowl games each get $550 of souvenir gifts, the maximum permitted under NCAA rules), and lax oversight.

Bowl executives "don't answer to any shareholders; they don't answer to any governmental entity," Southall said. "It's a party."
To a point, I tip my cap, because that is one a hell of a hustle. But also, imagine what else you could do with that money.
 HOW DID OHIO STATE LOSE TO PURDUE? Auburn looked like it was playing NCAA14 on freshman mode against Purdue yesterday.
Dudes were running wide open down the field, Purdue couldn't win a single footrace and there were holes so big I could have confidently run through them.
Auburn has officially set the FBS record for most points in one half of a bowl game (56).

Previous record was WVU's 49 vs. Clemson in 2012 Orange Bowl.

— Stewart Mandel (@slmandel) December 28, 2018
Auburn – a team that lost to Tennessee and only managed 24 points against Mercer and Southern Miss – dropped 56 on Purdue in less than 20 minutes of game time. But Ohio State – a team with the most prolific passer in program history that dropped 62 on the nation's top defense – didn't score a touchdown until the fourth quarter.
Perplexing.
This is probably the most tinfoil hat thing you'll ever read me type in these here Skull Sessions, but I firmly believe the wind played a huge role in Ohio State's offense disappearing in that game.
There were gusts of wind big enough to knock down this big-ass tree during the day and steady winds between 18 and 22 mph during the first half. Remember that first-half pass to a wide open Terry McLaurin that was nowhere close to the target?
If you need more convincing, the wind died down towards the end of the third quarter, which is exactly when Dwayne Haskins started dropping dimes (and also, Purdue's offense started doing things too).
The other angle to this is that Ohio State's defense gave up 49 points while being aided by 20 mph winds for half the game. But at least my theory makes me feel better about half the team.
 BOWL GAME PICKS. I shed a single tear realizing this is my last Saturday to do this until next season, so I'll just go ahead and give you a pick for all five games, but with much more brief explanations.
Michigan and Florida Under 51: Neither of these teams are ever in a hurry to score the few points they score per game. I see this as like 24-17 game.
South Carolina and Virginia Under 54: These teams like to run the ball and don't have a terribly fast tempo to their offenses. I expect the clock to move the entire game.
Arkansas State -1.5 against Nevada: Arkansas State has a fun offense led by star quarterback Justice Hansen. I'll ride with them in his final game.
Clemson -12 against Notre Dame: You couldn't give me enough points to take Notre Dame in this game. Everyone is trying to sell the "Notre Dame belongs here and it will be a good game!" #take, but nah. Clemson is better just about everywhere.
Oklahoma +14 against Alabama: Look, Oklahoma isn't going to be able to stop Alabama enough times to win this game, but their offense is electric enough to keep it within 14 points. 
 LINK LOCKER. My Airbnb guest threw a New Year party for 300 people... Man becomes the first to traverse Antarctica unaided... Florida woman robs postal worker, takes off on tricycle... What I learned from trying to live like a genius... Athletes don't own their tattoos, and that's a problem for video game developers...