I don't think I've ever been more pleased by a five-point win over a 2-6 team in my life.
Yeah, the final score was ugly. But when you really, really look at it, the Buckeyes solved a lot of problems. The entire offensive line looked great, the running games seems fixed, they could finally score in the red zone, and it looks like they found a real live safety.
Without two fumbles and a red zone pick, we could be talking about a lopsided win to right the ship. I'm not saying everything is fine and perfect, but I at least have little hope that things can still improve.
ICYMI
Word of the Day: Loquacious.
 BRENDON WHITE CAN BALL. The targeting call against Jordan Fuller was just horrific – although probably not even the third-worst targeting call to go against the Buckeyes in the past four years.
The one blessing is that it may have helped the Buckeyes solve their safety problem as Brendon White came in and led the team in total tackles, solo tackles and tackles for loss.
From Jim Naveau of LimaOhio.com:
"It's a dream come true. Hard work pays off. We always go through adversity as athletes. The biggest thing is not to give up on yourself and have faith in God and keep going. When my opportunity came I took advantage of it," Brendon White said.

"After the game I started tearing up. Growing up in Ohio and going to Olentangy Liberty High School, 15 minutes from here, and always going to the games as a high school kid and being able to play at your dream school is pretty cool."

...

Ohio State's safety position opposite Jordan Fuller has been a starting spot no one has locked up as their own nine games into the season. Some people have questioned why White or maybe some other young player hasn't been given more playing time.

He says he wasn't one of those. "Coaches get paid millions of dollars to make those decisions," he said.

OSU coach Urban Meyer said, "Brendon White came in and did a hell of a job. He's been working very hard to earn the trust of the coaches and get on the field. He's getting better and better and, obviously, he proved it today."

White had earned enough trust from the coaches that he was scheduled to play on third-down situations on Saturday. But when Fuller was ejected for targeting in the first half, White got the chance to play full-time.
White has to be a starter next week.
He was literally more productive in less than three quarters than Isaiah Pryor and Dril have been all season combined (even though they were playing different positions and it's not completely comparable).
It might not be quite as simple as just throwing White in there instead of Pryor or Dril, because I'm not sure White can play the field safety position. But thankfully, Sinbad's nephew can. So just shift him on over and throw White in at the boundary spot and we've got ourselves a secondary!
Now we just have to figure out the linebackers situation and Ohio State will be right back in the national race for second place.
 CAN'T GUARD MIKE. I've said this before, but people love to look back at Ohio State's mishandling of Ezekiel Elliott in the 2015 offense, but in hindsight, that's nowhere near as egregious as completely neglecting a generational talent like Michael Thomas.
Thomas is almost undeniably the most dominant receiver in the league right now and he was only third-team All-Big Ten at Ohio State. I don't know who's to blame for that, but it sure doesn't add up.
Anyway, Thomas broke the Saints single-game receiving record on Sunday and had some fun after scoring on a 72-yard bomb, because you should be able to celebrate however you see fit when you go for 211 yards in a game.
Brees finds Michael Thomas for the dagger! #LARvsNO pic.twitter.com/yhayoE2tEz

— New Orleans Saints (@Saints) November 5, 2018
Thomas chose to pay homage to Saints' receiver Joe Horn, reenacting his famous touchdown celebration. Horn was pretty stoked to see it.
Ex-Saints WR Joe Horn said he saw Michael Thomas honorary TD celebration while working out in Tupelo, Miss. When I saw him bring out that cellphone it brought a tear to my eye, Horn said. For him to pay homage to me in that way, let me know what kind of man Michael Thomas is"

— Jeff Duncan (@JeffDuncan_) November 5, 2018
Joe Horn said he went online right after he saw Michael Thomas ode to his cellphone TD celebration and bought one of Thomas' No. 13 Saints jerseys.

— Jeff Duncan (@JeffDuncan_) November 5, 2018
My favorite part was how genuinely shocked the commentators seemed at the celebration, as if an over-the-top touchdown celebration was somehow uncharacteristic of a dude with the Twitter handle @CantGuardMike who's notorious for his online spats with like, everyone.
Speaking of which, we don't talk nearly enough about his Twitter rampage after the 2013 Orange Bowl loss to Clemson.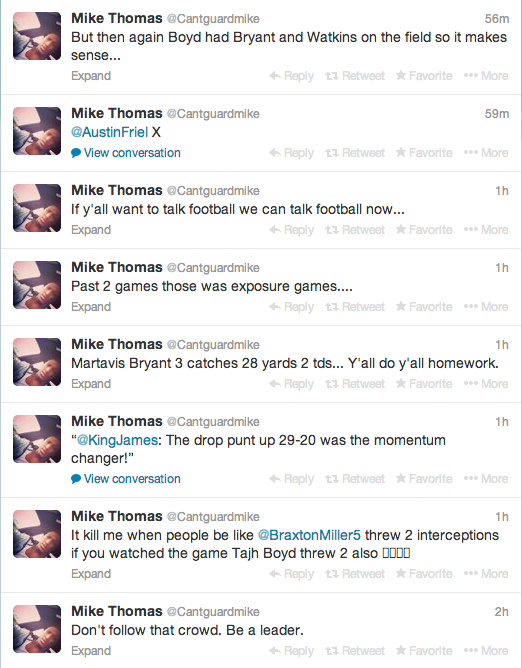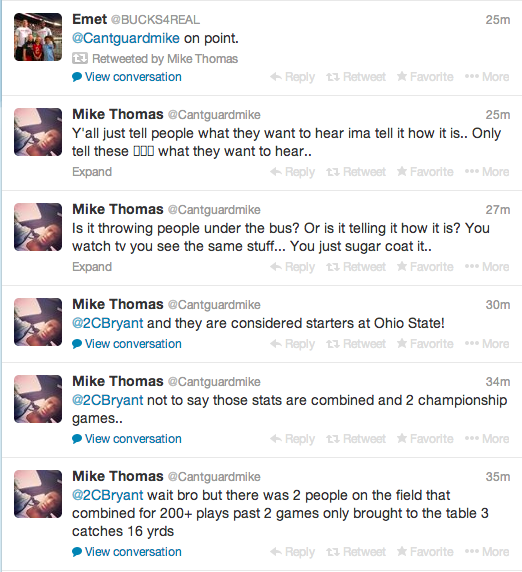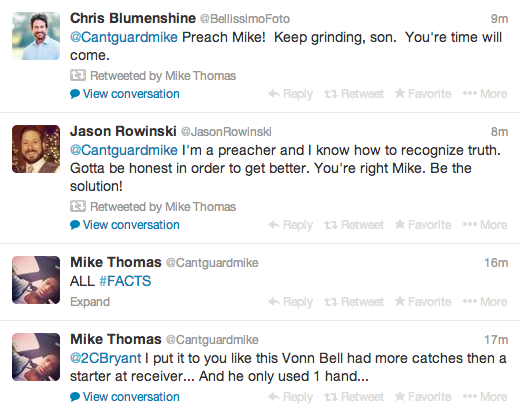 I knew Michael Thomas was a future Hall of Famer the second I read those Tweets. Especially when Christian Bryant told him to stop and he basically said "but am I wrong?"
"Vonn Bell had more catches then a starter at receiver... And he only used 1 hand..." is absolutely legendary and I really don't think we appreciated this anywhere near as much as it deserves to be appreciated.
 DOLO GIVES THE BLUEPRINT. Few have gone toe-to-toe with the devil and lived to tell the tale, but one of those is Cardale Jones, and the Tamer of Tides shared the secret to breaking Bama.
Gotta get the quarterback involved in the run game to have a chance to beat Alabama.

— Cardale Jones (@Cardale7_) November 4, 2018
Well shit, if that's the blueprint, Ohio State may as well just call it a season.
Dwayne Haskins runs like C-3PO and collapses like a push puppet as soon as a defender gets within six yards. He ain't getting involved in the run game if Ohio State's season depends on it, and everyone knows it.
 WOULDN'T IT BE NICE. Ohio State landed two big commits in a span of six hours, but like any addict, now I'm just itching for more.
I'm not picky, but the top wide receiver in the 2020 class would be just fine.
THE HIO STATE #GOBUCKS pic.twitter.com/A1krzZ9trY

— 0J4 (@julian_040) November 4, 2018
Great to see Jordan Fuller's uniform got put to good use, after all.
 LINE MOVING FAST. Ohio State opened as a 5.5-point favorite over Sparty this weekend, and a few hours later, the line already moved to 3.5 points, according to Vegas Insider.
The Buckeyes are 0-5 against the spread in the past five games, meaning Vegas has a tendency to overvalue Ohio State. If that's the case again, this could be in a close on against Dino and the Spartans.
I'll tell you this much, I will not be touching this line one way or the other, which means it's probably going to be the time Ohio State wins by 50.
 CUSTOM JEAN JACKET PLUG. Sean Nuernberger's girlfriend was seen rocking the world's crispiest jacket a few weeks ago, featuring a custom painted image of her boyfriend drilling a kick.
I'm happy to inform you that you too can have your placekicking boyfriend immortalized on your denim outerwear.
Who wants a jean jacket?!!?

After receiving lots of love for my jean jackets/game day apparel Ive decided to start customizing and selling them. DM me for prices and info!! @11W pic.twitter.com/2h0sbj3qrn

— Natalie Hyde (@Natalie_Hydee) November 5, 2018
Strongly considering shelling out the cash for one depicting me as a centaur. If only I knew some designers capable of accomplishing that task.
 LINK LOCKER. Choon Mo Yang is a Columbus living legend... The true cost of an iPhone over a lifetime is about $300,000... Chocolate importers/exporters admit to shipping kilograms of cocaine to Australia for Southern California drug kingpin... What it's like knowing you'll die of cancer at 35... The pirate cell phone towers of rural Mexico...