Fresh off an open date and looking to shore up ongoing issues in the run game, red zone offense and back seven, Ohio State showed progress in two of the three while holding off Nebraska, 36-31, yesterday afternoon in Ohio Stadium. 
Despite improvement, the score was too close for comfort against a team with two wins in nine tries on the season, regardless of whether or not they are a "two win team that people don't want to play right now," as described by Urban Meyer in his post game presser. 
Turnovers helped keep the Huskers in it as Dwayne Haskins tossed an interception in the end zone and the Buckeyes lost two of their six fumbles with their three turnovers leading to 14 points for the visitors. 
The Buckeyes would escape victorious however thanks largely to a big day from J.K. Dobbins and the offensive line. 
The win improved Ohio State to 8-1 on the season and sets the stage for a big one next Saturday against Michigan State in East Lansing. 
Before we shine a light on Mark Dantonio's squad, here are Five Things from yesterday's five point decision over Nebraska. 
---
HERE COMES THE RUN?
After two straight games of failing to reach the century mark and six straight under 200 yards, the Ohio State rushing attack finally got on track with 229 yards on 40 carries (5.7 ypc). 
J.K. Dobbins led the charge with 163 yards on 7.1 yards per carry and three touchdowns including a 42-yard jaunt that doubled his previous longest carry of the season. 
Mike Weber had just nine totes due to ball security issues but still went for 91 yards (10.1 ypc) as the offensive line created holes not seen since it pushed around Rutgers in game two. 
Yesterday marked only the third time this season the Buckeyes went for 200+ on the ground and the three rushing touchdowns are one more than produced over the last four games combined. 
Weber and Isaiah Prince both commented that the run game relied heavily on traditional running plays versus RPOs which if true, might have you scratching your head as to why that wasn't tried more before game nine. 
We'll see if Ohio State can keep it up considering Nebraska's rush defense is weak and Michigan State's is one of the best in the nation. At least the Buckeyes have something to build on heading to face Dantonio's stout front. 

BLOWING CHUNKS
The season-long issue of surrendering big plays showed a tiny bit of progress yesterday as the Buckeye defense gave up 10 chunk plays compared to 16 in the loss at Purdue. 
Seven of those came in the opening half as Nebraska took a 21-16 lead into the locker room. The chunk play distribution was even as the Huskers churned out five rushes of at least 10 yards and five receptions of at least 15 yards. 
In that mix, Nebraska tallied four plays of 20+ yards pushing Ohio State's season total of 20+ yard plays surrendered to 46 in nine games, or 5.1 per game. 
Ohio State entered the game ranked No. 90 nationally in 20+ yard plays given up and slipped to No. 91 as of this morning.
The gashes helped Nebraska tally 450 yards and become the fifth straight team to rack up at least 396 against the Buckeye defense. 
The good news is the Buckeyes did stiffen up for a good portion of the second half but ended poorly giving up scoring drives of 65 and 75 yards on Nebraska's final two possessions. 
It isn't fixed folks and only a true homer would expect major improvement at this point. 
SUPER SOPHS
With starting safety Isaiah Pryor already out with an injury and fellow starter Jordan Fuller ejected for targeting in the second quarter, it looked like the Buckeye defense might be in big trouble along an already-problematic back line. 
But then a true sophomore from Olentangy Liberty with five tackles to his credit this season came in and lit it up. Brendon White, a 6-foot-2, 210-pounder, racked up 13 tackles, including eight solos, in a little over two quarters of action including a pair of tackles for loss in a stellar performance. 
The kid was all over the field and not only did he make tackles but it felt like the ball carriers went backward a lot and while I have zero stats to back it up, that sure felt like a sight for sore eyes. 
So, the question will be what happens next week when Pryor returns to health? I can only hope White earned more snaps, if not a start, considering what a challenge its been finding dependable safety play this season. 
He didn't earn as much limelight which is understandable considering White's day but fellow true sophomore, defensive tackle Haskell Garrett, caught my eye yesterday a handful of times. 
Garrett came up huge on the third defensive series of the second half as Nebraska took the ball at its own 4-yard line trailing just 23-21. On 1st-and-10, Garrett got penetration and batted down a pass forcing 2nd-and-long. On 3rd-and-10, Garrett did a great job trailing the play, catching Nebraska receiver Stanley Morgan from behind, keeping him 1-yard short of a first down. 
Forced to punt from deep in his own territory thanks to Garrett, Husker punter Issac Armstrong got off a 34-yarder giving OSU the ball at its own 47. Three plays later, the Buckeyes found the end zone, stretching its lead to 30-21. 
Props on the clutch contributions, fellas.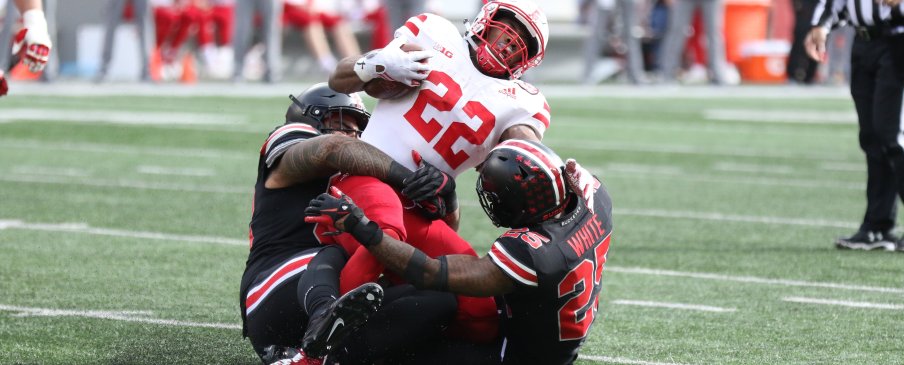 TALENT OR COACHING? 
With Ohio State's defense still pretty much taking on water, Greg Schiano and Bill Davis, in particular, have been getting hammered over scheme and player development concerns. 
I have no issue with those beefs but on the player development side, I do wonder if some of the players are getting a bit of a free pass at the expense of the coaches. 
If you set emotion aside and don't get swallowed up in recruiting rankings, I think its at least fair to wonder if there simply isn't a pretty significant talent drop off across the vast majority of the back seven compared to starters in the previous years since Meyer's arrival. 
Out of names like Malik Harrison, Tuf Borland, Pete Werner, Damon Arnette, Jeffrey Okudah, Kendall Sheffield, Jordan Fuller and Isaiah Pryor, how many of those guys would be starters on defenses of year's past? 
Fuller (especially 2017 Fuller) has a strong argument over a handful of starting safeties since 2012 and there's probably a case for Harrison over a linebacker since 2012 but what about anyone else on that list? 
I'm not trying to dog anyone out and I understand many of the guys this year are inexperienced and getting compared to a lot of NFL draft picks which brings up the chicken / egg scenario of whether or not you think this year's guys are studs but aren't being coached up, or maybe they just aren't as good as the elite players that came before them?
For now, I think it's at least fair to surmise that maybe a sizable portion of these guys don't have the same ceiling no matter the coaching as many of the players from back seven's gone by. 
IN THE ZONE
After failing to record a touchdown in eight red zone trips over the previous two games, and ranking 96th in the land in red zone touchdown percentage (56.8%), the offense produced three touchdowns in four red zone opportunities against the Huskers. 
Dobbins had two of the three with a 10-yard burst and a 3-yard plunge to cap successful red zone tries. The latter featured a new look as 313-pound redshirt freshman lineman Wyatt Davis lined up as an extra tight end. 
The final red zone score counted statistically as a touchdown pass for Dwayne Haskins but came on a 9-yard jet sweep from Parris Campbell late in the third quarter. 
The confidence-building afternoon along with a few new wrinkles for Michigan State to think about will hopefully help keep the ball rolling. 
If the defense is indeed what it is, then the offense has to put up touchdowns at every opportunity.