I thought about dumping "get dumped then" but it has a 47-5 record heading into this season and you don't fix what's extremely not broke. So my lawyers worked tirelessly to ensure I could use it freely – D.J. cannot collect damages.
A month and a half ago, I joined the full-time blogger ranks, inheriting the Skull Session throne from my late father.
And folks, what a hell of a time to start. My first official day on the job, Ohio State canned Zach Smith, and I have an extremely vivid memory of our Jason Priestas telling me, "Don't worry, not every day will be like this."
A month later, I was blogging about sex toys, penis pictures and office affairs and citing various Facebook longforms written by an unemployed sports reporter with a pornstache allegedly tipped off by Texas Tom Herman in order to get Zach Smith fired, all while Urban Meyer's job security hung in the balance.
Every day for the past month, I've been crawling towards football season like a lost, dehydrated nomad pulling his way through hot, dry dessert sands only to arrive at mirage after mirage.
But here I am, alive at the other side. And as a wise man once said in a ballad, "th-that that don't kill me, can only make me stronger."
It's finally time to do what I was brought here to do – blog about the Local Team. And the first enemy on the docket happens to be a lowly beaver.
Look, I have no real beef with Oregon State. In fact, I have sympathy. The Beavers have done nothing to deserve the brutal massacre that's on the horizon.
It's not their fault they drew one of the most talented Ohio State teams of all-time while its will to win is also at an all-time high.
The Beavers' best chance of even keeping this game close is if the Buckeyes came out sleepwalking. And that ain't going to happen.
Ohio State has two former 1,000 yard rushers, a ungodly gigantic offensive line and this guy at quarterback:
We're 24 hours from the dawn of a new era. pic.twitter.com/bTj7C6vuFI

— Eleven Warriors (@11W) August 31, 2018
Meanwhile, Oregon State's defense is so atrocious, it's almost a safety hazard. Let's take a peak at the chart.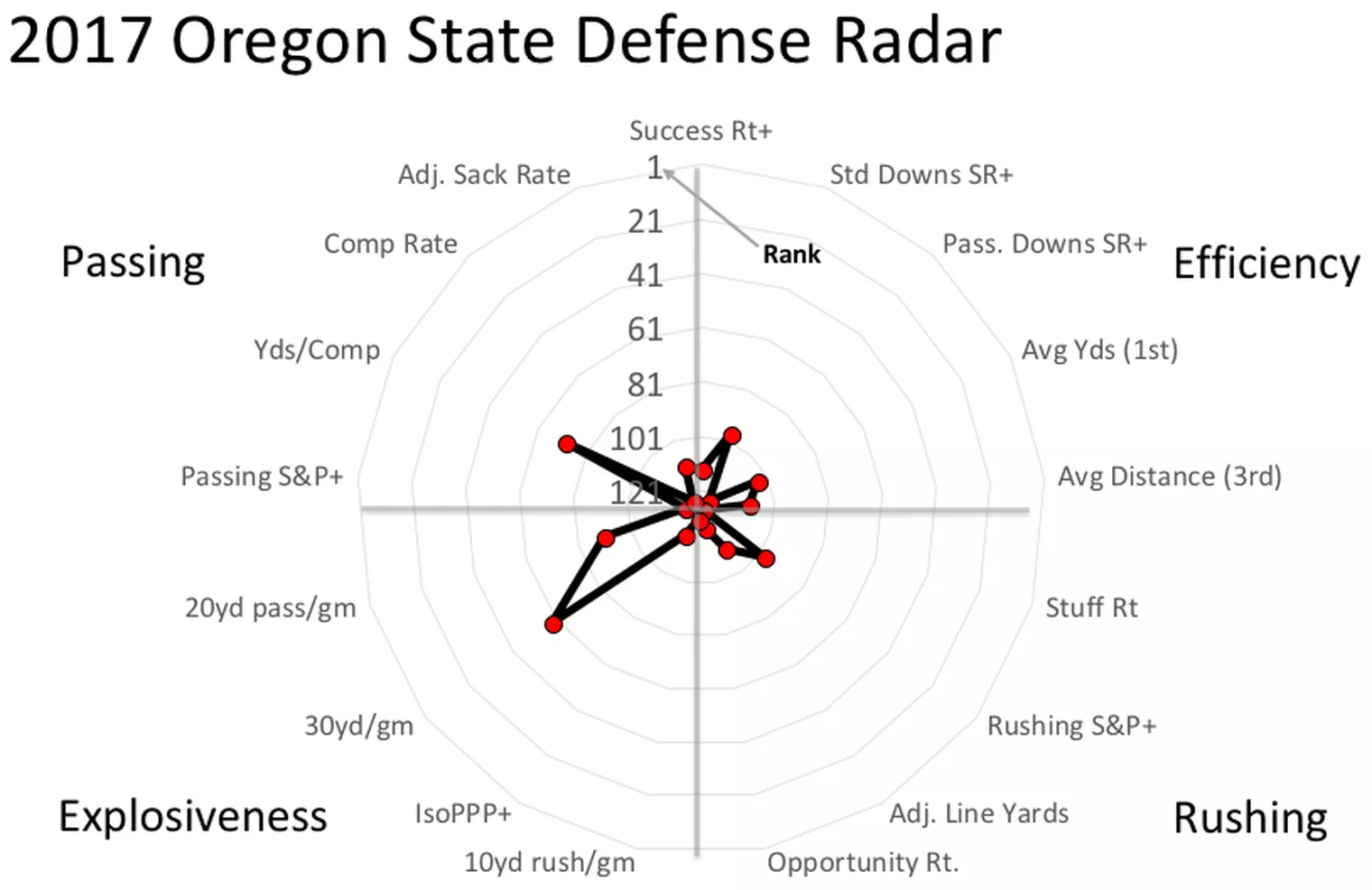 My God.
What's about to happen to the Beavers is akin to a human trying halt a charging bull using just a styrofoam cup and some Twizzlers. And we haven't even touched on what's going to happen on the other side of the ball, and we honestly don't need to. You get the idea.
The Vegas line is at Ohio State -38.5, which is a huge spread, but I sincerely do not know how many points you would have to give me to confidently wager on Oregon State today. +50? +60? I'm still not sure I'd take it.
9/1 SLATE

| TIME (ET) | GAME | FAVORITE | CHANNEL |
| --- | --- | --- | --- |
| 12:00 | FIGHTING LANE KIFFINS at #7 OKLAHOMA | OU (-20.5) | FOX |
| 12:00 | #23 TEXAS at MARYLAND | TEX (-13.5) | FS1 |
| 12:00 | SOUTHERN at #16 TCU | TCU (LOL) |   |
| 12:20 | FURMAN at #2 CLEMSON | CLEM (LOL) | ACC |
| 3:30 | AUSTIN PEAY at #3 GEORGIA | TCU (-7) | ABC |
| 3:30 | #6 WASHINGTON vs #9 AUBURN | AUB (-2) | ABC |
| 3:30 | APPALACHIAN STATE at #10 PENN STATE | PSU (-24) | BTN |
| 3:30 | #17 WEST VIRGINIA vs TENNESSEE | WVU (-9.5) | CBS |
| 4:00 | UNLV at #15 USC  | USC (-26.5) | PAC12 |
| 6:00 | #22 BOISE STATE at TROY | BOISE (-10) | ESPNN |
| 7:30 | #14 MICHIGAN at NOTRE DAME | ND (-1) | NBC |
| 7:30 | STEPHEN F AUSTIN at #18 MISS. STATE | MSU (LOL) | ESPNU |
| 8:00 | LOUISVILLE vs. #1 ALABAMA | BAMA (-24) | ABC |
| 8:00 | BOWLING GREEN at #24 OREGON | ORE (-33) | PAC12 |
Word of the Day: Pillage.
 THAT 11W PREGAME FIX.
 JUST LIKE '13? Ohio State's vaunted  2017 class is entering its second season now. The last time the Buckeyes had a No. 2 ranked recruiting class in its second season, they won the national title.
It's an apt comparison, and according to Chase Young, a fair one.
From Doug Lesmerises of Cleveland.com:
Ohio State's 2013 recruiting class, ranked second in the nation, featured a boatload of future stars and formed the heart of the Buckeyes 2014 national title team when those players were in their second years in Columbus.

Ohio State's 2017 recruiting class, ranked second in the nation, featured even more high school talent and now is entering its second season in Columbus.

So, 2013 class to 2017 class, fair comparison?

"Yeah," Ohio State second-year defensive end Chase Young said. "Duh."

...

"We bust our butt every day just like Zeke and them did, Eli, all them," Young said during spring football, before the Urban Meyer/Zach Smith off-field detour this preseason took the focus off what the Buckeyes were doing on the field.

"So Isaiah Pryor, it's his time. It's my time. Our whole class, it's our time.  So we're ready to go."
I think the biggest difference is this time, the supporting cast of veterans is also more talented. For example, with all due respect to Steve Miller, I'd personally prefer Nick Bosa play opposite of Chase Young.
I think we're at the point where every season, anything less than a national title is a disappointment. It's an insane standard, but it's the standard the team wants to be held to.
 FIVE QUICK WINNERS. If you're itching to get some action on this Saturday slate, I've got you covered with my five best picks for the day.
Penn State -24 against Appalachian State
First off, Appalachian State isn't an FCS and is a legitimately good team that will compete in the Fun Belt – but they ain't going to keep it close against Penn State. The Nittany Lions have to replace some folks on defense, but the Mountaineers are too one-dimensional to really cause any problems for a team like Penn State. It might take a bit, but Penn State will bust it open and win by at least 24.
Michigan +1 against Notre Dame
Notre Dame doesn't have a quarterback and has to replace two top-15 picks on its offensive line, and even last year's line crumbled when it played NC State's quality pass rush last season. That's not an extremely good recipe for success against a talented Michigan front seven. Notre Dame has a great defense too and Michigan's offense has had its share of problems, but at least the Wolverines seem to have made a drastic improvement at quarterback.
Washington +2 against Auburn
Washington returns 17 of 21 starters including most of its defensive line. Auburn's offensive line is a dumpster fire. I've seen this movie a thousands times – dominant defensive line versus bad offensive line always leads to a win. Or in this case, at least a loss of less than two points.
Alabama -24 against Louisville
Look, I know Alabama doesn't always look perfect to start the season, but let's not overthink this. Lamar Jackson is gone Louisville is a seven-win team at best this season. This game isn't going to be close.
Ohio State -38.5 against Oregon State. 
Like I said, you couldn't give Oregon State enough points for me to pick them on purpose. I think Ohio State could be up 40 by halftime, and it will only get worse when you start playing reserves versus reserves.
My score prediction, Ohio State 64 Oregon State 14
 THOSE WMDs. Breaking the unwritten rule of prison... A simple reason so many older Americans are overdosing on opioids... The murders that sparked China's ride share boycott...