At long last, we're just one sunrise from Ohio State football. 
Ryan Day is locked and loaded, the team is angry, and it's hard to fathom much resistance from the Beavers of Oregon State. 
To get your mind right for a high noon showdown in the Shoe, please welcome consigliere Ramzy Nasrallah, our newest addition to the squad, David Regimbal, and beat writer Derrick Webb to the season-opener edition of the roundtable. 
---
Ryan Day officially told us that Dwayne Haskins is Ohio State's starting quarterback which was hardly breaking news. We also got confirmation that backup Tate Martell will play. What's your take on this decision? Do you like Martell getting some non-mop-up duty snaps via specific packages or would you rather see Martell get some meaningful snaps in the flow of a competitive game? Why or why not?
Ramzy: By my unscientific estimation it's 15% game strategy, 30% keeping the backup conditioned and 55% keeping the room intact. Joe Burrow's transfer left the the quarterbacks dangerously thin. We've already seen other schools' QB battles end with the runner-up immediately transferring for playing time. The dynamic for this position has evolved dramatically with very few high profile recruits content to ride tuition, room and board on a clipboard. If Martell knew he would be stuck on the sideline indefinitely there are a whole number of Power 5 opportunities where he could break a sweat. Have you seen how many true freshmen won starting jobs?
David: I don't like it. We know Meyer-coached teams have been most effective with a mobile quarterback. The numbers edge in the running game is real, and Martell is the ideal quarterback to maximize that advantage. But if we're talking about numbers, let's ask how often a setup like this turned out positively.
There have been systems that worked — most notably for Buckeye fans, when Chris Leak and Tim Tebow chewed their way through Ohio State's defense in the '07 title game that I already regret bringing up. But for every success story, I can think of numerous failures: Todd Boeckman and Terrelle Pryor in 2008 (eye twitch), Joe Bauserman and Braxton Miller in 2011 (body spasm) or J.T. Barrett and Cardale Jones in 2015 (heavy drinking). I'd rather see an offense with a rock-solid identity. Ohio State's 2014 playoff run through Wisconsin, Alabama and Oregon should be the model — feature the running backs, then let the arm-cannon behind center blow the top off. 
Derrick: This may be an unpopular opinion, but I like it. I'm a big Tate Martell fan and I think he brings and element to the offense that Haskins doesn't have. Would I put Martell in to throw the ball on third and long against TCU in the fourth quarter of a close game? No and let's hope that's not the case. But I think Martell does have big play ability in which the Buckeyes can benefit from. The specific packages question is the money question. If Ohio State is planning on using those packages in game situations, I'm OK with it. I trust it. 
Speaking of Haskins, it feels like forever since the Buckeyes had a truly unknown commodity starting at quarterback. What kind of game do you see Haskins having on Saturday? When the dust settles on the season, how many other Big Ten quarterbacks will have had better years? (I think Athlon's had him as the 5th-best B1G QB in their season preview.)
Derrick: If we're talking about Saturday only, I think Haskins is coming into this year with a splash -- and that's not a play on words because he's playing the Beavers. Oregon State was 121st in the nation in total defense last season, giving up 235.8 rushing yards and 237.3 passing yards per game. I don't think a date with Ohio State is going to change those numbers for the better. Plus, with JK Dobbins and Mike Weber in the backfield, and a talented receiving core to throw the ball to, Haskins will fit like a glove into the Buckeyes' offense.
You have to look at Penn State's Trace McSorley after the year he had in 2017 and I'd throw Wisconsin's Alex Hornibrook and Michigan State's Brian Lewerke into the mix. But for me, Haskins has to be in that conversation. Again, with the weapons around him and that massive offensive line he has to protect him, it's fair to say he could be as good as any of the names mentioned. The Big Ten hasn't had a quarterback win a Heisman Trophy since 2006 when Ohio State's Troy Smith did so. Is this year that streak is snapped? I don't think so. But if it is, Haskins has just as good of a shot as any of the B1G signal callers.
David: If the offense opens up in a similar fashion to Kevin Wilson's Oklahoma and Indiana teams, combined with the devastatingly effective cross-pattern principles that Day is fond of, then it's feasible to see Haskins giving Trace McSorley a run for conference quarterback of the year. Haskins has just about everything you could want in an offense — experienced and explosive wideouts, a dream running back tandem and an agile offensive line that remarkably doesn't have a member weighing fewer than 300 pounds. 
Despite Oregon State's horrendous season last year, its pass defense ranked a respectable 44th nationally, allowing just 211.2 yards per game. That secondary returns a lot of experience, but it's banged up coming into Columbus. I think Haskins gets off to a hot start.
Ramzy: Starting at home against a 38 point underdog vs. entering The Game in Ann Arbor trailing by six points. Haskins' coaches are going to tell him not to do too much or force anything, as he's surrounded by NFL players. The whole "J.T. Barrett is a distributor" philosophy still applies here. He's got much better toys than any other quarterback in the conference. I expect him to be statistically right behind Lewerke and McSorley.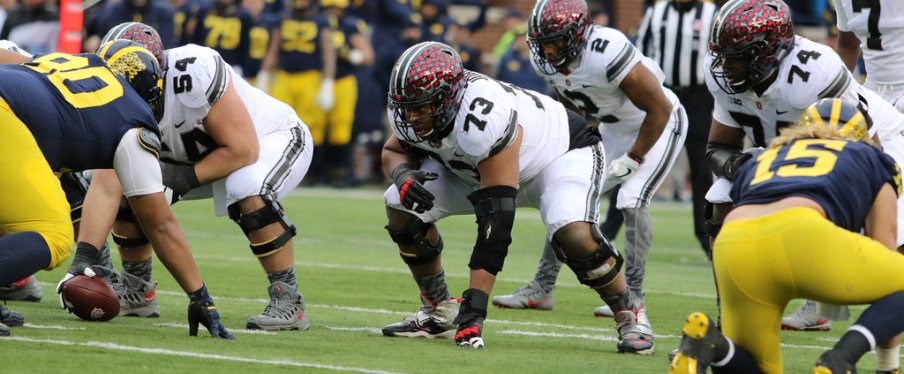 We got some clarity on Monday as Day listed Malcolm Pridgeon, Michael Jordan and Demetrius Knox as the starters from left guard to center to right guard. Day also noted Thayer Munford and Josh Alabi are rotating at left tackle (Munford's been battling some injuries) and Isaiah Prince is obviously the right tackle. How are you feeling about Jordan at center and Pridgeon at left guard? Billy Price and Pat Elflein made it seem easy to transition from guard to center but it isn't. What about the left tackle spot? I'm personally extremely nervous this position is being taken for granted by too many fans. Opine on the o-line.
Ramzy: Greg Studwara has earned the benefit of the doubt here, and it's going to take a few weeks for C-RT to gel. Opposing lines will attack the weakest link, the way they exploited Isaiah Prince two seasons ago. Prince has developed into mismatch for just about everyone he's going to face, so early on we'll see DC purposefully trying to hurt the younger guys' feelings. Wilson/Day will counter by fortifying those guys with running backs on passing plays. Run-blocking shouldn't be a problem from game one.
Derrick: I love Jordan at center. It fits Ohio State's reputation and the last two guards to have made that switch haven't been all that bad ... that's sarcasm, there's a reason they have their pictures hanging at the WHAC. Pridgeon's story is one I enjoyed following. He's a fifth-year senior and a transfer from Nassau Community College in New York. Now he gets the chance to start for the Buckeyes. That's awesome. But I think he'll get the job done. He won the job for good reason and at 6-foot-7, 310 pounds, he's a handful to say the least.
I think there's some cause for concern at left tackle, protecting Haskins' blindside. Personally, I trust Munford more in that position but if he can't stay healthy, it's a "next man up" mentality and that's Alabi. Do I think it's a huge deal? No. But I do think if any position struggles on the O-line this year, it's at LT.
David: For as much as Prince struggled in 2016, the improvement he made last season was so encouraging the staff toyed with the idea of sliding him over to anchor the line at left tackle. My biggest concern is on the left side. By all accounts, Munford had a fantastic offseason and Alabi played admirably in the small sample size we were given when Jamarco Jones went down against Michigan last season. Both are physically capable, but the inexperience is a big issue, particularly when these guys are protecting Haskins' blindside. 
Regarding the center position, it's hard to remember a time when the Buckeyes didn't have a world beater there. Maybe my confidence is unfounded, but Jordan's been a quick study his entire collegiate career.
Greg Schiano's starting linebacker trio on Saturday will feature Malik Harrison, Baron Browning and Pete Werner. Of course, Tuf Borland continues his speedy recovery from an Achilles injury and may even play this week. When Borland comes back, who would you list as Ohio State's best options? Who will emerge as Ohio State's most valuable linebacker by midseason?
David: Nothing grosses me out more than Achilles injuries. For some reason, I think they're worse than any stomach-turning knee or ankle injury. I don't know how a human being recovers from it, but when your name is Tuf, I guess you don't really have a choice, right? 
Because of that, among other being good at football reasons, I think Borland returns sooner rather than later and becomes the MVP of the unit. I'm excited about both Browning and Werner, but Borland just has what I like in a linebacker.  
Ramzy: Man, this is such a broken unit. Hilliard and Booker are broken. Borland is broken. In the meantime you keep Harrison outside; there isn't much flexibility there. Keep Browning inside until Borland is available, then he can be moved. I like that Werner has emerged and I wonder what effect that will have on Keandre Jones. At least one of the three freshmen they bought in has to see the field this year. 
I think Borland being named a captain tells you all you need to know about who the quarterback of the defense is going to be once his tendons are all healed.
Derrick: I don't think there's any question that when Borland's back, he starts alongside Harrison and Werner. He's a captain for a reason and, undoubtedly, Ohio State's most experienced linebacker after last year. He brings the ability to play the position but, possibly more importantly, the ability to lead an inexperienced group. Let's face it, that becomes invaluable after the Buckeyes struggled to cover tight ends and stop the run, at times, last year.
I'm really excited about Browning and he's going to get his fair share of playing time. In Borland's absence, if there is much of an absence, I think Browning has sort of an audition chance. But still, when Borland returns, he's the most valuable piece linebackers coach Bill Davis has. He's the one to watch.
In the secondary, it seems pretty clear Kendall Sheffield, Damon Arnette and Jeffrey Okudah are the top three cover guys and will make up the usual three-man rotation. Even within 11W slack, I think I've heard cases made for each of the three as the best overall cornerback. Who you got and why?
Derrick: I think you have to go with Arnette. Sports Illustrated named him a preseason second-team All-American and he's the only cornerback on the roster who's been with the team longer than one season. Former Ohio State coach Kerry Coombs once said Arnette reminded him of Bradley Roby. That's quite the compliment. But I tend to take everything Kerry Coombs says about a secondary as truth. I know he's been somewhat inconsistent but he's shown glimpses of tremendous upside. I think he's the Buckeyes' best run defender and I think he's underrated in pass coverage as well. Time will tell. 
Ramzy: If Sheffield spent the offseason learning how to look back for the ball he's a Thorpe candidate. Okudah has every intangible and the intimidation necessary to be an island. Arnette is the wildcard, as he appears to have received a Jim Tressel-style number demotion (no player sheds the number 3 to be number 46 voluntarily).
Perhaps that will serve as motivation. As of Game One, they're listed in order above.
David: Draft experts peg Sheffield as a potential first-round selection in next year's NFL draft, and while some of Ohio State's other cornerbacks have higher potential, the former Alabama transfer is the best of the bunch this year. Sheffield's speed and experience set him apart. Okudah has a similar build and speed, and he played extraordinarily well with his limited role in last year's defense and special teams units. When both are in the league a few years from now, Okudah will be the better corner, but this fall I'm giving the edge to Sheffield.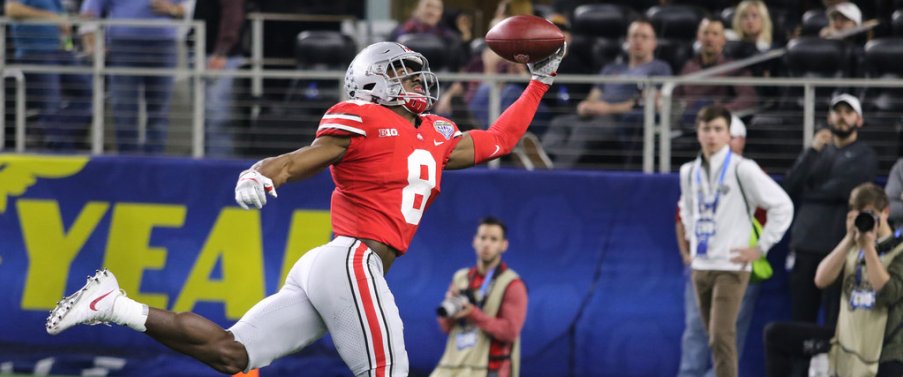 Pick a true freshman we should be watching for Saturday. By season's end, which true freshman will prove the most impactful for the 2018 Buckeyes?
David: I'm looking at the trenches this Saturday to see if former 4-star defensive tackle Tommy Togiai looks as terrifying on the field as he has in practice. Ohio State tweeted a video of him discarding Josh Myers (the 308-pound offensive lineman who was benching 435 pounds as an 18-year old) like a wet towel. But by the end of the year, give me tight end Jeremy Ruckert as the first-year player to make the biggest impact. You heard it here first folks, Ohio State is going to utilize its tight ends this year, and a true freshman will be the one breaking the curse.
Derrick: Jeremy Ruckert. The tight end position is going to be a bigger part of Ohio State's offense and I think that only bodes well for Haskins and company. Ryan Day has mentioned Ruckert's name several times and he's the best receiving option in the group. He'll need to sure up his run-blocking abilities before he gets a starting gig but I think by the end of the year, you're going to be hearing his name a lot on Saturdays. 
Ramzy: Because of depth to start, Teradja Mitchell. By season's end, Josh Proctor. I cannot bring myself to say Jaelen Gill because it makes me feel like I'm smiting Demario.
Let's move away from Ohio State real quick and talk Michigan. The No. 14. Wolverines head to South Bend to take on the No. 12 Fighting Irish in one of this weekend's marquee games as a virtual Pick 'em. I think Michigan is going to win by double-digits but what say you? Who wins this one? Justify your pick.
Ramzy: I don't think Ed Warinner is going to have that offensive line ready right away, nor do I think Michigan's healthy wide receivers scare anyone outside of DPJ. The Shea Patterson love is mystifying; maybe I'm blinded or jaded by the ghost of Tate Forcier.  The defense is so good for like 2.5 quarters per game, and then the stress of the scheme slowly melts it into a sad little puddle. There's no better defense in the country in a one-half game. I see Notre Dame winning late for reasons ranging from home field to endurance.
David: I'm 100 percent with Chris: Michigan wins this game running away. Justifying that is as simple as considering the alternative — having the slightest bit of confidence in Brian Kelly, of which I have none. But the Wolverines defense is for real, they've upgraded the most important position on the field and no longer have a sack of moldy potatoes behind center. Michigan 31, Notre Dame 16.
Derrick: Notre Dame quarterback Brandon Wimbush is good but the Irish lost a lot of weapons that Wimbush relied on, including running back Josh Myers and receiver Equanimeous St. Brown. Michigan's defense is slated as the real deal and I think against a fairly inexperienced offense, they live up to their billing. We saw what happened with Notre Dame last year in their season opener against Texas, a 50-47 loss most Irish fans thought would be a win. If Brian Kelly is still coaching, I'm picking Jim Harbaugh and the Wolverines.
Finally, Ohio State enters Saturday's nooner as a 37.5-point favorite. Will the Buckeyes cover? Give us a final score and game MVP.
Derrick: Yeah, I think Ohio State covers and with ease. As Parris Campbell said earlier this week, "Oh, I definitely think we're angry." Now, the Buckeyes have bodies other than their own teammates to take out that anger on. I'll go 48-0 Buckeyes, a win where JK Dobbins runs wild. He's my MVP.
David: I initially picked the Beavers to cover here, considering all the distractions for the Buckeyes and the fact that they... won't have their head coach on the sideline. But Oregon State is traveling across the country t play a nooner three time zones away from its home state. I see Ohio State coming out angry, Dobbins tallying 120 yards and three scores and the Buckeyes winning 54-13.
Ramzy: OSU 63, OSU 10. Dobbins with some big runs; Hill with more YACs than the Himalayas.