We only got a glimpse of the first portion of a practice, but it still counts. Actual, on-the-field football is back!
ICYMI:
Word of the Day: Surfeit.
 VEGAS BANKS ON MEYER RETURN. One Vegas sports book seems to think it's nearly a lock Urban Meyer remains the head coach at Ohio State, but that it's even more likely he serves some sort of suspension, with the over/under set at 4.5 games.
Odds from @BetDSI on Urban Meyers future at Ohio State:

Will Urban Meyer be fired or resign?
Yes: +600
No: -1500

Will Urban Meyer be suspended during the 2018 season?
Yes: -2000
No: +750

Odds heavily favor a suspension, but not a departure for Meyer.

— Eleven Warriors (@11W) August 7, 2018
For those of you not well versed in betting odds, that negative number is how much you would have to risk in order to make $100. This means someone would have to wager $1,500 on Meyer keeping his job in order to win just $100 – 1/15 odds.
To give a little perspective, those are roughly the odds that would be given to a 20-point favorite to win a college football game straight up. Which...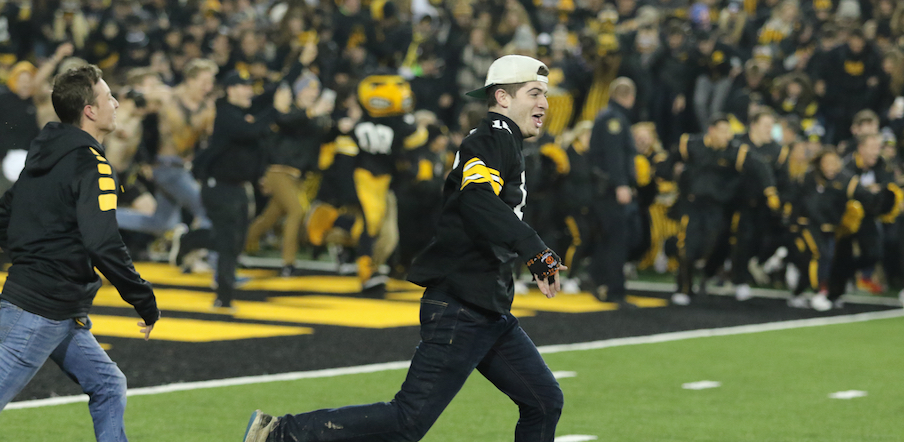 There's no way of telling what information they're using to set these odds. It's difficult for me to imagine they have any sort of insider info based on how the investigation is organized, but these odds look extremely, extremely confident.
I guess time will tell.
 STARTING AT THE BOTTOM. Joe Burrow was the highest profile graduate transfer in the country, but as soon as he got to Baton Rouge, he was placed at the bottom of the depth chart, and has to earn his way to the top – just like everyone else.
From TheAdvertiser.com:
It is obviously very early, and it may just be window dressing. But new LSU quarterback Joe Burrow started at the bottom as the Tigers opened practice over the weekend.

The junior graduate transfer from Ohio State worked with the fourth team, while junior Justin McMillan, who had the best spring game of the quarterbacks, took the first snaps with the first team. No. 2 was sophomore Myles Brennan, and No. 3 was redshirt freshman Lowell Narcisse.

...

Orgeron had been waiting to see Burrow, who just arrived in June after graduating last spring from Ohio State, where he was a backup quarterback for two seasons.

"I was very pleased watching," Orgeron said. "It was the first time I've seen him. He's really confident. He's a leader out there. When he steps in there, he's cool. He's confident. He's smart. When we give the guys time off, he's in there watching film on his own. He's really a student of the game. He's mature. He's ready to go. He's competing. Just what we wanted."
That sounds fine and extremely coachy, but I've got a strong hunch he's not actually the team's No. 4 quarterback right now, nor will he be the team's No. 4 quarterback come September.
With all due respect to whoever else is on that roster, LSU hasn't produced a competent quarterback since... Zach Mettenberger? Forgive me for assuming the one Ohio State produced for them is the best option.
 JOEY ADMIRES NEW MODEL BOSA. Since Nick Bosa was a sophomore in high school, we've been hearing that he was just like his older brother, but better.
And as Nick enters his third, and almost-certainly final season at Ohio State, Joey is ready to join that bandwagon and admit that his little brother is undeniably further along than he was as a junior.
From SanDiegoUnionTribune.com:
"I don't think it's really close," Bosa told the Union-Tribune earlier this summer, when asked to compare Nick as a true junior with Joey when he was entering his final season at Ohio State, also as a true junior.

"I think he's pretty far ahead physically. He has a better understanding of pass-rushing than I did in college, that's for sure."

Considering that he was the first non-quarterback drafted in 2016, as the third selection, Joey acknowledged that he's giving Nick a lot of love.

"It's true, though," he said.

"I don't really give anybody credit for anything, even if it's my brother," he added. "It's going to be fun to watch this year."
If Nick Bosa could have left college after last season, I firmly believe he would have been a first-round pick without technically ever being a starter at Ohio State, simply because he's just a newer model of his older brother, who is dominating the league after just two seasons.
 SKETCHY HIGH SCHOOL SCHEDULES TOP TEAMS. Some of my favorite stories of the past few years have been the seedy college football teams, like College of Faith, which essentially sell wins to other programs.
But I ran across a story about a brand new Ohio "high school" that quite honestly puts those stories to shame.
This "school," which employs former Ohio State wide receiver Jeff Greene as an assistant coach, has put together a football team and scheduled perhaps the most daunted high school slate in the state of Ohio.
That's great, except said school is missing just about everything else, including an actual school.
From ThisWeekNews.com:
At the beginning of August, Christians of Faith Academy, known as COF Academy, did not have a school building, a working website, an identifiable academic structure, an announced home field or a released roster, to name just a few missing essentials, but it was scheduled to play one of Ohio's most daunting high school football schedules beginning in just a few days.

The schedule includes such traditional Ohio powers as Huber Heights Wayne, Cleveland St. Ignatius and Lakewood St. Edward, and such major out-of-state programs as North Allegheny in Wexford, Pennsylvania, and IMG Academy in Bradenton, Florida. The team has 12 games, two more than allowed by the Ohio High School Athletic Association.

The first matchup, a home game against Football North of Ontario, is scheduled for Friday, Aug. 17. (Most Ohio football teams begin their regular seasons Aug. 23 or 24.) As of Aug. 6, no location had been announced for any of the team's four home games.
Roy Johnson, listed as the school's athletic director, gives his assurance that this actually is a real school with about 50 teachers, and will have 500 all-male students enrolled this fall semester, slated to start on Sept. 4.
But again, pretty much the only evidence of that, as detailed in the article, is a football team with no roster that has yet to register with the OHSAA.
Mark me down as fascinated to see how this plays out.
 STEAL OF THE DRAFT. In a shocking turn of events, it's looking like drafting a two-year starter at Ohio State at the end of the fifth round might turn out to be quite a steal.
Rookie Jamarco Jones seeing some first-team work with the 1s at right tackle.

— Dugar, Michael-Shawn (@MikeDugar) August 7, 2018
The guy is a pass blocking champion in an increasingly pass-first league. I understand he didn't perform well at the combine, but when someone has the proven tape like Jones, you shouldn't overthink things.
 THOSE WMDs. How a high school defensive end overcame suicidal thoughts, substance abuse... Secrets of a lost girl... Five companies that hit the $1 trillion mark before Apple... William Wrigley, Jr., formerly of Wrigley's Gum, is investing in medical marijuana... How face tattoos have gone mainstream...