A cool part of my job is I can type things like, "locals call Washington D.C. 'The Big Apple,'" and swaths of people will assume I'm serious instead of trying to entertain them. Such is the price I pay for my readers.
Anyway, Jim "El Chaleco" Tressel casually murdered a Michigan Man while prowling a charity golf event: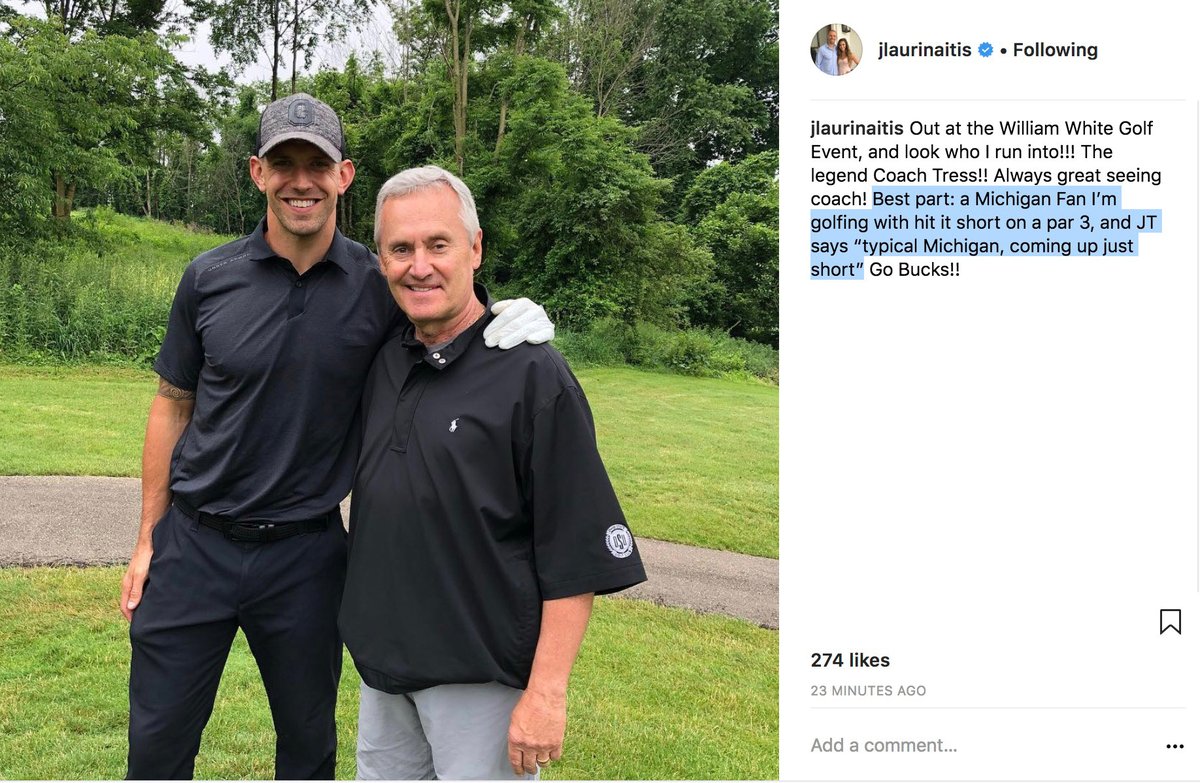 The assassination must have been planned—both men came dressed for a funeral.
ICYMI:
​Word of the Day: Rōnin.
 BOSA'S HEISMAN CHANCES. Let's be honest: The Heisman Trophy is, by-and-large, given to the "best" offensive player on the "best" team. I quote "best" because people would argue it's subjective criteria. I objectively say "best = Ohio State" and everything else is wrong.
Regardless, the Buckeyes enter 2018 with three Heisman hopefuls: J.K. Dobbins, Dwayne Haskins, and Nick Bosa. The Smaller Bear might have the best chance to become Ohio State's first defender to win a stiff-arm trophy.
From lettermanrow.com:
The rule isn't hard and fast, but the Heisman does tend to find its way to a standout performer on one of the nation's best teams. And with so much firepower returning this season, Ohio State is once again on the short list of contenders to win the College Football Playoff, which checks one box for Bosa right off the bat.

The statistical part of the deal is up to him, but a player already considered one of the top options to be the No. 1 overall pick in the NFL Draft this spring is probably going to be in position to put up the kind of numbers needed to make history.

It remains hard to fathom how Ndamukong Suh didn't win the trophy when he was a one-man wrecking ball for Nebraska in 2009 with 24 tackles for loss, 12 sacks, 26 quarterback hurries, 10 pass breakups, an interception and three blocked kicks.
The one thing going against Bosa is every offensive line will look to neutralize him first. They will account for him before every snap or their quarterback may die.
Like Mike Tyson said, everyone has a plan until they get bull rushed. If Bosa produces Suh-like numbers, he will win the Heisman because unlike Nebraska in 2009, Ohio State won't finish the season with four losses.
 GO GET PAID, YOUNG MAN. I'm old enough to remember in 2014 when LSU commit Brandon Harris, once a Buckeye target, mocked OSU commit Stephen Collier's recruiting ranking on Twitter.
Neither saw meaningful minutes as their schools (Harris transferred to North Carolina, where he threw eight interceptions in six games last season). Collier kept his head low and leaves Columbus with two degrees.
From Tim May of The Columbus Dispatch:
Stephen Collier — his football days long behind him, the ambition of striking it big in New York ahead of him — remains on the competitive fast track, and he has at least two sheets of sheepskin to prove it.

One is his bachelor's degree in communications. The other is his master's in sports management. The former quarterback earned both from Ohio State in four years.

"Not exactly how I planned it when I first showed up at Ohio State as a 17-year-old, but you've got to take life how it comes and make the best of your situation," Collier said. "As someone once said, 'You want to make God laugh? Tell him your plans.' You adapt."
Most recruits coming to Ohio State these days have NFL ambitions. Collier shows you don't even need to see the field to get a leg up on your peers. That resonates with parents, too.
 SAMMY SILV GOES DEEP. Ohio State Assistant Director of Creative Media & Branding Sammy Silverman went on the Makers of Sport podcast and went long on his rise in the industry, why he pursued a job with Ohio State over Nike, the copy-cat nature of the industry, and more:
Silverman embodies the growth of the Ohio State brand under Urban Meyer. He started as a part-time volunteer and pioneered an industry. We're lucky to have his sword.
 BRONCO LOOKING FOR CUPCAKES. Most coaches want you to think their team plays the hardest schedule in the history of the sport. Not Bronco Mendenhall, who wants Virginia's out-of-conference schedule to consist primarily of cupcakes.
From dailyprogress.com:
"I don't want to go to Boise," Mendenhall said, referring to a game at Boise State on last year's schedule. "I don't want to go to UCLA, I don't want to go to Oregon. I don't want to go back to BYU. I'd rather them come here and lose."

ACC teams currently play eight conference games and four nonconference games. Included in those nonconference games is one mandatory game against a power-five conference opponent. That's the game Mendenhall said he hopes is "the worst one we can play."

In addition, for the three other games "I want to find three other games that are close and beatable."
The Cavaliers shouldn't have to look far. Plenty of athletic directors are willing to throw their student-athletes into a lion's den for a six-figure check.
 OLD COLUMBUS TOWN. Urban Meyer's approval rating in Columbus remains high:
this town, i swear to god pic.twitter.com/fAq56FSuvr

— Rob Mixer (@RobMixer) June 11, 2018
And yeah, you're damn right I rock a minivan. My cats demand luxury in their transportation.
 THOSE WMDs. After 35 years, Air Force deserter found living in California under false name... A review of the ​Hereditary Wikipedia page, from somebody too scared to see Hereditary... The blind man who taught himself how to see... What it's like to be a dolphin.