Soothsayer. Caesar!
Caesar. Ha! who calls?
Casca. Bid every noise be still: peace yet again!
Caesar. Who is it in the press that calls on me?
I hear a tongue, shriller than all the music, 
Cry 'Caesar!' Speak; Caesar is turn'd to hear.
Soothsayer. Beware the ides of March.
Caesar. What man is that?
Brutus. A soothsayer bids you beware the ides of March.
Caesar. Set him before me; let me see his face.
Cassius. Fellow, come from the throng; look upon Caesar.
Caesar. What say'st thou to me now? speak once again.
Soothsayer. Beware the ides of March.
Caesar. He is a dreamer; let us leave him: pass.
ICYMI:
Word of the Day: Polemic.
 BET AGAINST THE BUCKS IF YOU WANT. I can't lie. I thought Ohio State making the NIT would be a successful season.
However, the local team stands on the cusp of swaggering into the Big Dance. It faces South Dakota State at 4 p.m. on TNT. 
The line stands at Buckeyes (-7½). According to Bovada only 28% of the wagered money is on Ohio State. That follows an overall trend surrounding Chris Holtmann's team.
From James Grega of Eleven Warriors, whom you should follow on Twitter for up-to-the-minute updates from Boise:
The Athletic's Seth Davis is one of the many national media members that believes Ohio State will be a quick out in the tournament. Davis told 92.3 The Fan in Cleveland on Monday that the Buckeyes peaked too early, and that its early success won't carry over into the tournament. 

"Basically every year, one No. 12 seed beats a No. 5 seed," Davis said. "I picked South Dakota State to win for that reason. Basically, (Ohio State) has gotten more out of their talent than just about any team in the country, which is why Chris Holtmann should be on the short list for any coach of the year, largely because of the circumstances in which he took the job.

"But that makes you wonder when you get to the tournament, are they going to be out-talented? They are not going to be out-talented by South Dakota State, but I do think they would be out-talented by Gonzaga."
Maybe they're right. Maybe Ohio State's season isn't long for this earth. But these prognosticators better pray the Buckeyes don't prove them wrong, because they'll hear from me.
Thankfully one national media member has our team's back. Unfortunately that member is Dan Dakich.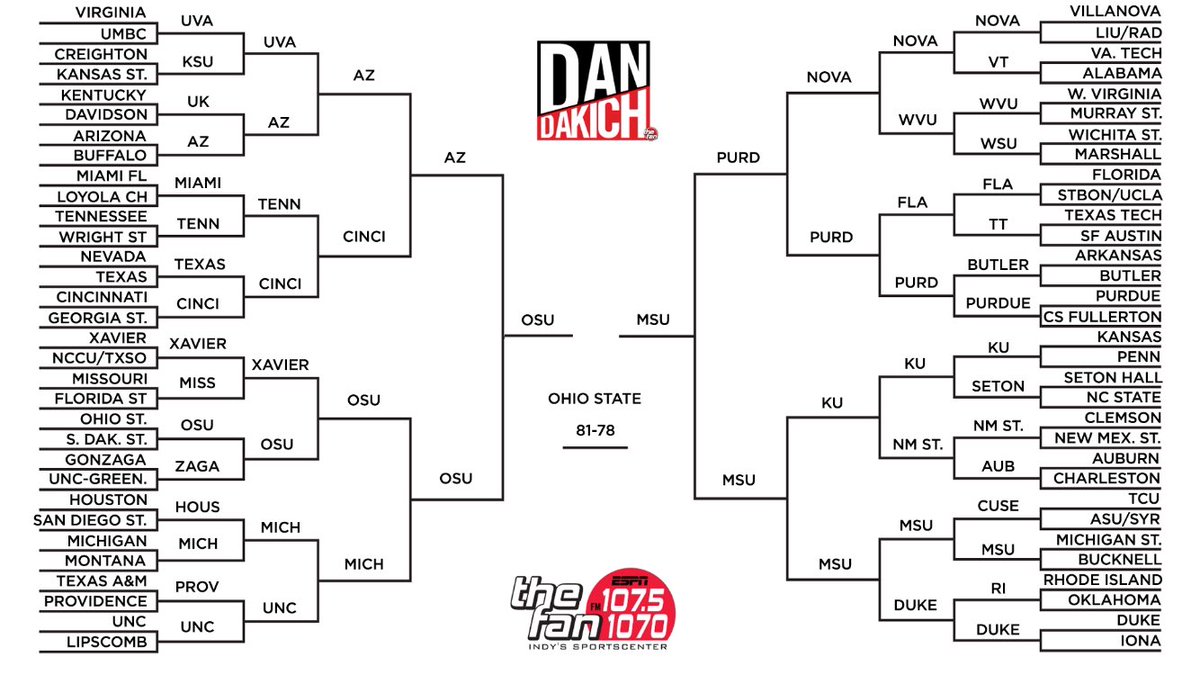 Honestly, I'm not even sure an Ohio State title is worth the smugness Dakich will feel in predicting it.
 SPEAKING OF THE DAKICH BLOODLINE. The glorious thing about Ohio State's bracket is it's possible to dump Gonzaga, Xavier, and Michigan en route to a national championship. Which, if that happens, nobody outside this blog will like me.
Andrew Dakich, for his part, is merely looking forward to a possible matchup with his former team.
From landof10.com:
"I saw Michigan," Dakich told Land of 10 before practice at Taco Bell Arena. "I noticed it, and that would obviously be a ways away in the Elite Eight. That would be a special matchup. Both teams, we split the games against each other this year and the history of the rivalry speaks for itself.

"I'm looking forward to the first round, but if we're both fortunate enough to make it, I'd be very excited about it."

That matchup might go down as one of the most memorable in the storied history between the two programs. Of course, there's a long way to go for both teams, starting Thursday with No. 5 seed Ohio State facing a solid South Dakota State squad in the first round of the West Region.
Honestly, I don't like the use of the word "fortunate" when referring to that team up north. If that matchup occurs, Holtmann may be wise to bench Dakich throughout. You can never be too careful about possible spies in the ranks when it comes to war against weasels.
 MILLENNIALS LIVE MARCH MADNESS. The Big Dance ain't a soiree at a private school in rural America. It's an orgy of capitalism—outside of the bank accounts of players, obviously.
I knew America loved to bet on the NCAA Tournament. I did not know a majority of my Millennial compatriots were down to skip work and watch games outside the office while vaping. 
From USA Today:
$10 billion 
The amount that will be wagered on this year's tournament, only $300 million of which will be done legally at sports books in Las Vegas, according to the American Gaming Association.  

55.8%
The percentage of Millennials willing to miss a work deadline to watch a March Madness game, according to The Tylt, an online polling platform. 

98 million
The number of live video streams of March Madness Live, CBS and Turner's live streaming website and app, during last year's tournament. 
Memo to my bosses: I don't even know The Tylt or why they spell it like that. I refuse to let them snitch on my jacket. I love to work and have never skipped out for anything as trivial as a basketball tournament.
I will never abandon my post. I will never let the shareholders down. That is my oath.
 BROWNS TO THE SUPER BOWL. The AFC North better prepare for a heavy dose of El Guapo running downhill:
New #Browns RB Carlos Hyde's career splits:

Shotgun Runs: 4.9 YPC, 25% of runs went for 1st downs
Under-Center Runs: 3.3 YPC, 17% of runs went for 1st downs

— Evan Silva (@evansilva) March 14, 2018
Giving Hue Jackson this many weapons with this much time to prepare qualifies as a warcrime in Europe.
 LET HIM ROT IN PURGATORY. Michigan fans are spending this offseason huffing standard-definition highlights and hoping Shea Patterson clears waivers from the ashes of Mississippi. 
They may have to wait a little longer.
From cbssports.com:
Shea Patterson's transfer request to become eligible immediately at Michigan is at "standstill," his lawyer tells CBS Sports.

The quarterback and five other former Ole Miss teammates requested transfer waivers after Ole Miss was hit with NCAA sanctions on Dec. 1, 2017.

Over three months later, the NCAA, Ole Miss and Michigan are still in process of determining whether those players sit out the typical year in residence for transfers or receive a waiver to be eligible immediately for the 2018 season.
I hope they let Patterson play. And I hope Michigan is 11-0 and rides its infamous lame mule of a high horse into Columbus. I want their fans so close to the summit they pack their grandfather's oxygen tank among their tailgate materials because it reminds them of their last victory in Columbus (which none of them remember).
And come late November, I hope to grab a handful of greasy hair and watch their eyes bulge as Urban F. Meyer—the "F" stands for FUCK MICHIGAN—kicks them back into the abyss.
So it is written. So it is done. Jim Harbaugh is now 0-4 vs. Ohio State as a coach.
 THOSE WMDs. Department of Citrus employee arrested when caught mining Bitcoins... How a ransom for royal falconers reshaped the Middle East... New York City hoops no stranger to scandals... Feds bust CEO allegedly selling custom BlackBerry phones to the Sinaloa cartel... The Domino Day 2005 sparrow... Does recovery kill great writing?