My girlfriend, the magisterial Whitney, a speech therapist at the world-renowned Piqua Central Intermediate, needs $52 to complete her classroom fundraiser.
I need y'all to do this for me, your wayward son. If everyone here gives 1 cent, we will have the goal met before sunrise.
(UPDATE 3:32 p.m.): Y'all answered the damn bell. AMA over this way.]
---
Finally, the only week that matters. I love the Thanksgiving lull provided American workers, so they can better channel their energies by fretting about an ancient Midwestern rumble; the result of which is out of their control.
Your boss only gets two days of work this week. Those are the rules. Drop a Brutus Cold Shoulder™ on anyone that tries to make you work Marionaire Christmas, the most blessed Wednesday of the fiscal year:
Special shoutout to 25A Diner in Troy, Ohio, USA. Miami Valley's breakfast burrito king. Got my mind right to conjure the content Buckeye fans love to know this week, and I couldn't be feeling better riding the bullet train to Jim Harbaugh falling to 0-3.
ICYMI:
Word of the Day: Shinrinyoku.
 WOW, ILLINI GOT ROCKED. After the trip to the Upside Down Iowa, no future result in 2017 can be 100% certain. Still, I'm riding a magic carpet into the 114th rendition of The Game after watching the local team slaughter a hapless Illinois squad.
From landgrantholyland.com:
Ohio State had six drives before the game went into garbage time, scoring on all of them (with one field goal). On those six drives, the last four averaged starting on the Ohio State 49 yard line due to five-straight three-and-outs by the Illini offense. With so many short fields, it was almost inevitable that the Buckeyes would score on all of them. While Ohio State's 62% overall success rate is incredible (for comparison, Ohio State had only one better game in the 2015-2016 seasons — the opener vs. Bowling Green).

[...]

The Worley-Borland-Harrison/Baker combination seems to be working out well, but again, there's not too much you can take away from this, to be honest. As of the mid-third quarter (when I'm writing this, for self-disclosure), Illinois still only had three completed passes for 9 yards, and just one first down.
Thanks to the Illini for playing their part. A perfect pre-banger sparring partner, without the moral guilt that comes from intentionally ducking respectable opponents with two weeks left in the season.
 MICHIGAN MAN MADE RIGHT CHOICE. Mike Weber finally being healthy appears to be a problem for opposing defenses:
There's always one or two draft declarations that catch fans off guard. If Ohio State makes the playoffs and he plows the competition, don't expect him back in Columbus next season.
His impact has been undeniable.
From Jacob Myers of The Lantern:
"If we get the running game going, everything else opens up," Price said.

Meyer and the offensive coaching staff have talked all year about the possibility of playing both Weber and Dobbins in a formation. That's now possible. And what a better week to do that than against Michigan.

Weber is averaging 13.5 yards per carry the past two games and has gained more than 100 yards in each. The offensive line has been making its case as one of the best units in the country, but the running backs are doing their job, like they have been all year.

Weber's production in the past two games is unequivocal to the first nine games, and it's a welcomed addition.
Weber and J.K. Dobbins playing together seems to be this year's "Will Braxton Miller throw a pass this weekend?" Something at which Meyer hints to keep his opponents guessing. (People forget he earned a psychology degree at Cincinnati.)
Seems like just yesterday we clutched our pearls over Weber tweeting about being hurt by Stan Drayton departing for the NFL the day after National Signing Day.
Here's what I wrote on Feb. 10, 2015:
I look forward to Weber's "hurt" tweet being mentioned as a "DID YOU KNOW?" info nugget in the fourth quarter after Weber bulldozes his way to his third touchdown of the day in Ann Arbor.
Given the states of the program, I doubt Weber rues his decision to come to Columbus. (Let that be a lesson to all future Michigan prep starts... but only the ones that will actually be good on the next level.)
 IT'S BIG THEY SAY. While Ohio State hosting Illinois a week before Michigan was poetic, it was equally so with the Wolverines heading to Madison to bang with the Badgers.
Michigan will attempt to pick itself off the canvas as it can only finish fourth in the Big Ten East this season. In their defense, it appears they understand the magnitude of this week's game.
From detroitnews.com:
"It's big," senior defensive tackle Maurice Hurst said after the Wisconsin loss. "I haven't beat them since I've been here, so I think it's such a big opportunity play them and try to grind out a win by any means necessary.

"We'll definitely be ready and get as prepared as possible for this Ohio State game. It's just one of those games you put everything on the line. It is a one-game season for us, so just focus on that game and put all our effort and everything we have into it."

[...]

"It's one of those games where you have to put everything on the line," linebacker Devin Bush said.
Whole generations of Michigan fans living and dying without seeing their team win the big game. Pray those dark times never visit our shores. 
 WHO HAS IT WORSE THAN US? Critics don't yet recognize Ohio State as the No. 1 team in the country, which is fine because it's not coronation season. Plus, plenty of programs have it worse than our fave.
We start in Ann Arbor, where Jim Harbaugh probably envisioned his tenure going better than making his sperm cry in Year 3:
Harbaugh's kid pic.twitter.com/3nK7InOF7B

— D'yerMak'er (@GoatRoper21) November 18, 2017
We also got to witness Michigan Men cannibalize each other, which is become a traditional November delicacy among Big Ten fans.
Get Okorn out of there. Geez Louise

— Braylon Edwards (@OfficialBraylon) November 18, 2017
Wtf approved his scholarship and transfer????????

— Braylon Edwards (@OfficialBraylon) November 18, 2017
Not arguing with young men from my alma mater. I stand by my comments as an analyst. The game completely changed once Okorn replaced the injured Peters. Thought Michigan had a chance to win, it changed after the QB Switch.

— Braylon Edwards (@OfficialBraylon) November 19, 2017
In Edwards defense, he's absolutely right. The game turned when Peters left, and O'Korn put down a performance terrible by even his standards.
O'Korn went passive-aggressive in his response:
Not surprising that those with a history of mistakes LOVE to publicly criticize others so they can stay relevant. Just an observation...

— JOK (@JohnOKorn) November 19, 2017
Yes! Yes! Yes! May Woody Hayes continue to confound our enemies.
Down in Knoxville, so many men are horny about the prospect about Jon Gruden coaching their team, guys are swearing on their college roommate's for RTs that they later had to delete.

Here is the picture that surfaced: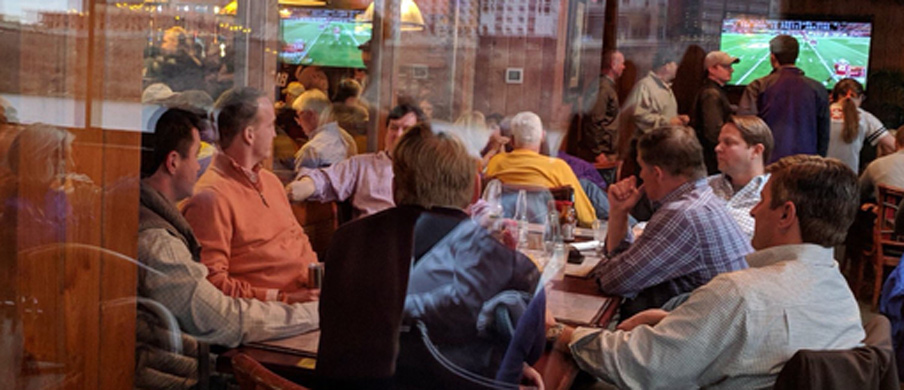 DONE DEAL? Not so fast my friend. If you thought this ended any other way than a four-and-a-half star TripAdvisor-reviewed restaurant apologizing for stoking Grumors, well, you must have just awoken from a coma.
Welcome to 2017:
Wed like to take a moment to clear things up as well as apologize. We got excited- like everyone. Please read: pic.twitter.com/AIyVvmppKC

— Calhoun's (@calhouns) November 19, 2017
Meanwhile, it's looking like curtains for our dear friend Bert in Arkansas. Sounds like Gus Malzahn's agent will use the specter of his client leaving for his home state to extort Auburn for a raise regardless of the Iron Bowl's outcome.
From sbnation.com:
The Razorbacks will move on from head coach Bret Bielema after the season.

Auburn head coach Gus Malzahn is interested in returning home to take that position once it's open, though his status might depend on this week's Iron Bowl. He'd also have a hand in picking Arkansas' new AD.
Remember while we laugh, though, that these guys are the actual winners.
Today is Jim Moras birthday. #UCLA gave him $11m to not coach their team anymore

— Doug Gottlieb (@GottliebShow) November 19, 2017
Chip Kelly to UCLA would be fun, but according to the adult son to a member of Florida's search committee, the Chipster is headed to Gainesville:
As of Sunday, Chip Kelly has agreed to be the 27th head coach for the University of Florida football team. Welcome to #GatorNation Chip.

— Tyler Fawbush (@fawbusht) November 19, 2017
Something definitely appears to be up in the Swamp:
#Gators players > pic.twitter.com/yCNjsS12Sv

— Thomas Goldkamp (@ThomasGoldkamp) November 20, 2017
Kelly at Florida should be good. Let's just hope Ohio State opens the checkbook when Kelly inevitably comes calling for Ryan Day. Chip could be offering that OC job, though.
 MAKE A WISH. Major props to eight-year-old Aidan Arquette, a Las Vegas resident that realized a dream of attending an Ohio State game.
From dispatch.com:
Aidan was born with hypoplastic left heart syndrome, a life-threatening birth defect that affects blood flow through the heart.

[...]

The family arrived Wednesday evening and watched the team practice Thursday. Then they ate dinner with the players at a team facility. Both boys got pictures taken with the players, and they talked with coach Urban Meyer.

On Friday, Aidan visited the Horseshoe, going onto the field with the Ohio State cheerleaders and Brutus. He even practiced dotting the "I" with The Best Damn Band in the Land and was treated to a shopping spree to get game-appropriate clothes.

Early Saturday, he had floor seats for the marching band's Skull Session and was on the field before the game.
Nothing for Ohio State to do now than bludgeon Michigan by 35 in young Aidan's name.
 THOSE WMDs. Elon Musk: Architect of tomorrow... China's race to find aliens first... Life under Kim Jong Un... Life under Robert Mugabe... Does weddings get worse as we get older?