For the end of the first half and nearly the entire second half of Saturday's game between Ohio State and Illinois, Ohio Stadium was drenched by heavy rain.
Ohio State center Billy Price didn't hesitate to admit that he did not enjoy playing in those weather conditions.
"It's miserable," Price said after the Buckeyes' 52-14 win. "There's no other way to say it, that's miserable. But again, you got to take care of the ball, got to get the ball to the quarterbacks, take care of the ball, no turnovers and execute the best you can."
Left tackle Jamarco Jones, when asked about playing in the rain, reacted by rolling his eyes and shaking his head.
"That was crazy," Jones said.
Not every Ohio State player, however, minded getting wet. Ohio State defensive end Tyquan Lewis, who grew up near the coast of North Carolina, said playing in the rain brought back memories of his childhood.
"I love the rain, actually," Lewis said. "Because any time we had a hurricane, I would go out in the rain and play."
Whether the Buckeyes liked playing in the rain or not, it didn't stop them from taking care of business against the Illini, as they dominated the visiting team on both sides of the ball en route to their seventh win by at least 30 points in their last nine games.
One reason why the Buckeyes defense was able to take care of its business was the play of Chris Worley, who played his third different linebacker position is as many weeks. Lining up at the strongside linebacker position on Saturday, Worley – who played weakside linebacker one week earlier against Michigan State, and middle linebacker in his first five games of the season (having missed Ohio State's other three games with injury) – had an impressive showing, recording five total tackles, one tackle for loss and a quarterback hit.
It's not as simple as it might sound for a linebacker to shift between different positions from one week to the next, but Worley said he was confident that he would be able to make plays wherever the Buckeyes coaches asked him to line up.
"It's crazy. Last week I played the will, this week I played the sam. And in three weeks, I played three different linebacker positions," Worley said. "When they bring me to questioning, 'This is what we need to do as a team, with injuries and things like that,' they know I'm going to say yes. So I told them, give me about 10 plays in practice, and it's going to be like riding a bike from there."
The linebacker lineup that Ohio State used on Saturday – Worley at strongside linebacker, Jerome Baker at weakside linebacker and Tuf Borland at middle linebacker – looks as though it could be the Buckeyes' best linebacker lineup, as well as Worley has played in his last two games as an outside linebacker. The Buckeyes could instead choose to revert back to their original lineup, with Worley in the middle and Dante Booker at strongside linebacker, once Booker – who missed the Buckeyes' last two games with an undisclosed injury – returns to health. Worley, though, said he is confident the linebackers will play well regardless of which ones are on the field and in which positions.
"When I go on the field, I have a job to do, it's my job and I'm going to do it to the best of my ability … so it honestly just doesn't matter to me who's in," Worley said. "Because I know whoever they put in, there's a reason they're in. And I know they've put work in. So it doesn't matter."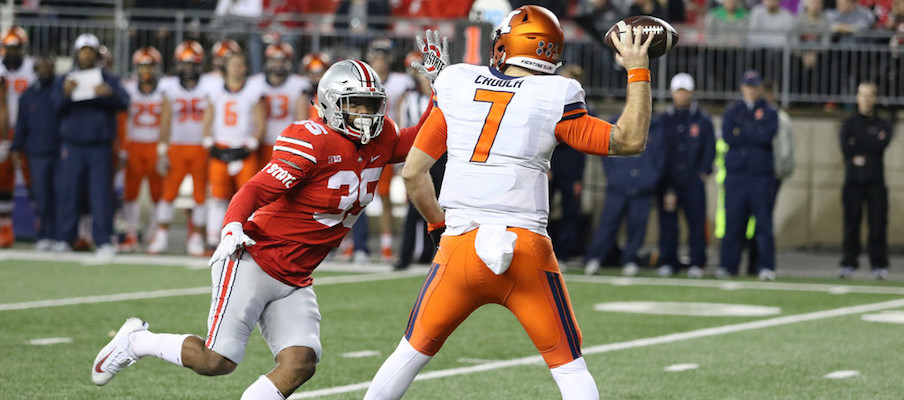 Another player who has had two of his best games of the season in the Buckeyes' last two games is running back Mike Weber, who led Ohio State in rushing yards for the second week in a row, going over 100 rushing yards for the second week in a row (108 yards, to be exact) and scoring his third touchdown of more than 40 yards (43 yards, to be exact) in his last two games, showing off a degree of speed that it was not evident he had before those two games.
A big reason why Weber has looked faster over the past two games than he did earlier in the season has been his health, given that he battled a hamstring injury for much of the first two months of the year.
"He looks completely different running out there, and I'm happy for him," Jones said. "He's finally getting to prove himself again. It's annoying as a football player when you can't go out there and you feel like you can't do what you know you can do, and so now to see him out there doing the things that we all knew he can do, he just needed to get healthy to do it, it's just great to see."
Price said he believes another reason why Weber has excelled over the past two weeks, however, is because he has had more belief in the offensive linemen blocking in front of him.
"I think the big thing is he trusts us more, and we continue to preach to him," Price said. "Trust us, trust us, trust us. We'll do our job, we'll get the holes open and you start to see that. You start to see holes that he wouldn't have hit that a couple months ago, against Michigan State or today, he wouldn't have trusted me to get my guy over, him make a cut and the next thing you know, he's in open space. And that goes with the maturity and his growth and development as a player. Because he's a special athlete. That kid is a freak."
Another player who provided a spark for the Buckeyes' offense against the Illini – and who has also had to battle his way back from injury – is H-back Parris Campbell, who had three catches for 39 yards and a 44-yard run in Saturday's game.
After playing in only a limited capacity against Michigan State last week, in his first game back from a head injury that sidelined him against Iowa, Campbell said he felt like he was back to being himself in practice this week, and it showed in Saturday's game.
"This week in practice, I just felt back to myself," Campbell said. "I felt like I was back in the groove."
Campbell admitted that it was hard, though, for him to have to spend some time on the sidelines, especially when that meant helplessly watching on TV during the Buckeyes' 55-24 loss in Iowa City.
"I'm not going to lie," Campbell said, "it was mentally tough for me, just because I wasn't out there with the guys."
Because the Buckeyes got the job done on Saturday, they got to celebrate with the Illibuck – the historic, turtle-shaped trophy that goes to the winner of each game between Ohio State and Illinois – after the game was over. Quarterback J.T. Barrett, as the senior leader of the team, was the one who got the honors of holding the Illibuck during Carmen Ohio and carrying it off the field.
Barrett didn't hoard the trophy for himself, however, also giving R.J. Day – the young son of quarterbacks coach Ryan Day – a chance to hoist the turtle. But while Barrett had no trouble raising the Illibuck as if he was Rafiki and the trophy was Simba in "The Lion King," it took the younger Day a little more effort to hold the trophy.
With Day flanked alongside him during his postgame press conference, Barrett didn't hesitate to give Day a hard time about his struggle to raise the Illibuck.
"I thought he had more muscles, but he just hold it like it was like a baby, it was so huge," Barrett said.

"I didn't want to drop it," Day interjected.

"Ok, he didn't want to drop it," Barrett continued, "but we'll work on his muscles a little later. Little bi(cep)s and tri(cep)s."
That ribbing didn't stop Day from praising Ohio State's quarterback when asked for a review of his performance. But Day did disagree with the decision – perhaps made by his dad in conjunction with Ohio State head coach Urban Meyer – to take Barrett out of the game late in the first half and all but two possessions in the second half.
"He played great," Day said of Barrett. "And when (the coaches) pulled him out, I was thinking in my head, 'Put him back in.' He plays great under pressure, and I think he should have played the whole game."