Normally I procrastinate writing after a loss. Who wants to relive the brutal death of family? But I woke up Sunday and wanted this off my chest before I allowing a mistress of chaos like the Browns back into my life.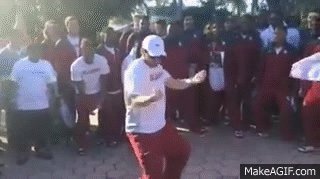 Props to Oklahoma. They not only came into Ohio State's house, they beat them to the brink of unconsciousness with their own candlestick while laughing about cops not being real.
A 34-year-old rookie coach schooled a three-time national champion with two veteran head coaches as coordinators. Baker Mayfield dazzled so hard he eventually tried to plant a flag into rubber turf. He had defied physics all night so it probably seemed like a layup.
Turns out losing four first-round and one second-round pick in two years can hurt the depth of a secondary. The DBs looked like me trying to defend a pass with their backs turned.
Riley abused the linebackers' aggressiveness all night. They looked lost in coverage.

I said after the Indiana game I reserved judgement on J.T. Barrett and the offensive line. My take arrived last night, and it's extra spicy.
It's with a heavy heart I report the abandonment of the Barrett bandwagon. I didn't want it to come to this. I didn't think it would, either. I was wrong.
If Barrett were still a redshirt freshman, I'd live with the result. His line, receivers, and play callers did him no favors. But despite a new position coach and offensive coordinator, there has been zero progression.
You can't beat equally talented teams if their defense doesn't have to defend beyond 15 yards. Barrett is still a quarterback that looks most dangerous when he's running the ball. But he's not a game-breaking runner like Braxton Miller.  

BARRETT PASSING

| OPPONENT | YARDS | TD-INT |
| --- | --- | --- |
| @ MICHIGAN STATE | 86 | 1-0 |
| MICHIGAN | 124 | 0-1 |
| CLEMSON | 127 | 0-2 |
| @ INDIANA | 304 | 3-0 |
| OKLAHOMA | 183 | 0-1 |
I feel dirty about it, and I understand why Meyer would be loathe to do it, especially in a postgame presser 24 hours after blasting Tom Herman for blaming players.
It's not all on Barrett by a long shot, but 2014 was three years ago. And it's easier to change a quarterback than it is a coach, receiving corps, offensive line, or offensive system.
Plus, the guys behind Barrett are completely different talents. I'm supposed to believe Meyer, a devout perfectionist, is giving no thought to seeing what the next guy can do?
Please. It won't happen this week, but that doesn't mean it shouldn't.
This is why I, like Corey Smith, cast my ballot for Dwayne Haskins. This is another spicy take, as Joe Burrow also has a devout sect in Buckeye Kingdom. But Haskins is the better quarterback and has the "arm talent" to elevate a mediocre receiving corps and play behind an offensive line with pass protection issues. 
Because something has to change. The good news is Ohio State will have the opportunity to revamp everything with the next three games coming against Army, UNLV, and Rutgers.
Hopefully Mike Weber can stay healthy, too, because he looked like he evolved in the offseason. Still, the defense isn't good enough to support a one-dimensional offense. If teams don't have to respect Ohio State's passing, two or three losses this season is not out of the question.
ICYMI:
Word of the Day: Requiem.
 GREATEST SHOW ON TURF. Once again in a loss, Ohio State left its crunch-time rushing offense to the legs of J.T. Barrett while also having him throw 35 passes. (The tactic drew criticism from noted guru Cardale Jones).
Meyer lamented it after the game.
From dispatch.com:
"I wasn't happy with it," coach Urban Meyer said of the inconsistent use of the running game. "So we'll just keep re-evaluating, and I saw what you saw. J.K. was hitting the ball pretty hard and doing some good things. Mike Weber did some good things. And we're just not getting enough flow on offense. And I'm seeing the same things you guys are seeing."

[...]

While Weber was down about the loss, he said the potential of the "one-two punch," as Urban Meyer calls it from him and Dobbins, is obvious.

"It's going to look scary," Weber said.
Hopefully Ohio State doesn't continue to do the same thing and expect different results. If they're not going to change quarterbacks, hell, line up in I-formation and pound teams with Dobbins and Weber.
At least then the Buckeyes would have an offensive identity and be more pleasing football than the power spread without any power.
 APPLE WEIGHS IN. New York Giants cornerback Eli Apple, who could still be playing at Ohio State if he wanted, weighed in with this during the loss:
Gonna be honest.. I never was a fan of the DB rotation thing.. let the best guys play smh

— Eli Apple (@EliApple13) September 10, 2017
I feel the same way about the defensive backs. If this is the best they can look, play the young guys. At least with them there is room for growth. Why not give guys like Jeffrey Okudah or Shaun Wade a shot?
And he's right, the best players should play. K.J. Hill, Ben Victor, and Parris Campbell shouldn't come off the field for Ohio State.
 JAMES FRANKLIN: EXTREMELY ONLINE. Somebody needs to humble reigning Big Ten champion James Franklin:
"Last year for their win it was like the Super Bowl, but for us this was just like beating Akron."

- @coachjfranklin on win vs. Pitt pic.twitter.com/RXG9FnTd34

— Big Ten Network (@BigTenNetwork) September 10, 2017
Can't wait for that Michigan–Penn State contest, with the Nittany Lions coming to Ohio State that next week. (The latter part of that sentence is conditional on the local team getting better.)
 IT COULD BE WORSE. Folks, losses are always tough. But Ohio State lives to fight another day. Let us at least take solace in it not being coached by a petulant child:
Brian Kelly wasn't happy at the end of his press conference when asked by @LakenLitman if tonight's loss was similar to those from 2016. pic.twitter.com/JzYWcv9Cmt

— Angelo Di Carlo (@angdicarlowndu) September 10, 2017
Not sure what Notre Dame sachems see in Kelly. Let's hope they keep seeing it, though.
 THOSE WMDs. Opioid crisis looms over job market... Voynich manuscript: the solution... The 100 greatest American films... The private investigator was the original most interesting man in the world... Surviving Hurricane Harvey... From July: Tampa Bay's coming storm.