From now on, I want y'all to read my Skull Sessions in Joe Thomas' voice, complete with piano:

Thank you for hearing me on this important announcement.
 SO WHAT CAN $5 MILLION BUY THESE DAYS? Let's say you have $5 million and want to do a charity... but also want to broadcast to people you did a charity.  
One way to accomplish this is endowing a high-profile position at Ohio State and changing the title to something nobody but university officials, sponsors, and your family will call it.
From bizjournals.com:
Ohio State University's athletic director position could soon be named after the longtime family owners of the Columbus Dispatch.

The Robert F. Wolfe and Edgar T. Wolfe Foundation has pledged $5 million for a new endowment to support the Ohio State Athletics Department.

Upon approval from school trustees next week, current AD Gene Smith's job will be renamed the Wolfe Foundation Endowed Athletics Director.
The Wolfe family recently pawned the charred remains of The Columbus Dispatch to one of those "new media" conglomerates that buy up local papers and liquidate assets, so $5 million is peanuts to pay for the press.
How long before Urban Meyer is the Les Wexner Football Coach at the Ohio State University or something similar? I assume coin mongers of all stripes are placing calls to Gene Smith's office to find the price on that ticket.
(The losing coin mongers are welcome to endow The Skull Session. The starting price is $15,000,000. Prospects should be aware I only deal in straight cash.)
 GET DUMPED THEN, TOM BRADY. Bradley Roby stripped a Michigan Man to help turn the tide against the vile Pittsburgh Steelers last week in the NFL divisional round. On Sunday in the AFC championship he'll find himself up against Tom Brady, the greatest Uggz boot in NFL history.
He's finding his stride at the right time.
From mmqb.com:
Enter Roby, the 31st pick in the 2014 draft. Standing 5-11, 195 pounds, Roby has emerged as a reliable third corner in a league that has put a premium on the job in the past decade.

"You're in sub personnel groups so much more than you're in base," says Broncos defensive backs coach Joe Woods, "so really having a third corner is essential.

"The biggest thing with Rob' is experience, because he has all the athletic tools. Right now, he's hitting his peak. All the guys in the room can see that."
Denver's top CB, Chris Harris, is carrying a shoulder injury at the moment, so more responsibility could befall Roby on Sunday. Let's hope it ends with Roby running off on the plug and a teary-eyed Brady ripping into his undrafted wide receiver. 
 IT'S BEEN REAL, ST. JOHN. The historic St. John Arena, which still looks good in Instagram pictures, is on the way out. Ohio State is moving on with its plans to replace it with something called Covelli Arena.
From bizjournals.com:
The school is seeking commissioning agents to provide testing and compliance services during construction of the $30 million Covelli Multi-Sport Arena and the $32 million Student-Athlete Development Center.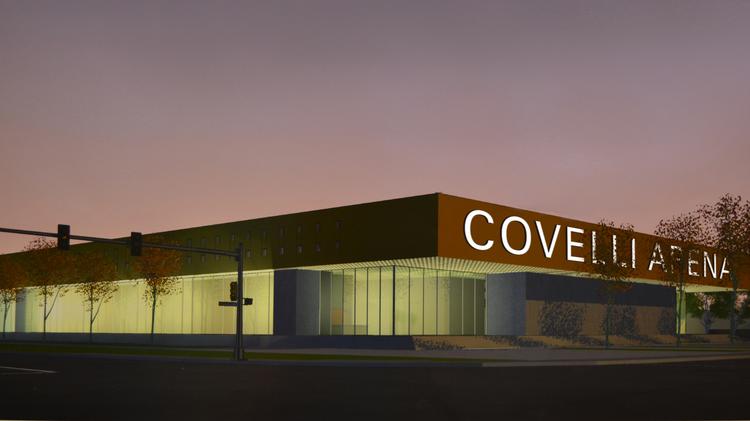 Ohio State is looking for representatives to oversee the projects from predesign to post-construction phases between March this year and September 2018. Both projects need to meet LEED silver standards, Ohio State said in its request for qualifications.
Hopefully the Cove(!?) turns out better than the university's rendering, because if I saw that drawing and didn't know any better I'd figure it to be an STD clinic. (Not that I'd know what those look like...)
 SHELLEY MEYER DOES A GOOD THING. Al.com reporter Natalie Williams was injured in a car fire this past fall. She reportedly suffered burns to 75% of her body and has been in the hospital ever since.
Shelley Meyer saw the story, and realized she met Ms. Williams awhile back. She knew what to do next.
Via ncaa.org:
5 months later & I'm still in the ICU. Prayers to all who have supported me.Just got this one from Shelly Meyer. pic.twitter.com/Ne7dWOf5sK

— Natalie Williams (@_Nat_Williams) January 22, 2016
Good people do good things.
 MICHIGAN PROPAGANDA. The only people surprised by Jim Harbaugh's "roster management" are those that didn't research his recruiting at Stanford. 
I'm not here to wave a moral outrage handkerchief, though I am bemused by holier-than-thou Michigan fans performing mental gymnastics to justify more egregious behavior than for which they killed Urban Meyer the last four years.
Harbaugh got a four hour glimpse at the resplendent talent canyon currently separating Ohio State and Michigan. (Poor Joe Bolden is still panting.) He's doing what needs to be done to makeup that gap in as little time as possible. If recruits (and their parents) want to commit to him knowing his history, that's on them.
This, however, is absolute malarkey:
Connor Murphy says his sleepover with Harbaugh consisted of the coach drinking "a whole gallon" of milk before bed. https://t.co/e7EKvtCb8w

— Alejandro Ziga (@ByAZuniga) January 22, 2016
This is either hearty hyperbole or the best proof yet Harbaugh's an alien wearing human skin as a costume. He would've shit his khaki pajamas if he did something like that. 
 THOSE WMDs. Larry Bird was cruel on the court... How Mavis Staples' new record got made... Migration map of American birds... 1950s live television: Tricks of carnival game swindlers... Why do people keep coming to this couple's home looking for lost phones?