Walk into your office today and treat the idea of work like 2015 basketball commit Daniel Giddens treated his enemies' hopes and dreams:
This week's NSFW Anti-Work #Bangers:

BRAXTON'S LAST QUEST. Via ESPN's Austin Ward, here's Braxton Miller talking about his trophy collection:
"It won't fit over at their house anymore," Miller said. "I've got too many.

"It's kind of tough to keep track of them all. Cannot even name them."
Of all Braxton's jewels — as Tom Herman points out in the article: Braxton is often described as "the most-decorated player in Big Ten history" — there are three noticeable absences: a Big Ten Championship, a Heisman Trophy, and a national title. 
Urban Meyer is aware of the stakes:
"That one thing that's missing is a championship. He went 12-0, but he needs a championship. I think every great player is measured by championships."
Regardless if Braxton wins a title or not (it's ridiculously tough to win a title), he's still a legend in my mind. The dude was tossed into the fire as a freshman, and he lost a title shot against Notre Dames due to crimes perpetrated when he was in high school. 
No pressure from this Internet Man, Braxton. YOUR LEGACY IS SECURE WITH ME. 
ESPN, however, doesn't seem to be much of a believer: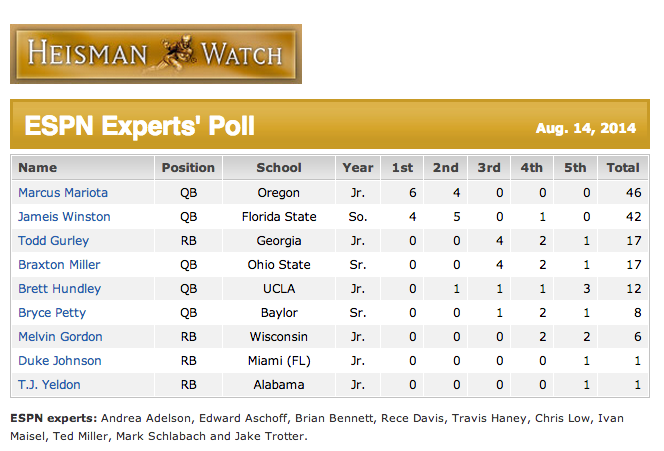 Obviously I'm backing Braxton's Heisman case, but my true motto is "Anybody but Jameis." 
*in my Silky Johnson voice* I'm really looking forward to rooting against Jameis Winston and Florida State.

VONN BELL, MOUNT UP. One of the biggest mysteries of 2013 was Vonn Bell's inability to supplant Pittsburgh Brown until the Orange Bowl. When he finally did get the start, however, VONN BELL EVOLVED:
Vonn Bell expects to start this year. Cleveland.com's Ari Wasserman asked Bell what's next for the former five-star recruit: 
"Win the Thorpe," Bell responded. "I need to get one of those Thorpe Awards." 
Damn straight, Vonn. Damn straight.
So what can fans expect from the Georgia product?
"To make plays," Bell said. "Coach Meyer and I have a really good relationship and I told him I am just going to make big plays for him. "That's my strength. I am always going to be around the big play, be that guy where it's like, 'Man, that guy is impressive.' I want to be that guy." 
(That Kid Rock-looking Tennessee fan is lucky he had the sense to take his vlog from Vonn Bell's commitment off YouTube. Otherwise, we'd be laughing at it right now.)

THOUGHTS AND PRAYERS UP. Zach Farmer, the left-hand pitcher diagnosed with leukemia, (and his donor) need your thoughts and/or prayers today:
Everyone please pray for my donor tonight and me tomorrow morning as I will receive my bone marrow transplant! Thank you!

— Zach Farmer (@zfarm34) August 15, 2014

DONTRE WILSON COMETH. Remember the other day — yesterday? hell, one of those "days" — I was telling y'all to buy stock in Dontre Wilson?
From Bleacher Report's Ben Axelrod's article on America's most-undervalued player:
"I've gained like 23 pounds," Wilson proclaimed. "I feel a lot stronger, a lot more compact."

[...]

"[Wilson] couldn't play receiver last year. He didn't know what the hell he was doing," Buckeyes offensive coordinator Tom Herman said in the spring. "His ability limited us, and ability doesn't just include running fast and making guys miss. There's a lot that goes into usability in the offense."

[...] It was clear in spring practice that the Ohio State staff was making a concerted effort to get the ball into Wilson's hands. That directive has carried over into fall camp, where the sophomore has been the Buckeyes' No. 1 slot receiver—the same position that was formerly occupied by last season's leading receiver, Corey "Philly" Brown.
No disrespect to Philly Brown, but I'd much rather have Dontre Wilson playing that role. The prospect of 23 lbs of rock added to his frame will mean arm-tackles will be less and less effective. 

CHAD LINDSAY LOOKING FOR HIS SPOT. I know my man CC was looking for information on this the other day; here's Alabama-transfer Chad Lindsay on the many difference between OSU and Alabama.
From Tim May of The Columbus Dispatch:
"There's not a lot of differences," the fifth-year senior center said. "Both places have great tradition, they both are winning programs, and they both want to win championships. There's no difference, really, at all."
Damnit, Lindsay! I was hoping to hear about all the ways Nick Saban was using children's blood to fuel the Alabama DeathStar. 
What about the offenses, Chad?
"They both want to be the most dominant offense in the country and in their conference," Lindsay said.
... Chad, you missed a great chance to insult Michigan Man Doug Nussmeier, but what about the differences between Nick Saban (Satan) and Urban Meyer (God's Son)?
"I tell you what, they're not that much different at all," Lindsay said. "They're both great competitors, they both expect the best out of their players, and they both are winners. They want to win it."
So there you have it, folks. Ohio State is Alabama and Alabama is Ohio State. THERE IS NO DIFFERENCE.
*Somewhere in the distance, Nick Saban cackles like a rabid jackal as his Manchurian Candidate awaits his activation code. "It's all going to plan..."*

THOSE WMDs. How Chip Kelly's influence — both on and off the field — is spreading around the NFL... Is it a bald-faced or bold-faced lie?... Every Hitchcock cameo in one video... A naïve fisherman, a boat headed for Spain, and 1.5 tons of cocaine... A Dallas socialite and the people around her who keep dying... The Mystery of My Father's Mind... Bro, that's an old-ass turtle.