[ICYMI: Ohio State is No. 6 in Coaches Poll; Tracy Sprinkle plead out; Josh Perry is rocked up; Urban got his car washed: Mike and Mike / SportsCenter] 
This week's NSFW Anti-Work Bangers:

NOAH SPENCE IS ON DECK. A man lost in the shuffle of defensive line hype, ironically enough, is a former five-star recruit.
Coverage tends to focus on Joey Bosa's insane development, Michael Bennett's steady leadership, Adolphus Washington's move in inside and the new defensive line coach, Larry Johnson Sr.
Granted, Noah Spence is suspended for the first two games as part of his punishment for accepting a drink from a stranger at a party (never a good idea), but he'll be a first round draftee in 2015's NFL Draft. 
CBS' Dane Brugler has been doing breakdowns of Power Five teams' best pro prospects. In his research into Ohio State, Spence is a gem among many:
I've spent the last few days studying #OhioState and their top NFL prospects and still need to see more. This roster is full of future pros

— Dane Brugler (@dpbrugler) July 31, 2014
Of all the draft-eligible prospects I've studied so far at #OhioState, DE/LB Noah Spence has stood out the most. "Wow" athletic potential

— Dane Brugler (@dpbrugler) July 31, 2014
Spence is learning how to put together a consistent rush sequence but its all there athletically for him to be a highly coveted NFL prospect

— Dane Brugler (@dpbrugler) July 31, 2014
Spence needs to load more ammo into his hands to better convert speed to power. But athletically, he's the full package. Can play DE or OLB

— Dane Brugler (@dpbrugler) August 1, 2014
At this point, Larry Johnson Sr. has to feel like a Pokémon Master. 

LBJ CELEBRATED THE '02 TITLE JUST LIKE YOU. It turns out the multimillion dollar athlete who's been groomed since high school into a multimillion dollar business ... is just like us.
From a 2003 Sports Illustrated article, via our Kyle Rowland: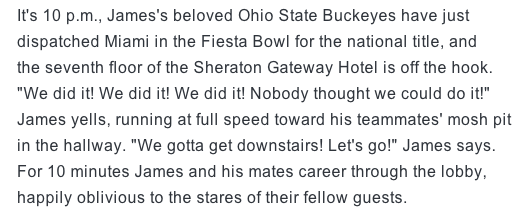 No, LeBron... nobody did think Ohio State could do it... and then they did the damn thing. (The streets say the same about Cleveland winning a championship, by the way.)
One of the biggest regrets I have is being a bullshit 15 16-year-old in January of 2002 2003. I can only imagine how hectic things would've gotten in the aftermath of the 2002 title game if I were 22 at the time.
One of the things for which I'm most thankful, however, is that I was a worthless teen in January 2002 2003.
Had I been 22, I have little doubt I would still be serving prison time in a medium-security prison for my actions in the aftermath of the 2002 2003 BCS national title game.

C'MON THAD. I love Thad, as y'all know, but this made me shake my head in disagreement.
From the second installation of the Cleveland Plain Dealer's Thad Matta profile:
On the one thing that would make him retire:

"If this becomes a business to me, I'm done. Because you are dealing with kids. And that's probably a little bit of the misperception nowadays, because of how kids are put on these pedestals - they're kids.

"But the day that it becomes a job, that it becomes where I don't cherish the time with the kids, then I would say it's probably time to find something else to do. But I don't feel like I've ever worked a day in my life. Even through the dog days, you're on the grind but you're excited about the next day and the next opportunity to right the ship."
I assume Matta negotiated his own contracts with Ohio State? (I've already addressed the "kids" thing.)
Philosophical agreements with Thad aside, Lesmerises is one of the best in the game.

B1G CHAMPIONSHIP TICKETS ON SALE ON THE MORROW. Ohio State has a very good chance at playing in Indianapolis, and the tickets go on sale tomorrow at noon:
Tickets can be purchased through Ticketmaster at www.ticketmaster.com or by calling (800) 745-3000. Tickets will range from $50 to $90 depending on the seat location and each order will be limited to eight tickets. In addition, every Big Ten Football Championship Game ticket includes complimentary admission to the Big Ten Fan Fest presented by Dr Pepper, to be held at the Indiana Convention Center on Friday and Saturday, December 5-6.
Yes, I'm picking Iowa as Ohio State's opponent in Indianapolis. (Yes, I will regret this.)

SIR? I don't know, Bo. This doesn't look like "fun." In fact, it looks like you're watching somebody flay your cat. Such must be the company of Brady Hoke:
Fun being on set with these guys this morning @espn pic.twitter.com/TWq7SXrSJs

— Bo Pelini (@BoPelini) July 31, 2014

THOSE WMDs. Las Vegas father 'fought to the death' to save his family from attackers... Okie State is off APR sanctions thanks to this guy... The Talented Mr. Young... I can't decide if Air Force's new helmets are good or bad... First Take, amirite?... Hoke: If season started today, Gardner is my starter... The science behind sinkholes... Shut it down, science... Ray Rice is no Fred Flinstone... Gotta hear both sides... Very relatable, IMO... You almost had it, lady.