Move over, Bakersfield, there's a new taco sheriff in Columbus.
Operating from a hot tip I received from a gentleman I met this past weekend (#shoutout to Nathaniel from Westerville), I stopped by El Tacoriendo yesterday. For a mere nine dollars, the girlfriend and I purchased four tacos and a quesadilla.
It's a meal I haven't stopped thinking about. I'm embarrassed I've lived in Columbus since March 2008, and it took me until yesterday to unearth this gem.
"But DJ, I have qualms about eating meat grilled in a dilapidated school bus a few feet off the street."
Then you're no kin of mine, but I won't hold it against you, because that means more tacos for me.

GREG FREISINGER IS A BAD ASS. I support the US Military in these Skull Sessions, and because it's within my power, I'd like to lead with this story from BTN.com:
Despite having two veteran grandfathers, Greg Freisinger never considered the military as an option — but that changed on Sept. 11, 2001.

[...]

Because of his military service and commitment to academic excellence — he's currently earning his Ph.D. in biomechanical engineering at The Ohio State University (OSU) — Freisinger was recently named a 2014 Tillman Military Scholar.

The program is part of the Pat Tillman Foundation, which was started in memory of the late professional football player and soldier who was killed in 2004 in the line of duty in Afghanistan. Since 2008, it's provided millions of dollars in scholarships to U.S. service members, veterans and military spouses seeking higher education.

Freisinger is the first student from OSU to receive the distinction, for which only 60 are selected out of more than 7,500 applicants...
You want to get an idea of how tough biomechanical engineering is? My browser's spell check is flagging the word "biomechanical."
Congratulations to Greg on his honor, and #shoutout to Ohio State, which was named a top college for veterans by Military Times.

BIG TEN JERSEYS AS SOCCER KITS. I would wear either of Ohio State's jerseys in this mockup: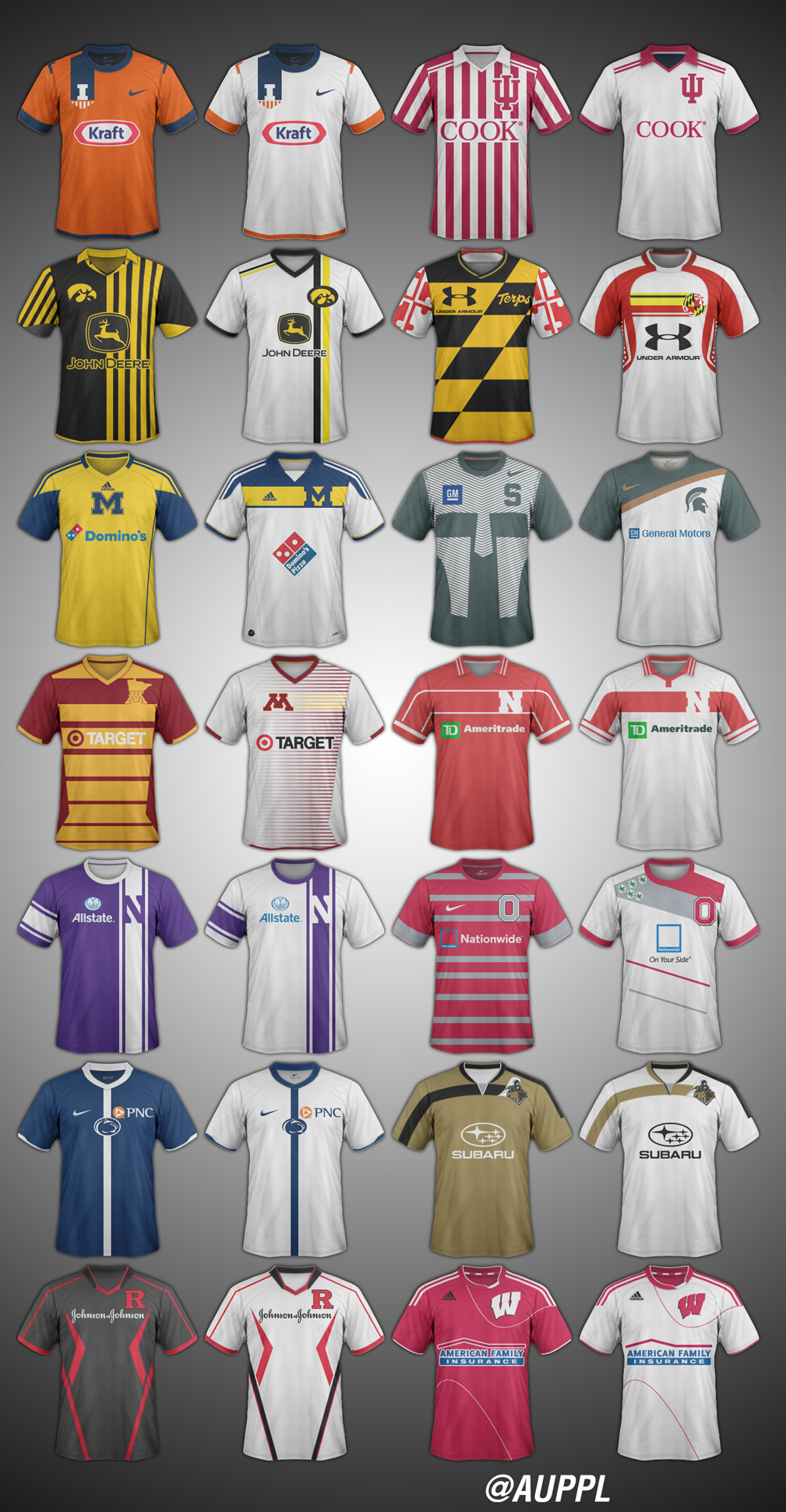 OHIO STATE OVER FSU. SO SAYS THE NFL DRAFT SCOUT:
Inspired by @KohneysKorner, my CFB champion pick is THE Ohio State University.

— Matt Miller (@nfldraftscout) July 22, 2014
Ohio State vs Florida State with the Buckeyes taking home the trophy. There you go.

— Matt Miller (@nfldraftscout) July 22, 2014
I would like that... I would like that a lot. 
Let's check in on #FSUTwitter to see how they feel about their team's upcoming season:
Writing about a team this good is a lot tougher than I expected. Can only write "if they stay healthy they'll kick ass again" so many times.

— TomahawkNation.com (@TomahawkNation) July 23, 2014
Well, that arrogance didn't take long to return, did it?

STEVE SPURRIER OWNS DABO SWINNEY. Dabo, at this point, I think it's best to keep the Ol' Ball Coach's name off your tongue:
Steve Spurrier on Dabo Swinneys Hes from Pluto, Im from Mars quote: Dabo still thinks there are 9 planets out there"

— Brett McMurphy (@McMurphyESPN) July 22, 2014
And then there was this:
Spurrier's reaction to the question of "how Saban sells his program to recruits" is priceless. pic.twitter.com/MkMcbXAgmi

— Barrett Sallee (@BarrettSallee) July 23, 2014

THOSE WMDs. LeBron James is a freak genius with photographic memory... I guess this is a perk of getting old... Lookin' good, Jack White!... Marshawn Lynch just got upgraded to "keeper" status on my fantasy team... Ohhhh, so that's how rappers get so much money... People aged 18-24 spend 37 hours a month using mobile apps... Damn, Cord Jefferson is one of the best writers in the game...