My faith in humanity was restored yesterday by a straight couple making out at the gym between sets. I can now die a happy man, as I now know what it is to love another human being.

 OSU A CONTENDER, SAYS CFB PUPPET-MASTER. Good to see Ohio State is getting recognition as a playoff contender, even if they do feature in an SEC-heavy field.  (I can't wait for the playoffs, you guys.)
Buried in the article, however, was an interesting nugget.
That Miller could have a productive spring without throwing is a tribute to both him and a support staff that did everything it possibly could to maximize his time while recovering from his shoulder surgery.

"You're talking about the Big Ten Player of the Year two years in a row," Ohio State coach Urban Meyer said. "I believe he gets it now, and he's a wonderful kid that wants to be great. I think he had a great spring."

Meyer helped set up a meeting between Miller and Philadelphia Eagles coach Chip Kelly to talk shop, and more of those types of informational sessions are still planned -- including practice runs the Buckeyes are putting together to simulate Jon Gruden's QB Camp.
Love hearing Chip Kelly being involved in the tutelage of Braxton Miller. Book it now, folks: Braxton is going Super Saiyan on the Buckeyes' enemies this year. For you youngsters who only saw Troy Smith through Youtube highlight reels, buckle your seat-belts.

RIVALS RELEASES 2015 TOP 100. A 6'3" 257 lbs Floridian defensive end, Byron Cowart, is the new number one overall player in the 2015 class according to the scouting service.
Neither Jamel Dean or Eric Glover-Williams (who may be transferring to Massillon) appear on the list, but three Ohioans do:
So yeah, people freak out about Urban Meyer not chasing Ohio guys... but to me it's pretty clear there has to be a national net to compete for a title, especially for a school that's not in the southeast portion of the country.
Out of those three, in my iron-clad internet bloggerman opinion, Justin Hilliard is the only player Ohio State has to keep in the state. 

WE'RE ALMOST CLEAR OF LOU HOLTZ. Big news for people who don't enjoy their analysis in the form of a borderline-senile, blathering old man:
Veteran ESPN college football analyst and commentator Lou Holtz is retiring at the end of the upcoming college football season.

[...]

"I'd like to practice my golf a little more. I've been everywhere except to bed. I've spoken to everybody except my wife. Somebody said, 'Do you ever go anywhere where people don't recognize you?' I said home. I owe it to her to spend a little more time with her. I said that last year too."

[...]

"I'd like to leave when people say, 'Why are you leaving?' not 'When are you leaving?'" he said. "This is my fifth last year. They usually talk me into it. ESPN is a great organization to work for. We've been together nine years now. That's unusual. They're like my family. I love them. We enjoy it. There comes a time where you need to step aside and let the younger people do it.
Good news if you do prefer your halftime analysis delivered in the form of a borderline-senile, blathering man: Mark May has no plans to retire.

THE DARKEST TIMELINE FOR OSU's 2014 SEASON. r/CFB's MSPaint Monday was yesterday, and the theme was "Worst case scenario for your team in 2014." Needless to say Redleg86 distilled all my nightmares (and Mike Bianchi's Viagra) into a single image: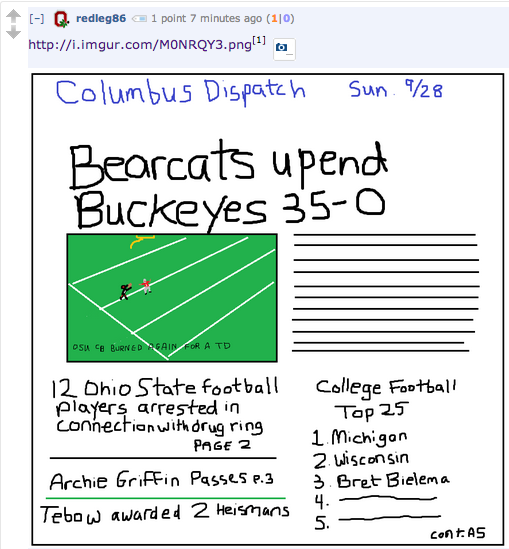 BANE DID IT BETTER. Sinkholes are pretty terrifying, man:
Here's a view of this massive sinkhole at Austin Peay! Check it out! Don't worry- no injuries. @WSMV pic.twitter.com/v9oIbs4Ezz

— Amber Ungaro (@AmberUngaroWSMV) May 19, 2014
I did not know Jim Bollman was working his offensive magic down at Austin Peay these days.

THOSE WMDs. Make it stop... Inside the government's war on tech support scammers... Thug: A Life of Caravaggio in Sixty-Nine Paragraphs... The Dogs of War... Video: Kid asks Kanye to sign his Yeezys, Kanye tells him they're fake... Heat get a boost: Evan Turner to return for Game 2... That viral article on unsold cars is malarkey... It's a must-have book, even if you've never read it... Cruel truths about your resume and recruiters... Video: A spectacular supercell takes form in Wyoming...