Hello, and welcome to the Skull Session. Aside from the men's basketball team remaining ranked in a very confusing Big Ten and men's tennis winning its first ever indoor national title, most of the news this morning originates from outside Columbus.

COLTER MAY MAKE HISTORY. Today may be the most important day for college athletics for some time, because Kain Colter will testify before the National Labor Relations Board on behalf of the Northwestern football team for labor union certification.
CBS Sports' Dennis Dodd has a really good article running through the various argument and issues regarding certification, as well as the agenda of the College Athletes Player Association. All things considered, it looks like Northwestern will earn certification.
Dodd spoke to a number of analysts about the case, including Notre Dame finance professor Richard Sheehan. Sheehan cuts through the extraneous arguments nicely:
"It appears to me," Sheehan said, "that the arguments that they do well in school, have a high graduation rate and are strongly supported by the school in their academics are all irrelevant to the question of whether they are employees."

It's whether those young adults are being treated fairly in a multibillion-dollar industry essentially controlled by the NCAA, athletic directors, commissioners and TV executives.
Win or lose, Sheehan expects this to turn out like the Curt Flood case, which opened the door for free agency in baseball despite Flood losing in the Supreme Court.
"The overwhelming weight of economic arguments is on the side of the players," Sheehan wrote. "Ultimately, they will win even if they lose these cases."
With people like Iowa athletic director Gary Barta digging his heels in and claiming he'd give up a $450,000 a year job if players were ever paid, this is a do-or-die time for the so-called amateurism of college athletics.

DREAM 14 POSTER. From the talented hands of Sammy Silverman to your computer screen, it's the Dream 14.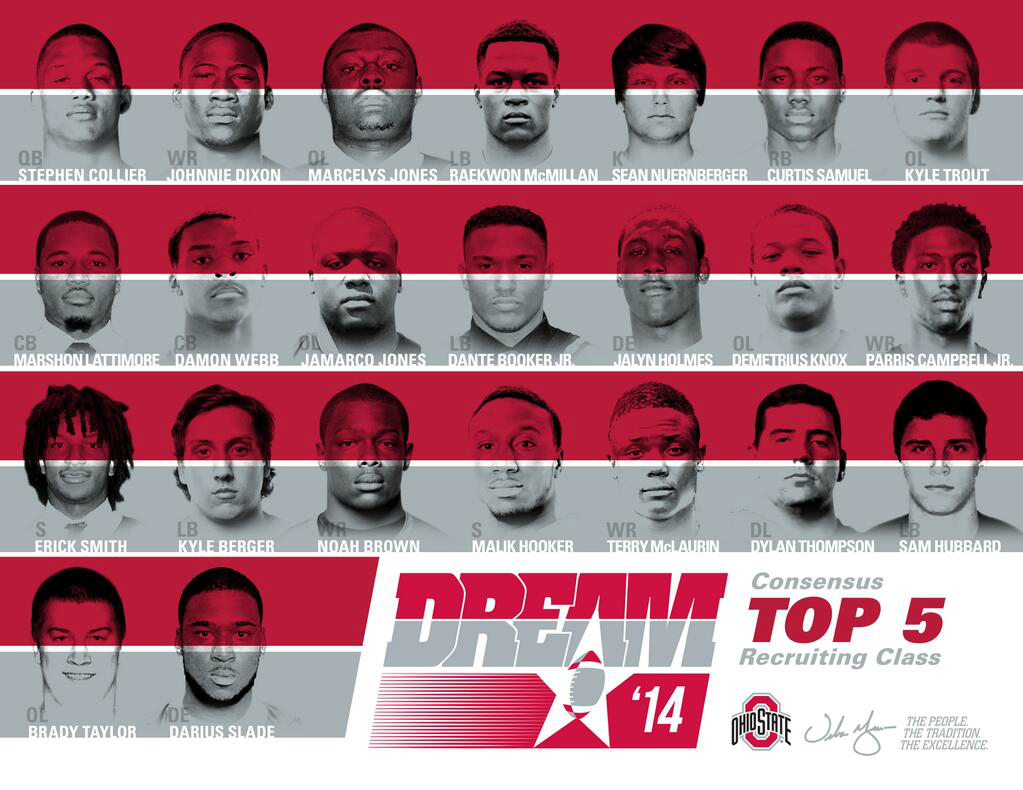 PRE-COMBINE DRAFT RATINGS. Ohio State announced yesterday that six Buckeyes will take part in the NFL Combine this weekend.
Mike Mayock of NFL Network released precombine position rankings, and Carlos Hyde, Ryan Shazier, and Bradley Roby each made an appearance.
Mayock rated Carlos Hyde as the top running back in the class. Hyde will have to answer questions about his athleticism at the combine (yes, I know). If he does he'll be a very rich man: 2013 was only the second year in draft history where the first running back taken wasn't a first rounder.
Bradley Roby was fifth on Mayock's list of cornerbacks, meaning his junior season may have hurt his draft stock. Roby needs to perform well in agility drills (40 yard dash, shuttle, cones) and on recognizing and rerouting receivers.
Mayock was fairly low on Ryan Shazier, rating him fifth among linebackers. Shazier was one spot behind Chris Borland, whose knack for being perceived as slightly better than Shazier persists to the pros. This may count as grumbling from Columbus but perpetual aggrievement is what we do, eh MGoBlog?
Corey Brown, Corey Linsley, and Jack Mewhort could impress this weekend, but they are at greater risk of being among the 33% of Combine invitees who go undrafted.

 THE LES AND ABIGAIL WEXNER SKULL SESSION. In news that could probably be worded less salaciously, Brady Hoke is no longer the head football coach at Michigan.
Brady Hoke likely will be getting a new title: J. Ira and Nicki Harris Family Head Football Coach.

The Harris family is donating $10 million to endow the position and make it the first such position among U-M coaches, assuming the Board of Regents approve it at this week's meeting, taking effect March 1.
It's a pretty solid move on the part of Michigan's athletic department: nobody has to call the position the J. Ira and Nicki Harris Family Head Football Coach, and any athletic department would indulge some vanity for an eight figure donation.
The endowment of specific positions has become more common since a 2012 New York Times article on the practice. For example, Michigan State is doing the same thing as Michigan.
Ohio State doesn't appear to be doing so, but it may in the future. Please let there never be a Nick Siciliano Family Quarterback Coach.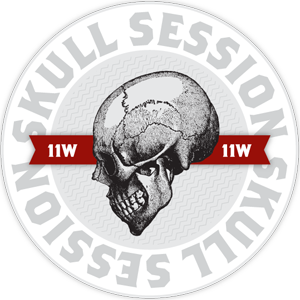 DEE HART GONE. One reason to be cautious about pumping up five-star recruits is that you never know how they'll turn out. Case in point, Dee Hart.
Dee Hart committed to Alabama in 2011 but rarely saw the field in his first three years. His time at Alabama is now over after being arrested for marijuana possession, giving a false name to law enforcement, and possibly using counterfeit money.
Blankley said officers approached the customer, who gave them a false name but was soon identified as the 21-year-old former UA footballer Demetrius Damar Hart. The officers on the scene arrested Hart for giving them a fake name, which is a class A misdemeanor in the state of Alabama.

Blankley said Hart was taken to the police department to be processed and for further investigation of his alleged use of counterfeit money, but when he was taken out of the vehicle, officers found a ziplock bag with eight grams of marijuana in the floor of the back seat where he'd been riding.
Hart had been off the team since the Sugar Bowl. Alabama has an embarrassment of riches at running back, so losing Hart won't hurt them much.
In hindsight, Nick Saban deserves an apology. I thought he went into National Signing Day knowing he'd have to screw as many as seven players out of an Alabama degree when it was only six. As a token of remorse, I have created a bingo card to predict Alabama's future attrition. 
Question: why has Player X been booted chosen to leave the program?

 LINKS AHOY. I'd feel guilty eating these MLB cakes... Baylor nearly Britta'd it against Oklahoma State... Turner Evans of OSU men's lacrosse named conference player of the week... Aaron Craft is a finalist for the Bob Cousy Collegiate Point Guard of the Year Award... The actual story of the 1988 Jamaican bobsled team is more gripping than Cool Runnings... USC deletes a signing day video with a coach bashing a Tennessee commit... Missing a bowl may be better for recruiting than playing a December bowl game... *Being a creeper*... West Chester University looks pretty bad after refusing to pay out on a made half-court challenge... TCU's Big 12 struggles are a window to Rutgers' future in the Big Ten... Rick Pitino whinges about social media... on the other hand, maybe Pitino had a point.