A college team from Ohio will be playing football on Saturday.
While Ohio State still has to wait until Oct. 23 or 24 to open its season, Cincinnati is set to begin its season this weekend, when the American Athletic Conference's Bearcats will open their 2020 campaign at Nippert Stadium against Austin Peay.
The Bearcats will be the first major college football team in Ohio to play a game this fall; while the Buckeyes are now set to play in just over a month, the Mid-American Conference and its six Ohio teams still don't know when they'll be back on the field, as MAC commissioner Jon Steinbrecher says there are still no plans to play this fall. So Cincinnati head coach Luke Fickell and his team certainly have reason to be grateful that they are playing this week and are scheduled to play 10 games this fall.
But Fickell, a former Ohio State assistant coach and player, doesn't simply want his team to be glad to be playing. He wants the Bearcats to recognize the opportunity they have in front of them and do everything they can to maximize that opportunity.
"I am incredibly grateful, I think our team is incredibly grateful for this opportunity, but with that comes a lot of other things," Fickell said Tuesday. "I don't want to just sit here and sound like we're just grateful to play. Now that we have the opportunity to play, we got to do what we're supposed to do, and that means getting our mindset back into the preparation, the training, the studying, the things that we need to do to be really successful. It's not just okay to be grateful that we're playing and go out there and be average, because we're not gonna accept that."
In a unique twist of Saturday's game, the Bearcats will be playing their first game of the fall while their opportunity will be playing their last, as Austin Peay is playing just three non-conference games this fall before the Governors will resume their season with the rest of the Ohio Valley Conference in the spring, when the Football Championship Subdivision will hold its national championship.
Even though the Governors have already played two games, the Bearcats will be heavily favored to win big on Saturday after Austin Peay suffered a 55-0 loss to Pittsburgh in a game that was shortened to 50 minutes last Saturday. But while the Bearcats have certainly studied the film from the Governors' first two games in preparing for Saturday, Fickell wants his players to be focused more on performing their best than who they're playing.
"I think you're looking at a team that this is their last game, and I think our guys got to make sure they understand that this is kind of their season," Fickell said. "They're going to come in with nothing holding back. They have athletes, they have players, they're going to give us a test in many different ways. But what it really comes down to is us and us focusing on ourselves, us focusing on the things that we need to do and what we need to control and not as much about who they are.
"Doesn't mean we aren't studying, doesn't mean we don't know exactly what they do out of what formation and what defense and things like that, but always in Week 1 – it's our Week 1 – you gotta really focus on yourself, and you gotta make sure you're do the little things the way you need to do them and get yourself into those routines of not just preparing to play the game but actually playing the game."
Cincinnati is currently ranked 13th in the AP Top 25 – the top Group of 5 team in a poll that doesn't include any Big Ten teams or teams that weren't scheduled to play as of Sunday – and some people even pointed to the Bearcats as a potential College Football Playoff dark horse, though that was before Wednesday's announcement that the Big Ten will play this fall. But Fickell doesn't want his players to be focused on that, either.
"I do have an 18-year-old son that likes to tell me some of those things. 'Hey, do you know what Desmond (Howard) said?' I said, 'No, I don't, and I don't want to know what they said,'" Fickell said. "But nonetheless, we can't be naive. That rock that I live under, we can't be naive and not understanding what our kids are hearing and how that can affect them. We gotta really do a great job – not just me, but I mean as a whole, as a coaching staff and as leaders of this team, we gotta do a really good job of making sure our guys understand how we got to this point, why we got to this point and what we need to do to keep it going."
"I don't want to just sit here and sound like we're just grateful to play ... It's not just okay to be grateful that we're playing and go out there and be average, because we're not gonna accept that."– Luke Fickell
The Bearcats, who went 11-3 in 2019, return many of their stars from last season including starting quarterback Desmond Ridder, leading receiver Alec Pierce and nine starters on defense, including three first-team all-conference performers in defensive tackle Elijah Ponder, cornerback Ahmad Gardner and safety Darrick Forrest.
Saturday's game, which is scheduled for a noon kickoff and will be streamed on ESPN+, features former Ohio State players on both sides; former Buckeye wide receivers L'Christian "Blue" Smith and Garyn Prater aren't expected to play huge roles for the Bearcats, but former Ohio State running back Brian Snead has seen regular playing time in Austin Peay's first two games, rushing for 52 yards on 21 carries.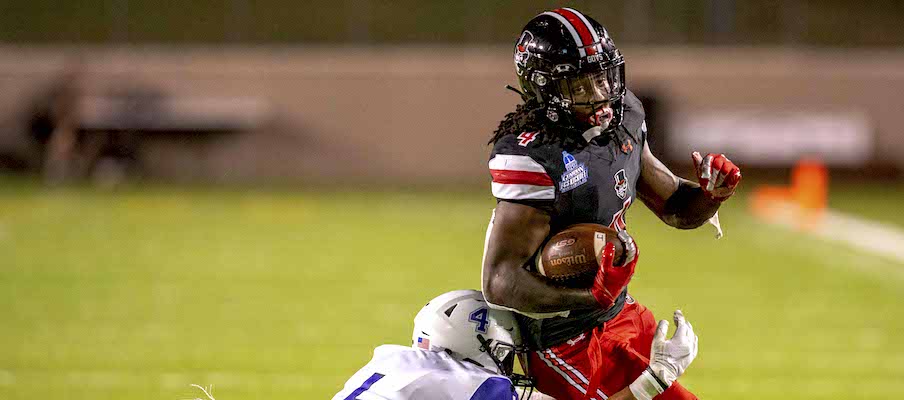 Someone Has to Win This Week
Week 1 of the NFL season unfolded in all too familiar fashion for each of Ohio's two NFL teams, as the Cincinnati Bengals and Cleveland Browns both suffered ugly losses – though very different from one another – that give their fans reason for concern that 2020 will be more of the same for two franchises that have been known far more for their struggles than success in recent years.
Cleveland's season opener in Baltimore couldn't have gone much worse, as the Browns scored the least points of any NFL team in Week 1 while tying for the second-most allowed in a 38-6 loss to the Ravens. The Browns turned the ball over three times and Baker Mayfield averaged just 4.8 yards per passing attempt while Lamar Jackson picked apart their defense for 320 yards of total offense.
Cincinnati played a competitive game with the Los Angeles Chargers, and there were certainly positives to take away from Joe Burrow's NFL debut, as he scored his first career touchdown on a 23-yard run and showed veteran-like poise in leading the Bengals all the way down to the Chargers' 3-yard line on what nearly became a game-winning drive in the rookie quarterback's first start. But the game ended in a way that none of Burrow's games at LSU did last season – in defeat – after an offensive pass interference penalty by A.J. Green that nullified a game-winning touchdown pass was followed by Randy Bullock pushing a 31-yard field goal wide right, allowing the Chargers to escape Cincinnati with a 16-13 win.
The good news for both teams going into Week 2: One of them has to win this week.
In this year's first leg of the Battle of Ohio, the Browns are set to host the Bengals in the first game of Week 2 on Thursday night at 8:20 p.m. on NFL Network. Despite scoring only six points last week, the Browns are favored by six points going into this week's game.
For both teams, a win on Thursday will be crucial to getting momentum back on their side, as the losing team will hold a 0-2 record and sit right near the bottom – if not at the bottom – of the NFL power rankings through two weeks.
One interesting storyline entering Thursday's game: Austin Seibert, who was waived by the Browns on Monday after missing both a field goal and an extra point in Baltimore, was claimed by the Bengals on Tuesday. That said, Bengals coach Zac Taylor said they are still planning to stick with Bullock as their kicker this week.
Pickerington Central, Hoban Earn Top Spots in First AP Polls
Unsurprisingly, Pickerington Central earned the top spot in Division I in the first AP poll of the year for Ohio high school football after the defending Division I state champions rolled to a 47-0 win over Central Crossing to improve to 3-0 on the season with their second shutout win in a row.
Dublin Coffman, also 3-0 to start the year, was ranked second in Division I in the AP poll. Lakota West, led by a pair of 2022 Ohio State commits in Jyaire Brown and Tegra Tshabola, check in at No. 3 after rolling to a 33-0 win at Sycamore on Friday.
Archbishop Hoban, which followed up its stunning 35-0 win over St. Edward one week ago with a 31-24 win over Benedictine on Friday, took the No. 1 spot in the first Division II AP poll of the year, followed by Toledo Central Catholic at No. 2 and Westerville South at No. 3.
Top-ranked teams in other divisions include Chardon in Division III, St. Clairsville in Division IV, Kirtland in Division V, Coldwater in Division VI and Marion Local in Division VII.
In the marquee high school matchup of the week in Northeast Ohio, St. Edward bounced back from its shutout loss to Hoban one week earlier by earning a 28-24 win over Mentor. St. Edward is ranked seventh in the first Division I AP poll of the year, while Mentor is just behind in eighth. They're currently the second- and third-highest ranked D-I teams in the AP poll from Northeast Ohio, behind No. 5 Canton McKinley.
St. Xavier is tied with Mentor for eighth in the D-I AP rankings after defeating another one of Cincinnati's top teams for the second week in a row with a 38-24 win over Elder. They're just the fourth-highest ranked Division I team in Southwest Ohio right now, though, behind No. 3 Lakota West, No. 4 Springfield and No. 6 Cincinnati Princeton.