It didn't take long for Chase Young, J.K. Dobbins and Jordan Fuller to make their mark on the NFL.
Young recorded his first sack and forced fumble as an NFL player just 12 minutes into his professional debut. With a spin move that would make his former Ohio State defensive line coach Larry Johnson proud, Young blew by Philadelphia Eagles left tackle Jason Peters to get to Carson Wentz. As Wentz tried to escape Young's grasp, the former Buckeye lunged forward to knock the football out of Wentz's hand.
Chase Young with the nasty spin move for his first NFL sack @youngchase907 @WashingtonNFL pic.twitter.com/sYhBNW7ClI

— The Checkdown (@thecheckdown) September 13, 2020
In just one game, it was immediately clear the kind of impact Young could make for the Washington Football Team, which had eight total sacks and came back from a 17-0 deficit to earn a 27-17 season-opening win on Sunday. On a loaded defensive line that is poised to now be one of the NFL's best, Young was as big a difference-maker as anyone, officially recording four tackles and 1.5 sacks and also combining with Da'Ron Payne to force the fumble that Ryan Kerrigan recovered to seal Washington's win.
4 tackles and 1.5 sacks in his @NFL debut @youngchase907 with the best rookie performance of the day!#NFLRedZone | @ScottHanson | @Verizon pic.twitter.com/7ZUG4zfdFR

— NFL Network (@nflnetwork) September 13, 2020
After the game, Young made it clear just how confident he was that he would start his career strong when he was asked by NBC Sports Washington why he wore a green jacket to Sunday's game.
"I'm looking like money right now," Young said. "I came out trying to prove a point."
if you're wondering why @youngchase907 showed up to the game wearing green, there's a simple explanation: he feels like pic.twitter.com/VBxHRzKwpR

— NBCSports Washington (@NBCSWashington) September 13, 2020
Young also borrowed a line from his former Ohio State coach Urban Meyer for a Sunday night tweet celebrating his team's win.
Whats the best part about going 1-0?? The chance to go 2-0

— CY2 (@youngchase907) September 14, 2020
Dobbins, meanwhile, scored two touchdowns in his debut for the Baltimore Ravens, who rolled to a 38-6 victory over the Cleveland Browns.
First career touchdown for @Jkdobbins22! #RavensFlock

: #CLEvsBAL on CBS
: NFL app // Yahoo Sports app: https://t.co/DTlgEUZamw pic.twitter.com/U5URCLBrDI

— NFL (@NFL) September 13, 2020
ANOTHER ONE for @Jkdobbins22 pic.twitter.com/IhTroIvmls

— Baltimore Ravens (@Ravens) September 13, 2020
Dobbins had only seven total carries for 22 yards, but his two touchdowns ensured his first game would be a memorable one. The Ravens' other rookie from Ohio State also had a productive debut; Malik Harrison started at weakside linebacker and recorded four tackles and a pass deflection in his first game for Baltimore.
Fuller, selected in the sixth round of this year's NFL draft by the Los Angeles Rams, was also among the rookie standouts on the league's opening Sunday. The former Ohio State safety was a starter for his first NFL game and led the Rams with eight tackles, including a crucial fourth-down tackle on fellow rookie CeeDee Lamb early in the fourth quarter, in their 20-17 win over the Dallas Cowboys.
Among other Ohio State rookies, Jonah Jackson started at right guard in his first game with the Detroit Lions, while fellow third-round pick DaVon Hamilton recorded two tackles off the bench in his first game as a Jacksonville Jaguar.
Damon Arnette had a "Welcome to the NFL" moment when he got burned by Robby Anderson on a 75-yard touchdown pass, but he still recorded five tackles and one pass deflection to help the Las Vegas Raiders score a Week 1 win over the Carolina Panthers.
K.J. Hill also made his debut for the Los Angeles Chargers on Sunday, but did not record any statistics.
Jeff Okudah's NFL debut was delayed until at least Week 2 as the No. 3 overall pick was sidelined for the Lions' season opener due to a hamstring injury.
Haskins Rallies Washington to Comeback
Young wasn't the only Buckeye who played a key role in Washington's comeback win over the Eagles on Sunday. Dwayne Haskins helped lead the Washington offense to five scoring drives in the game's final 31 minutes, while Terry McLaurin led the Football Team with five catches for 61 yards.
Haskins completed 17 of 31 passes for 178 yards and a touchdown and also had 17 rushing yards in Sunday's game, but his biggest moment of the day might not have been anything he did on the field.
While Washington coach Ron Rivera, who was diagnosed with cancer in August, was getting a planned IV during halftime, Haskins – who was named this past week as a team captain – stepped up to give the team, which was down 17-7 at the time, a locker-room speech. After the game, his teammates gave him credit for energizing their 20-0 second-half comeback.
"He just basically got everybody riled up and put everyone on his back," cornerback Fabian Moreau said after the game, according to NBC Sports Washington's JP Finlay. "Like a leader, he stepped up and gave a speech and everyone felt it, it was strong and it helped us."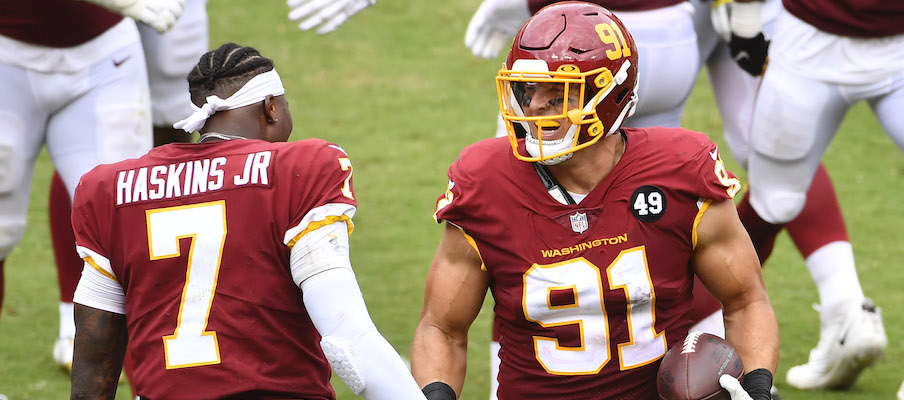 Bosa Sacks Burrow
In the week leading up to Sunday's game in Cincinnati, Chargers defensive end Joey Bosa pointed out that Joe Burrow should be used to having Bosa chasing after him, noting that he used to practice against Burrow at Ohio State in 2015, when Bosa was in his final season as a Buckeye while Burrow was in his first year in Columbus and quarterbacking the scout team.
#Chargers DE Joey Bosa on meeting up with #Bengals QB Joe Burrow again: "He was my scout team quarterback (at Ohio State in 2015) so he is used to being chased by me."

— Joe Reedy (@joereedy) September 10, 2020
That practice paid off on Sunday, when Bosa helped welcome Burrow to the NFL by blowing by Bengals right tackle Bobby Hart and taking Burrow down for a sack early in the second quarter.
BIG. BEAR.@jbbigbear | #BoltUp pic.twitter.com/HoyT76Xpc2

— Los Angeles Chargers (@Chargers) September 13, 2020
Bosa finished Sunday's game with five total tackles and two total tackles for loss. As for Burrow, the Buckeye-turned-Tiger-turned-Bengal had one rookie mistake – an ill-conceived shovel pass thrown straight into the hands of Chargers defensive end Melvin Ingram – but scored his first career touchdown on a 23-yard run. 
JOE BURROW. #SeizeTheDEY

: #LACvsCIN on CBS
: NFL app // Yahoo Sports app: https://t.co/5o8cWoN1yf pic.twitter.com/7daXXQlp8Y

— NFL (@NFL) September 13, 2020
The reigning Heisman Trophy winner, who finished his college career at LSU, showed veteran-like poise on the final drive of the game to lead the Bengals from their own 18-yard line all the way to the Chargers' 3-yard line. That drive ended in heartbreak for Burrow and his team, however, when an offensive pass interference penalty against A.J. Green took what would have been the game-winning touchdown pass off the board, forcing Cincinnati to settle for a 31-yard game-tying field goal attempt which Randy Bullock pushed wide right after cramping up during the kick, allowing Los Angeles to escape with a 16-13 win.
As for Cincinnati's other Buckeyes, Sam Hubbard had nine tackles for the Bengals on Sunday, including a fourth-down tackle for loss on the first play of the second quarter, while Vonn Bell had eight tackles in his Bengals debut. Michael Jordan started the game at left guard for the Bengals while Billy Price finished the game at right guard after starter Xavier Su'a-Filo left the game with an injury.
Zeke Gets Fed
While the Cowboys lost to the Rams on Sunday night, former Ohio State running back Ezekiel Elliott had an impressive season opener, rushing for 96 yards and a touchdown on 22 carries while also adding three catches for 31 yards and a touchdown. It marked the 14th time in his NFL career that he has scored multiple touchdowns in one game.
His highlight of Week 1 came on his first touchdown, when he caught a swing pass out of the backfield, cut back across the face of four Rams defenders and broke two tackles before diving into the end zone for a 19-yard receiving score, after which he lifted up his jersey to reveal a new "Feed Me" tattoo on his stomach.
FEED ME @EzekielElliott #DALvsLAR pic.twitter.com/uI1CZKgujJ

— Dallas Cowboys (@dallascowboys) September 14, 2020
Zeke's stomach tattoo:

FEED ME pic.twitter.com/ZgmaVkR7AG

— Bleacher Report (@BleacherReport) September 14, 2020
In total, former Ohio State running backs scored five touchdowns on the opening Sunday of the NFL season. In addition to Elliott's two scores and Dobbins' two scores, Carlos Hyde also scored his first touchdown as a Seattle Seahawk as part of a seven-carry, 23-yard game.
Another TD on the day, this time from @elguapo!

Q4: SEA 38, ATL 18

: #SEAvsATL on FOX pic.twitter.com/CuqyiNxL2R

— Seattle Seahawks (@Seahawks) September 13, 2020
Big Game for Baker
Former Ohio State linebacker Jerome Baker had the most productive game of his young NFL career on Sunday, when the third-year Miami Dolphin recorded 16 total tackles – the most of any player in the league in Week 1, and his first NFL game with more than 12 tackles – against the New England Patriots.
Baker's big game included multiple plays for the highlight reel. In the first quarter, Baker exploded through the Patriots offensive line on a perfectly timed blitz to bury Cam Newton for a 9-yard sack.
Hey - @Lastname_Baker pic.twitter.com/svqF2neSQa

— Miami Dolphins (@MiamiDolphins) September 13, 2020
He made an even bigger play late in the third quarter when he forced a fumble on Patriots wide receiver N'Keal Harry at the 1-yard line, knocking the ball into the end zone for a touchback, preventing the Patriots from scoring a touchdown while giving possession back to the Dolphins.
jerome baker with a monster strip. TOUCHBACK pic.twitter.com/Ns0bhpbGjO

— josh houtz (@houtz) September 13, 2020
Despite Baker's efforts, however, the Dolphins suffered a 21-11 loss in New England. And Baker was frustrated with the outcome following Sunday's game, pointing the finger of blame at himself after he picked up penalties for a late hit and for unsportsmanlike conduct during a fourth-quarter touchdown drive that helped the Patriots put away the game.
"My penalties are definitely unacceptable," Baker said, according to Joe Schad of the Palm Beach Post.
Career-High for Campbell
In an injury-plagued rookie season last year, former Ohio State wide receiver Parris Campbell never had more than five catches for 53 yards in a game. He topped both of those numbers in the first game of his sophomore NFL season on Sunday, catching six passes for a team-high 71 yards in addition to a 9-yard run in the Indianapolis Colts' season opener.
That performance included a challenging 17-yard catch near the sideline on an under-pressure throw from new Colts quarterback Philip Rivers in the second quarter of Sunday's game:
Unreal throw under pressure from Philip Rivers! #ForTheShoe

: #INDvsJAX on CBS
: NFL app // Yahoo Sports app: https://t.co/DTlgEUZamw pic.twitter.com/nNiLIaqfQk

— NFL (@NFL) September 13, 2020
The Colts suffered a 27-20 loss to Jacksonville in a game they were widely expected to win, but Campbell's strong performance gives them at least one positive they can take away from an otherwise ugly start to the season.
Still to Come
Four former Ohio State players will be on the field Monday night as part of the annual Monday Night Football doubleheader to wrap up Week 1. Cameron Heyward and the Pittsburgh Steelers will face Nate Ebner and the New York Giants in the night's first game, scheduled to kick off at 7:15 p.m. with Chris Fowler and Kirk Herbstreit on the call for ESPN, while Dre'Mont Jones, Nick Vannett and the Denver Broncos will face Mike Vrabel's Tennessee Titans in the second game at 10:10 p.m. Monday.
Buckeyes Around the NFL

| Player | Pos | Team | Week 1 Stats |
| --- | --- | --- | --- |
| NICK BOSA | DE | 49ERS | 6 TACKLES, 1 FORCED FUMBLE, 1 QB HIT |
| TED GINN JR. | WR | BEARS | 0 CATCHES, 1 TARGET |
| VONN BELL | S | BENGALS | 8 TACKLES |
| SAM HUBBARD | DE | BENGALS | 9 TACKLES, 1 TFL |
| MICHAEL JORDAN | OG | BENGALS | STARTED AT LEFT GUARD |
| BILLY PRICE | C | BENGALS | FINISHED GAME AT RIGHT GUARD |
| DRE'MONT JONES | DE | BRONCOS | vs. TITANS, 10:10 p.m. Monday (ESPN) |
| NICK VANNETT | TE | BRONCOS | vs. TITANS, 10:10 p.m. Monday (ESPN) |
| DENZEL WARD | CB | BROWNS | 3 TACKLES |
| JOEY BOSA | DE | CHARGERS | 5 TACKLES, 2 TFL, 1 SACK, 3 QB HITS |
| K.J. HILL | WR | CHARGERS | NO STATS |
| PARRIS CAMPBELL | WR | COLTS | 6 CATCHES, 71 YARDS, 1 TD; 1 CARRY, 9 YARDS |
| MALIK HOOKER | S | COLTS | 5 TACKLES |
| TYQUAN LEWIS | DE | COLTS | NO STATS |
| NOAH BROWN | WR | COWBOYS | NO STATS |
| EZEKIEL ELLIOTT | RB | COWBOYS | 22 CARRIES, 96 YARDS, 1 TD; 3 CATCHES, 31 YARDS, 1 TD |
| JEROME BAKER | LB | DOLPHINS | 16 TACKLES, 1 SACK, 1 FORCED FUMBLE |
| CAMERON JOHNSTON | P | EAGLES | 5 PUNTS, 53.6 YARDS PER PUNT, 3 PUNTS INSIDE 20 |
| KENDALL SHEFFIELD | CB | FALCONS | DNP (FOOT INJURY) |
| NATE EBNER | S | GIANTS | vs. STEELERS, 7:15 p.m. Monday (ESPN) |
| DAVON HAMILTON | DT | JAGUARS | 2 TACKLES |
| ANDREW NORWELL | OG | JAGUARS | STARTED AT LEFT GUARD |
| TAYLOR DECKER | OT | LIONS | STARTED AT LEFT TACKLE |
| JONAH JACKSON | OG | LIONS | STARTED AT RIGHT GUARD |
| JEFF OKUDAH | CB | LIONS | DNP (HAMSTRING INJURY) |
| COREY LINSLEY | C | PACKERS | STARTED AT CENTER |
| ELI APPLE | CB | PANTHERS | INJURED RESERVE (ANKLE/FOOT INJURY) |
| CURTIS SAMUEL | WR | PANTHERS | 5 CATCHES, 38 YARDS; 1 CARRY, 9 YARDS |
| JOHN SIMON | DE | PATRIOTS | 4 TACKLES, 1 TFL, 2 QB HITS |
| DAMON ARNETTE | CB | RAIDERS | 5 TACKLES, 1 PASS DEFLECTION |
| JOHNATHAN HANKINS | DT | RAIDERS | 1 TACKLE |
| RAEKWON MCMILLAN | LB | RAIDERS | 1 TACKLE |
| JORDAN FULLER | S | RAMS | 8 TACKLES |
| JAKE MCQUAIDE | LS | RAMS | LONG SNAPPER |
| J.K. DOBBINS | RB | RAVENS | 7 CARRIES, 22 YARDS, 2 TD |
| MALIK HARRISON | LB | RAVENS | 4 TACKLES, 1 PASS DEFLECTION |
| MALCOLM JENKINS | S | SAINTS | 6 TACKLES, 1 PASS DEFLECTION |
| MARSHON LATTIMORE | CB | SAINTS | 2 TACKLES, 1 PASS DEFLECTION |
| MICHAEL THOMAS | WR | SAINTS | 3 CATCHES, 17 YARDS |
| CARLOS HYDE | RB | SEAHAWKS | 7 CARRIES, 23 YARDS, 1 TD |
| JAMARCO JONES | OL | SEAHAWKS | DNP (ILLNESS) |
| CAM HEYWARD | DE | STEELERS | at GIANTS, 7:15 p.m. Monday (ESPN) |
| GAREON CONLEY | CB | TEXANS | INJURED RESERVE (ANKLE INJURY) |
| BRADLEY ROBY | CB | TEXANS | 6 TACKLES, 1 TFL |
| PAT ELFLEIN | OG | VIKINGS | STARTED AT RIGHT GUARD |
| JALYN HOLMES | DT | VIKINGS | 2 TACKLES, 1 TFL |
| MARCUS BAUGH | TE | WASHINGTON | NO STATS |
| DWAYNE HASKINS | QB | WASHINGTON | 17-31 PASSING, 178 YARDS, 1 TD; 7 CARRIES, 17 YARDS |
| TERRY MCLAURIN | WR | WASHINGTON | 5 CATCHES, 61 YARDS |
| CHASE YOUNG | DE | WASHINGTON | 4 TACKLES, 1.5 SACKS, 1 FORCED FUMBLE |