The Buckeyes have played two football games. They've allowed one touchdown.
The last time Ohio State opponents suffered an endzone drought like this, covid wasn't a familiar word. The Buckeyes deployed a defense that overcompensated for Heisman favorite C.J. Stroud, who threw for 351 yards over the weekend.
That's good for the 19th most prolific outing in program history. Let's recast that - 19th best out of 1,327 games in program history. And he didn't even have his top two targets available.
Stroud threw four touchdown passes Saturday. That also tracks in the OSU single-game record books, placing him alongside legends like Mike Tomczak, Art Schlichter, Vic Janowicz, Bobby Hoying, J.T. Barrett and, uh, C.J. Stroud.
Four touchdown passes in a victorious game is a celebration. But you can curate a Twitter feed of Ohio State football fans right now and find them whining about some of the clunkiness they witnessed against Arkansas State.
I'm not shaming them. They're right. Ohio State's head coach agrees with them.
Perspective should come from how peaceful Ohio Stadium was while Arkansas State was visiting as chaos reigned across the rest of the country. Saturday was a bloodbath for ranked and favored teams, while Buckeye fans - this is who we have always been - were annoyed their soup was one degree hotter than they had expected.
Winning football games is hard as hell.

— Carl Reed (@CoachReedLive) September 11, 2022
Winning football games is hard as hell can be restated as there are no forgone conclusions in sports played by teenagers. I don't know who Carl Reed is. I only saw his tweet because of who shared it:

When you want to say something without actually saying it, just retweet someone else saying it.
It is my heartfelt obligation to warn you that Ohio State is not going to handle Toledo in a manner that satisfies a double-digit percentage of the fan base or its head coach. Clunky and uneven is a blessing in a 33-point win. Too many penalties in a game where you've got your backup QB in for reps is a gift.
It's material for building blocks which reduce the amount of adversity OSU coaches would be forced to artificially manufacture for continuous improvement. These are the feedstocks that Nick Saban constantly whines to the Alabama beat about not having. Stop telling us we're so good.
Adversity is a spice that demands a strong tolerance once the weather turns, and building immunity while it's still warm pays dividends later. College football fans are guaranteed nothing. Teams of destiny are generally destined to be disappointed.
And Hell is always exactly one chaotic Saturday away. Buckeyes are 2-0! Let's get Situational -
OPENER | INTERNAL INJURIES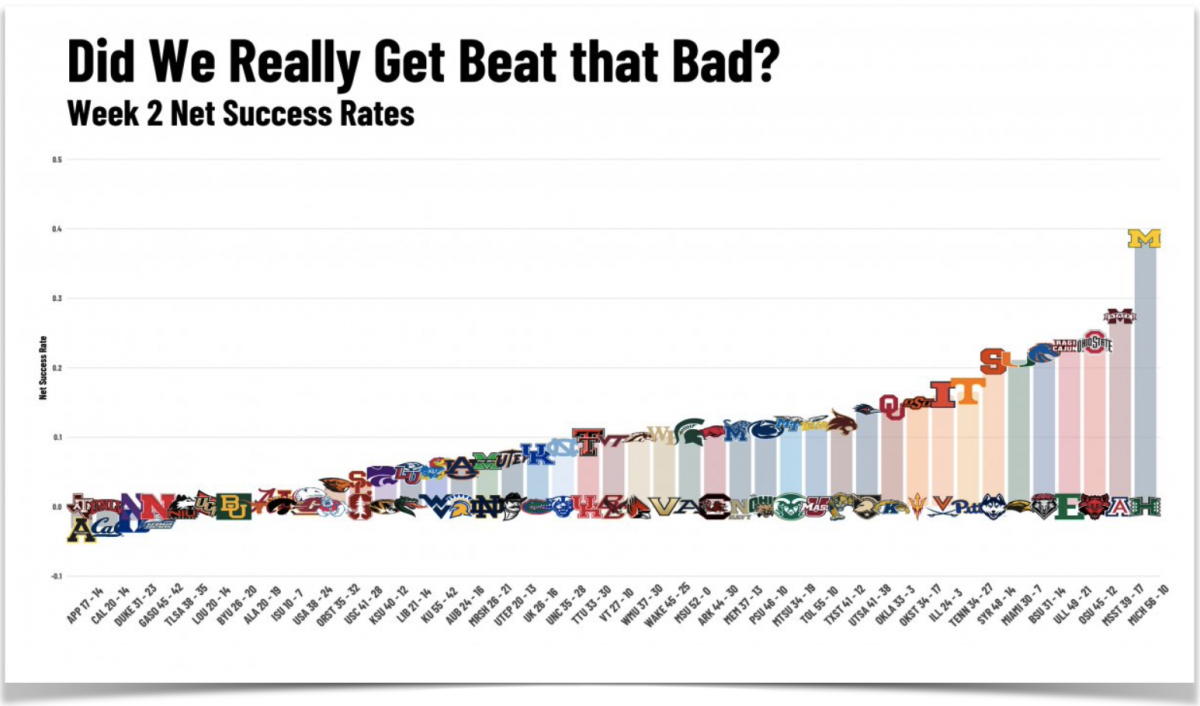 Speaking of no guarantees, Texas A&M pulled a Michigan on Saturday despite buying the most expensive recruiting class in the sports history. Multi-touchdown favorites playing at home under a coach with a national championship ring = n o g u a r a n t e e s. Shout out to Lloyd Carr.
Appalachian State again demonstrated how keepaway is the cruel and effective instrument of choice for teams with less talent. Notre Dame had attempted it one week earlier before Ohio State played gotcha and did it better. The Mountaineers finished the job, running north of 80 plays while allowing TAMU less than half of that.
The teams ended up with about the same number of successful plays as each other, but over wildly different denominators. That's how the biggest upset of the decade became the closest contest of the weekend in the graph above.
You can find Ohio State-Arky State toward the right among the ass-kickings, along with Michigan's entire non-conference schedule. Congratulations to the Wolverines on being the first team in 21 years to be > 30-point favorites in their first three games, which is the polite way of saying it's quantifiably the worst non-conference schedule for any ranked team over that span.
The Buckeyes did not participate in a competitive game, relative to the rest of Saturday. Even their infrequent clunkiness failed to register in football's nerd math. This type of consistency is not only hard to come by, it's hard to buy.
Their first 50 games as Texas A&M head football coach.

35-15 36-14 pic.twitter.com/ZxeIVIQ0og

— CFB Home (@CFBHome) September 10, 2022
No guarantees, no warranties, no refunds. No days off, either - being someone else's Super Bowl every weekend means there's never a good time to take PTO. FYI - this Saturday's paycheck opponent has a more recent win over a ranked SEC team than Ohio State does.
INTERMISSION
The Solo
This was supposed to be a Guns N' Roses song. Slash wrote Always on the Run to be included on one of the Use Your Illusion albums, but drummer Steven Adler feel deep into heroin addiction, things got complicated and during the crisis Slash gifted this arrangement to Lenny Kravitz.
If you'd like to hear what the GNR version almost sounded like, you can do that here. Adler's replacement Matt Sorum is on drums with the rest of the band and Kravitz on lead vocals, while Axl Rose was probably backstage relaxing in a tub filled with ice cream sandwiches.
Always on the Run features a saxophone solo. Let's answer our two questions.
Is the soloist in this video actually playing the saxophone?
Karl Denson played the solo on the album, while Butch Thomas performed live. The guy in the video looks like neither of them? It's very confusing. VERDICT: Inconclusive, probably not.
Does this saxophone solo slap?
It's nearly impossible to ruin any Slash guitar riff, let alone one with a crispy, staccato trumpet cadence layered over it. This solo had one job, and it was to avoid sounding like a constipated elephant playing a giant kazoo with its ass. It succeeded, but simply not failing does not equate to slapping. Tepid by design is still tepid. VERDICT: Does not slap.
The Bourbon
There is a bourbon for every situation. Sometimes the spirits and the events overlap, which means that where bourbon is concerned there can be more than one worthy choice.
In a matter of hours the Toledo Rockets will board busses and ride down I-75S toward Columbus for 1.8 million reasons, one of which likely won't be winning a football game.
Ohio State has a handful of home non-conference opponents each season, and this year Toledo's number came up. It's a pretty steep number; Appalachian State visited College Station for $300K less than the Rockets will be taking home for their Columbus visit.
My spicy opinion is non-conference opponents aren't differentiated enough to justify this level of overpaying, even if you're keeping the money in-state. And that leads us to McKenzie's 6-year old wheated single barrel, which is absolutely okay. Just like the Toledo Rockets.
It just shouldn't cost this much, which is something you probably find yourself saying too often about [anything goes here] these days as a citizen of [every country goes here]. My palate tells me McKenzie is a solid and drinkable $55 bourbon, but it's packaged for $85-100 retail. That's a minibar markup.
This might mean some MBAs white-boarded a pricing strategy, did some voice-of-customer work and decided most palates can't tell the difference. If you don't care about price optimization, go for it. Just make sure you beat Toledo. They need to earn that payout.

CLOSER | THEORY OF EVERYTHING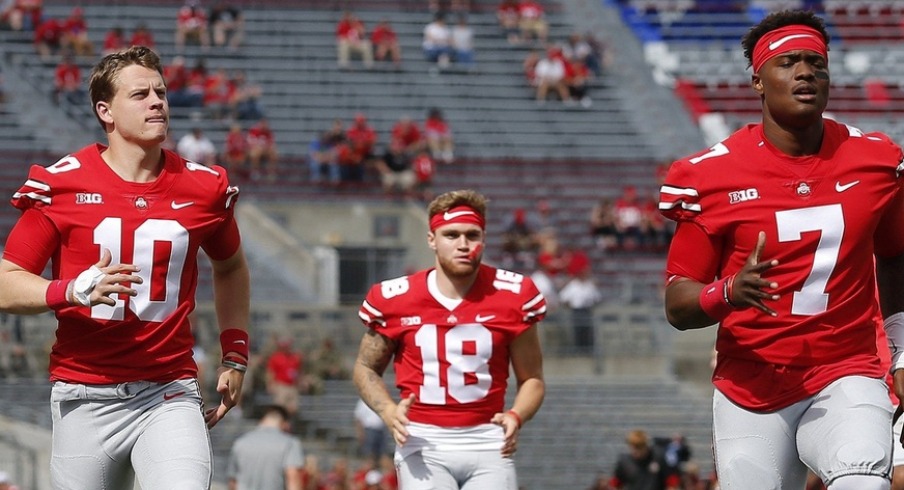 Ryan Day loves collecting data and figuring out what kind of a team he has, and Weeks 1-3 are prime research periods for his teams. Three games is a good enough sample size to hit Week 4 confident about what's within reach and what's still overhead.
In case you forgot, he has had his fingerprints all over the offense since 2017.
WEEK 3 UNDER RYAN DAY

| SEASON | OPPONENT |
| --- | --- |
| 2017 | W 38-7 vs. ARMY |
| 2018 | W 40-28 vs. No.15 TCU |
| 2019 | W 51-10 at INDIANA |
| 2020 | W 49-27 vs. RUTGERS |
| 2021 | W 41-20 vs. TULSA |
Day actually head-coached four of those games, with Urban Meyer suspended for the 2018 visit to Arlington. Two of those Week Threes - 2017 and 2021 - were coming off big clunky losses to Oklahoma and Oregon.
Like the Buckeyes, the Rockets have only allowed one touchdown in two games - it came last week in a 55-10 win over UMass, coached by Don Brown, whose Michigan defenses allowed over 55 points to Ohio State as often as they didn't.
You can expect more vanilla from the Buckeyes Saturday night as Day concludes his 2022 research session with the B1G schedule on deck. Execution, continuous improvement and more points than the opponent. Pick a score from the chart above and expect a rounding error.
Thanks for getting Situational today. Go Bucks, beat Toledo.