Twenty years ago Buckeye fans were conditioned to bracing for academic casualties.
This new unwanted custom coincided with the Cooper Era's death rattle. Six incoming recruits failed to clear admissions in 1999, coming after a season where numerous stars had to pad their GPAs with elective summer courses just to stay eligible.
Two in a row of anything is a new normal. Reggie Germany's 0.0 GPA was still a year away.
Jim Tressel arrived shortly thereafter and did the infrastructure work to re-establish the college part of college football in Columbus. Academic casualties at Ohio State are an historical artifact now. The program created its own problem and eventually solved it.
Problem solving feels like a lost art in 2020. Self-destruction is now contemporary art.
This football season was in peril the second the B1G Tournament was abruptly canceled in March. Ohio State was in a presidential transition, the new commissioner had just had the shrink-wrap taken off of his one-year internship following Jim Delany around the office and absolutely everyone on earth was freaked out. Panic was justified, but executive leadership paychecks have commas in them for precisely those moments.
It isn't hindsight to suggest the B1G had no foresight.
The pandemic shut down everything from DMVs to sports leagues, but for six months B1G put all of its resources and wealth into hoping it would all go away before football season arrived. When it didn't, the presidents pulled the fire alarm and canceled football for a month while the contagion was in its late summer decline. In financial expressions, this is buying high and selling low.
Twenty years after Ohio State shed 7% of its roster to the academic clearinghouse guillotine, Buckeye fans are now bracing for 7% positivity rates, program pauses - theirs and others' - canceled games and 21-day player quarantines. The conference shoehorned an abbreviated schedule with no margin for error right into the section of the calendar that history has taught us is the scariest and most devastating part of any pandemic.
It isn't hindsight to suggest the B1G had no foresight. Not thinking + overthinking = how we got here. If you're waiting for a disaster to happen before you start preparing for one, surprise, you're too late. If the conference is able to complete a season it will be dumb luck more than smart leadership. Here's to being dumb and lucky.
Maybe the Buckeyes will play Saturday. Perhaps they won't! We get Situational here either way.
OPENING: PARALLEL UNIVERSE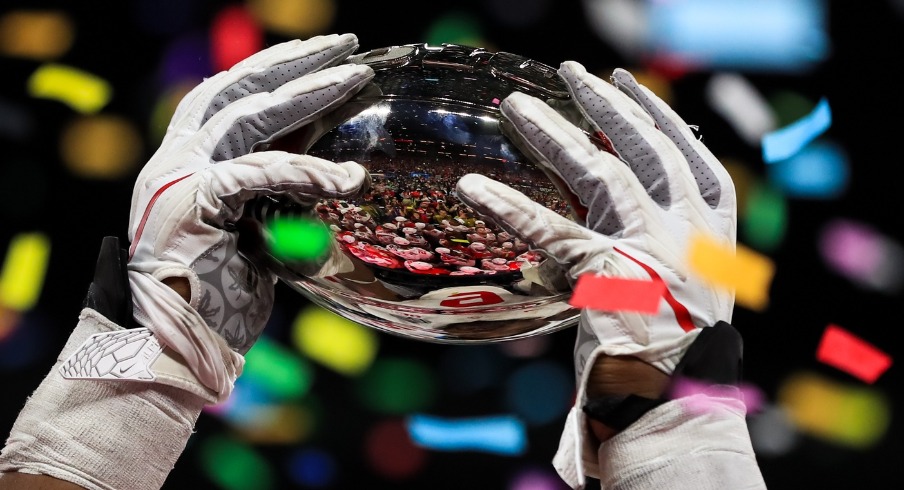 This week should have been our annual confetti shower and entitlement festival in Indianapolis.
On Earth 2 this Saturday Kevin Warren will stand on a wheeled-in dais for the first time in his tenure, to present the championship trophy to Ryan Day. Everyone will cheer for him, the guy we all had forgotten was Jim Delany's successor. Downtown Indy would enjoy another economic infusion from its customary early-December visitors. See you next year, again.
OHIO STATE had more games canceled in November than IT lost in all of 2019, which is why cancelATIONS feel like losses.
One program in B1G history has claimed three consecutive outright conference football titles, and it's the one Day currently coaches from his quarantined isolation on regular earth.
Ohio State could still hit the first outright Fourpeat but that would require actually playing the next three Saturdays. Winning is no sure thing, but just getting to kickoff feels like more of a challenge. The Buckeyes had more games canceled in November than they lost in all of 2019, which is why canceled games feel like losses.
Let's never do 2020 again. Even if the Buckeyes accept a trophy from Warren in an empty stadium 2.5 weeks from now and socially-distanced small-group confetti showers turn out to be more fun than anyone expected.
INTERMISSION: THE SOLO
It's easy to misplace how many legendary bands that were actually supergroups.
Crosby, Stills, Nash & Young was pieced together with rock stars from The Byrds, Buffalo Springfield, The Hollies. Derek and the Dominos featured noted Yardbird Eric Clapton, Allman Brother Duane Allman and - fun fact - absolutely nobody named Derek.
We should mention Jeff Beck and Jimmy Page were also Yardbirds with Clapton and both of them played in other bands to greater acclaim. Yes, Led Zeppelin was a supergroup - people either forget or never knew. The Yardbirds were the Ohio State QB room of lead guitarists. Stay and be a legend or transfer and yeah, same.
Journey was a supergroup. It poached musicians from The Tubes, Steve Miller Band and Santana. By the time the 1980s arrived these personnel mashups were less popular and even less successful. But Asia, made out of dudes from Yes, Uriah Heep, Emerson Lake & Palmer was an exception.
They made syrupy unrequited love synthesizer bangers like the one featured above. Internet hid the official video from me so I replaced it with...whatever that is. Only Time Will Tell features a cowbell solo. Let's answer our two questions.
Is the soloist in this video actually playing the cowbell?
I'd love nothing more than to reveal that Gene Frenkel played the cowbell on Only Time Will Tell, but as we discussed a few weeks ago he doesn't exist. The video above features sultry women briefly looking you over and then not talking to you, which probably feels a little too real. All of the women in this video would have dated Gene Frenkel.
The cowbell obligations fall under Asia's percussion section, which is held together by Carl Palmer of Emerson, Lake & Palmer. Sultry women obscure this truth. In the absence of evidence, we cannot pass judgement. VERDICT: Inconclusive.
Does this cowbell solo slap?
This is a song about a man loving a woman who doesn't love him back. Cowbell doesn't quite capture that frustration, which no instrument can. This solo represents a healthy coping mechanism that says buddy, it's time to start working out again. Learn a foreign language. Master one dish in the kitchen - try lemon chicken. Maybe that's what's missing. VERDICT: Slaps.
THE BOURBON
There is a bourbon for every situation. Sometimes the spirits and the events overlap, which means that where bourbon is concerned there can be more than one worthy choice.
We opened the 2020 football season with FEW bourbon, a distillery that embraces the Situational Bourbon philosophy. Today we head back to Evanston - home of the B1G West champions - to keep Ohio State's chase for a Fourpeat both awake and alive.
FEW Cold Cut is exactly what its name suggests: Authentic bourbon infused with chunks of beef bologna proofed with Passion House cold brew coffee instead of water. You're owed an explanation as to what that means, because "hey I can make my own Irish coffee" isn't the correct response.
Bourbon is proofed twice, one on the way into the barrel (so it's up to code, which means no more than 125 proof) and once more on the way into the bottle. That second proofing requires *Red from Shawshank voice* pressure and time. Sourced water is added very gently and very s l o w l y to avoid saponficiation. This is where cold brew enters the chat.
The result with Cold Cut is a very smooth 93 proof bourbon (not liqueur!) where the cold brew makes its presence known at the finish. If you didn't know coffee was involved you would have a hard time placing it - cloves, macerated cherries, brown butter up front and then much sweeter and smoother than a high rye bourbon has any right to be on the back end.
I found Cold Cut tasted differently when I thought about coffee. Psychological games? In a pandemic?
CLOSING: LORD OF THE FLIES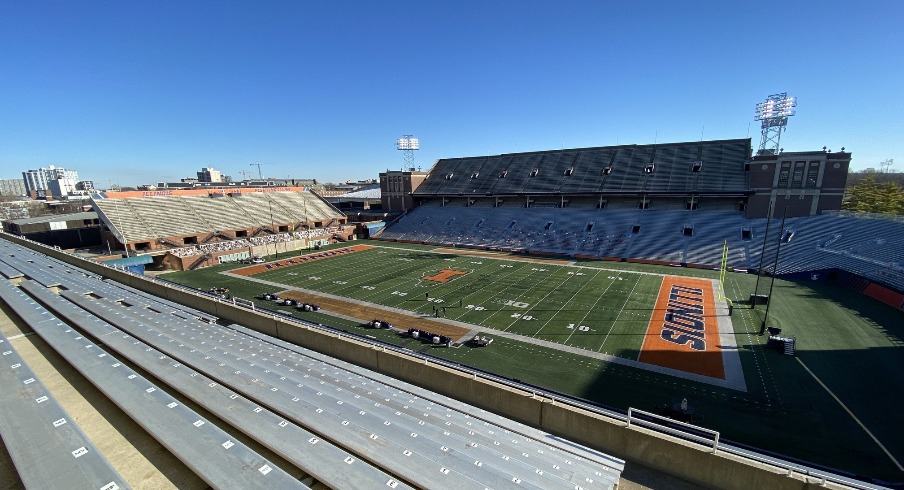 In light of Kirk Herbstreit putting his foot in his mouth and then Desmond Howard eating both of his feet let's restate the obvious in this fun era where obvious can no longer be taken for granted: COVID-19 is not an elaborate conspiracy against Ohio State football, sports in general or any particular institution.
We've lost hundreds of regular season college football games. Eight bowl games have gone poof. Two precious Ohio State games, as you're well aware. And also 270,000+ American lives entering what will be the most gruesome month of the whole ordeal.
What are we even doing here crosses my mind every single day, as a custodian for this sports web site; an escape for you - but also me too. Will the Buckeyes play Saturday enters my head as well, even while I'm catching up on hospitalization thresholds and death counts, which yesterday were Scary and 2,607 casualties, respectively.
It's okay to TRY AND ENJOY THIS BIZARRE college football season without feeling compromised or complicit in how it's been handled.
Shutting everything down would reduce virus casualties at the expense of creating different ones.
Mitigating this crisis required a multifactorial approach to preventing collateral damage. Some leagues opted out of competition this season, which may have prevented infections and spread - except that athletes and stakeholders not participating in college football are still catching and spreading the virus. There was no escaping a bad outcome; there were only worse ones.
Ohio State's conference attempted to play chess against the pandemic and ended up checkmating itself in spectacular fashion. Meanwhile, the rest of the sport is experiencing what happens when players for non-playoff programs with professional aspirations have a choice of participating in amateur pandemic football or focusing on post-pandemic draft position.
They've opted out in droves. Ten of the B1G's 14 programs have felt it. Ohio State's opt-outs returned to campus, otherwise it would be 11. Even Ohio State's opponent in Indy* lost five upperclassmen.
Nobody perfected a 2020 strategy, and final grades are going to range from B to whatever gracious curve saves B1G from being held back another year. As for you and me, I've decided it's okay to not be okay with how that was handled. It's okay to be furious.
It's okay to be anxious about a football game nobody was going to remember in six months being canceled while people are tearfully saying goodbye to their loved ones in America every few minutes over FaceTime.
It's also okay to attempt to consume a college football season without feeling compromised or complicit in how it's been handled. This sport and especially this season should be about bringing people together, as hard as that might be. We've already got so much to deal with that accomplishes the opposite. Let's keep sports in the good column and find other good things to keep it company.
Thanks for getting Situational today. Go Bucks. Beat Michigan State. Take care of each other.