Ohio State's first football game was supposed to be tomorrow night.
A Thursday prime time season-opener in Champaign for Illibuck, how novel. That would have been weird enough to distract us from - you know, everything - for four blessed hours.
Empty seats and the absence of fans or ambient crowd noise in Memorial Stadium would have told us our return to normalcy had finally arrived. The Illini wouldn't know the difference. The Buckeyes haven't dropped a game in Central Illinois since 1991, approximately a trillion years ago. 
A tedious mismatch would have been liberating. It would have felt like home. Man, I miss home.
OPENING: PARALLEL UNIVERSE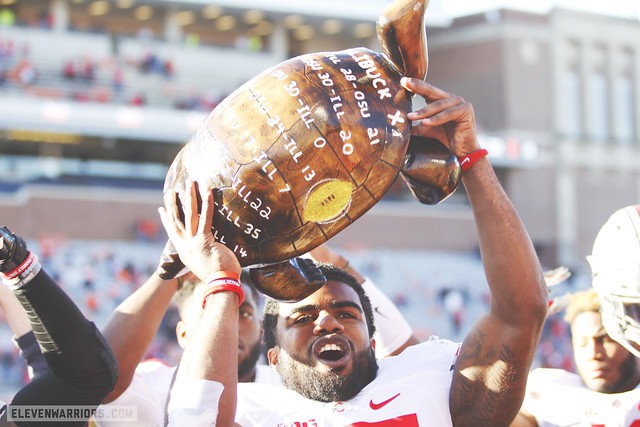 But it would have still felt off, because pre-pandemic we'd be in the middle of a regular programming week at 11W for the original-original schedule. A massacre-themed Bowling Green game poster would drop on this web site an hour after this column, per usual. We'd have the Falcons preview turned inside-out by now. Confidence would be soaring:
11W Poll Question: Will the Buckeyes put 70 on BG? Yes: 96%
Seems low. But BG is not that far from Ann Arbor, so hey maybe they'd buckle up.
We'd debate which one would enter Saturday's game on the 3rd quarter's second drive to spell Justin Fields, who would finish his first of several abbreviated but meticulously managed Heisman campaign outings with 282 yards passing, 56 yards rushing, five touchdowns (one on the ground) and no interceptions.
Don't ask why that's so oddly specific. We have good sources.
OHIO STATE HASN'T LOST IN CHAMPAIGN SINCE 1991, APPROXIMATELY A TRILLION YEARS AGO.
And then finally, a peek ahead to a West Coast trip where the Buckeyes would successfully improve their program record against the Ducks to a perfect 10-0. Any Oregon points in that game would have been its first against Ohio State in Autzen Stadium history. The Buckeyes blanked the Webfoots (that's what they were called back then) in the stadium's inaugural 1967 season.
Alas, they'll have to wait a bit longer.
As of right now we don't know when Ohio State's 2020 season will start, or if it will start. Maybe October, perhaps November, or 2021 or not at all. You're probably old enough to remember when the Buckeyes traveled to Indianapolis to face Purdue in third session of the Big Ten Tournament and whoops the whole thing was canceled before the second session even began.
Nothing is guaranteed in life, but extra-nothing is guaranteed in 2020. Unfortunately that includes the single tie that binds us here, and instead of allowing the absence of Ohio State football to tear us apart - let's go ahead, bunker up and rally together.
Also, bourbon is an analgesic and an antiseptic. You're safe in here. Let's get Situational.
INTERMISSION: THE SOLO
The eighth season of The Situational introduced the 1980s Sax Solo Intermission in the Miscellany spot, which had rotated topics over the years ranging from Exhuming Dead Presidents to Media Bias Against Our Favorite Football Team. The saxophones and big hair performed far better than expected.
Probably too well. My twitter mentions and inbox both got flooded with saxophone demands requests, and here's the thing about me and saxophones: I picked one up in 4th grade and put it down forever in 6th grade. Too much spitting. I still enjoy the hell out of their dominance in 80s pop bridges, but you guys like sax solos waaaaay more than I do. It's a red flag for failure, and I'm all about customer satisfaction.
So I'm diluting the solos for Season Nine. We're now instrument agnostic.
We'll kick this off by tagging in the keyboards - another power broker of that decade's musical tour de force - and going Ladies First (this will continue with our bourbon). Let's answer our two questions.
Is the soloist in this video actually playing the keyboards?
Yeah that's not a piano, it's a synthprogrammed to sound like one - played by Charlotte Caffey, the Go-Go's only original musician (the rest of the Go-Go's just liked drugs and dudes, so they started a band and learned how to play on the fly). She wrote the song. She tickled the keys - and the strings, and whatever else she choose to play. VERDICT: With gusto.
Does this keyboard solo slap?
It dominates the entire 3:38 while also shredding the solo. Charlotte bangs on the keyboards as if she's trying to overwhelm her bandmates' primitive two-chord contributions, which pretty much describes her purpose in the band. Explore the entire Go-Go's catalog and it's Charlotte overcompensating like a boss.
She was the straw; they were the drink. VERDICT: Slaps out of necessity.
THE BOURBON
There is a bourbon for every situation. Sometimes the spirits and the events overlap, which means that where bourbon is concerned there can be more than one worthy choice.
One distillery that has embraced the Situational Bourbon concept is Evanston-based FEW, named for this lady  making it both the most B1G and ironic distillery in America. It is strategically invested in installing bourbon into college football culture. Paul Hletko, FEW founder and master distiller told me:
You know, you can bring a suitcase of PBRs on game day - or - you can upgrade to something far better.
Friends, Paul's not wrong. FEW has six unique whiskeys in the portfolio, all bound by two common elements: 1) they rate exceptionally well amongst the scrutiny palates, which is to say the quality is overwhelming, and 2) rye. Lots of it. If you like rye, you'll love FEW.
The three that showed up on my doorstep were the Straight Bourbon (young, macerated cherries, brown butter) the Straight Rye (more butter, citrus, really complex, easily the best rye I've had in 2020) and American Straight Whiskey (Straight Bourbon and Straight Rye blended, then enhanced).
Apologies to PBR, but FEW's three vs. that suitcase is a Chickenshit Saturday mismatch.
FEW is really good at making sub-$60 retail juice that tastes a lot more expensive. Elevate your anxious waiting game with a bottle - bonus - you don't even have to go hunting for it. If only every decision was this easy in 2020.
CLOSING: NO MATTER WHAT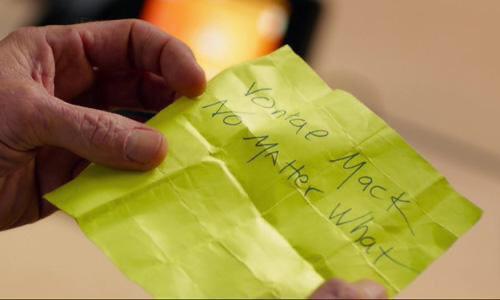 Stop me if you've heard this one before: Jackie Robinson, a generational Ohio State linebacker and the Godfather of Soul walk into a bar. It's the same guy.
In 2013 Chadwick Boseman starred in three consecutive movies I'll never get enough of - 42, Draft Day and Get on Up. Two historical figures plus a pastiche of one that arrives in Columbus with glorious regularity. Boseman nailed all three wildly different roles, in succession. What a gift.
The Robinson biopic is not optional. His performance as James Brown is the biggest Oscar snub of the past decade. And then there's his role as the No.1 draft pick out of Ohio State.
That's him posing as Vontae Mack atop this article. Good ol' number 50, somehow a linebacker in Hollywood. The yellow piece of paper above was (spoiler) a reminder to the Browns GM to not mess up the draft by passing on the best player in it, who just happened to play his college ball just down I-71.
The Browns passing on elite Ohio State talent? Folks, it's happened before. Look it up.
Boseman died last Friday from colon cancer, and the tributes understandably gravitated to his protagonist role as T'Challa from Black Panther in the MCU. That single movie within the franchise made $1.4B and he's a literal superhero in it; the good guy and the comforting contrast of invincible strength versus how he appeared in the final stage of his life.
Of all the great things that have been said about him in memoriam, there's no bad way to remember him has to be near the top. RIP to a legend who always found himself being cast as the perfect superhero, in Wakanda, Columbus or anywhere else.
Thanks for getting Situational today. Go Bucks. Take care of each other.