Justin Boren was still a Michigan Wolverine when the 2007 Buckeyes were presented with their Gold Pants in Spring 2008.
Four days after that week's celebrated public scrimmage, the Michigan legacy and eldest Boren son informed Jim Tressel he would be walking on in Columbus (we were still a few years away from native Ohioans taking our talents to places; the phrase had not yet been invented). The de facto Big Ten title game had been played in Ann Arbor the previous November, with Boren's new team suffocating his former one.
He was starting as a freshman and had been on the field for all of the Wolverines' offensive plays that afternoon, during which they produced only three points. After the season, offensive mastermind Rich Rodriguez replaced the retiring Lloyd Carr, and weeks later the freshman felt incompatible with the new regime so he did the unthinkable. It was a complicated time.
There is some precedent here; Bo Schembechler's estate has five Gold Pants that he earned as an Ohio State assistant. Gary Moeller, his successor at Michigan never lost to the Wolverines as an Ohio State player/captain. That's weird, but that's business. Bo and Mo didn't go straight from Columbus to Ann Arbor, either. This was different.
Bo and Mo didn't go straight from Columbus to Ann Arbor. This was different.
Boren went on to become just the third player to participate in both sides of the rivalry; QB Howard Yerges and center J.T. White both played for the Buckeyes prior to WWII and for the Wolverines after it ended (war does terrible things to people; you knew that). But then Chris Rock - not that Chris Rock - arrived in Ann Arbor right around the time Zach Boren was finishing up in Columbus, retracing Justin's transfer path as Jacoby Boren was taking command of the Slobs.
So whether you realized it or not, you've lived long enough to see two Michigan Wolverines who went winless against Ohio State both become walk-ons at Ohio State and go undefeated against Michigan. While that seems odd, its weirdness will be challenged tomorrow at the practice facility when the tape rolls on the highlight video from last November's rivalry clash while everyone gets presented with jewelry as two coaches who were on the receiving end of that beating get to savor the moment.
Justin was still a Wolverine during the 2008 Gold Pants ceremony, and that was probably for the best. There's a football game* this week! Let's get Situational -
ANN ARBOR ON THE OLENTANGY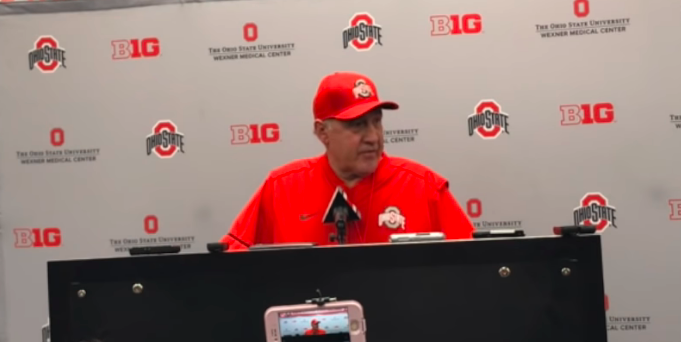 Here is a short list of Greg Mattison facts that range from oh, interesting to oh, terrifying:
On March 12, 1979 Mattison was in his second season coaching a Big Ten DL.

On March 12, 1979 Ryan Day was born.

Mattison will celebrate his 70th birthday on the team's trip to Rutgers this November.
He already refers to his former employer as the Team Up North and his current one as Us.
He spent 21 seasons in Ann Arbor or South Bend, which means there are few assistants in college football history who have a more polished recruiting pitch against Ohio State than he does.
Here he is coaching with Urban Meyer while at Notre Dame.
Here he is coaching with Urban while at Florida.
Mattison has coached for all three Harbaughs - Jack (WMU), John (Ravens) and Jim (Michigan).
Despite coaching at Michigan for 13 seasons - including five during the 1990s - somehow he only has one Big Ten championship ring to show for it (1992).
Mattison was on my wish list for Urban in 2011 before Luke Fickell was retained, but even then I thought it would be too weird for a guy who checks every Michigan Man box to come to Columbus. But as we all know in 2019, nothing matters and nothing makes sense. Welcome, Coach Mattison!
MEMORY LOSS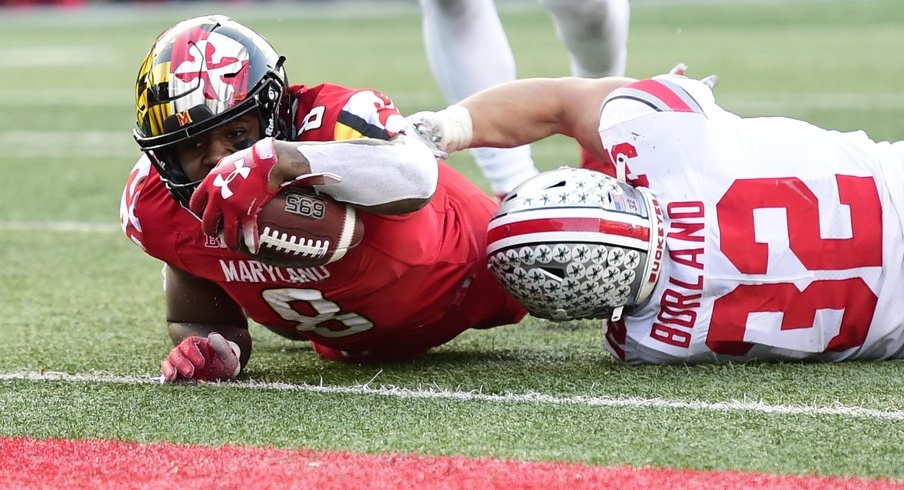 The historic obliteration of Mattison's Don Brown's defense just one week after allowing Maryland to score 51 points without taking an L has left most of the 2018 season blurry. Prior to the Michigan game, Ohio State's season was Dwayne Haskins throwing precision missiles to a suddenly terrifying receiving corps while the defense did everything in its power to ruin the effort.
It was Urban rubbing his temples to the delight of the UrbanCam™ trained specifically on him throughout the broadcast. It was running away from a really bad August. It was a soap opera that couldn't gain three yards per carry. It was only two-and-a-half games of Ohio State's best defensive player, and then poof.
But then Michigan came to town, and all of that just sort of vaporized - except for Haskins and the terrifying receiving corps. Even the UrbanCam™ went dark. Big Ten East, Big Ten Title, Rose Bowl Champions. Three games to make you forget most of the details from the previous 11.
That crescendo is over. The sun has set on the Urban era, and his former grad assistant from Florida is now in his place - and was able to bring Mattison over from Ann Arbor. It's exciting, weird, mysterious, uncomfortable and somehow...kind of peaceful? Nothing matters and nothing makes sense.
THE BOURBONS
There is a bourbon for every situation. Sometimes the spirits and the events overlap, which means that where bourbon is concerned there can be more than one worthy choice.
One of my colleagues in San Diego told me of a peanut butter bourbon that's made locally to her. I've gone on record trashing flavored bourbons while cautiously/optimistically supporting infused ones, especially if you do it yourself. Pritchard's Double Chocolate is a good example.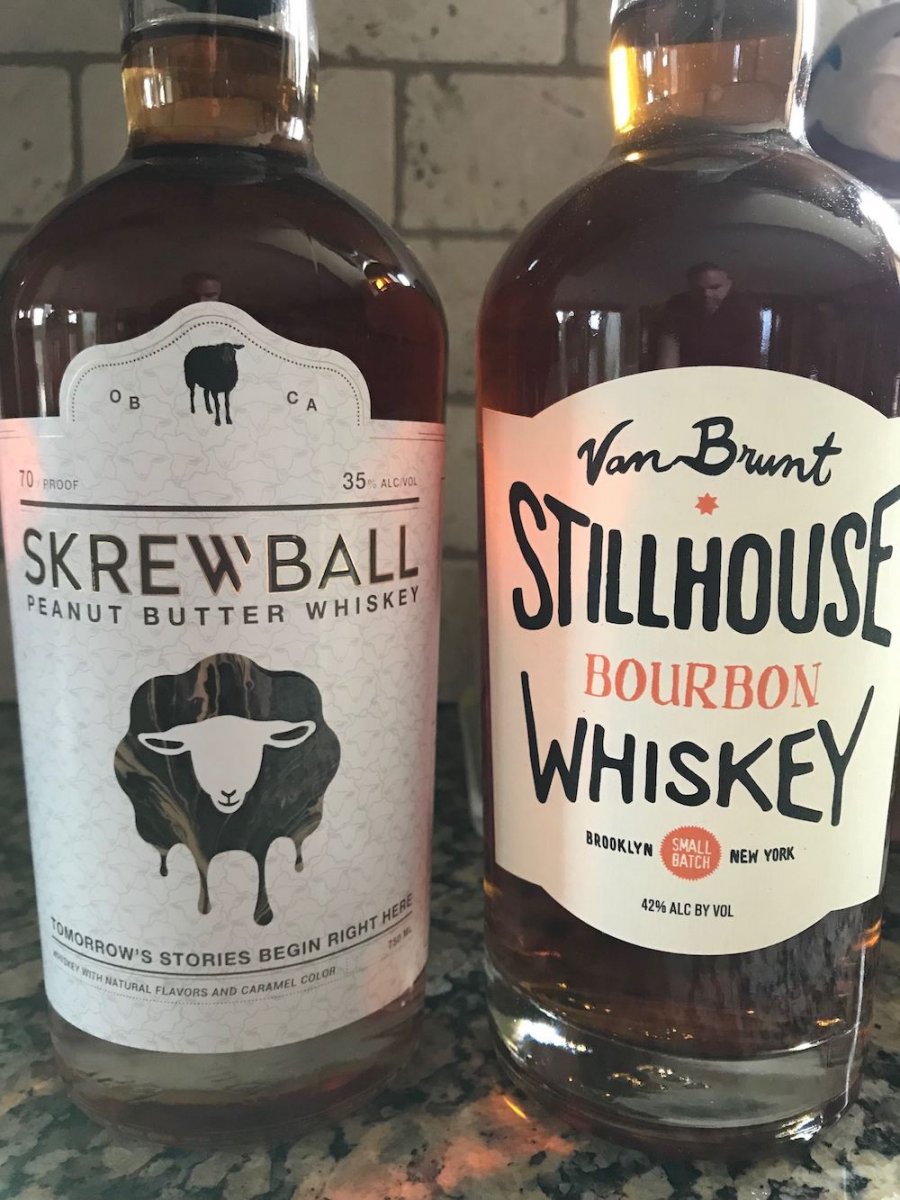 I had recently had a peanut-washed bourbon from a trusted barkeep near me and was immediately intrigued, so through the magic of the Internet I was able to procure a bottle of Skrewball. It happened to arrive on my doorstep the same day that I received an unsolicited bottle from Stillhouse in Brooklyn. I took a photo of my mail that day. You can actually see me in the bottles, which, foreshadowing.
The Skrewball does not even have a trace-aroma of whiskey in it. Imagine a swimming pool, but instead of chlorinated pee-water it's filled with melted Reese's Cups and Butterfingers. That's what you get a whiff of when you put your face into a glass of Skrewball and start huffing. Alcohol? The bottle says so. It's confusing, intriguing, your senses are muted and heightened simultaneously, and you haven't been peanut buttered like this since grade school.
Whiskey often takes a couple of sips for your palate to figure it out, but Skrewball does not waste time or pretend to be mysterious. If Jif or Skippy ever grew sugarcane in their rustic peanut fields, then had scientists figure out a way to make it a trillion times sweeter, it would be Skrewball. One was plenty. I rinsed the glass in preparation for Stillhouse. Yes - two whiskeys, one cup. 
The Stillhouse is wheated, which means it takes a backseat to the corn. You know how everything in the fruit salad tastes like melon? That's what rye does to bourbon. Wheat is like the grape that doesn't affect anything else, so you can still taste all of the other fruits. Wheated bourbons give you more of the corn sweetness. Bourbon is 51% or more of the corn in the mash bill by rule (Stillhouse clocks in at 65%) so rather than getting peanut buttered here, you get corned.
That said, Stillhouse has no flavor resemblance at all to other wheateds like Makers, Larceny, Fitz, Rebel Yell or any of the Wellers/PVWs you can never find. It is remarkably similar to Hudson Baby (100% NY corn) perhaps because they both source Empire State corn instead of what you'd find in Kentucky or in the surrounding states. Forget about the wheated; if you're into corn whiskey and like that distinct nose and flavor - this is that. If you need a little zing - rye, sweet burn - you'll want to pass.
HURT MAH FEELINGS
A few weeks ago I ran a story that featured Georgia transfer Justin Fields, captured in a photograph while still wearing his Georgia uniform, because - come a little closer to your screen for the explanation, which I will whisper - he hasn't played in a football game for Ohio State yet.
This, as many trivial or fabricated things often do, upset the Facebook commenters - whom research shows passionately comment on articles they haven't read millions of times daily.
love to write football stories for the internet to enjoy pic.twitter.com/JDwY5TK0pJ

— Ramzy Nasrallah (@ramzy) March 14, 2019
Saturday won't provide us with the Fields photographs necessary to shield our Facebook commenters from his dark and disturbing Southern past (he'll be wearing a black no-contact jersey, ugh, it's like he's still at Georgia - not very #classy, Eleven Warriors) so we'll be stuck waiting for him to take the field in the fall.
On behalf of the space-time continuum, I apologize. If by chance you arrived here from Facebook via accidentally clicking on the article, welcome to the site and please vaccinate your children.
L-I-V-I-N
I have to come clean - I had no idea Joe Burrow still had college eligibility remaining. 
Thats My QB pic.twitter.com/HVzcxoafvW

— LSU Football (@LSUfootball) April 6, 2019
I also had no idea he was just one peach pair of corduroys and a mustache away from becoming David Wooderson. Alabama might have 85 aliens on its roster, but LSU has to be the SEC West favorite specifically because of this offseason development.
Thank you for getting Situational today. Go Gray, Beat Scarlet.