The Buckeyes didn't score a single point in December.
Didn't score in January either. Next month they will score a bunch of exciting new recruits but nothing involving a football entering an endzone on Ohio State's behalf during a game.
Welcome to The Aftertaste, brought to you by Recency Bias. It lacks a gradient. The Aftertaste is always either delicious or disgusting and you're forced to savor it for eight solid months. Moving on is impossible - you can't just conveniently forget the shit sandwich that's stuck in your teeth, and the only mouthwash that might work doesn't ship to Bloomington until the end of August.
So here are Ohio State's most recent game points on a loop to distract you until that showdown in Bloomington (stare at it for hours or months if you must)
We'll always have this. pic.twitter.com/9TuaCjyt9J

— Eleven Warriors (@11W) January 9, 2017
And here's the most recent touchdown the Buckeyes scored against any Clemson football team. You'll notice it came courtesy of a wheel route, which sadly is no longer a legal play. [citation needed]
The Clemson bludgeoning (btw - congrats, champs) sends Ohio State's dignity tumbling back to the second week of September 2014 when it lost by two touchdowns to Virginia Tech. The goodwill and trust from how that season concluded have both now expired, in part because the Buckeyes are turning over underclassmen into high tax brackets at an alarming rate - but mostly because of how atrocious they were on New Years Eve with everybody watching.
The manner in which they lost was a betrayal of a now former-truth. That was an Urban Meyer-coached team with over a month to prepare carrying no major injuries. That's always been a safe postseason bet. Zero points. Zero fucking points.
Association bias is hurting them as well - the vaunted B1G East went 0-5. The dreaded F word was thrown in its direction, and there is no rational defense against it (not just that F word, but the more hurtful one as well - the fraudy frauds that frauded all over the postseason).
It's going to be a long march back and an even longer wait to start marching. The good news for Ohio State is the underdog role, haterz in all directionz and having something to prove have all been very good to Meyer teams historically. That truth remains unblemished. 
Football is still a growth business in Columbus. Let's get Situational!
---
The PIPELINE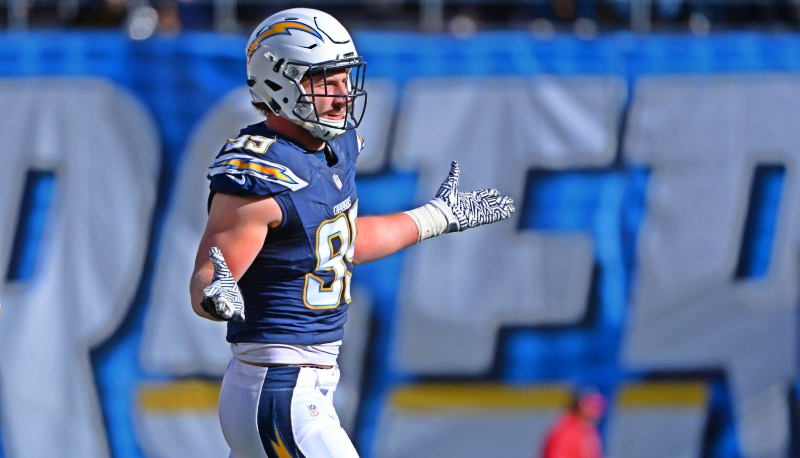 The Bengals haven't won a playoff game since 1990, when Joey Bosa was negative five years old. The Browns haven't won since 1994. Cleveland's alleged NFL team hasn't even qualified for postseason play since 2002. The last time it won its division Ronald Reagan was not only still breathing, he had only recently finished moving his personal effects out of the White House.
Nobody overthinks the NFL Draft like the Browns, who routinely pass on wildly popular in-state college players like Bosa in favor of trading down and taking cheaper, lesser versions of them later in the draft like Carl Nassib - while still jumping too early on those discounted picks. Few, if any diamonds. Mostly just rough.
Speaking of not taking Bosa (or Ezekiel Elliott, both of whom were available and - we can only assume - familiar to the Browns) why don't Ohio's NFL teams in general take Buckeyes with the frequency that more successful franchises do? A divisional cohort - the Pittsburgh Steelers - has drafted more Buckeyes since 1987 than Ohio's two NFL teams have, combined:
30 YEARS OF CLEVELAND BUCKEYES

| YEAR | PICK | BUCKEYE | POSITION |
| --- | --- | --- | --- |
| 2009 | 36 | Brian Robiskie | WR |
| 2002 | 22 | Darnell Sanders | TE |
| 1995 | 30 | Craig Powell | LB |
30 YEARS OF CINCINNATI BUCKEYES

| YEAR | PICK | BUCKEYE | Position |
| --- | --- | --- | --- |
| 2013 | 240 | Reid Fragel | TE |
| 2012 | 191 | Boom Herron | RB |
| 1994 | 1 | Dan Wilkinson | DT |
| 1994 | 66 | Jeff Cothran | FB |
| 1993 | 59 | Steve Tovar | LB |
30 YEARS OF PITTSBURGH BUCKEYES

| YEAR | PICK | BUCKEYE | POSITION |
| --- | --- | --- | --- |
| 2015 | 121 | Doran Grant | DB |
| 2014 | 15 | Ryan Shazier | LB |
| 2012 | 56 | Mike Adams | OT |
| 2011 | 31 | Cameron Heyward | DT |
| 2010 | 116 | Thaddeus Gibson | DE |
| 2010 | 242 | Doug Worthington | DT |
| 2006 | 25 | Santonio Holmes | WR |
| 2001 | 181 | Rodney Bailey | DE |
| 1997 | 91 | Mike Vrabel | DE/LB |
| 1992 | 188 | Scottie Graham | FB |
| 1991 | 46 | Jeff Graham | WR |
This gap was especially glaring in 2016, where three of the top five NFL rookies came via Columbus. Why didn't Cleveland, with all the draft picks it has accumulated by way of mortgaging its present for the future, a new coach, reupholstered front office and an enormous need for excitement pass on every member of an historic draft class that was just down I-71 from where it has transformed losing into an art form?
#Browns HC Hue Jackson not at #OhioState Pro Day today because he's a little under the weather.

— Mary Kay Cabot (@MaryKayCabot) March 11, 2016​
Browns HC Hue Jackson not at Ohio State Pro Day today because of fatigue after the flurry of free agency activity this week.

— McNeil (@Reflog_18) March 11, 2016
Unlucky timing. Can't imagine that ever happening more than once.
According to @FSOhioZJackson the Browns are not represented at the the Ohio State Pro Day. Bengals and Steelers have people there.

— Browns 101 (@Browns_101) March 8, 2013
The only thing more exhausting than running the Browns is watching them play. 
---
THE LESSON
Great session going on right now in Delta Ballroom C featuring @JayPaterno as he addresses Crisis Management to our coaches! #AFCA17 pic.twitter.com/ANw1tcACmk

— AFCA (@WeAreAFCA) January 10, 2017
That happened yesterday. In real life.
Here are some choice cuts from this "crisis management" symposium. See if you can identify the parts about properly managing a crisis.
Paterno says his father did not commit crime, conceal crime or fail to report one. Says Joe Paterno was wrongly fired. #AFCA17

— Coach & AD Magazine (@coach_ad) January 10, 2017
Paterno talking about the firing of his father, Joe Paterno, at Penn State: In this day of social outrage, nobody is safe. #AFCA17

— Coach & AD Magazine (@coach_ad) January 10, 2017
Well I can think of one other place where no one was safe. 
Paterno - Writers have an agenda sometimes, they come with a predetermined outcome, without finding the facts.

— Chris Fore (@CoachFore) January 10, 2017
Today I learned the defining lessons of how Penn State handled Jerry Sandusky from a crisis management perspective were the media is bad and beware of social outrage.
Last year I wrote this piece specifically to avoid ever having to rehash the tragic story of the serial pedophile in jail and a dead coach who along with too many others repeatedly lacked the proper urgency to stop him. It's an argument that goes nowhere and solves nothing. Let's skip it.
Paterno was correct about what the media is capable of in the pursuit of virality - omission, lack of proper context, misleading headlines, outright fabrication, distraction - there is a huge cache of instruments journalists can use to guide readers to wherever they want them to go. The issue is that a Paterno is probably not the best messenger for that lesson.
It's also just an ancillary point to how a crisis is managed, not the central focus. And speaking of omission, the critical lesson for all of eternity from what transpired at Penn State has nothing to do with how the media handled it, or how Penn State handled the media.
It's that leaders with unimpeachable power are capable of doing both wondrous and heinous things, and ending up on the wrong side of history is well within their own control, not a journalist's. Truth has a stubborn way of finding the light. You just have to give it enough time.
If you need an example of this, scroll down until you see a guy in a black vest.
---
The RAINMAKER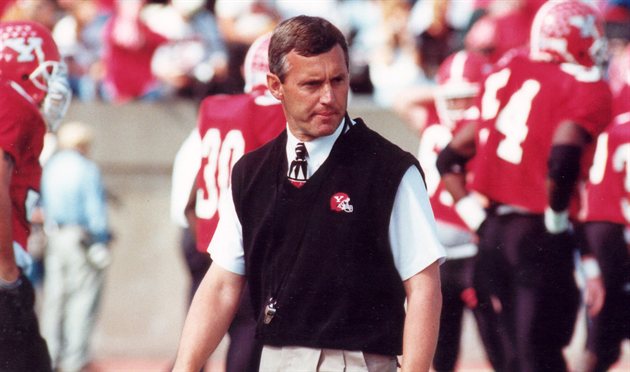 This is your unscheduled James Patrick Tressel update.
Tressel's NCAA show cause expired last month around the same time Youngstown State quietly extended his contract to remain its president. You might wonder why YSU would feel obligated to do that, since Tressel has insisted his football coaching career is behind him and isn't tempted to return.
Consider his first 30 months as YSU president:
Enrollment is increasing for the first time in five years. Student retention is up as well.
YSU's budget is balanced for the first time in five years after carrying a multi-million dollar deficit.
YSU received $20.5MM in gifts during its most recent fiscal year. The year before Tressel returned to campus it received $6.2MM.
That total for 2015-16 included a $1MM donation from Jim and Ellen Tressel. He gifted more than three times his salary back to his employer.
Tressel's extended contract does not include a pay increase, with a salary that will remain flat at $300,000 through its duration. His base salary at Ohio State was $3.5MM when he left in 2011. And as required by the law in my head, I'm obligated to remind readers that Tressel was inducted into two football Halls of Fame while serving an NCAA show-cause.
Every passing year makes the noise around the scandal that took him down look sillier. He broke rules and was sloppy about it. It was not insidious, had anything to do with winning football games or worthy of 11-month round-the-clock coverage. Tressel calmly told his players when it broke that it was going to be tough for him for awhile, but that he would end up just fine. He was right.
The media can be dicey, but truth has a stubborn way of finding the light. This has been your unscheduled James Patrick Tressel update. Thank you, and Pay Forward.
---
The Bourbon
There is a bourbon for every situation. Sometimes the spirits and the events overlap, which means that where bourbon is concerned there can be more than one worthy choice.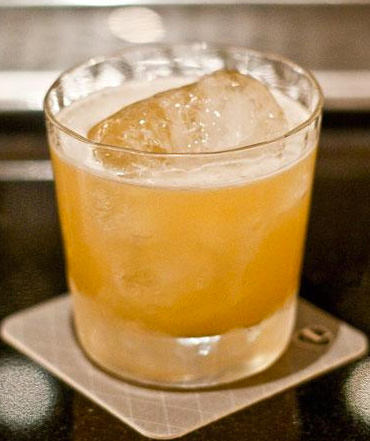 New York City hosts a fun annual tradition during the idle football weekend that occurs between the conference championship games and the Super Bowl. It's the Beer, Bourbon and BBQ Festival in Manhattan, where - if you were lucky enough to snap up a ticket when they went on sale - you'll be privy to 60 beers, 40 bourbons and copious amounts of barbecue. I'll be in attendance this year, squealing.
Bourbon and barbecue are two of the tastiest consumables one can ingest. Some misguided people believe January in the bitter cold means barbecue season is just a rumor. On the contrary - barbecue is a cuisine for all seasons, and It's never more appreciated than in wintertime.
If you're going to endure the noble hassle of procuring or making quality barbecue while wearing a sweater and earmuffs, you could use an easy, drinkable concoction that elevates the entire effort. Fortunately, several exist. Here is one of them.
The Gold Rush is an old standard that can properly exploit the trusted pairing principle of taking the sweet and tangy from a plate and connecting it to a complementary sweet and tangy in a glass. Your mouth absorbs the familiarity from both and that in turn makes your brain happy. Pairing food with drink is good. The Gold Rush pairs very well with barbecue.
GOLD RUSH

| Ingredient | amount |
| --- | --- |
| WATER | 2 TBSP |
| HONEY | 3 TBSP |
| BOURBON | ~4OZ |
| LEMON | ONE |
Microwave two tablespoons of water in a small bowl until it starts to dance, which shouldn't take long at all. Add three tablespoons of honey to it and whisk them until you have a thin, consistent syrup. Add three shots of bourbon, the juice from a lemon and then pour that over a single, large ice chunk in a rocks glass.
That's it. Now all you need is barbecue in the wintertime. 
---
The Playoff
Closing with food, because writing the previous section made me violently hungry.
This is the story of Zume, a Silicon Valley startup that uses pizza robots to bring the quality of delivered pizza closer to that of the dining-in experience. Zume's goal is to be disruptive to the $38B pizza industry by yeah whatever there's no way you're still reading this because you stopped after seeing the words pizza robots. It's all in the video. 
Thanks for getting Situational today. Go Bucks.