Ohio State lost to Michigan again, and yet the final score was not the worst part.
The afternoon laid bare how divorced from rivalry history Ohio State's approach to Michigan is under the current leadership. That means without an intervention, it's likely this will keep happening.
This is Ramzy, and unfortunately I'm old enough to be a little too familiar with what I saw on Saturday. Football Scheme Senior Scientist Kyle Jones is here to challenge/support my thematic football and human capital management rivalry philosophies with his advanced analytics and sophisticated football acumen.
So this week we are publishing together. We're in my dojo today. Kyle is hosting tomorrow.

PART I: INDICTMENT
RAMZY: If you're hired to lead Ohio State's football program, a full indoctrination into the Michigan rivalry is required onboarding - especially for an interloper from, say, Tennessee or New Hampshire.
Reader, if you think that's dramatic or cringey you must be from somewhere else. You do not get it. And that's fine, you're allowed to be an infidel in Ohio State's toxic football religiousphere. Ohio State's head coach is not. That's a showstopper.
I believed Ryan Day first working under Urban Meyer and then losing in Ann Arbor last season brought him up to code on The Game. He experienced what winning meant and how losing felt. The last time I was this wrong, well at least that take aged in a way that is now funny.
The Game is never won on paper or laminated play call sheets, because it is always played inside a living organism, either in Columbus or Ann Arbor. The Buckeyes and Wolverines fight to feed it in their favor amidst tension and anxiety so thick it physically hurts to watch them play.
When Ohio State feeds the organism successfully in Ann Arbor, O-H-I-O cheers bounce around the building, and the fans in blue are treated to the worst stadium experience of their lives. When Michigan has done this successfully in Columbus - and unfortunately I grew up in a time when this happened far too often - you get Saturday.
And then Ohio State fatalists get cartoonish in grief. That's what we are, that's what this rivalry does to us and it's what every Ohio State head coach signs up for when he accepts the job. That's part of the reason they all age faster than US Presidents.
On Saturday, the current Ohio State head coach had both feet firmly planted on the Michigan sideline, aggressively feeding the organism on the visitors' behalf. It was the most John Cooperesque coaching performance since Cooper himself walked the sideline 22 years ago.
RYAN DAY HAS HEARD EVERYTHING ABOUT THE MICHIGAN GAME. IT'S NOW OBVIOUS HE DID NOT LISTEN.
Day forfeited the advantages of flawless weather, superior star talent, individual mismatches and home-field advantage to Jim Harbaugh by treating Michigan as just another game. His strategy was the same diverse and largely successful playbook experience we've seen all the way through 11 wins we now barely remember or care about anymore.
Restraint and caution, a couple of new wrinkles and a grab bag of getting-everyone-involved plays featuring guys who will never win major awards - a perfect recipe for beating Rutgers on Homecoming. The organism predictably turned on him as Michigan caved Ohio Stadium in on itself after halftime.
The strategy included some of the most conspicuous fatal errors documented in the 100+ year-old Ohio State head coaching catalog. Nightmare cautionary tales we've told in Ohio for decades, which somehow escaped the current head coach.
Day has heard every story about The Game by now. It now appears he didn't listen.
Losing to Michigan like that is how Ohio State fans go full-cartoon and start talking about replacing a guy winning games at a 90% clip. But that's not just because he lost. It's because we've seen this type of loss so many times before, and we know what happens to coaches who lose to Michigan like this. They keep losing to them.
And they end up on the wrong side of the rivalry. Here's how the right side sounds:
Jim Harbaugh was asked if he had any issues with players planting the flag at midfield after the game.

"I want to get that flag," he says. "I want to get that flag and put it in our museum."

— Austin Meek (@byAustinMeek) November 27, 2022
He's on top of the world now. Harbaugh had been in hell and on his way out of town.
Ohio State's head coach absolutely cannot be among the millions of people who do not understand The Game, or worse - pretend they get it. Day parroted everything someone with his job title is supposed to say for a full year, and then on Saturday went full-Coop with strategy and in-game behavior.
Losses to Michigan are not all Cooperish. Jim Tressel didn't go full-Coop in 2003. Luke Fickell did nearly everything right and still lost in 2011. Even Coop's 1988 loss was decidedly un-Coop-like! (we just didn't know that yet).
Last year there were some factors which gave Day the benefit of the doubt, and he made swift, loud changes to address what happened in Ann Arbor. He approached the challenge like a project manager. It's now evident he still doesn't understand the assignment.
The good news is that is still totally fixable. It's just too late to fix it for last Saturday.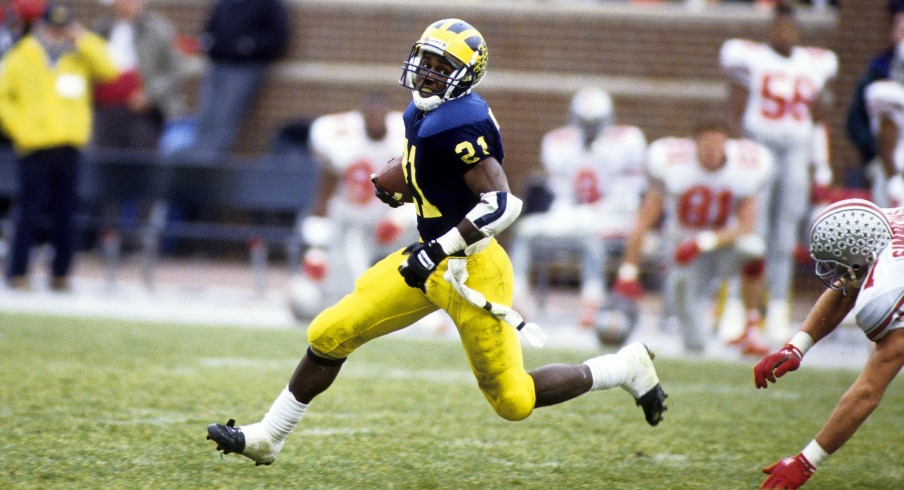 PART II: UNLEARNED CAUTIONARY TALES
STILL RAMZY, HAVING TROUBLE SHUTTING UP: Saturday was a 1996 and 2000 mashup.
Two games I'm sure Day has never seen. I know DC Jim Knowles hasn't, and that's because he proudly admitted he hadn't even watched the 2021 game. If you're going to be successful in this rivalry, you have to immerse yourself in it, because while the players and coaches come and go, the venues, ghosts and energy never change.
You have to watch the tape with the volume all the way up so you can hear the stadium living or dying in real time. You have to feel when death warms over or hits peak in-game euphoria. You have to become obsessed with this dynamic. It's not just the emotionless X&O stuff and scouting film.
Coaches work at Ohio State for a limited amount of time. If they're not absorbing the full experience and taking it as seriously as cartoonish Ohio State fans do, they're just punching a clock. And unfortunately, the locals don't take kindly to paycheck players.
It's a huge hassle, sure. They can coach at Wake Forest if they don't want to deal with it.
What we've witnessed since 2019 is a breathtaking surrendering of RIVALRY COMMAND, held in Ohio State's favor for two decades.
OSU (and Michigan) coaches not only need to know how to win that game, but understand how it has been lost. Ohio State ate some very familiar-tasting shit on Saturday in large part because the guys in charge somehow missed that their game strategy and philosophical approach to the rivalry were long-established failures.
They repeated doomed history that was readily accessible to them. Day was in high school when the head coach of the 1996 team puckered away the entire afternoon as a 17-point favorite by playing scared. He was in college when a couple of misplaced wrinkles made it interesting and the Buckeyes came out hot, but then failed to put Michigan in a tough spot and his team's fragile psyche ceded the afternoon to the visitors over the 2nd half.
Ohio State head coaches have to scrutinize all of the shit their predecessors left behind so they can avoid stepping in the same piles. Day brought a John Cooper mindset into the Michigan game on Saturday while facing a coach who has been emotionally vested in the rivalry since he was 10 years old.
Harbaugh was crying about the Ohio State game before Day first located Ohio on a map at school. That's not Day's fault. He has to understand this is an embedded disadvantage he must overcome, and his rival is not just some weirdo who still drinks milk and spills word salad sound bites.
The Game will be an emotional mismatch as long as Day and Harbaugh are the two coaches, just like Bo vs. Coop, Mo vs. Coop and Lloyd vs. Coop all were. Tressel vs. Lloyd showed when both coaches understand the rivalry, Ohio State has the advantage - especially when one coach is taking just a little too long to retire, and recruiting classes suffer.
Tressel vs. Rodriguez was a disaster for Michigan, and Meyer vs. Hoke would have only gotten more lopsided if Michigan had allowed it to fester. Day vs. Harbaugh with Meyer's fading fingerprints is not boding well for the Buckeyes.
Harbaugh is now 2-6 in this rivalry, but he hasn't Coop'd a single loss. Michigan was both outmanned and facing Ohio State coaches and players who understood the assignment when he took over. That's hard for any coach to overcome. That's not what Day is facing at all.
What we've witnessed since 2019 is a breathtaking surrendering of momentum, which had been held in Ohio State's favor for two decades because of how fanatically obsessed the two coaches who preceded Day were with sending Michigan to hell every single year.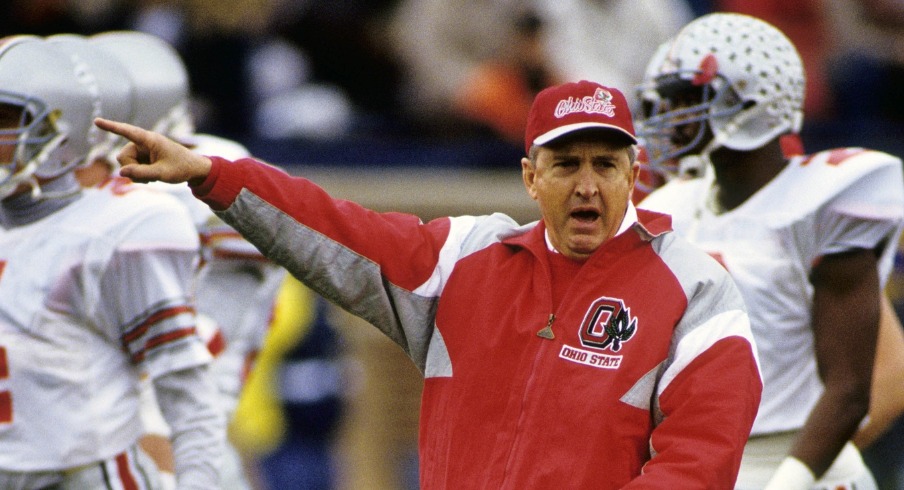 JONES, FINALLY: It's important to recognize the context around how all the men in charge of the program found themselves in their current positions.
When Day took over as head coach, most fans in Columbus made it abundantly clear that he should be more worried about Alabama and Clemson. It may seem long ago now, but Harbaugh was on the hot seat just 18 months ago after failing to get his program above 8-4 or 9-3 every year, and Day's focus could wander elsewhere as the folks in Schembechler Hall struggled to keep their affairs in order.
Jim Knowles was brought in to fix a glitch in the system. Ohio State's roster was still more talented and simply needed to address the one area that everyone on the planet knew about. Surely, the run defense would quickly turn around, just as had been the case following the hirings of Chris Ash and Jeff Hafley.
Mark Pantoni and Mickey Marotti came in during the peak of the Brady Hoke era and instantly gained the upper hand over their counterparts in Maize and Blue while even Gene Smith has only known dominance over Michigan since arriving in Columbus.
And yes, it's easy to say that only the fans care about this rivalry because we have the scars. But I am still able to spell BIAKABUTUKA without the help of Google, not because I truly hate the people residing in the state of Michigan more than Day or Knowles, but because I can tell them about a half dozen OSU teams that coulda/shoulda/woulda competed for a national title had they actually won the last game in November, and I'm only in my 30s.
This program and its fans have long been clear that competing for national titles is the expectation every year. Day, Knowles, Marotti, etc. all signed up for that. So did all the players. However, it's time to recognize that The Team Up North is a serious impediment to that goal.
Until everyone who walks into the WHAC recognizes and respects that threat every single day, Ohio State won't win another CFP - much less a division title - anytime soon.
---
RAMZY: What do you think about Knowles not watching last season's debacle in Ann Arbor? We've lazily blamed not being from Ohio in the past for being ignorant to how different this rivalry is, but anyone can convert to this religion. Earle Bruce didn't grow up in Ohio. Francis Schmidt was from Kansas!
"Nothing is more dangerous than a team with momentum" -Urban Meyer

— Darron Lee (@DLeeMG8) November 27, 2022
Nick Saban has always built his game plans around demoralizing his opponents through process and talent, with the intention of damaging them psychologically. He screams at his players to make their asses quit during games, and more often than not, they do.
The Buckeyes entered the game with a number of advantages, and proceeded to drive under the speed limit into halftime. They kept the game close, and then Michigan picked the lock and looted the stadium. It's happened twice now.
The Game 2021 & 2022 | 1st Half: OSU 33, UM 31 | 2nd Half: OSU 17, UM 56
Ohio State did nothing to make the visitors quit. They fed them adrenaline instead. I'm just spitballing here, but maybe Knowles should have seen what happened, at minimum, last year?
---
JONES: On the surface, I can see why Knowles wouldn't put much stock in last year's game. Not only has Michigan's offense evolved in large part due to the change at QB, but there is now a run threat there that didn't exist a year ago. Yet the Buckeyes' game plan was fundamentally different as well (or, at least, it started that way).
But going a level deeper (and answering the question I think you're really asking), one would think that Knowles would immerse himself in the tendencies of his biggest rival. Do they switch things up for this game and unveil all kinds of new formations? Or is everything new just a wrinkle off what they've shown all year long? (SPOILER: It was the latter.)
Putting in that extra time and effort is what you might expect from the Ohio State defensive coordinator in advance of the Michigan game, but it's also worth remembering that this was his first year on campus and he had minimal time to implement an entirely new system.
I still believe the jump this defense made from a year ago is staggering, even if the scoreboard didn't show it on Saturday. As I wrote upon Knowles' hiring, giving up big plays is just part of the deal when you work with Knowles. It's the risk you take for everything else his system provides.
But last weekend, on the handful of occasions in which there was a bust, the worst possible outcome was achieved.
For most of the game, OSU held the Michigan offense in check. McCarthy completed just 50% of his passes and was 3 for 10 on passes 10+ yards downfield. Unfortunately, two of those completions were for long touchdowns.
On offense, they still moved the ball pretty effectively, tallying 492 yards, which was by far the most any team has racked up on the Wolverines this season. But what struck me most was WHO was touching the ball throughout the day, and much less of HOW they were doing so.
You've been watching this team longer than me, do you ever remember seeing this many guys that changed positions or that walked-on being so prominently involved in so many critical scenarios? Injuries certainly played a major role in determining last weekend's depth chart, but it's been the case with the tight end room all season. This must be unprecedented, correct?
---
RAMZY: Here is where the Situational and Film Study are really going to intersect.
Guys change positions all the time in college football, but Ohio State-Michigan is the last place where hidden gems are the strategic tip of the spear. Tshimanga Biakabutuka (I can spell it without looking it up too) wasn't a hidden gem, he had well over 2,000 rushing yards to his credit before he "broke out."
People acted like he came out of nowhere because Eddie George had the Heisman won entering that game and was overshadowed by a guy whose name few people could spell.
Former walk-ons and position switchers like Xavier Johnson and Mitch Rossi are nice stories, but X absolutely should not be the guy when Ohio State faces Michigan. Rossi cannot be the guy that day either. Those guys should just do their jobs. Own their roles.
Cade Stover - ugh, I hate doing this - has plenty of film, a lot of it showing him watching his blocking assignment tackling one of his teammates. He absolutely cannot be the guy against Michigan.
Ohio State has not had the same potent rushing attack since Luke Farrell matriculated. Farrell always sealed the edge and completed his assignment. He did his job, just ask Trey Sermon. Sorry, I'm in my feelings again.
Ohio State should have its role players and difference-makers aligned with in-game expectations by the time it faces Michigan. Make the Wolverines stop Jonathan Wells. Make them stop Maurice Clarett, however banged up he might be. Make them stop Troy Smith. Make them stop Ted Ginn.
Make them stop Beanie Wells. Make them stop Terrelle Pryor. Make them stop Braxton Miller. Make them stop JK Dobbins. Ohio State has decades of evidence this is how it's done successfully. We have just as much showing how to fail.
Ohio State beats Michigan both physically and psychologically when The Buckeye Everyone Knew Was Coming rubs their faces in the dirt. If Michigan can stop that guy, good for them.
And yet, on Saturday we saw a critical 4th down designed play for Stover. He dropped the pass, and then dropped a touchdown later in the game. We also saw a botched fake punt. Moment must have been too big for the backup long snapper who was supposed to short-snap it to Rossi.
If only they would have executed yeah sure, okay. Rossi and Mason Arnold. Putting the weight of The Game, the hinge of momentum on two role players who walked on to the program?
Tressel drew up a wrinkle in 2006 the whole team knew was a touchdown all season long, but they saved that play for Michigan. Did it involve fullback Dionte Johnson and tight end Rory Nicol? Of course not. Great guys. Role players.
The wrinkle was designed for and carried out by Smith and Ginn, the two best players on the roster and two of the best players in program history. Guys for whom The Moment is never big enough.
Twenty-two years ago this month Coop drew up a clever wrinkle, where B.J. Sander - a punter who had never attempted a throw - would fake a punt, then get the ball to Donnie Nickey, a free safety who had never caught a pass.
Here's how that went. This is not how you beat Michigan, even if it works.
Schemed perfectly. Would have been fun to see them do that against Minnesota. Biggest game of the year hinged on perfectly executing a sneaky play featuring a punter throwing to a guy who made it to late November without getting any Buckeye leaves on his helmet.
Ohio Stadium's balloon popped both times. This is exactly how you turn the organism against you.
This game is won by the team who imposes the best version of itself while forcing the rival to choke on the reality of what's happening. Defeat and deflate the bodies and minds, because that's the investment required for winning the next meeting, and the one after that.
Win the game and become their recurring nightmare. It's not done with trick plays and role players.
We saw a grab bag of wealth-spreading mixed concepts and philosophies involving a whole number of dudes, few of whom were That Guy. The subterfuge Ohio State appeared to be running all season long now looks like it just never figured out what its identity was.
They knew who their guys were - everyone did - but they still ignored them. On Saturday, Johnson and Stover caught seven balls for a combined total of 26 yards. Absolutely wasted plays that did nothing but feed the visitors' confidence.
If you gash them with a running play, run it again. If your Biletnikoff finalist makes a catch, target him again. If something starts working, hammer that button until it breaks, because it breaks their spirit. There's no reward for randomizing things.
Johnson and Stover cannot have the same number of touches as the best wide receiver in the sport, but that's what happened Saturday. Splitting catches evenly between Marvin Harrison Jr. and two garden variety tight ends should come with criminal charges.
Ohio State forgot who it was. Or perhaps it never figured out what it wanted to be.
The Buckeye offense did Michigan an enormous favor. The visitors had to be thrilled with their opponent spreading the wealth to guys who will never be difference makers. They would much rather deal with them than Ohio State's aliens. Any team would.
INTERMISSION
The Solo
The slang expression gas face has a number of interpretations, most notably (and PG-rated) is an expression in disappointment. It's also the title of a song by 3rd Bass, featured here today for reasons that shouldn't be all that mysterious.
The Gas Face features a number of solos via cameo appearances. Let's answer our two questions.
are the cameos in this video actually performing?
We are treated to MF Doom, DJ Subroc, the late Gilbert Gottfried, Public Enemy's Flavor Flav, Salt-n-Pepa, Kid 'N Play and EPMD contributing their own verses. Ensemble hip-hop arranger Drake was three years old when Gas Face dropped, which makes him a pioneer of absolutely nothing except whining into the void.
3rd Bass was born too soon. They are the true pioneers. VERDICT: Yes, 100% authenticity.
do these cameos slap?
JONES: Good song, great cameos, even better props department. I had forgotten about the giant pack of Newports and the not-so-subtle diss of MC Hammer.
However, now that I've rewatched this video for the first time in at least a decade, all I can think about is turning MC Serch's 8th-grade talent show dance moves into some kind of TikTok challenge.
RAMZY: The Prime Minister Pete Nice, Serch and Richie Rich enjoyed a lucrative and interesting partnership filled with nothing but singles and doubles, which is to say 3rd Bass was not born on third base. Maybe Pop Goes the Weasel was a triple.
Associating with more talented people creates a risk of being outed as ordinary, while assimilating with below-the-line performers could be an anchor on the reputation. The Gas Face effectively mixed those philosophies, creating an indelible late 80s banger. VERDICT: Slaps
The Bourbon
There is a bourbon for every situation. Sometimes the spirits and the events overlap, which means that where bourbon is concerned there can be more than one worthy choice.
Redemption is best known for its rye, which is arguably the most decorated in the game. Since the manufacturing and distillation processes are nearly identical (51% corn for bourbon, 51% rye for rye, similar aging and barrel characteristics and requirements) concluding Redemption is capable of a worthy bourbon is a safe bet.
The mash bill on its (non-wheated) bourbon comes in at 75% corn, 21% rye - which makes it high-rye - and 4% barley. The short-aging and low-proof both take the edge off of what would likely be a fierce bite if Redemption allowed it to age longer. Depending on your palate, the result could interpreted as smooth or young. My palate (this is Ramzy) biases the latter. This tastes exactly like a two-year old bourbon. It's more under-developed than smooth.
There's a nice bananas foster experience up front, finishing with peppery smoke on the back end - the latter being predictable for anyone familiar with the traditional Redemption Rye experience. I was left wondering how this might land if it were allowed to sit in the barrel for a couple more years. I would get in line for an eight or 12-year version of Redemption Bourbon.
The tradeoff is a premium build of quality juice at a steep discount - short aging along with the established format and sunk infrastructure bring down the COGS, pricing this at barely $30. If they took it out five more years, it's probably teasing $100.
This is a buy, even if the only Redemption you're feeling this week is printed on the label.

PART III: THE OVERTHINKING POLICE
JONES: Herein lies what is, to me, the bigger issue with the way this team currently operates. This offense, as successful as it's been, is not a high-end, 3-star restaurant known for a signature dish that is regarded the world over.
No, this offense has become the Cheesecake Factory.
This is not a slight to those who enjoy TCF, but rather, comparing it to a menu that is 21 pages long and features over 250 items. While there are options for everyone's tastes, and some might even be pretty good, there isn't anything that truly stands out as an appetizer or entree that everyone just has to try.
And that is a problem when you've got some of the best ingredients available sitting in the refrigerator. So what am I saying? I'm saying that the executive chef has a giant slab of Kobe Beef in Marvin Harrison Jr. just sitting there while he chooses to feature bacon and eggs.
For example, OSU scored just two touchdowns on Saturday, despite entering the red zone four times. Perhaps that would have been different if they had incorporated a new concept meant to get the Biletnikoff winner the ball instead of scheming up a swing pass to Johnson with Rossi as his only lead blocker.
As you mentioned, Ramzy, Johnson and Rossi's stories are great ones and they have earned a spot on the field. But as the play-caller and offensive coordinator, Day has to do a better job of scheming up ways to feature his best players in this game.
Of course, Michigan is going to try and stop him, but it's your job to come up with new ways to feature him and allow your Kobe Beef to be the dish that everyone remembers at the end of the meal.
This brings me to my biggest takeaway from The Game: Ryan Day needs to give up calling plays for this team.
He is one of the best play-callers in the sport, there is no doubt about it. But he is paid $9.5 million to be the head coach, which in College Football means being the CEO. Gene Smith may be the chairman of the board, but it's Day's job to run a program full of hundreds of people that is expected to perform at the highest level every single season.
It's impossible to pay attention to all the different facets of that job - player personnel, staff personnel, locker room culture, and not to mention the countless decisions required during the actual games themselves - while you're also worried about what Indiana's defense might do on the next 2nd & 5.
Day insists that assembling the game plan and calling plays is a team effort involving the entire offensive staff, but we all know he is the one making the calls on Saturday afternoons. It's time to let Kevin Wilson, Brian Hartline, or Justin Frye take that role so the head coach can be just that.
---
RAMZY: We are aligned here - Ohio State can beat Northwestern with whatever version of itself it rolls onto the field and no matter what the wind shear might be. Ditto Indiana, ditto probably half the conference.
I mistook the Cheesecake Factory approach this season as subterfuge because we have plenty of Day and Wilson data points. Ohio State beats the Wolverines with the best version of itself.
And Michigan should see it coming, still lose and have to eat that shit for a full year before eating it again. This is what Woody did, it's what Earle did, it's what Tressel did and its what Meyer did.
Coop had every bit of the talent and infrastructure to be as successful. He lost most of his 10 games to Michigan for two reasons: 1) conspicuous in-game fear 2) strategic overthinking. We saw both on display Saturday.
I've spent the better part of the Analytics Era dying on the Qualitative Hill and begging football nerds to understand teams cannot effectively win anything of consequence using spreadsheets alone:
Did We Really Get Beat that Bad?

Net Success Rates Week 13

Colorado, Rutgers, Miami, Wyoming, Washington State, Northern Illinois, Baylor, Coastal Carolina, Arkansas State, Hawai'i, Texas State, Stanford, Bowling Green, and Auburn: y'all really did get beat that bad. pic.twitter.com/VkVSuf6ZNq

— parker, u n v e r i f i e d (@statsowar) November 28, 2022
Ohio State actually won the analytics battle on Saturday, as Michigan gained three yards per play over 54 plays. Unfortunately the Wolverines ran 59 plays. Those other five: 360 yards, 35 points. The spreadsheet smooths out the data and doesn't account for the organism where the game was played.
OSU won the analytics contest. Maybe we should start a Gold Cargo Shorts tradition to celebrate.
Jones, I agree with you about the OC - as the head guy you can meddle in everything you want to influence in preparation, but during games your job is to be the CEO. When you're multitasking on the front line, you end up overthinking and overcomplicate decisions in the fog of war.
The play-call sequencing on Saturday made absolutely no sense. Day has Wilson upstairs in a quiet room with a better view. Deliver results through others, he's as fluent in football strategy as anyone in the game. If Day would rather be an OC - he's really good at this - then he has the wrong job.
He spent a year thinking about what happened in Ann Arbor, and when the time for redemption arrived, he got way too cute. Michigan's third and fourth cornerbacks are both atrocious. Dayt had every opportunity to humiliate them, demoralize them and bring down the rest of the team with them. Day should have had C.J. Stroud pick on that scab until it bled.
Make it bleed until it gets lightheaded. That's done early and consistently, so Michigan has to play under duress against the best-possible version of Ohio State, not the cutest one or most diverse one.
Then, the visitors would have gotten to watch their souls leave their bodies to the chorus of 100,000 people singing about how they don't give a damn about the state where they sleep. This is how Ohio State beat Michigan before, and it's how Ohio State will beat Michigan again.
Thanks, Jones. And thanks for getting Situational today. See you tomorrow. Go Bucks.