At the end of his third search for a defensive coordinator in just four years, Ryan Day finds himself at a very different destination.

In the hires of Jeff Hafley in 2019 and Kerry Coombs a year later, the young head coach of Ohio State handed the keys to an NFL position coach with no previous play-calling at the college or pro level, but with whom Day had been co-workers in the past. The former's arrival was softened by the presence of a veteran in Greg Mattison, while the latter was a beloved son of Ohio returning to Columbus after an apprenticeship at the sport's highest level.
While Hafley's lone season in Scarlet and Gray earned him a permanent place in every Buckeye fan's heart, it has become more apparent over the past two seasons that much of his success was due to the absurd wealth of talent at his disposal. Without a game-wrecking end, a pair of first-round cornerbacks, and an intelligent and athletic free safety capable of correcting any mistakes in front of him, Coombs failed to produce anything that looked like the 2019 OSU defense.
Day now hands the reigns to a well-respected stranger. A Broyles Award finalist against whom the Buckeyes' head coach and offensive play-caller last faced in 2014 when both were ACC coordinators. 
While at Duke from 2010-17, Jim Knowles helped return the program to respectability as a member of David Cutcliffe's staff, with the Blue Devils finishing fourth in the conference in total defense in his final season. But it wasn't until he moved to the fast-paced action of the Big 12 as a member of Mike Gundy's Oklahoma State staff in 2018 that Knowles began experimenting with the relatively straightforward 4-2-5 defense he ran in Durham.
The first thing many people noticed about his Cowboy defenses was the way in which the weakside defensive end, called a Leo in Stillwater, moves around the defensive front from play to play. Without changing any personnel, Knowles defense can operate from a straightforward four-down front with the Leo occupying a traditional spot at one end: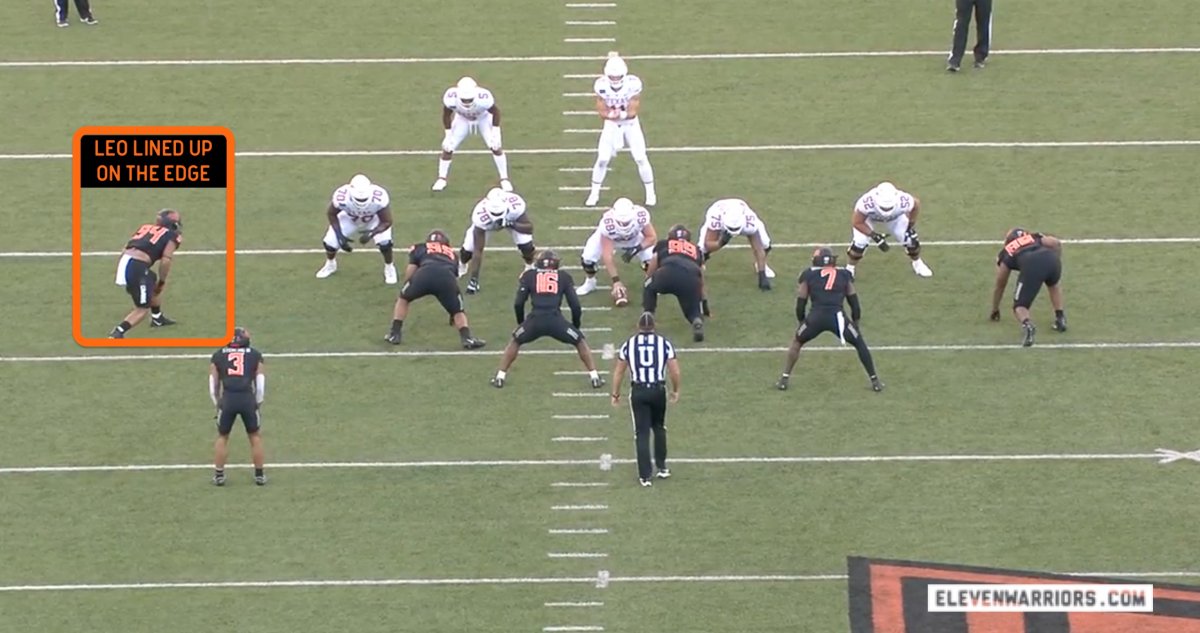 ...to a very different kind of four-down look with a nose guard over the center and the Leo "mugged" up next to him, plugging up the middle and disrupting the offense's blocking scheme: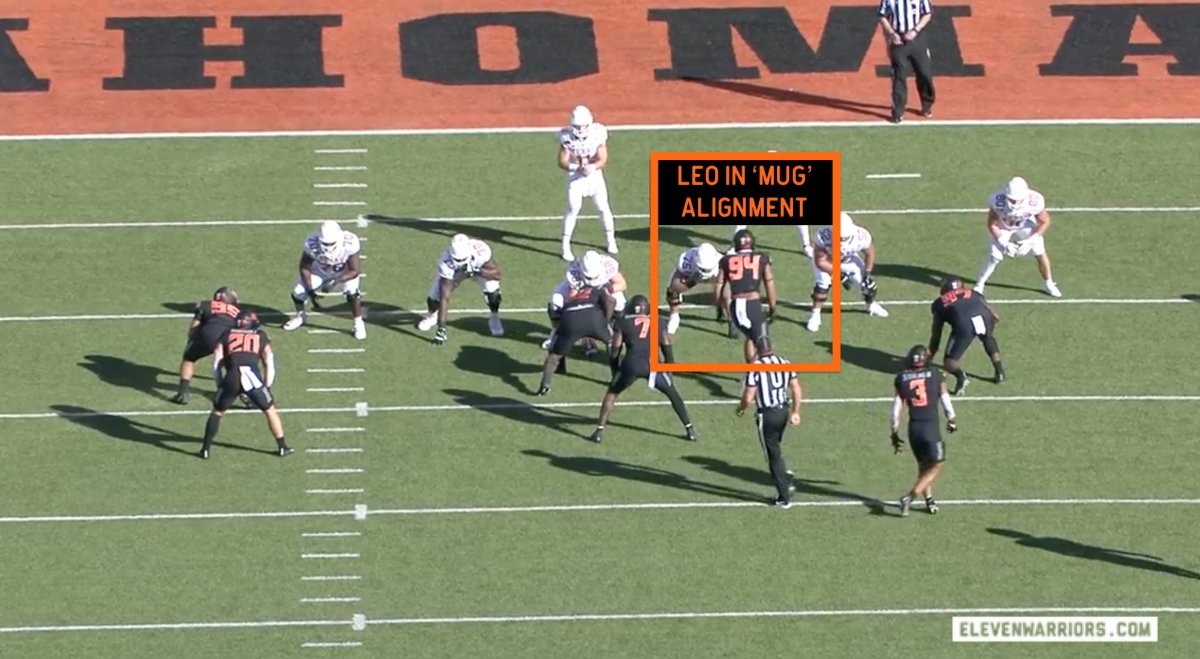 ...to even lining him up in a linebacker's position and creating a 3-3 alignment: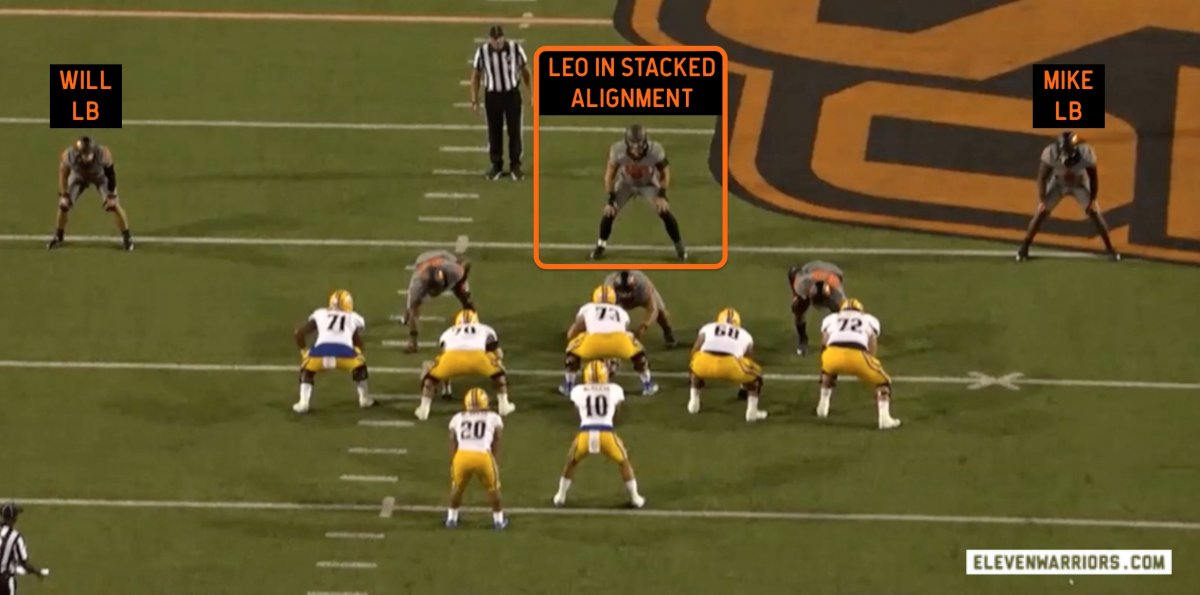 "You can move him around, put him wherever you need him, have him do whatever you want, and the offense never knows where it's coming from," Knowles said of the Leo position in an interview last summer. "It's not hard, you find a guy who's a playmaker and can fix things. Part of playing great defense is having the ability to adjust, so if you have a guy like that who is your adjuster, it allows for a lot of creativity."
Much will undoubtedly be made of this role throughout the offseason, as it will surely be used as a recruiting tool and spawn countless message board threads as fans and media alike try to predict who ultimately fills the role this September. But according to Knowles, it's closer to an outside linebacker role than the more traditional defensive end spots Ohio State has recruited for in the past.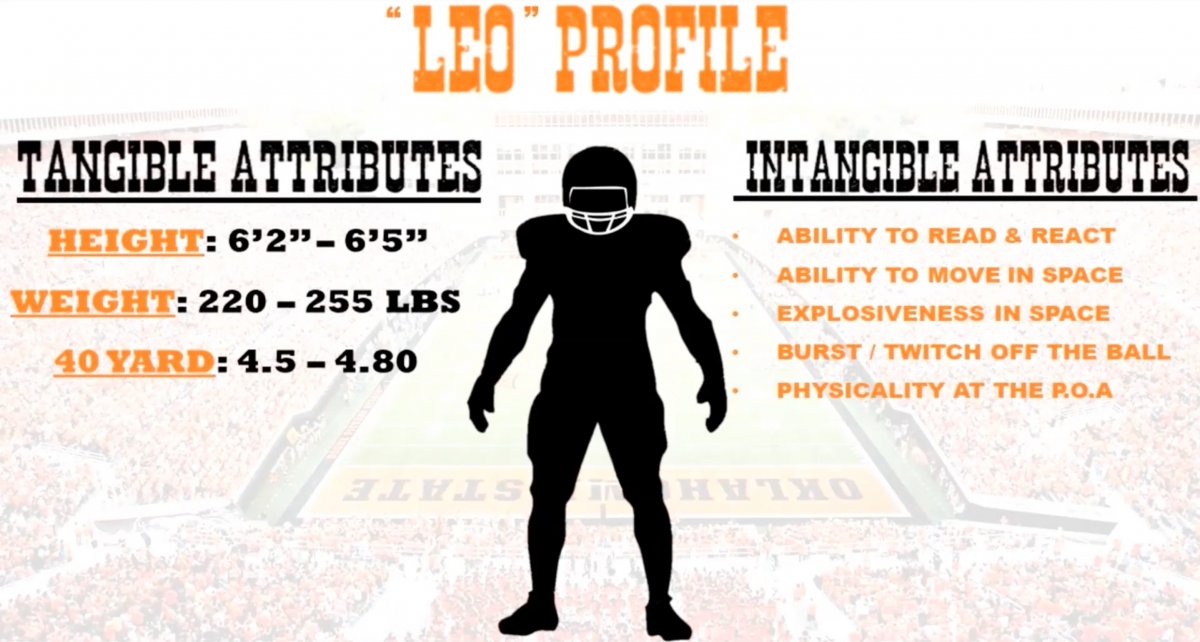 Hybrid positions like this are more common at lower levels of the sport and are often the result of coaches simply trying to maximize the talent at hand. But Knowles emphasizes it as a means to proactively attack offenses rather than sit back and wait to react.
Much of this philosophy comes from his experience coaching running backs at Cornell early in his career.
"I learned protections and things that caused offenses problems; how much scheming goes into it from an offensive perspective to predict where the defense is going to be so that you get the right match-ups and blocking assignments," Knowles said of his time as an offensive assistant at his alma mater. "Once you're exposed to that, I think you see that there are opportunities to play offense on defense."
Despite basing out of a four-down system, Knowles will often only rush three linemen and leave the Leo (#30 in this example) to spy athletic quarterbacks that pose a threat to run.
"We always talk about coverage and rush working together," Knowles added. "Everybody's worried about the coverage, but the rush has a faster opportunity to affect the play, so get some guys in there that are just going to be bowling balls with butcher knives."
But while it's easy to focus on the variable movement of the Leo, the key to becoming the #3 defense in America this season was in the little things that aren't quite as evident.
Take the example below. Oklahoma is running a GY Counter Lead into the boundary from a two-back shotgun set, meaning the "fullback" will kick out the defensive end while the guard and tight end from the opposite side pull around to lead the runner toward the sideline. Except, it doesn't really work out that way...
While the Leo and Will linebacker play some games before both come on a blitz to the field, it's the defenders to the opposite side who make the play.
Most importantly, the other end (#89) doesn't wait for the fullback to kick him out. Instead, the 6'4" 295 lb edge player attacks the smaller blocker as soon as he sniffs out the play, driving the offensive player backward and picking off a second blocker (the pulling tight end) in the process.
If not for that end's aggressive play to violently beat his man, the Sooners would have had two blockers to take on the Mike 'backer and boundary safety, who ultimately corral the ball-carrier for no gain.
Those safeties quietly act as the backbone of Knowles' defense, playing numerous roles that allow the entire unit to employ a vast array of looks without needing to change personnel. Despite Ohio State's safeties often leaving much to be desired over the past two seasons, it's not hard to see Ronnie Hickman, a healthy Josh Proctor, or Kourt Williams playing the role of #31 in the clip below.
While Knowles' base personnel is a 4-2-5, the makeup of the secondary is critical. There are still two corners locking down the outside, but instead of simply playing another corner over the slot at all times, the 'nickel' player can act as more of a safety than a corner or third linebacker.
When facing teams that relied heavily on RPOs or the QB run game, Knowles likes to line up all three at the same depth, making it very difficult to determine which player(s) might be dropping into a deep zone and who was responsible for joining the run fit, a.k.a who the QB is trying to read.
"You want to present a picture that [the quarterback] doesn't necessarily know what's coming, and then do some different things out of that picture," Knowles added in the interview last summer. "Make him read post-snap, don't just let him line up and know where he's going with the ball."
With three defenders all capable of being the seventh defender to join the run fit, Knowles will play around with who drops into the box from snap to snap, keeping the offense guessing. But he also doesn't just make that safety responsible for holding the backside edge. Very often, a safety will be responsible for filling an inside gap while the linebackers hold the edges.
Though very different from the straightforward, 'gapped out' approach preferred by Ohio State in recent years, in which the Mike and Will linebackers are assigned to an A and B gap, respectively, Knowles asks his linebackers to often fill the C-gaps on the edges after the ball is forced outside.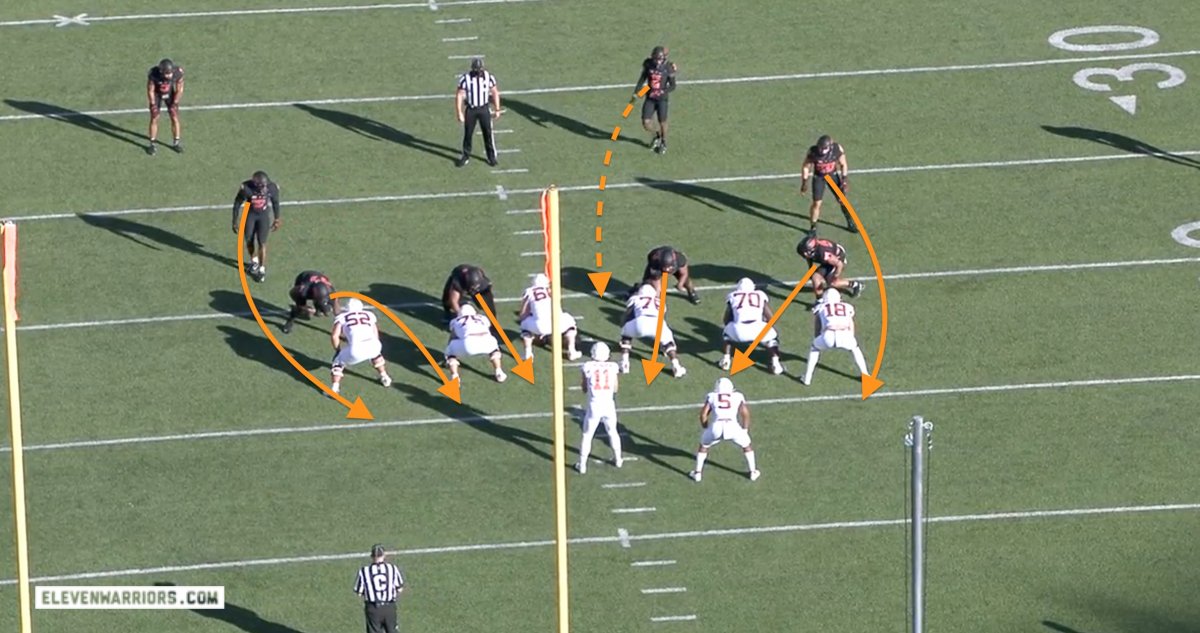 That philosophy of 'spill and kill' is possible thanks to the efforts of the front four, who are not trying to beat their blocker and penetrate, but rather look to hold up those blockers from getting to the second level and create a pile that forces the runner to bounce outside (toward those waiting linebackers).
The Cowboys liked to pinch (everyone takes the inside gap) or slant the D-line on nearly every snap, and if the ball-carrier was able to find a gap inside, the safety coming downhill would be left unblocked to make a play.
This flexibility on the back end also allows Knowles to do quite a bit from a coverage perspective. While he's not afraid to drop his safeties down and ask them to play man-coverage on a slot receiver or tight end, he also has seemingly every zone imaginable in his playbook.
With the Leo capable of dropping into coverage as well as rush or spy, that only adds to the possibilities.
Look at how OkSU structures their 3-Hi

Low Hole player can be used to spy the QB or cut any low crosser (or rush!)

If utilizing an EDGE as the "low" 'backer, the D-line can run multiple different stunts while the backend can morph to any 7-man distribution#ArtofX pic.twitter.com/RglnN6oUcS

— Cody Alexander (@The_Coach_A) December 10, 2021
While he is primarily a Quarters guy at heart, running countless variations that can ultimately leave the corners on an island - something Ohio State surely welcomes with the return of Denzel Burke and Cameron Brown - Knowles isn't afraid to call the same, vision-&-break Cover 3 defense the Buckeyes have relied upon so often as a change-up. The only difference is that the field and boundary safeties both start from depth before dropping into the underneath buzz zones outside the hash marks.
While Knowles appears to play a conservative defense with a "light" box and a secondary showing five players lined up off the ball, he's not afraid to send extra pressure. He likes to send a Cover 0 blitz (meaning six or seven players rushing with the remaining defenders in man-coverage with no safeties playing deep to help) at least once every game, just to make sure the offense accounts for the possibility.
But not all of his rush packages are of the 'all-or-nothing' variety. Like most other modern defensive coordinators, Knowles has a slew of simulated pressures, in which the defense shows a six or seven-man blitz before dropping most of them back into coverage.
Watch below as the linebackers show blitz over the center before backing out and the two slot defenders both come on the rush, allowing the Cowboys to still employ a seven-man zone coverage. The QB struggles to get a clear picture of what the defense is doing, forcing him to hold onto the ball long enough for the pressure to arrive and create a turnover.
In the coming month, thousands of words will be typed, in this space and elsewhere, describing all the intricacies of Knowles defense, expanding far beyond the handful of examples shown above. Which is to say, there's a lot to cover.
This is a far cry from the simplified approach the Buckeyes have had in place for three years. Players like Jeff Okudah were thrilled to be given the chance to play fast and free under Hafley, only to see that approach backfire as opponents caught on. 
But Knowles now faces a tough challenge of teaching everyone - not only the players but his new staff - a complex system with lots of moving parts. While ultimately, the basic concepts aren't that different from what Matt Barnes has tried to implement since taking over the play-calling duties midseason, there is quite a bit more disguise, meaning there is more opportunity for error.
In many ways, this echoes what Day has done with the Ohio State offense since joining the program five years ago. The Buckeyes run many of the same plays from week to week, but keep opponents on their heels by creatively utilizing a vast array of alignments and motions before the snap, along with screens and play-action passes off their base concepts. 
Now, Knowles and his staff can decide that they want to be a Cover 1 man team or a Cover 4 team when it matters most. But, in order to keep opponents from attacking the weak point that exists in any defensive scheme, Ohio State can mix in enough window dressing to keep offenses guessing.
"In my experience, when you get veteran players who understand your system and you've done a good job of teaching them, and sometimes it takes a couple of years and all of a sudden, they understand their place in the system and where they fit, then the game slows down for them," Knowles said of implementing his playbook. "I'm not a 'simplified' guy, but I think it takes time to make a guy more comfortable, and when you have a guy who's comfortable, they make more plays."
Knowles has never had the kind of talent and resources at his disposal that he now finds inside the WHAC. But he's also never had this kind of pressure, either. 
There won't be time for a class of seniors to learn his system over the course of four years. His defense will be expected to compete with the best in the nation in a little over nine months, and he'll have to decide how much is too much to try and install in year one.
But at its core, Knowles has admitted that his approach can be boiled down to the following description, no matter what:
"Three or four guys that you can count on to pitch a fit [on the line], changing the structure post-snap, and then having the ability to send everyone at any time."