"Everybody has a little bit different way of doing it, and having been in the 'match' world for the last 6 or 7 years and now being in the 'vision-and-break' world, I think 'vision-and-break' is really the way to go." - Matt Barnes

Ohio State's special teams coordinator stood in front of a packed ballroom full of high school football coaches and tried to make something simple seem exotic. Prior presenters like Tennessee's Jeremy Pruitt and Cincinnati's Marcus Freeman had tried to explain their hybrid systems to the crowd but Barnes, who also coaches defensive backs for the Buckeyes, was there to spread the gospel brought to him by Jeff Hafley just a year earlier.
Despite years working in different systems, Hafley brought the true 'zone' system he learned as an assistant in San Francisco to Ohio State; a system whose roots can easily be traced to Pete Carroll and the Seattle Seahawks.
But despite the success of Carroll and some of his proteges, most defensive systems at the pro, college, and even most high schools utilize zone-match coverage, which meshes zone principles with man-coverage techniques. The concept has been discussed at length in this space and others, as Ohio State relied heavily on it in their national championship season of 2014 and have seen every iteration of it played against them, most recently by Brent Venables' Clemson defense in the Fiesta Bowl last December.
Venables has built a career by successfully implementing a variety of pattern-matching concepts, having been on the staff at Kansas State with a young defensive coordinator named Bob Stoops who was one of the first to employ such tactics. But the man most often credited with making them famous is Pruitt's former boss, Nick Saban, who saw it as the only antidote to the vertical passing attacks he and Bill Belichick saw in the early 1990s. 
"This started with the Cleveland Browns, I was the defensive coordinator in the early 90s and Pittsburgh would run 'Seattle' on us, four streaks. Then they would run two streaks and two out routes, what I call 'pole' route from 2x2. So we got to where could NOT play 3-deep zone because we rerouted the seams and played zone, and what I call "Country Cover 3" (drop to your spot reroute the seams, break on the ball). Well, when Marino is throwing it, that old break on the ball shit don't work."
Today, Saban's word is understood as cannon by most coaches in the profession, making Barnes' claims about why his team doesn't run match coverage that much more intriguing. Instead of trading assignments and ensuring every player is covered, which requires countless checks and adjustments, the Buckeyes all drop to an assigned spot on the field with eyes on the ball and break as soon as it's thrown
"In my opinion, defensive football in today's world is very much about limiting explosive plays and creating takeaways," Barnes told the coaches assembled that day, and despite some long-held beliefs in the crowd that day it's hard to argue with his claim.
In Ryan Day's first season in charge, Ohio State rolled out a defense that, at a very basic level, is often taught to middle schoolers. Yet the Buckeyes finished the season with the stingiest unit in the nation, allowing fewer yards-per-game and per-play thanks in large part to their ability to limit big plays and force turnovers.
After allowing opponents to gash them with big gains on far too many occasions in 2018, the 2019 Buckeyes ranked seventh nationally in allowing gains of 10+ yards and were fifth in plays of 30+ yards. One reason for the massive improvement was the simplicity of the system, which allowed players to play fast and without worrying about their assignment.
"How do you limit explosive plays?" Barnes asked the crowd rhetorically. "Limit busts, limit lost leverages – make sure you're guys are running to the ball, and limit missed tackles. How do you do that? Let them play fast. If a guy has to think, he's going to miss tackles. If a guy has to think, he's going to bust. If a guy has to think, he's not running to the ball. Make sure they know what they're doing."
One way the OSU coaches do this is by breaking down the seven different coverage positions into just three: Buzz, Hook, and Deep 1/3.
The Deep 1/3 players are often corners and a free safety playing on top of receivers, keeping everything in front of them and forcing opposing passers to look underneath instead of taking shots downfield. Below that, the Hook defenders drop about 10-12 yards deep near the hash marks while the Buzz players (often called Curl/Flat defenders in other systems) drop about 8-10 yards and sit on top of the numbers.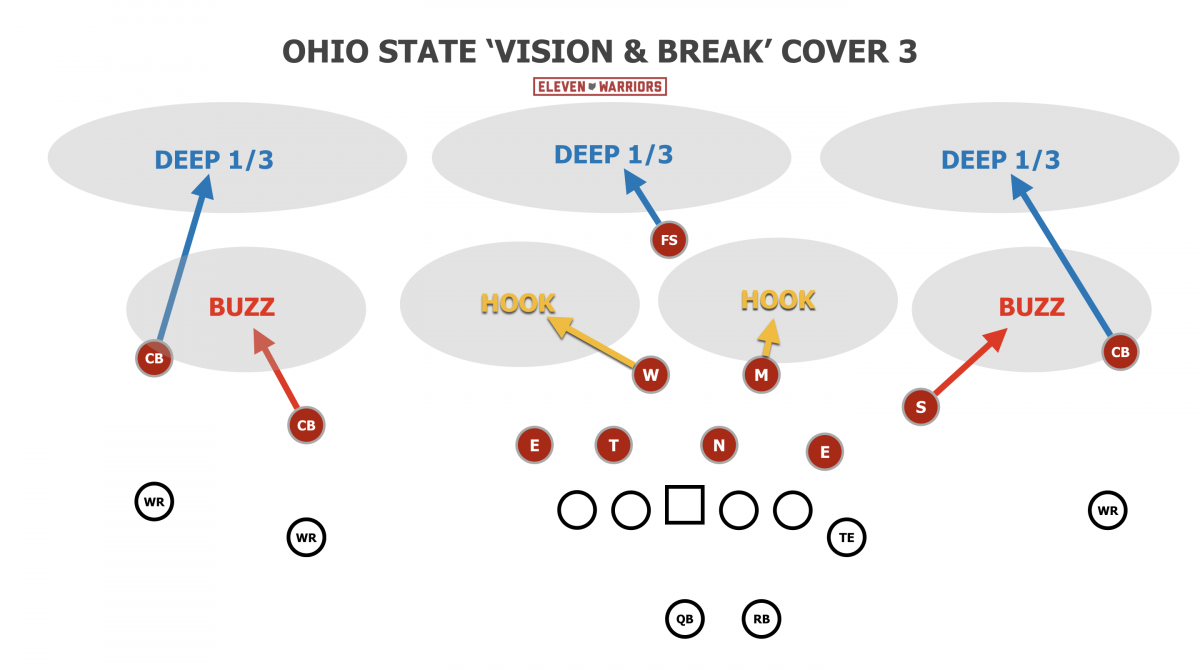 "I drew it this way for a reason," Barnes said when showing a diagram similar to the one above. "I didn't say 'corner-safety-corner, safety-backer-backer-backer,' no, it doesn't have to be that way… It's plug-and-play. I'll show you a clip here where our SAM linebacker is in the middle 1/3. Sometimes our SAM is the outside 1/3. Our inside linebacker is going to the Buzz dropper. Our 5-technique is the Hook dropper. Our middle field safety dropping down to the Hook defender. It's plug-and-play."
By teaching roles instead of specific positions, it actually provides more flexibility as the Buckeyes can rotate different personnel into each spot with ease. According to Barnes, this approach creates two distinct advantages.
"One, it creates a lot of confusion for the offense," he said. "Two, it's inexpensive for us, so when we teach this, I don't have to teach one guy one thing. We do a circuit, so we're going to teach everybody on the defense to learn how to be a Hook dropper. So now we're all coaching Hook drop. We blow the whistle, we rotate the circuit and now, 'hey, you're a Buzz dropper there, this is the Hook station,' and we roll it right through. So, we're all learning, and then it's plug-and-play."
While many teams use pre-snap motion to mess with defenses, forcing them to quickly react to new alignments just mere moments before the ball is snapped, the Buckeyes handled such shifts with ease as every player in the back-seven knows the responsibilities of each spot. 
But once the ball is snapped, it's on the players to make plays and slow down the opposing offense, hoping, as Saban said earlier, that a Dan Marino isn't on the other side. Against even the best quarterbacks, however, this approach has worked as every defender has their eyes on the QB at all times.
With the Deep 1/3 players staying on top of any routes downfield, the underneath defenders are truly the players who could get picked apart if they don't have eyes on the ball. But instead of dropping to the same location every time and waiting for the ball to be thrown, Buckeye defenders are drilled to match their drops to that of the quarterback, gaining depth only as long as the QB is dropping back. Once he stops, though, the defenders break at the soonest sign of intent.
"Let's not make this trigonometry, fellas," Barnes said, drawing some chuckles from the coaches. "If he's looking this way, I'm going to shuffle this way. If he's looking that way, I'm going to shuffle that way. I'm going to find a way to be in the window when the ball comes out, or when the front hand comes off the ball, I'm going to have really clean feet, my eyes are going before my feet, I'm going to drive on the thrown ball and I'm going to disrupt it."
Not only are the interior Hook and Buzz defenders trying to tip or intercept the throw, but they're also breaking in hopes of making a big hit on the receiver and dislodging a catch.
This approach accents Barnes' second point about what successful defenses must do in this day and age: create takeaways. Ohio State was 12th nationally last fall with 25 forced turnovers, and while Chase Young can certainly take some credit there, this 'vision-and-break' coverage structure also deserves some as well.
But Barnes was sure to note that his defense does far more than just sit back in zone coverage every play. Rather, this structure provides a clear foundation for everything else they do.
"We have some ways of getting negative plays, I'm not saying we want to sit there and play bend-but-don't-break all the time," he said. "That's not the case. But this is where we hang our hat: we play man-free, we play 3-deep zone, and we've got some ways to pressure. We've got some ways to simulate pressure and still play 3-deep zone."
Of course, opposing teams know to expect such looks from the Buckeyes now, and know how to attack them. One of the most common tactics was a Run-Pass Option that singled out the weakside Buzz defender, enticing them with a run in the opposite direction before throwing a slant in his vacated zone.
Barnes and the rest of the defensive staff are well aware of the weak points in the system and have answers to them all. In this area, the head coach actually plays a big role in preparing his defense.
"If you come to our spring practice, you will see a lot of those common issues. Coach Day, believe me, he knows every one of those issues and he's going to put them all on tape for us" Barnes said. "The 3-level floods, the play-action to affect the weak Hook player, we're going to get all the issues in spring practice. That's what they do, our offense does an unbelievable job of attacking defensive issues and putting them on display."
As the OSU staff prepares week-to-week during the season, this approach makes their lives easier. But make no mistake, the biggest beneficiaries of this approach are the players themselves.
"Based on matchups, based on messing with the QB, based on what you have on film, based on what routes you want to take away, you might change those drops," Barnes said of the weekly adjustments. "You might want this guy here and this guy there, but it's up to you. They all know it. It's plug-and-play and it's easy. In my opinion, it's much easier to play than 3-deep zone-match. It is player-friendly."