"Based on the experiences I've had as an offensive coordinator, calling plays, I think that gives us the biggest struggle, that kind of defense. You mix that in with the guys we're recruiting, the guys we have now, it's a great fit." - Ryan Day

Despite falling short of the ultimate goal of winning the College Football Playoff, 2019 was clearly a banner year for Ohio State, thanks in large part to the turnaround of its defense from the year prior. After a 2018 campaign in which the Buckeye offense broke countless records while struggling to slow down the likes of Purdue and Maryland, 2019 was nearly a complete 180 on the defensive side of the ball.
As has been discussed ad nauseum, praise not only belongs to top-tier NFL talent like Chase Young and Jeff Okudah but to the revamped coaching staff on that side of the ball as well. First-year coordinator Jeff Hafley was often credited with this turnaround, architecting a system that turned fanbase whipping boys like Pete Werner and Damon Arnette into critical cogs in the nation's #1 defense.
Upon Hafley's hiring, however, no one really knew what to expect from a mostly unknown NFL assistant, with much of the speculation focusing on the "bullet" position which simply turned out to be the SAM linebacker position manned by Werner. Once they took the field against FAU on August 31st, however, the Buckeyes appeared to be running a relic of a scheme, lining up in what appeared to be a conservative, old school cover 3 system.
As weeks went on, things hardly changed, with free safety Jordan Fuller sitting deep in the middle of the field on virtually every snap while the rest of the secondary rotated between zone and man-coverage from the look. Though the look initially surprised some, many within the sport believe this is the wave of the future, including Ohio State's former head coach:
Not surprisingly, the current head coach saw this trend coming ahead of time and had a plan to implement it upon taking control of the program one year ago.
"The idea of this defense was something I had a vision of, four down front with cover 1, cover 3, a lot of single-high," Ryan Day said following the news of Hafley's departure for the head coaching job at Boston College. "That's what Jeff fit perfectly, [special teams coordinator and secondary coach] Matt Barnes had done at Maryland, [linebackers coach] Al [Washington] had done in his past. It all fit."
Day went on to admit that although he and his staff were intentionally coy about their plans throughout the last offseason, they don't hesitate to embrace this identity now, even without Hafley. One reason for the continued embrace of the system came from Day's experience as an offensive play-caller, noting that it's the most difficult one to face from his perspective.
"Do I think we'll evolve as time goes on? Sure," Day added. "That's the philosophy, those are the conversations I had with those guys when I came in. That's why [co-coordinator] Greg [Mattison] is here, [defensive line coach] Larry Johnson, Al. They're four-down guys. Jeff was a cover three guy coming from San Francisco. Seattle, Pete Carroll cover three. That's what I want to do moving forward."

That 'Pete Carroll cover three' connection may the most important nugget Day revealed in that press conference last month, as the line from Hafley to Carroll isn't hard to draw. Hafley spent two seasons working with 49ers defensive coordinator Robert Saleh, currently one of the league's hottest coaching prospects and a former assistant under Carroll in Seattle.
While Carroll's coaching tree is filled with notorious names like Lane Kiffin, Ed Orgeron, Steve Sarkisian, and Norm Chow, Saleh is just the latest in a group of Carroll disciples to go onto bigger things in the NFL, as derivatives of the system can also be found in Atlanta (Dan Quinn), Dallas (Kris Richard), and Los Angeles (Gus Bradley - Chargers). But although single-high defenses are seen at every level, including at top college programs like Alabama, Georgia, and Clemson, Carroll's system is unique.
"The problem is some people, they don't know how to match the routes," Monte Kiffin, one of the game's most respected defensive minds and a mentor of Carroll's told ESPN a few years ago. "But Pete's scheme, you play zone defense; they're going to throw seams on you all day long or all-go specials. You better understand how you cover the seams because people spread you out nowadays, and so Pete has a good feel for that. It's a matchup zone is what it is. It's not your typical zone."
The basic philosophy behind Carroll's system is as follows:
Eliminate explosive plays
Stress the intermediate pass defenders
Funnel the ball to the 'Kill Zone'
Though Hafley never worked directly for the system's originator, the same three keys were evident in the 2019 Buckeye defense.
​Eliminate explosive plays
Going back to his time at USC, Carroll has believed the foundation of his system to be the play of his cornerbacks.
"It's because of the corner play," Carroll said. "Monte [Kiffin] wasn't as big a corner guy as I am. So I always, at [USC], wanted to be Corner U, or Linebacker U. Because we had a way that we believed in teaching corners that could really play on the line of scrimmage and play really aggressively. We wanted to take advantage of that.

"So when you have that, then you can do other things with your front, and we've been able to stay in a heavy, loaded-up front mode for all of these years. So it's always given us a great chance to play the run. But I do think it's because of our understanding of how to coach the secondary."
To Carroll, playing 'aggressively' with his corners doesn't always mean physical, 'bump-and-run' press coverage. Though his teams would show it from time to time, the 'aggressive' piece of this puzzle was a desire to simply place his corners on an island, leaving both matched up in what effectively became one-on-one matchups downfield regardless of whether zone or man coverage was called.
Richard Sherman has long been the embodiment of this philosophy, playing the role at an extremely high level for nearly a decade in both Seattle and San Francisco. But unlike other talented corners who often 'trail' receivers by simply trying to mirror the movements of a receiver, Sherman and the other corners in this system are taught to stay on top of receivers while maintaining outside leverage.
When executed properly, no receiver should ever get behind the corner, forced instead to cut off vertical routes or be funneled inside toward the rest of the defenders.
For Ohio State's Okudah, the system seemed to be a perfect fit as he had the speed to stay on top of receivers along with the size and athleticism to fight for the ball if and when it arrived.
In between the two outside cornerbacks is the free safety, who really only has one job against the pass: to take away seam and post routes. As the corners take away routes over the top or outside, the natural open spot would appear to be back toward the middle of the field, meaning the defender in centerfield must quickly identify any action coming toward the middle and take it away.
"That's a big emphasis, That's what we ask him to take care of -- seams and posts," longtime Seahawks assistant Rocky Seto said of Earl Thomas, the five-time all-pro free safety who anchored the Seattle secondary for nine seasons. "And any underneath routes or runs that get out, to make those tackles. He's a critical player to eliminating explosive plays. If a little slant route or a little dive play gets out, he has to get the guy down."
Stress the intermediate pass defenders
In front of those three deep defenders sit the four most misunderstood members of the system. Listed as linebackers, strong safeties, nickel corners, and "bullets" are two interior "hook" defenders and two "buzz" defenders outside.
The "hook" defenders' responsibilities are fairly straightforward, playing an interior gap against the run first. If it's a pass, they'll drop 8-10 yards to a spot just outside the tackle box on either side while keeping an eye out for crossing routes or tight ends and running backs that release into their area.
The "buzz" defender spots require far more athleticism, as they must first be prepared to set the edge versus a run but are also responsible for any underneath pass route from the hash mark to the sideline.
Though both hook and buzz roles are taught to virtually every member of the defense, allowing for variations based on game plans, Ohio State most often employed linebackers Malik Harrison, Tuf Borland, and Baron Browning as hook defenders with Werner and Shaun Wade, and Justin Hilliard occupying the buzz roles. Werner often aligned to the tight end side while Wade played across from the slot receiver, while Hilliard often replaced Wade against 2-tight end sets creating a true 4-4 look.
The four underneath defenders have a lot of room to cover in addition to their primary run responsibilities, but that's by design. The philosophy is akin to a basketball team trying to take away layups (the run game) and 3-pointers (deep passes), forcing the offense instead to win by making a lot of mid-range jumpers (underneath passes) which is the least efficient way to move the ball.
But unlike the aforementioned similar single-high systems seen elsewhere in college and pro football, the Buckeyes and Seahawks are not true pattern-matching teams, relying instead on dropping to preordained landmarks on the field. However, what makes the system successful is the weekly preparation put in by the coaches and players, recognizing key indicators based on personnel, formation, and situation to tip off what they should expect on any given play.
"We definitely put the hardest combinations and hardest route concepts; we practice against those," former Seattle cornerback Desean Snead told ESPN. "We practice against those and get good at it. And the offense tells you everything that they're going to do, so we've got to play smart as well. Formation recognition will tell you when those routes are coming, and so if you recognize the formation, then we can anticipate those routes and we'll be able to take care of it and eliminate it."
Funnel the ball to the 'Kill Zone'
For years, the Seahawks have been one of the best tackling teams in the league, even acting as an early adopter of the rugby-style tackling that is commonly taught at all levels. This was not by accident, as defenses that employ Carroll's system focus heavily on maintaining leverage on runners to ensure they are corralled by multiple defenders which helps achieve the first goal of eliminating big plays.
By playing zone coverage, all 11 Buckeye defenders are able to keep their eyes on the ball at all times, meaning nearby defenders should be able to help make a tackle. While the defense is designed to force the offense to complete short passes in the underneath zones, it's also designed to limit any run after the catch by swarming defenders around the ball-carrier in what Carroll calls the 'kill zone.'
Though teams may find space to complete short passes, they're going to pay a price for doing so.
"Throwing the ball in the middle of the field against us is not easy, because if you catch it, you're going to feel it," Hafley said in December, echoing the sentiments often shared by Carroll and his assistants.
This focus on physicality is part of what makes these units so aggressive, even though they rarely blitz on early downs. When an additional rusher is sent, a lineman on the opposite side of the field often drops back into one of the underneath zones maintaining the same three-deep, four-under structure.
Regardless of who is lined up in the back-seven, they're ready to make a play on the runner and cut down potential big gains.
Noticeably absent from this philosophy is any specific plan to stop the run. That's because with a relatively conservative three-deep shell with eyes on the ball, the front eight defenders (four linemen + two hook defenders + two buzz defenders) can aggressively fill their assigned run gap, gaining penetration without fear of giving up a big play.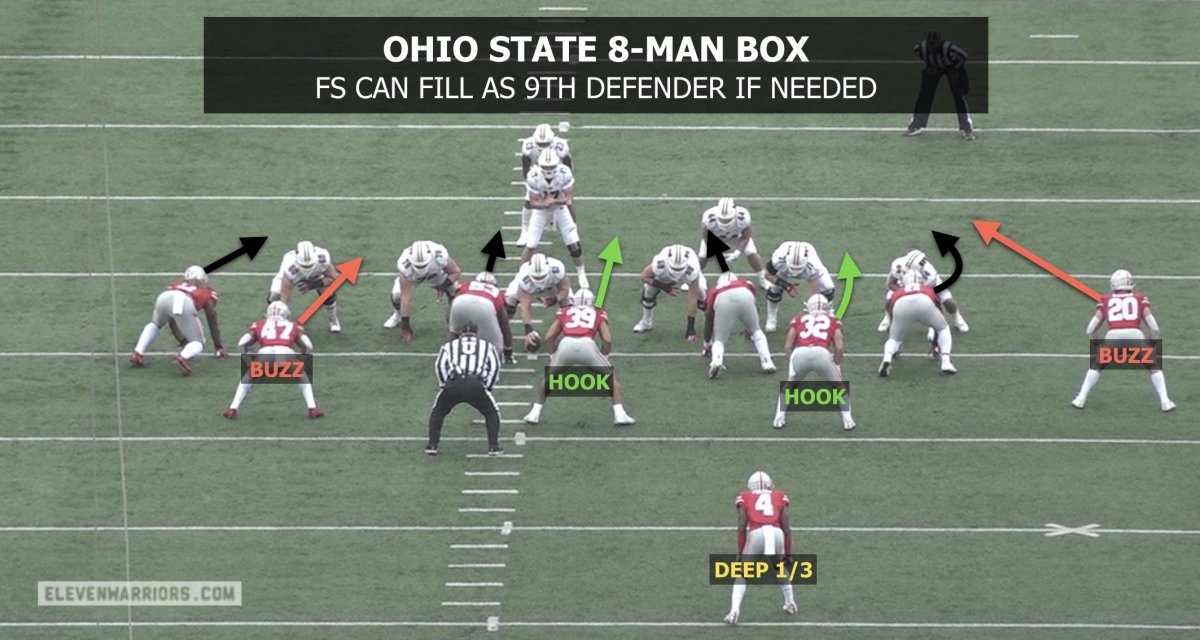 If all this seems fairly simple, that's because it is in today's game. The Buckeyes, Seahawks, 49ers, and others who have bought into this philosophy don't do too much on first or second downs, opting to rely on their fundamentals and study of the opponent.
However, it's also the result of recruiting and player development. The system requires blue-chip talent at cornerback and defensive end, as those players are often left to win one-on-one battles that can swing a game, and it's no coincidence that the nation's top players at each of those positions wore scarlet and gray in 2019. 
Without the vaunted 'Legion of Boom' secondary featuring Sherman, Thomas, and Kam Chancellor, the Seahawks have struggled by their standards, ranking 26th out of 32 teams in total defense this season. Meanwhile, the 49ers ranked second during the regular season thanks to all-pro efforts from Sherman and Nick Bosa.
Though the Buckeyes lose seven starters from their 2019 defense, the cupboard is stocked with talented players who should keep the unit among the nation's best. But even without Hafley there to call coverages come September, Day has made it clear that he has no desire to install another system with his replacement.
"We're not all of a sudden going to change," Day said. "Jeff came in to run this defense, and he did a great job. But we're going to fill that in and we're going to continue to do the same thing we're doing on defense in the future."