For those who may have missed it (if so, God bless you for not being extremely online this week, how do you do it?), the events of the past week finally unleashed the most ambitious crossover event in the history of Eleven Warriors. At least, that's what I tell myself.
In an effort to fully express all the angst last Saturday brought up from the depths of our souls, 11W Columnist/Executive Editor/Bourbon Connoisseur Ramzy Nasrallah and I engaged in a weeklong dialog to try and make sense of last Saturday's 45-23 Michigan victory in The Game.
---

JONES: As you mentioned in your last comment, the stats tell a very different story from the one on the scoreboard. While that's a poor consolation prize, it does put what we saw on Saturday into a slightly different context. 
Following the game, there were countless members of the Ohio State fanbase ready to put Ryan Day's house on the market and pass around the collection plate in order to lure a guy with a .635 career-winning percentage to move from Nashville. Apparently, those folks have forgiven him for his role in one of the biggest upsets in this series' history, but we're not here to relive even more painful losses than the one suffered last weekend.
This brings me back to Day. While I do think he needs to give up play-calling duties in order to better fulfill his role as the program's leader, I still think his offense was effective for long stretches of the game. Despite leaning on yet another backup running back (who was playing linebacker until just a few weeks ago), the OSU run game looked different and was pretty effective.
After bashing its head into the wall week after week trying to run outside zone plays from 2-tight end sets, the Buckeyes spread the field wide and ran gap schemes like Power, which pulled the backside guard to give Chip Trayanum wide lanes through which he could run. 
Trayanum had a solid day, picking up 84 yards on 14 carries in relief of Miyan Williams, who looked like a guy who hadn't gotten many practice reps over the past month.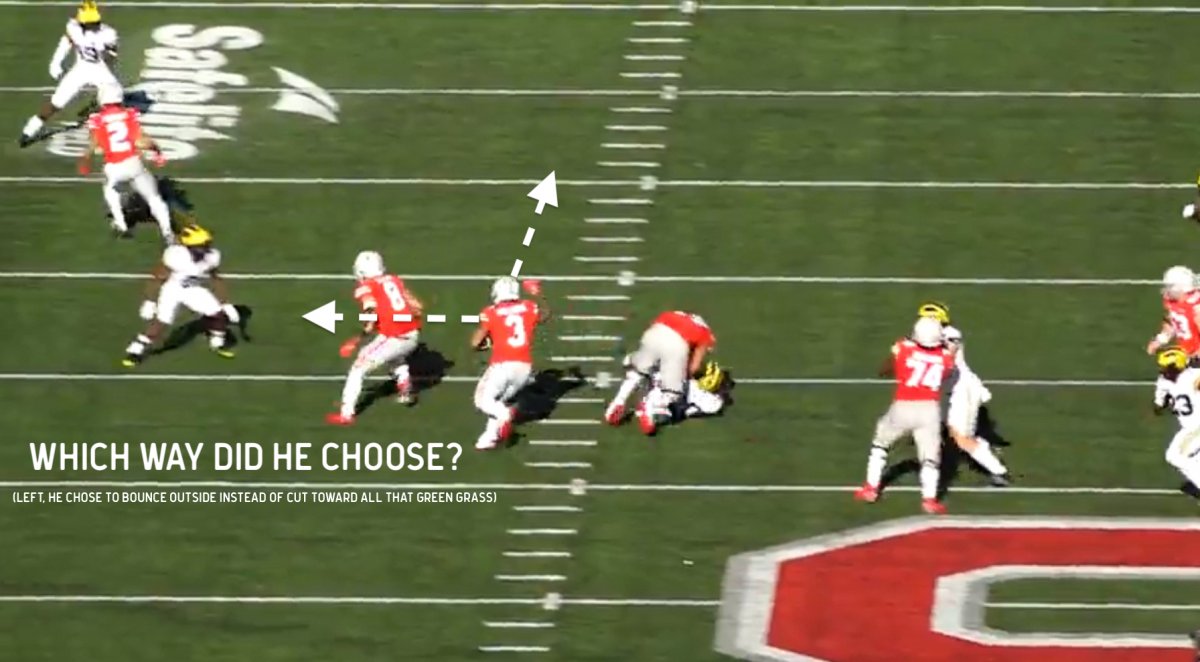 But despite a relatively efficient day on the ground, the Buckeyes struggled to punch it in once they got in the red zone, often electing to throw the ball once inside the 20, even on first down. Michigan, however, committed more bodies to stop the pass in these situations, leaving C.J. Stroud with nowhere to throw despite having all the time in the world.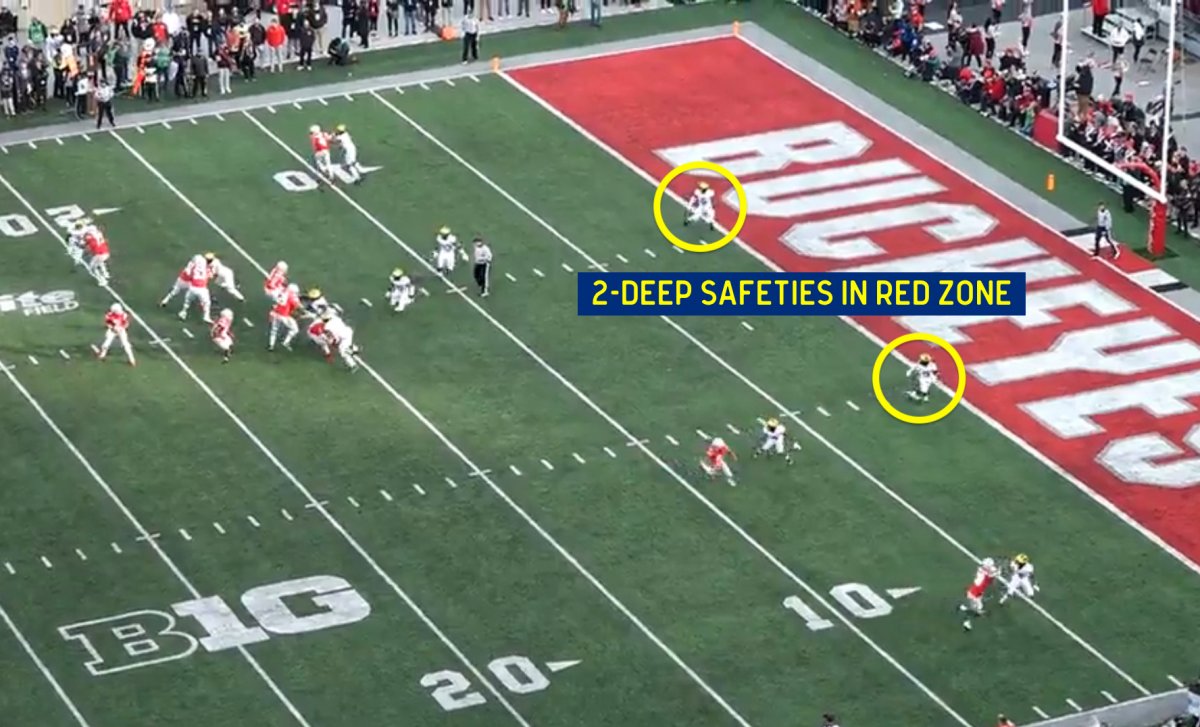 Those are some of my observations after re-watching The Game, but I ask you, Ramzy, is my analytical brain causing me to lose the forest for the trees here? Is it unfair to still be skewering Day for his game plan or should I be mad online that OSU didn't simply pound the rock behind its mountainous tackles when near the goal line?
---
RAMZY: There's no doubt Day got cute with the play-calling, which screams of overthinking, can endanger player psyche and likely frustrated his difference-makers.
Here are the guys Ohio State targeted Saturday in its 15 red zone plays:
Chip Trayanum 3 carries (12 yards, 1 yard, 6 yards)
Miyan Williams 3 carries (2 yards, 3 yards, no gain)
Cade Stover 2 passes (1 yard, inc)
Xavier Johnson 2 passes (1 yard, INT)
Emeka Egbuka 5 passes (4-yard TD, inc, inc, inc, inc)
The red zone passing line, which included zero targets to anyone named "Marvin Harrison" was a dismal 2/9 for 6 yards, one touchdown, and one interception. CAUSE OF DEATH: Cuteness.
The red zone rushing line was six carries for 24 yards. Ohio State infused Michigan with confidence by putting the Wolverines in the best position to make red zone stops in Ohio Stadium. That's how you turn home-field advantage into home-field anxiety.
One of my complaints in watching Kevin Stefanski call plays for the Browns is he has his face buried in a play-calling sheet and routinely misses who's running hot and what's gone cold. He forgets he has Nick Chubb on occasion. He is often oblivious to the condition on the sideline and it affects his decision-making.
Day isn't always like that, but on Saturday he was. He wanted to have both hands firmly on offensive in-game strategy. His hands ended up firmly around his own neck, and he overthought, got way too cute and ended up in the bottom of his play calling bag.
If you're going to ride your Heisman-caliber QB in crunch time, great. Maybe pair him up with the best receiver in the sport more than zero times. And the thing is, they've already done that this season - against a secondary with three All-B1G players that is far more talented than what Michigan lines up back there.
Perhaps design plays to make that pairing easier, and then exploit Michigan over-correcting. This is the same football mind that introduced America to Chris Olave on just two targets in 2018. The go-to guys in that game were Parris Campbell and K.J. Hill, which was justified.
Day wasn't trying to multitask when he was calling plays in 2018. Four years later as head coach in the highest-pressure moment of the year running a program with inexhaustible resources, no one should be multitasking, especially him.
He cannot be running the team and calling the plays against Michigan. Arkansas State or Toledo, sure. Take an indulgence and mix it up a little. It's a long schedule. But in the only game anyone is going to remember from this season, no indulgences. Program first.
Win the surest way, even if it hurts a little on the inside. Losing hurts a lot more than a vanity punch.
Now, defensively I bought into your onboarding that Jim Knowles could really suffocate offenses at the expense of big plays, and it's an unfortunate rarity that Michigan popped so many big plays. My concern is seeing a 5th-year senior cornerback who seemingly doesn't understand their sideline is a second defender.
Cameron Martinez was spinning like a top in the secondary on the second long touchdown, which by the way - that pass was a balloon. Either of us could have thrown it.
What I'm getting at is Knowles inherited the personnel that was there upon his arrival. Did Ohio State have to pivot to his desired philosophy right away, or could it have simplified some sort of hybrid approach that put the guys who were not recruiting for his scheme in better position to not issue winning lottery tickets to the Wolverines?
---
JONES: The dirty little secret is Saturday's game plan was a halfway point between what this OSU ran last season and the OSU where Knowles was working at the time. Because he inherited a defensive line room full of both ends and tackles who were brought in to penetrate and rush the passer, Knowles didn't have the big-bodied space eaters in the middle that his defense will likely feature down the road.
Given the challenge of slowing down Michigan's diverse-yet-brutally-efficient run game was what Knowles was hired to do, I believe he was forced into robbing Peter to pay Paul by leaving his secondary alone on islands for most of the day while his safeties effectively played linebacker.
Yet for most of the day, it worked! Throughout the first half, Michigan couldn't run the ball at all, even in short yardage.
But in the second half, that changed, as Michigan adjusted by running less from under-center looks and more from the shotgun, allowing McCarthy to use his legs in the option game. Given that OSU was cheating by adding an extra body in the form of Hickman or Ransom, the Wolverines countered by leaving Tuimoloau unblocked and reading him as the optioned defender. 
This change was a major reason the Wolverines were able to rip off a 15-play, 80-yard drive that ate nearly eight minutes off the clock late in the third quarter, as 53 of those yards came on the ground - all of which originated from shotgun formations.
It's no wonder, then, that Knowles felt that he needed to sell out to stop the run late in the fourth quarter as the Buckeyes trailed by eight and desperately needed a stop. Of course, it wasn't McCarthy who made the Buckeyes pay on that or the following drive, as Donovan Edwards ripped off 160 yards of pain in just a few minutes time. 
But for all the talk of Knowles' call to stack the line of scrimmage with little or no help at the second level, it masks a much more harsh truth for OSU fans: even with a play call that should work in that situation, Michigan's interior linemen simply won when they needed to. 
Michigan just ran a simple, inside zone play from the same formation both times, relying on center Olusegun Oluwatimi and right guard Zak Zinter to beat the man across from them and create a seam for Edwards.
For the past year, many Buckeye fans have harbored the belief that last year's failures were simply self-inflicted. Replacing an overwhelmed Kerry Coombs with the experienced Jim Knowles would simply do the trick and OSU would resume its dominance over its arch-rivals, just as was the case when Urban Meyer took over the program following the calamity that was 2011.
But the reality is far more difficult to stomach, as while those clad in Scarlet and Gray spent much of Jim Harbaugh's tenure laughing at him, they must now recognize that he's built a program that won the past two matchups more than Ohio State lost them. When it came down to it, the Wolverines simply executed better than the Buckeyes did, success rate be damned.
I would have to imagine this is going to be a bitter pill for most OSU fans to swallow. Have you accepted this yet or am I committing heresy in your eyes just by saying it?
---
RAMZY: I accepted it in the 3rd quarter, right after the jump pass. When Ohio State does what it stubbornly prefers to do against most opponents, the result usually works out fine. Offensively, the Buckeyes are able to run and throw when they commit to a cadence that plays off beleaguered defenses forced to pick their poison.
This also works because the Buckeyes have a couple of supernatural players who are unfair. It's a fast death or a slow death - either way, the opponent loses.
Defensively, fans are usually victimized by recency bias. Oregon and Michigan players running for extended periods of time before any Buckeyes could even touch them - that's what had to go in 2022. For the most part, this season they erased those embarrassing gash plays.
I suggested this spring Ohio State's offense simply needed to perform to a reasonable expectation while the defense just had to be okay. That was a reasonable path to 12-0. 
But a couple of ominous clues took place Saturday in the 1st half on both sides of the ball that told us 11-1 was destiny. First, Ohio State's 5th-year cornerback still doesn't understand the sideline is his friend. This is a game where infamy can happen on any play.
He took a freshman angle on an out route and tried to lay a huge hit instead of wrapping up or just ushering the receiver to the sideline. Michigan was rewarded with a long and demoralizing TD out of that decision, instead of an eight-yard gain which would have forced a punt.
Win the surest way. A mandate that comes from the top-down. Grab-bagging muddles that message.
McCarthy was also able to toss kites high into the air that his receivers could basically fair catch because Ohio State's secondary, already mediocre, was playing with fear. Even though defensive execution in space has been lacking all season, the visitors' big-play success rate still required an element of luck - and owning the psychology early only helped them.
the second-greatest pleasure Michigan fans likely took out of Saturday was seeing how the ghost of Don Brown had switched sidelines.
Going into the half, the game was basically tied. In reality, Michigan was leading.
It's easy to defend a bewildering offensive strategy by blaming players, the old we just need to execute canard - and let's be clear, Day does not do that. He owns it, at least verbally. He needs to own putting his best players in better position to shine, and somehow he declined the opportunity to do so on Saturday.
When Ohio State entered the 2nd half continuing to grab bag and involve its regular dudes instead of designing attacks for its difference makers and the hot hands to take control of the game, it was all but over.
There would be no scoring contest to win, which is bad news for a team with a defense in transition that is built to win scoring contests. The obligation was now squarely on the Buckeye defense, which as you said is a unit-in-progress. It has been all year. 
And Michigan has been a 2nd half-team all year. I'll admit the jump pass was the last play I watched on Saturday. I had seen that movie before, several times. All of the mojo was on the wrong sideline. I'll watch it when I'm ready. 
Knowles didn't have the guys to run his preferred scheme in 2022, and recruiting will get him closer to his system as you've suggested. But the second-greatest pleasure Michigan fans likely took out of Saturday was seeing how the ghost of Don Brown had switched sidelines.
We are all old enough to remember the type of tendency-driven exposure Day used to send Brown packing from Ann Arbor all by himself. Well, that goes both ways. I raised my fears of Knowles getting figuratively Don Brown'd by Michigan in the season's first 11W Roundtable:
Ramzy: Am I already anxious about Ohio State getting meshed to death the way Don Brown's defenses were? That's yes a rhetorical question yes that I yes refuse to answer yes how dare I even say this aloud, what's wrong with me.
Coaches have to immerse themselves in the rivalry. Knowles should have watched the 2018 and 2019 games to see how his now-boss transformed his peer on the opposite sideline into a punchline. Congrats, Coach. Now, you're Don Brown. Here's to you shedding the label.
This rivalry isn't won with spreadsheets and football nerdery alone. It's won by knowing the opponent as well as it knows itself - and that extends beyond just the current season's games and schemes. Ohio State's defense on Saturday appeared to be doing exactly what a Knowles defense-in-progress prefers to do, rather than aligning itself to make what Michigan wanted to do as difficult as possible.
It lost the psychological battle before halftime. Execution continued to suffer as the game progressed. Checkmate. It's a fast death or a slow death. This one was slow.
Michigan's coaches watch tape, too. They were in Ohio State's war room and they got into Ohio State's coaches and players' heads. The Buckeyes' DL substitution patterns this season - which I thought were devious ways to confuse anyone trying to learn anything about this defense's tendencies - turned out to just be gibberish.
I feel like I mistook a kindergartener's painting for a Jackson Pollock. I can accept Knowles inherited a roster recruited to run Cover 3, I cannot accept how ignorant he is to the Ohio State-Michigan rivalry, or how that ignorance has fueled so many losses prior to his arrival.
I don't accept how poorly the Buckeye secondary performed all year, especially at the worst possible time. This isn't some junior varsity in-state Oklahoma rivalry on steroids. If OSU coaches are going to continue treating it like one, they will continue to lose it.
---
JONES: So here we are, 7,000+ words and five days later, yet we're right back where we started. Like most things in life, there is no one simple answer for why Ohio State lost last Saturday.
But for me, at least, it can largely be distilled down to the idea that by not respecting their opponents (and the underlying history between these two programs), the Buckeyes employed game plans on both sides of the ball that didn't maximize the strengths of its own roster and, in turn, allowed its weaknesses to be exposed.
OSU now sits fifth in the CFP rankings and has a more-than-decent chance of making its way back into the playoff, which could lead to a potential rematch with these Wolverines. If there is anything that gives me hope for what might change the second time around (besides a healthy Tanner McCalister playing every single snap at Nickel Safety), it's what we saw from Stroud once his back was against the wall.
Down 11 midway through the final frame, Stroud and his wideouts finally looked like the devastating aerial attack everyone had been expecting. Sure, Harrison hauled in a deep ball for six points earlier in the game when the Wolverines pulled their own Jim Knowles moment and blitzed both safeties. But here they were, two quarters later, employing a conservative, deep coverage. And yet, with THIS quarterback and THESE receivers, the coverage didn't matter.
Most QBs are taught to check down from verticals routes when they see two-high coverages, but Stroud had confidence both in his arm and his wideout to make the play in a tight window 30 yards downfield. More of this, please.
While we could get excited about the potential of once again seeing Stroud on the field with Harrison Jr., Egbuka, Fleming, and even a healthy Jaxon Smith-Njigba, we're not here to talk about this season anymore. The concern all of us olds feel is about what last Saturday becomes in the long, storied history of the greatest rivalry in sports. 
The rivalry became what it is today because it acted as both the de facto Big Ten title game and a national championship semifinal for decades. Given the future of both the conference and the sport's postseason structure, many will likely question whether or not The Game retains the same meaning it had when Woody, Bo, Tress, Lloyd, and even Urban walked its sidelines. 
But if there is one thing Ryan Day better learn quickly, it's that the man standing opposite him across the field, even in his dumb cleats, will spend every day of every year thinking about the last Saturday in November.