Jim Harbaugh must be proud.

Now in his eighth season back in Ann Arbor, the former Wolverine QB has put his imprint on the greatest rivalry in sports. Not only did he finally break Ohio State's near decade-long win streak last season, but he did it his way.
Though the former QB is often associated with the development of Andrew Luck at Stanford and later, Colin Kapernick in San Fransisco, it has always been a physical run game that has propelled his team to their greatest heights. While Luck may have been under center when the Cardinal went 12-1 and won the Orange Bowl to cap off the 2010 season, it was the emergence of tailback Toby Gerhart and a trio of All-American offensive linemen the year before that brought the program back to national prominence, mauling opponents with a brutal style that relied on physicality at a time when the sport was becoming more spread out.
That success earned Harbaugh a job up the road in San Francisco, where his 49ers made the Super Bowl with a similarly diverse run game that proved equally difficult to stop. After the Michigan alum returned home to revive his once-proud program, the Wolverines were largely mocked for being too big and slow at a time when their arch-rivals were literally running past them with a roster full of elite athletes spread out across the field.
One year ago, however, the tide finally turned, with the Wolverines running through, over, and around a beleaguered Buckeye defense while employing a classic Harbaugh game plan. Although the narrative has shifted over time, with many acting as though Aidan Hutchinson and David Ojabo single-handedly shut down the explosive OSU offense (C.J. Stroud still threw for 394 yards), it was the home team's ground game that proved unstoppable on that cold, snowy day in Michigan Stadium.
The Wolverines rushed for 299 yards, with 188 coming in the second half as they scored on every possession after the intermission before taking a knee to run out the final seconds. As was the case when Gerhart was taking handoffs over a decade prior, Harbaugh's offense executed a variety of blocking schemes, many of which included multiple pullers that gave his offense a numerical advantage at the point of attack.
Against an Ohio State defense that was predictable and often showed its plan before the snap, Harbaugh and his staff were able to dial up countless run concepts that overwhelmed one side of the defense (such as the Counter scheme seen above) while leaving the other standing idly by and, ultimately, chasing down Hassan Haskins or Blake Corum after they had already picked up big gains.
The performance earned offensive coordinator Josh Gattis the Broyles Award and a pay raise when he left for the same role at the University of Miami. But despite losing its play-caller from a year ago, the Michigan run game has gotten even better this season, trailing just two service academies and Lane Kiffin's explosive Ole Miss offense in rushing yards nationally.
Without Gattis and his preference for RPOs, the Wolverines have brutalized opponents and made Corum a Heisman contender by doubling down on what made their head coach famous in the first place. After adding a Rimington finalist in center Olusegun Oluwatimi (#55) via transfer, the Michigan run game is even more diverse than a year ago, leaning on a variety of zone and gap schemes.
Rarely do the Wolverines simply line up and run a basic concept, as there is almost always an additional blocker added to the fray by way of pre-snap motion, a pulling lineman working across the formation, or both.
This complexity may be new to Big Ten opponents, but many of these wrinkles have been in Harbaugh's playbook for years. For example, the Power Bonus concept seen above that broke for big yardage on the first play of last week's contest with Illinois could be found in his 2014 49ers playbook: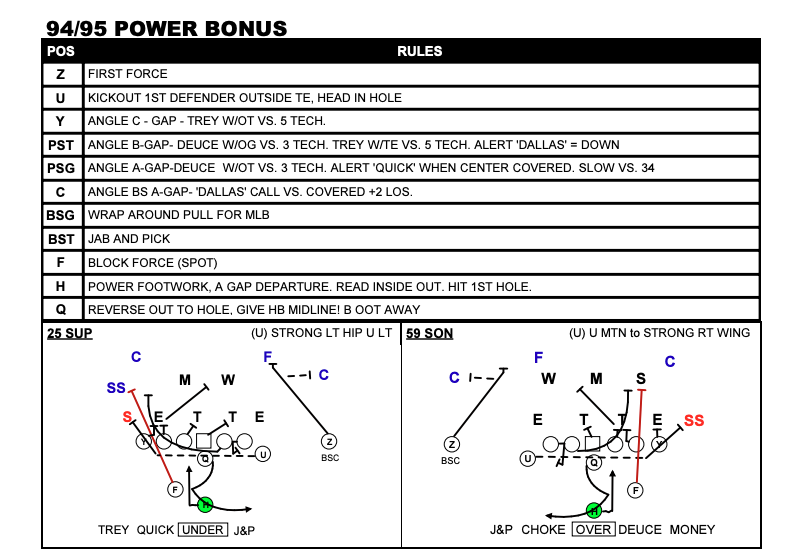 This depth of options has allowed the Wolverine run game to stay one step ahead of opponents who spent the offseason studying their success a year ago. After leaning heavily on Counter schemes last season, the Wolverines rarely call them this year in order to stay one step ahead of defensive game plans designed months ago.
"All the stuff that we were doing last year, every team in the Big Ten spent the whole offseason trying to figure out how to stop it. So we're seeing different looks. We've taken advantage of what the defense has given us," Michigan co-offensive coordinator Matt Weiss explained earlier this month. "Certainly, we still have the ability to run all those counters, they're still in the offense. But from a game-to-game basis, that seems to be, at least starting out the year, what people are focused on stopping."
The Wolverines feature over a dozen unique run concepts, each of which builds off another by using the defense's keys against them. If the defense tries to read the guards, Michigan will run one of many gap schemes featuring a parade of down blocks. If they read the fullback, they'll see a Wham inside zone play.
But the other added element to this season's run game is the change at quarterback. Despite leading Michigan to the CFP last season, senior Cade McNamara was benched in favor of blue-chip sophomore J.J. McCarthy.
While McCarthy brings a stronger arm to the table, it's his athleticism that adds to the run game, rather than relying on the QB to execute RPOs. Though no one is going to confuse him with Lamar Jackson, he provides enough of a threat to move the chains with his legs if defensive ends commit to stopping Corum or Donovan Edwards in the backfield too early.
But despite all the focus on those carrying the ball in maize and blue, it's the offensive line that has carried the program back to a potential CFP berth. Like his teams in Palo Alto, Harbaugh has developed lesser recruits into top talent both inside and on the edges of his O-line, as Oluwatimi has looked at times this season like the best player on the entire roster while Corum has averaged nearly 8 yards per carry when running behind left tackle Ryan Hayes.  
Hayes, Harbaugh, and the rest of those walking the corridors of Schembechler Hall have been respectful and complimentary of the Buckeyes this week, perhaps recognizing that despite their high national ranking, the vaunted Wolverines were nearly humbled by Illinois just days ago.
After scripting an unstoppable opening drive, the Wolverines had trouble moving the football throughout the rest of the afternoon, relying heavily on Corum before he left the game with an injury. But even before his departure, the Illini were able to stifle the Michigan run game by penetrating quickly to disrupt pullers and keep Corum from hitting the hole.
The Illini showed a 5-man front throughout the game, often lining up three 300-pounders on the interior. But despite the added size up front, it was the quickness of the defensive line that gave Michigan trouble on a number of occasions (such as above). 
That disruption along the interior along with some well-timed blitzes from the secondary kept the Michigan offense in check for much of the second half. With Corum on the sideline for much of the time and Edwards in street clothes, the Wolverines tallied just 41 rush yards on 18 attempts after the break.
While much of the focus this week has been on the status of Corum and Edwards, those in maize and blue don't believe their absence would affect Harbaugh's overarching philosophy of bringing a diverse, yet physical, run game to Ohio Stadium.
"I don't think we're gonna change our identity this game. Obviously, Blake's a huge part of our offense, a huge part of our team, but I think our identity stays the same," Hayes said. 
Yet despite his confidence, the left tackle is aware that his team faces its most difficult challenge yet in a defense that is finally taking advantage of all the talent at its disposal. 
"We watch them on film every week a few plays and I think they're really flying to the ball," Hayes said of the revamped OSU defense. "They're playing together this year and they definitely look a lot better."
The reason for this turnaround, of course, is Jim Knowles, who was hired just days after the Buckeyes were run over in Ann Arbor last year and given the difficult task of rebuilding the unit with this game in mind. Thus far, the unit has looked the part, allowing as many yards-per-play as the Georgia Bulldogs thanks, in large part, to its ability to stop the run.
The Buckeyes have allowed just one opponent to average more than four yards per carry this season, and that was a Wisconsin team that ripped off a late, 75-yard touchdown run against OSU's second-stringers. 
But despite all that early success, Knowles is fully aware of what lies ahead.
"It's difficult to simulate the way they run the ball," the OSU defensive coordinator said of his upcoming opponent this weekend. "So you just have to go back to your habits, your training, and put guys in a great position. Make sure everyone knows that everybody has to tackle."
The habits instilled by Knowles and his staff have proven to be good ones thus far. Never before has the veteran coach had this much talent along his defensive line, and he has succeeded at putting them in positions to succeed.
Rather than lining them up over the same gap and allowing offenses to pick apart a predictable run fit, as was the case a year ago, Knowles disrupts blocking schemes by frequently exchanging the gap responsibilities of his front six. Much as is the case in the secondary, where it's easier to see on TV, the OSU defensive front will often show one picture pre-snap before playing something very different afterward.
Rather than simply slant the entire front in one direction or another, individual linemen will swap gaps with a linebacker, using their athleticism to cross the face of a blocker. Once they beat the blocker, though, the Buckeye D-linemen don't simply run upfield, but rather, look to hold their newly-won gap and force the runner off-track. 
By creating so much disruption along the line of scrimmage, linebackers Tommy Eichenberg and Steele Chambers have often been allowed to run to the ball carrier unblocked, racking up tackle after tackle.
While he claims not to have watched a second of last year's game, Knowles seems to have no interest in showing Michigan the same look over and over. As he preached long before taking the job in Columbus, simply sitting back and reacting to what the offense does is not an option in this, the biggest game of his career.
"You have to have some different things that you can go to at different times to try to keep the offense off-balance," Knowles added. "The things that they do...and they do them well...you just have to counter-attack, and that's what we've been working on all year."
Just as the Wolverines have shown with their own variety of formations and personnel groups, the Buckeyes have been multiple in their alignments this season. Jack Sawyer's presence as a stand-up end/linebacker hybrid has been an effective change of pace, forcing opponents to re-engineer blocking schemes on the fly and often leaving tacklers unblocked.
While there are plenty of ways to analyze Saturday's top-three matchup in the Horseshoe, none will be as important as the clash between Michigan's offensive line and the newly redesigned Ohio State defense. More than any other, this part of the game will symbolize the state of the rivalry, with the Buckeyes' toughness having been publicly questioned for 52 weeks straight.
Should the home team prevail, it will mark a return to form for not only the OSU defense but for the program entirely. But should the visitors make it two wins in a row, it could mean vindication for their head coach and the ground-&-pound mentality he has long maintained.