Urban Meyer's first loss to Michigan was a 26-24 heartbreaker in Ohio Stadium.
The No.7 Buckeyes battled the No.6 Wolverines and their cocksure quarterback Jim Harbaugh, who had guaranteed a win in Columbus. Harbaugh delivered. Urban was a 22-year old grad assistant.
He grew up in Ashtabula in a house that had a portrait of Woody Hayes hanging on the wall, so Urban knew this was more than just another loss. Exactly 25 years later he took over the Ohio State football program. He never lost to Michigan again.
Luke Fickell's first loss to Michigan was a 28-0 shellacking in Ann Arbor in 1993. The Buckeyes entered the game undefeated, but he didn't need to be told how that wasn't the worst part of it all.
Fick grew up knowing the Michigan game was the only one that mattered. He spent 21 seasons with the Ohio State football program as a player and coach, but he already knew.
It's rare, but sometimes Ohio State HIRES a head coach who has to be TAUGHT ABOUT THE MICHIGAN GAME.
Jim Tressel's first loss to Michigan was an agonizing 24-21 setback in Ann Arbor while he was running two position rooms as an assistant. His second loss came two seasons later on the same field - this time, he was leading three position rooms.
Sixteen years later Tressel took over the Ohio State football program, which is to say he had all the position rooms - and everything else. By the time it was over Tress had lost more Michigan games as an assistant in three seasons under Earle Bruce than as head coach over a decade.
Tressel took over at Ohio State in 2001. We'll get to his predecessor in a moment.
Earle's first loss to Michigan was the Snow Bowl, which he got to observe from the frigid sideline as a freshman. He had already taken five losses to the Wolverines by the time he took over the OSU program 29 years later. Earle finished his career with a winning record against Michigan, which is to say he beat Bo Schembechler more than Bo beat him.
Woody was from Clifton. Wes Fesler was from Youngstown. Paul Bixler was from Cleveland. Carroll Widdoes was from Otterbein. Paul Brown was from Massillon. You have to go back to Francis Schmidt - born in the decade that followed the Civil War - to find an Ohio State head coach who flew blind into the gravity of the Michigan game.
Schmidt invented the Gold Pants tradition. He is the most recent outsider to elevate the rivalry.
It's rare, but sometimes Ohio State taps a head coach who has to be taught about the Michigan game. The last time that happened, it became the Ohio State football program's greatest case study and learning experience.
That outsider never left Columbus - he still lives in the same house he moved into when he took the job. Loves Ohio State, dearly. Cheers for the Buckeyes. Still sounds like he's from Tennessee.
---
Dear Coach Day,
Ohio State had won 20 of 33 Michigan games when John Cooper arrived in Columbus in 1988.
That covers the period when Ohio State pulled even with Michigan as a program and was leaving it behind, up until the Wolverines hired an Ohio State acolyte and alumnus to create an Ann Arbor version of what the Buckeyes had built.
When Bo retired he was succeeded by another Ohio State alumnus. Coop went 0-2 against Bo and 1-3-1 against Gary Moeller. Mo had gone 3-0 as a Buckeye football player and captain against Michigan. Bo was 4-2 on Woody's staff.
Neither had to be taught about Ohio State-Michigan. It was in their DNA when they crossed over.
Anyway, you've heard of John Cooper. Really good coach. Hall of Fame coach. Excellent recruiter. Earned every bit of his Ohio State epitaph, which contains no words - it just reads 2-10-1.
There's something very important buried beneath that epitaph that gets blurry with the passage of time: Everyone told Coop about Michigan. Everyone. Every day. It's not like he didn't know.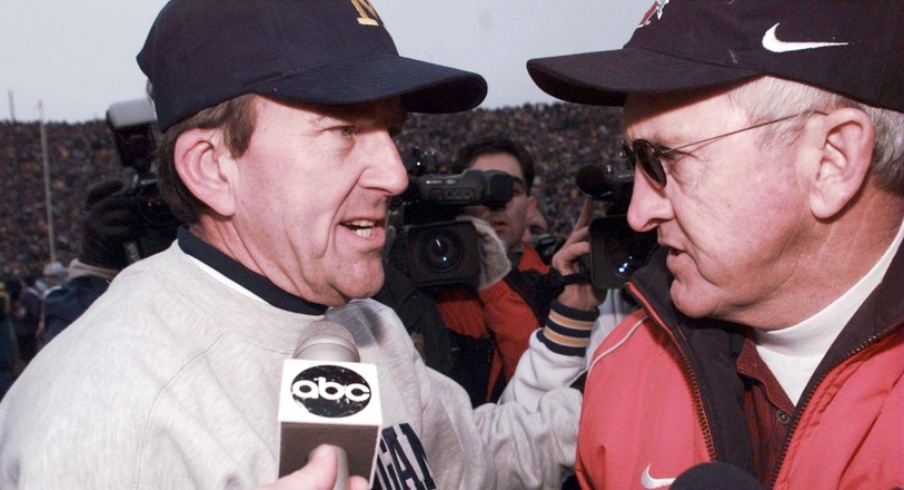 Coop was told all about Michigan on day one, on day 1,000 and every day in between. No one expected him to last beyond day 2,000 but amazingly he held the job for like 5,000 days.
Not a single day went by when he wasn't reminded of how important it is to beat Michigan. You know every inch of the WHAC, so you have seen how a third of it is a shrine to Ohio State facing Michigan.
Beating Michigan every day is what you do at Ohio State. I've heard you say these words in person, and anyone with more than a casual interest in the program knows you speak to the rivalry quite well - your predecessor made sure of that when before he handed you the keys.
Yet on Saturday Michigan beat Ohio State on just about every play. I'd say I've never seen anything like it, but I have. It's just been, like, 25 years.
Of course you know that beating Michigan means everything, and so did Coop. He just didn't understand exactly what that means for the first decade of his tenure. Every program has a rival it likes to hate and beat. This isn't like that.
It's embarrassing to compare Ohio State-Michigan to another college football rivalry, even when one side goes winless for a decade. When there are surveys or ESPN shitposts for clicks about ranking rivalries and you see The Game on a list with Florida-Florida State it's embarrassing. It's a total detachment from reality.
There is no Ohio State without Michigan, as the club team from 120 years ago probably would have gone in another direction or dissolved had it not clung to the ideal of a Michigan football standard. There's no Michigan without Ohio State, either. We already covered how the back half of the 20th century went up north.
So that's not to say Coop didn't recruit players to beat Michigan, build a program to win national titles or elevate the standard of play at Ohio State - because he did all of those things. That's why he's was an uncontroversial Hall of Fame inductee.
Coop just didn't understand how to approach that week, which at Ohio State is something you approach every day. If you've never watched Coop's games, most of them looked like what you had a sideline view of in Ann Arbor over the weekend. Not just losing, losing like that.
LAST SATURDAY IS what JOHN Cooper's resurgent Ohio State program looked like against Michigan DURING THE YEARS WHEN everyone was begging him on a daily basis to understand this isn't Arizona-Arizona State.
His teams were wound up tight and got knocked around, which was always shocking because the Buckeyes were usually finishing a schedule when they had been the ones who knocked. Then that Saturday arrived and Ohio State played scared. Coop coached scared. The Buckeyes lost scared.
Do you know when Coop finally figured it out? It took losing at home as a 17-point favorite that was allowing nine points a game to an average Michigan team that knew how to approach Ohio State. They played scared, coached scared and lost scared with the national title at stake.
He finally got it after that. It took him nine seasons.
Coop lost again in 1997 in a game that swung on a couple of tactical miscues - but the aggression and urgency were both there. Michigan rushed 42 times for 42 yards. The Buckeyes played the eventual national champions even, and lost a heartbreaker.
They were not knocked around, like the 1995 team (you'd love that offense, it could outscore anyone!) or criminally puckered like the 1996 one.
Coop harmonized and unclenched his approach to Michigan in 1998, 1999 and his finale in 2000. The Buckeyes went 1-2 in those games because the empire he had built earlier in the decade had begun to crumble toward the end.
His late-stage coaching probably beats Michigan with his 1992, 1995 and 1996 teams. The defense Ohio State produced this past Saturday loses just about every Michigan game this century, even two of the RichRod ones. Even two of the RichRod ones. It was that bad.
I thought about Coop this past Saturday when Ohio State showed up for what appeared to be a gentle walkthrough against a team that was ready to tear limbs from torsos. The Buckeyes did exactly what the game tapes suggested they would do - and nothing else.
The Buckeyes lost that game before they took the field. Beat Michigan every day. Saturday wasn't just a loss that thrilled the college football universe, it was a pre-enlightenment Coop performance. That is exactly what his resurgent Ohio State program looked like against Michigan while everyone was begging him on a daily basis to understand why this isn't Arizona-Arizona State.
We've lost sight of that over the past 25 years, for good reason - it has been Michigan that was lost in the wilderness. It's finally emerging from it, which means this isn't a blip and it won't get easier.
Perhaps the Michigan messaging and indoctrination in the Woody is blending into the scenery, like laundry that never gets folded or put away and ends up living in a corner. If that message is getting stale, it needs to be refreshed immediately.
An offseason priority. Refreshing is healthy. LL Cool J won't care. That song sucks anyway.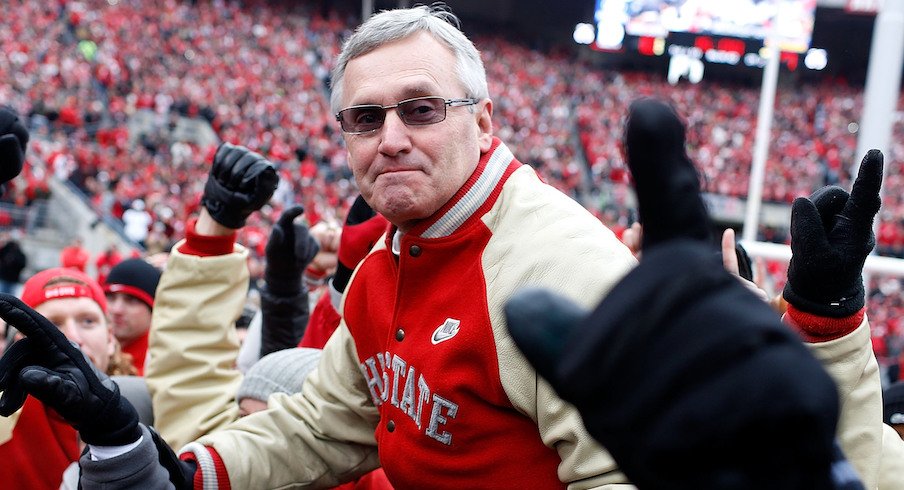 The Woody didn't look like it does now in 2011, and that messaging is not yours - it's Urban's. Every new Ohio State coach needs to adopt the institutional approach to Michigan as a religion and repackage it for his tenure as prime minister. The guys from Ohio don't have much trouble projecting their upbringing into the scripture.
Outsiders like you understandably do - we get it, this is different. Ohio State-Michigan is defining, it's daily, it's not just one game on one Saturday - it's a way of life. Coop took too long. Schmidt figured it out quickly. If that's too much, this isn't for you.
If you think obsession is pathetic, I don't know what to tell you. You can't choose two things in life - your parents and where you are from. We're from Ohio. That's how it is.
You're a gifted coach and program steward - a coaching prodigy, according to the coaching prodigy who handed you the keys. But Ohio State-Michigan skill isn't something you pick up elsewhere. You don't learn how to do this at Temple or Boston College.
It's learned exclusively in Ohio and sometimes takes decades to master. You don't have decades.
No one cares if the flu ripped through the roster at the worst possible time. No one cares about injuries, weather or any other variable. Even if all conditions had been perfect, you did not have anything resembling a plan to win in Ann Arbor. Ohio State looked all afternoon like it didn't realize the test was today, didn't study and just sort of winged it.
That's the worst possible sin someone behind our altar can commit. There's exactly one living person who understands your situation, and you should buy him a coffee and then just let him talk. You can learn a lot more from him than anyone else. He won tons of games and titles, modernized the program you're leading - and got fired.
He is also from somewhere else and inherited a favorable rivalry position. Sounds familiar.
You don't coach against Michigan while holding back something for a B1G title game opponent or a possible CFP matchup. You coach against Michigan like your job and entire coaching legacy - no matter what you've done or what you later do - depends on it. Because it does.
Call Coop. He's 84, lucid and local. Call him today. Don't wait.
Go Bucks
Ramzy