As he pursues his dream of playing in the NFL, Eleven Warriors is following along with former Ohio State defensive back Shaun Wade to document his journey through the draft process.
For most of Ohio State's draft prospects, next week will bring their opportunity to work out for NFL scouts, as Ohio State's pro day is scheduled to take place at the Woody Hayes Athletic Center on Tuesday afternoon. As Wade explained to Eleven Warriors in this installment of Shaun Wade's Journey to the NFL, however, he will be holding his own pro day at the Woody on April 14 due to a lingering turf toe that still hasn't fully recovered.
"My toe still has been bothering me," Wade said this week. "Even though when I do it April 14th, it probably still is gonna mess with me, but I'm just trying to make sure I'm ready.
"I just started two weeks ago running the 40 and doing things. So everybody was definitely ahead and stuff like that. But yeah, I just gotta keep on getting better and things like that and get the toe better. I got a cortisone shot three weeks ago, and it hasn't really kicked in for me. I did a lot to the toe, so after all this, I'm gonna get a PRP shot so it can heal all the way."
As Wade previously detailed to Eleven Warriors a few weeks ago, he's been battling that turf toe since the fall, as he played through that injury (as well as a groin injury) during the Buckeyes' season. Even though that has set him back in his recovery, he has said he doesn't regret his decision to play through those injuries, since he wanted to do whatever he could to help Ohio State try to win a national championship.
Wade won't run the full gamut of agility drills at his April 14 workout due to his injury, but he is planning to run the 40-yard dash and do the broad jump, vertical jump and position drills. He'll still be raising money with his broad jump through his PledgeIt drive for Warrick Dunn Charities, which is taking donations for every inch he jumps; he'll just be working out two weeks later, giving him more time to heal and train.
"I'm very excited to see what I do on broad jump," Wade said.
He doesn't want to say how fast he thinks he'll run at his workout, but he is encouraged by the progress he's been making in practicing the 40.
"I just started running these past two weeks and the time has been taken down every time I ran, so that's a blessing," Wade said. "But I know I can run faster."
While Wade won't be working out at Tuesday's pro day, he'll still be at the Woody Hayes Athletic Center to support his former teammates. He arrived back in Ohio on Friday after spending the last couple of months training in Dallas, and he'll be training at the Buckeyes' facility with Mickey Marotti and Ohio State's strength and conditioning staff to prepare for his April workout.
Wade said it was important for him to be in attendance on Tuesday to cheer the Buckeyes' other draft prospects on.
"Oh yeah, for sure, I gotta support them," Wade said. "Just to talk to them about how their process is going, how everything's been going, what the teams have been saying that they've been talking to. And just being around them guys. Definitely miss them. Can't wait to see what team everybody goes to. And I just can't wait to watch all of them perform on pro day. I know they're gonna do a lot of good things, running fast and things like that. I know they're gonna perform in the drills. So I'm just very, very excited and can't wait to see them guys."
Wade also plans to attend the current Buckeyes' spring practice on Monday. He says he's been in communication with many of Ohio State's returning defensive backs as they've begun their preparation for the 2021 season, and he's excited to see them in person again.
"I've been talking to them a lot," Wade said. "I know they keep on just working hard and things, and I just can't wait to see them guys perform during the season. They'll have a full season this year, so there will be people in the stadium, so that's going to be different, especially for the freshmen that was there last year but didn't experience the Best Damn Band and Fans in the Land, so just can't wait for that process."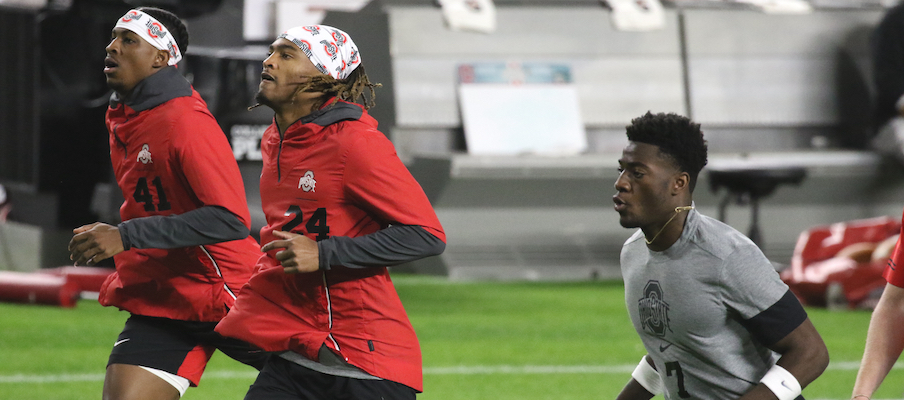 Because he hasn't been fully healthy, Wade hasn't been able to do everything that a draft prospect typically would in his pre-draft training. Still, he spent time in Dallas working with defensive back specialist Clay Mack – the same trainer who helped make Jeff Okudah an All-American at Ohio State and the No. 3 overall pick in last year's draft – which he believes has helped him hone the skills he'll need to succeed in an NFL secondary.
"I'll walk through things with him, and he helps me with film stuff and different things like that," Wade said. "I just keep on finding ways to get better even though I can't do everything."
Primarily, Wade has been working on improving himself mentally since he has been limited on the field.
"Getting this toe all the way right, and just getting my mind right and body and soul right at the end of the day," Wade said. "I'm really, really, really excited for the draft and pro day and things like that, so that's all I'm worried about right now, but after that, it's straight football business and just trying to get better.
"I've been reading books and things like that. There's really a lot of things I can't work on, so I can't really say nothing physically, like my drills and stuff like that, because I haven't been doing them full-speed, I've been walking through them. But just getting better at film work … those would be the really only things, and just understanding myself at the end of the day. The type of person I am and things like that, I think that's big in football for sure is understanding who you are as a person. All the things that are negative that you want to get out of a person, out of yourself."
Wade has also been busy interviewing with NFL teams. Though he hasn't kept an exact count of how many teams he's spoken with, he believes he's talked with representatives from at least 27 or 28 of the 32 franchises, and he's tried to take away everything he can from that process that he can apply to his game.
"It has all been pretty smooth, but one thing I can say, all coaches are different," Wade said. "They come at you different, things like that, and you just notice that when you talk to different coaches and people. Every coaching staff, every team is different. They have a unique style how they coach and how they promote things and stuff like that, so that'll be the No. 1 thing for me. But at the end of the day, I'm just enjoying it. Just trying to have fun, smile through it and just show them who I am since we're not doing everything in person.
"A lot of the coaches that I've talked to, especially DB coaches or anybody, they just have some things that I need to work on. Most of them all say the same thing, so that's what I do. I make sure I work on it. I say it in my mind every day when I wake up and go to sleep, and that's how you get better. It comes from your mind first.
"Some are saying finishing at the ball, some is just technique. And that's a lot of stuff that I noticed in myself that I need to work on."
---
Correction: This article previously stated that Ohio State's pro day will take place on Wednesday. Ohio State's pro day is scheduled for Tuesday.