Welcome back to My Favorite Things.
This year is well on its way to being among of the most tumultuous in our country's history - and on top of all of that, sports are on hold. This sucks.
My Favorite Things is an escape to happier days and nights. The philosophy is simple:
When I'm feeling sad
I simply remember my favorite things
And then I don't feel so bad
So let's do that. Today we're in Ohio Stadium for the conclusion of Michigan's Revenge Tour.
---
EPISODE 16: THE END OF THE TOUR
The 2018 football season feels like it happened 30 years ago, so it's understandable if you've misplaced how Michigan arrived in Columbus as a 4.5-point favorite.
Ohio State was enjoying a 15-2 stretch in the rivalry, and yet it felt as though a long-overdue comeuppance was comeuppupping. Hey, that's not a word, you say. Friends, nothing about that season made sense. Here's how we tumbled into that strange place:
Jan 1, 2018: B1G goes 7-1 during the 2017 bowl season, with Michigan's loss to South Carolina in the Outback Bowl the lone blemish for the conference. Nevertheless, a veteran roster would be returning to Ann Arbor and confidence was already building before the Wolverines left Tampa:
Early 2018 Michigan predictions:

at Notre Dame (50/50)
Western Michigan (Win)
Southern Methodist (Win)
Nebraska (Win)
at Northwestern (Win)
Maryland (Win)
Wisconsin (Win)
at Michigan State (Guarantee Win)
Penn State (Win)
at Rutgers (Win)
Indiana (Win)
at Ohio State (50/50)

— T IGT (@itsAntWright) January 1, 2018
FORESHADOWING: The floor was 10-2, and none of those predictions were 100% wrong!
April 28: Charles Woodson guarantees a win over Ohio State during Michigan's commencement.
July 24: Media picks Michigan to finish 4th in the East behind Ohio State, Michigan State and Penn State.
Sept 1: The No.14 Wolverines open with a 24-17 loss at No.12 Notre Dame.
Sept 8 - Nov 17: Michigan rips off 10 straight wins including three in a row against ranked teams - No.15 Wisconsin, at No.24 MSU, No.14 Penn State - in resounding and emphatic fashion.
By the time The Game arrives, confidence in Schembechler Hall is cresting with the Wolverines' already guaranteed a share of the B1G East title. Meanwhile, Ohio State had opened the season with Urban Meyer serving a three-game suspension. The defense was consistently atrocious and the Buckeyes regularly reached triple-digits in penalty yardage.
And yet, Ohio State could still clinch a return trip to Indy with a home win over the favored visitors, tipping the tiebreaker in their favor. But coming off a 52-51 escape at Maryland - which had a 36-31 escape against hapless Nebraska in a fatuous "daytime blackout" and the latest edition of Purdue Harbor in its wake - everyone was feeling Michigan's first-ever trip to Indianapolis.
All the momentum was up north.
TEN IN A ROW. #GoBlue pic.twitter.com/xkGQioVXQG

— Michigan Football (@UMichFootball) November 18, 2018
Ten in a row. Ohio State hadn't won 10 straight within a season since 2014.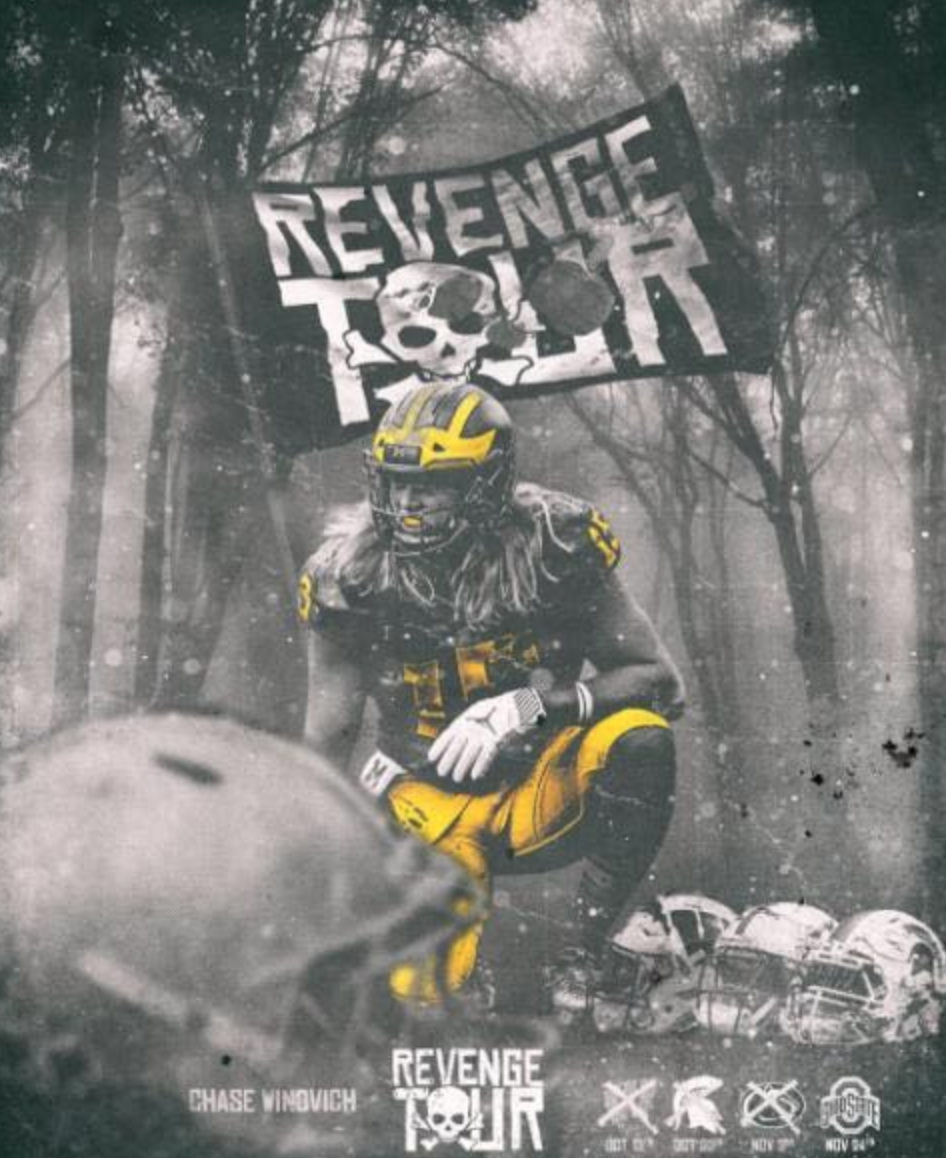 On top of that, Michigan was throttling the teams it had lost to in 2017. That three-game run against the Badgers, Spartans and Nittany Lions spawned a Revenge Tour theme via linebacker Chase Winovich, which was building to a crescendo as it approached its final bully:
(Winovich) thought about how to pay back the teams 'that were bullying' Michigan.

"Me personally, I wanted our lunch money back," Winovich said, "and I wanted them to pay interest."

...

"I think our team has more so embodied this year than just the cheesy slogan," Winovich continued, before laughing and correcting himself. "It's not cheesy, it's a really good slogan."
The Revenge Tour was in the locker room, legitimized by the media and amplified by the fans. The final step in that evolution is merchandise. That's how the Tour became tangible.
Every traveling tour needs a t-shirt. Even a #Michigan Football Revenge Tour.

You can nab yours today with a portion of the proceeds being donated to the GoFundMe campaign for the Prout Family. https://t.co/ItmpUeyDVz pic.twitter.com/d1PcWubUGr

— Maize n Brew (@MaizenBrew) October 15, 2018
The ripest bully for sweet Michigan vengeance was the last one on the schedule. Wolverines by 14, give the points.
Each of Ohio State's 2018 Saturdays had devolved into a rehash of The Longest August Ever. The Buckeyes had lost their best player for the season before Meyer returned to the sideline, and the scheme in his absence produced some of the worst defense we had ever seen. Each game broadcast revisited August and Nick Bosa's absence while showcasing Meyer in visceral pain on the sideline. Wins were never this unenjoyable.
Sure, the Buckeyes were 10-1 and had not exited the top 10 all season, but nothing felt right, good or satisfying - not even Dwayne Haskins destroying the record book out of sheer necessity.
You ready, Columbus?!

Next up, it's rivalry week and we're headed to THE GAME. pic.twitter.com/MZJGvhVAhn

— College GameDay (@CollegeGameDay) November 18, 2018
This would be Gameday's third Ohio State game of the season and just its sixth Ohio State-Michigan game ever. You want to see Urban Meyer's head explode from a nuclear migraine? His team had allowed Purdue to score 49 points and had given up 51 at Maryland a week earlier. Michigan is worlds better. Wolverines by 21, give the poiiiiiints.
There was no way ESPN was going to pass on a four-hour pregame discussing that.
Here we come. #GoBlue | #BeatOSU pic.twitter.com/4vPqpyStDN

— Michigan Football (@UMichFootball) November 18, 2018
And on top of everything else, an emboldened Michigan was now leaning into its TUNness and removing Ms in its own sanctioned social media posts. The Harvard of the Midwest™ was sending out extreme shitposter vibes, going so far as to "forget" to cross out an M in the tweet like only a classically distracted or farsighted Xichigan hater would.
Daniel Day-Lewis isn't this committed to character acting. Wolverines by 28, giiiiive the poiiiiiints. Oh, it gets worse - Michigan Week launched an early celebration of Michigan Postseason Awards:
DC Don Brown (@FBCoachDBrown) has been chosen as one of 15 semifinalists for the 2018 Broyles Award honoring the top assistant coach in college football.

DETAILS https://t.co/ao1cCHJESR#GoBlue pic.twitter.com/nhP0i4aZh1

— Michigan Football (@UMichFootball) November 20, 2018
Dr. Blitz was an elite assistant in the sport, while Ohio State's defense was both a case study in nepotism and a weekly threat to allow half a hundred points. Karan Higdon went out and guaranteed Michigan would beat the Buckeyes. Wolverines by 31, book it. Half the roster would be striking Desmond Howard Heisman poses in the north endzone.
The Calm Before The Storm #GoBlue | #BeatOSU pic.twitter.com/6ZiBxAF2jB

— Michigan Football (@UMichFootball) November 24, 2018
Oh, a storm was coming, and it would be led by a dark General Studies summa cummulus laude cloud in the shape of Michigan's prodigal son Jim Harbaugh, who had left the Ohio Stadium field two years earlier *Bo voice* bitterly disappointed about a 4th down spot that was objectively correct.
This would be vengeance for 2017, justice for 2016, aggression for the Eras Hoke, Rodriguez and Late Stage Carr and possibly payback for the war that gave the Toledo Strip to Ohio.
Comeuppuppance would enter the lexicon like irregardless. The 2018 edition would mark the moment the rivalry's momentum would dramatically tilt to the Teax Up North. Humanity would be lost, Columbus would be righteously razed and thus began The End of the Tour for Ann Arbor, a melancholy homage to David Foster Wallace from the B1G's emo epicenter.
But elsewhere, the 2018 Ohio State-Michigan game would come to be known as something else.
---
THE NIGHT OF 10,000 CROSSING ROUTES
It turned out that something funny happened on the road back from College Park to Columbus. Meyer had paid attention to the noise coming from Ann Arbor and it absolutely pissed him off. Ryan Day had been studying Dr. Biltz's defensive remedies and identified some, shall we say, vulnerabilities.
This game would play out as a 21st century subterfuge; a giant Trojan Horse filled with smaller Trojan Horses and each one of those smaller horses had K.J. Hill, Chris Olave, Johnnie Dixon and Parris Campbell hiding inside. Once they reached the space behind Michigan's defensive line they would abandon football and abruptly switch to track.
The strategy was to bully the 11th best player (sic) on the field and get him to hate football forever.
There's the first crossing route of the game! That's 1/1, let's see if Ohio State tries it again.
There's the second one! Touchdown *checks program for who No.17 is* ah yes, Chris Olave, pronounced like Oil of Olayve. Or maybe like Old Navy. People weren't sure; people didn't care!
Olave was not only playing against Michigan as a freshman, he was scoring points! Baby Trojan Horsie! He'll never forget this mo--
Two touchdowns! Two! Let's update the Olave College Stats chart:
CHRIS OLAVE'S CAREER STATS AS OF 11/24/2018

| GAME | REC | YDS | TD |
| --- | --- | --- | --- |
| FIRST 11 GAMES OF THE 2018 FOOTBALL SEASON, COMBINED | 5 | 70 | 0 |
| FIRST 19 MINUTES vs. MICHIGAN | 2 | 48 | 2 |
Some people enter a party, exchange pleasantries with the host, hang their coats up in the closet or lay them down on the coats bed and then quietly join a conversation. Olave kicked in a window, tore his pants off, threw them up on the ceiling fan and cannonballed into the punch bowl.
This is how you cover Chris Olave *voice jumps four octaves* when you cannot cover Chris Olave.
While Ohio State's offense was doing what it had been doing all season - but against Michigan vaunted and vengeful defense - the officiating in this game from start to finish smelled just a little too much like of Let's Get Michigan to Indy So Maybe a B1G Team Can Make the Playoff. Ultimately, the one-sided shitty officiating would not matter.
It turns out you can beat the refs if you don't beat yourselves too. Anyway, Dr. Blitz adjusted his defenses to address Ohio State's crossing routes, so Day began smashing the bubble and slip screen buttons accordingly.
That's Haskins with a negative-one yard throw and Campbell with 31 yards after the catch padding the passing stats. Short passes and big yardage? Oh, that's J.T. Barrett's haters' music! Weird, they were so quiet suddenly.
Couple of plays later, with every Michigan defender now spinning like a top:
Giving Dixon a 17-yard cushion doesn't sound like a Broyles Finalist strategy to me, but I'm not a football coach and revenge tours might take on all sorts of fun shapes and sizes.
Haskins now had three 1st half touchdown passes and was on an extremely rhythmic and danceable 7-for-8 stretch during which none of his completions were contested. Footballs are easier to catch when no one is bothering you. Again, I'm not a coach. I googled that.
A sequence of extremely unfortunate events then took place.
2 TOUCHDOWNS IN 6 SECONDS. #GoBlue | #BeatOSU pic.twitter.com/eQhK0iXet1

— Michigan Football (@UMichFootball) November 24, 2018
Two TDs in 6 seconds is cool but 8 TDs in 60 minutes is much cooler. Whoops, spoilers. WHEEL ROUTE!
Haskins was throwing darts, which meant Michigan's vengeance hinged on either getting away with holding or poor receiving techniques from a unit coached by Brian Hartline. The Buckeyes went into halftime with a dominant 5-point lead, compliments of six unfortunate seconds.
The crossing routes from the 1st half quickly paid dividends in the 2nd half, as they were used to clear out defenders for simple pitch-and-catch completions:
Haskins would not take a sack all day, nor would he feel all that much pressure.
On the other side of the ball, Michigan had some success against the jankiest Buckeye defense of the century - but as was the case all day long, it got repeated boosts from the officials. Here's a catch, two steps, forced fumble and touchdown for Ohio State ruled incomplete without even a passing glance from the replay booth.
I suppose we should just be thankful Shawn Wade wasn't tossed for making a textbook tackle. Surely a miscarriage of officiating justice just like this would never bite the Buckeyes again.
Oh well. Better rub some more crossing routes on it!
Shout out to the back judge for walking directly into Campbell's route.
Ohio State did some unfortunate short-yardage experimentation with the Tathan Package, so this drive - like the Demario one above - concluded with only three points. Defense alternated between good and bad plays all season long; today was no exception.
Shortly thereafter, OIL OF OLAVE OLD NAVY GOOD GRAVY
Floodgates status: Now open. Fyfteen Banks scooped up Olave's block and the inevitability of the outcome began to feel ordained.
Chase Young played nearly this entire season without the benefit of Bosa on the other side of the line, which - when Jonathan Cooper is getting held like this - probably mattered less. Jordan Fuller was prepared either way.
Ohio State's offense then switched to faking crossing routes, which it turns out are just as effective as authentic crossing routes.
Weber punched it in, then Michigan treated the Ohio State defense like it had been treated all season long, which led to this negative 3-yard pass with 78 yards of YAC for Haskins' stat sheet.
Let's check in with Dixon, seeing Campbell still 55 yards away from a touchdown with self-proclaimed fastest man Josh Metellus nearly even with him.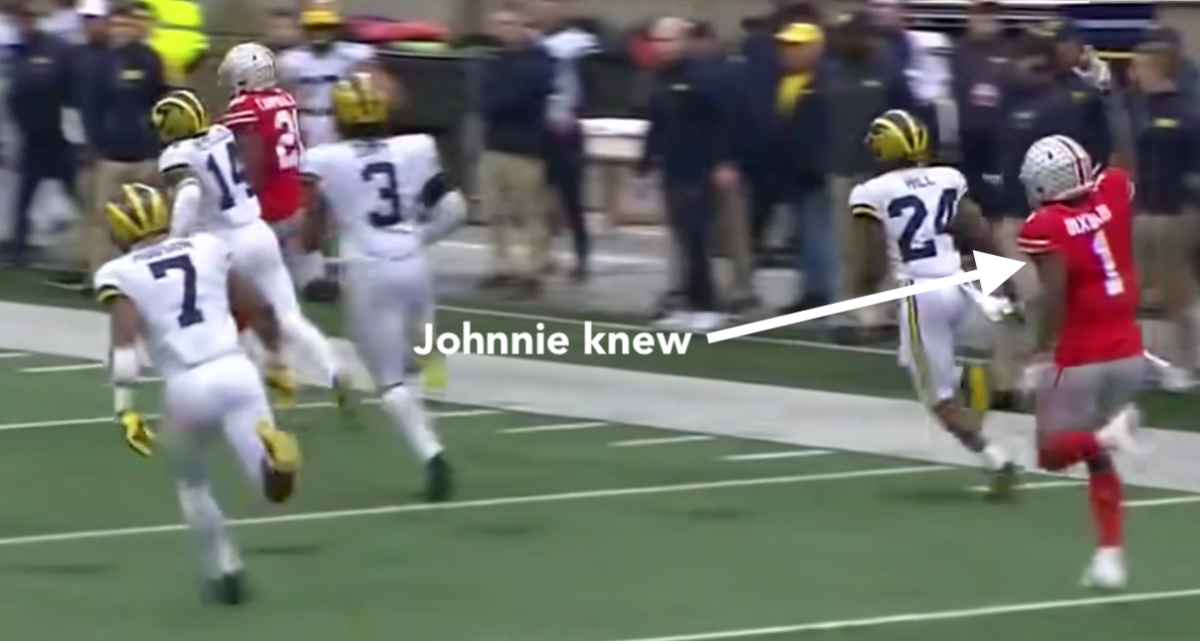 The real ones always know. Ohio State would tack on two more touchdowns - the first featured Hill pointing at Metellus to warn him that he was about to help Haskins break Drew Brees' two-decade hold on the conference's touchdown pass record on, um, whatever you call an East-West passing route. The term is escaping me.
Hill was not being condescending. He was just trying to help! Sportsmanship: Pass it on.
And the final one was as if to say, hey sorry about your revenge tour. 
Here is the 61st point being scored against Michigan on the 50th anniversary of Woody's fabled Because I Couldn't Go for Three 50-14 win.
If anything, the only real disappointment about scoring 62 points against Michigan is that the game ended with Ohio State in victory formation inside the 10-yard line. Had the Buckeyes scored 69 points against the Wolverines...well, maybe someday we'll know how nice that feels.
As for Michigan, this was not how they expected the season to conclude.
Not our day. #ForeverGoBlue pic.twitter.com/Q4B4Ntpyhl

— Michigan Football (@UMichFootball) November 24, 2018
Two months later Day would take over the Ohio State program from Meyer and poach two of Harbaugh's assistants to join him. The Buckeyes would win their second-straight B1G title game and return to the Rose Bowl, but the season's peak would remain - and will always be - the exciting conclusion of Michigan's Revenge Tour.
We'll conclude with a Generation X pastiche. One of the melancholy anthems those of us who were college students during the 1990s would listen to while absorbing the final regular season game/tradition of the John Cooper Era -  remixed for brighter days and a better era.
We hoped the tables would someday turn back then, but this - this was beyond our wildest, unrealistic expectations.
Even when 2018 was bad, it was still pretty damn good. Stay grounded. Stay humble. Beat Michigan, forever.