To many, Jim Leonhard is more synonymous with Wisconsin than even his own boss.

While Paul Chryst was also once a member of the Badger football team, he failed to make the same impact on the field as his current defensive coordinator. Leonhard, of course, went from walk-on to three-time All-American during his playing days in Madison, matching this school's career record with 21 interceptions and setting a Big Ten record for punt return yardage to boot.
But while many older OSU fans may recall him as the football version of Aaron Craft, it was his time in the NFL that helped define who he is today as a coach. Time spent with the Ravens and Jets allowed him to work closely with Rex Ryan, one of the foremost defensive minds of his era and a man whose fingerprints can be seen on the Badger defense today.
Ryan, of course, implemented an aggressive 3-4 scheme that relied heavily on blitzing linebackers, imposing havoc on blocking schemes not used to facing such pressure. But what set Ryan's defenses apart was the way he borrowed concepts from the 46 defense that made his father, Buddy, famous.
The '85 Bears produced one of the most legendary defenses in this history of the sport by plugging the middle of the line of scrimmage with big bodies directly across from the center and both guards, which allowed middle linebacker Mike Singletary and strong safety (and former Buckeye) Doug Plank - who happened to wear #46 - to run unblocked and make tackle after tackle. Ryan's defenses didn't quite emulate that system in terms of alignment and personnel but did attempt to duplicate the overarching philosophy.
Leonhard saw this approach up close from his free safety position while playing, but hung up his cleats following the 2014 season and returned home to Madison. There, the Badger defense was being led by a young and upcoming coach named Dave Aranda (now the head coach at Baylor), who helped Leonhard develop the finer points of his own philosophy.
The native of tiny Tony, Wisconsin officially joined the UW staff in 2016 and would take over as defensive coordinator the following season, despite being just 34 at the time. The decision by Chryst to promote such a relatively unexperienced coach proved to the be right one, however, as the Badger defenses have been among the nation's best since Leonhard's promotion, ranking first in total yards allowed (284.8 yards per game), first in pass efficiency defense (110.5), first in opponents' third down conversions (30.5%), third in rushing defense (103.4 ypg), and third in scoring defense (17.3 points per game) from 2017 to 2021.
While Leonhard is 0-3 against Ohio State during this time, his contemporaries are well aware of the success he's had.
"You're always paying attention to who's doing well on defense, and they have been consistently very good," OSU defensive coordinator Jim Knowles said ahead of the matchup between the Buckeyes and Badgers this weekend. "They have a system and they run it and they know what they're doing. All the things that I think you want to be as a defensive coordinator, I think they've been showing it — having a system that you can count on and having answers."
Today, Leonhard's approach is still very similar to Ryan's while also borrowing from some of the game's best minds (such as Nick Saban). In fact, the Badgers operate strikingly like the Crimson Tide on early downs.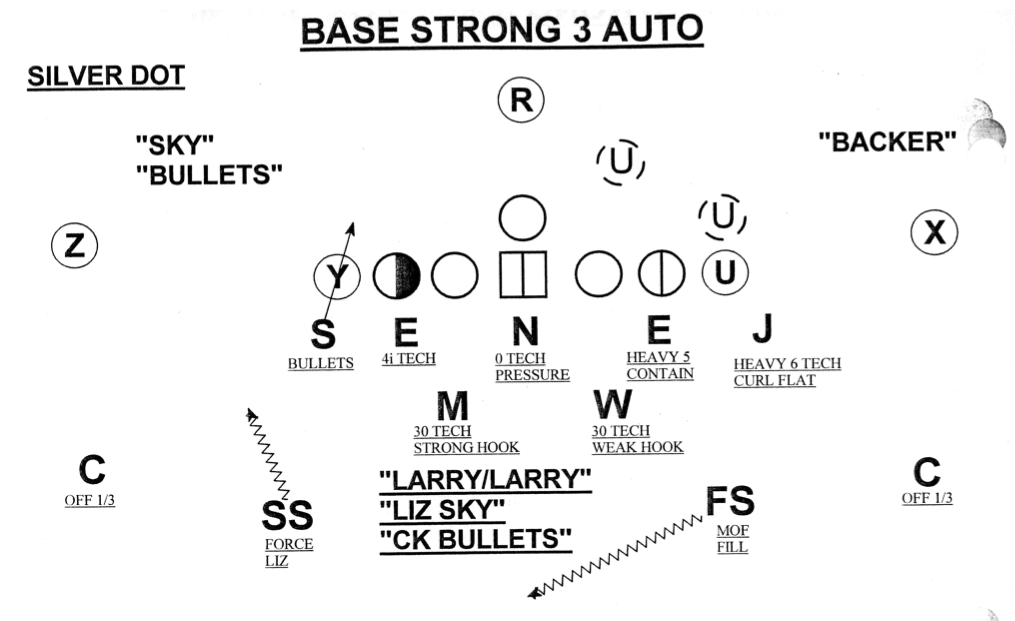 The Badgers like to bring a safety down into the box for run support on the wide side of the field, giving them 8 defenders near the line of scrimmage. With three big-bodied defensive linemen eating up interior blockers and a safety plugging one of the holes, an inside linebacker is often left free to run and make tackles.
Against the pass, the system can often look like straight, man-coverage with a free safety in the middle of the field (known as Cover 1). But in reality, it's a Cover 3 zone with pattern-matching principles, meaning the defenders play the receivers tight once in their zone.
With the back of the defense employing traditional coverages with seven defenders dropping back, that means one of the linebackers can join the three down linemen in their pass rush. On nearly every single snap, one of the four 'backers will be sent on a blitz, but the the offense is forced to guess which one.
When Leonhard began studying the college game with Aranda in 2015, however, it quickly became apparent that this exact approach didn't translate directly to stopping the spread offenses that had become so prevalent at that level. As such, Leonhard incorporated the simulated pressure packages for which Aranda has become known. Within coaching circles, however, it is Ryan who often gets credited with their development. 
With opponents often operating in 11 (1 RB, 1 TE) packages at the college level, the Badgers respond by removing one of their down linemen in place of a fifth defensive back, creating a four-man front with the two outside linebackers acting as stand-up ends. Along with the two inside 'backers, the defense then has six potential pass-rushers crept up near the line on any given snap.
Despite showing blitz from all six of these players, however, the defense rarely still only sends just four rushers, dropping two linebackers back into coverage. This allows the back end to maintain its integrity downfield while still confusing the offensive line and quarterback.
This adaptability at the linebacker spot - to both rush the passer or drop in coverage - was amplified against Washington State two weeks ago. With the visiting Cougars trotting out 10 personnel (1 RB, 0 TE) most of the day, Leonhard matched it by removing two down linemen in place of two defensive backs and lining up in a 1-4-6 that harkened back to Ryan's most potent third-down looks while Leonhard was with the Jets a decade ago.
But despite the Badger defense bringing pressure from all angles, it still only rushed four.
Behind the four-man pressure, Leonhard mixed up his coverages, especially in passing situations. The Badgers played Tampa-2 on multiple passing downs against WASU, but only after initially lining up in a single-deep look before the snap.
This doesn't mean Leonhard is only using NFL concepts from a decade ago, however. He also includes modern, complex match coverages found in the Quarters family, especially when facing more advanced passing offenses like the one employed by Ryan Day and the Buckeyes.
"[They're] multiple up front, in terms of the different fronts that we're seeing, the different coverages that you get." Day said this week of what he's seen from the Badgers in preparation for Saturday night's showdown in the 'Shoe. "We've got to be prepared because they're very intelligent, they can handle high levels of information, and they're a good team."
Ohio State won't be the first opponent to take the Badgers seriously this season, as the Cougars came away with an upset victory during their recent visit to Camp Randall by attacking the tendencies of Leonhard's system. In an effort to match the speed put on the field by the Cougars' 4-receiver base offense, the Badgers found themselves defending the goal-line with just one down lineman, allowing the Cougars to easily push their way into the end zone on the ground.
The Cougars found themselves in the red zone thanks to their efforts to put the extra run defender in conflict via RPOs. By packaging WR screens with an inside run, Washington State forced the field safety to be in two places at once, lunging awkwardly to make a tackle in space after getting caught in no man's land.
Despite finishing atop the nation in total defense last season, Leonhard and his team struggled in their late-season matchup with Scott Frost and the Nebraska Cornhuskers gave, who averaged nearly 6.5 yards per play in what became an unexpected shootout. Frost and his staff clearly knew to expect the Cover 3-Match concept preferred by Leonhard on early downs and dialed up a variety of play-calls to attack it.
First, the Huskers used 12 personnel (1 RB, 2 TE), knowing the Badgers would respond with their base 3-4 that ensured only four defensive backs were on the field at once. From there, however, Frost often split one of his tight ends out wide to emulate more of a spread formation, with both wide receivers aligned to the boundary.
Second, the Huskers assumed the defense would play with just one deep safety and called concepts such as double-posts that drew the free safety away from helping the corner outside. 
While the Badgers' coverage philosophy is meant to provide balance to both sides of the field with a free safety sitting in the middle, the Huskers continually overloaded one side with receivers to create an open man downfield.
Given that Day and the Buckeyes have tallied over 400 yards in their three previous encounters with Leonhard's defense, one can expect them to attack these same weak points in his system. Despite that, however, Day doesn't expect the Badgers to deviate much from who they've been.
"They have an identity, for sure. ... They're not going to deviate from their plan. And they've been very successful, so why would they?"