Despite setting 25 school records and helping lead the program to a national title, two playoff appearances, and four victories over Michigan, many fans seem excited to move on from the J.T. Barrett era in Columbus.

While the three-time captain may have had his limitations, specifically in the downfield passing game, his productivity over the past four years can't be denied. But although Barrett proved capable of moving the offense no matter the supporting cast, play-caller, or quarterback coach, he showed a special ability to extend and finish drives in crucial short yardage situations.
It's no coincidence that other than the uneven 2015 campaign in which he shared playing time with Cardale Jones, Barrett led Ohio State to a top 20 ranking in third-down conversion percentage every year he was under center, including a 46.49% rate last fall, good for sixth nationally. Much of this success was due to the Buckeyes' ability to not only set up short third-down situations of three yards or less to gain but to convert them at a high rate.
Ohio State on 3rd & Short (1-3 yds) in 2017


| Type | Attempts | Avg. Yds/Att | 1st Downs Gained |
| --- | --- | --- | --- |
| Rush | 53 | 5.89 | 36 |
| PAss | 15 | 8.20 | 8 |
However, by his final season on campus, many fans had tired of seeing the starting quarterback carry the ball in these situations, despite his prowess for moving the chains. While these detractors can't be blamed for wanting to see talented playmakers like Ezekiel Elliott, Michael Thomas, Curtis Samuel, or J.K. Dobbins carry the ball in these crucial situations, it's impossible not to overlook how often the quarterback extended or finished drives.
Perhaps the Texan lost the interest of fans with his workmanlike ability to find inside running lanes, run through arm tackles, and fall forward for the necessary yardage instead of electrifying them with speed and quickness in the open field like his predecessor, Braxton Miller. But lost in this conversation is the fact that defenses often chose to make the physical quarterback carry the ball instead of a home-run hitting back like Elliott or Dobbins.
Ohio State Rushers on 3rd & Short (1-3 yds) in 2017


| Player | Attempts | Yds/Att | 1st Downs Gained | 1st Down % |
| --- | --- | --- | --- | --- |
| J.T. Barrett | 25 | 4.44 | 16 | 64% |
| J.K. Dobbins | 14 | 5.93 | 10 | 71% |
| Mike Weber | 9 | 12.11 | 6 | 66% |
Urban Meyer's offense has always been rooted in the desire to gain a numeric advantage in the running game by making the quarterback a runner instead of simply handing the ball off and exiting the play. Though he failed to appear in the Sportscenter Top 10 as often as Miller, Barrett was more effective, eclipsing Miller's career conversion rate on 3rd & short of 65% by converting a whopping 52 of 73 career attempts (71%).
But where Barrett truly shined was in the red zone. Only three of his 43 career rushing touchdowns began outside the opponent's 20-yard line, complementing the big-play heroics of his teammates with a knack for picking up yards in a condensed space.
One of the main reasons for his success was his ability to properly read the defense on option plays.
While big plays are more desired by fans seeking entertainment on a Saturday afternoon, the Buckeye coaching staff showed that their foremost concern was putting up points as efficiently as possible, which often meant letting Barrett read an unblocked defender in the option game; a skill at which he proved far superior to both Miller and Jones. Both players often made their decision based on the defense's initial look before the snap, whereas Barrett always seemed to let the play develop before making his choice.
Given his knack for identifying the proper gap as a runner allowed Meyer and his staff to call designed runs for the QB. The most common such play-call was the counter-trey, in which the backside guard and a tight end or running back pulled across the formation to seal the edge and lead Barrett through the hole after initially selling a run in the opposite direction.
Miller had also found success with this concept, however, he often looked to bounce the ball outside, leading to many negative plays. Barrett, meanwhile, was content to stay between the tackles and absorb contact in order to pick up the first down or find the end zone.
But while Barrett may be remembered most for his ability to run, his passing in these short-yardage situations was far more valuable than many may realize. During his career, Barrett completed 66% of his passes on 3rd & short, converting the first down 52% of the time through the air as defenses looked for him to do so on the ground.
He was even more effective when in the red zone. While his career completion percentage dropped from 63% to 58% once he passed the 20, Barrett's decision-making led to an astounding 55 passing touchdowns with only five interceptions.
J.T. Barrett's Career Red Zone Passing Statistics


| Season | Attempts | Completions | Comp. % | TDs | INTs |
| --- | --- | --- | --- | --- | --- |
| 2014 | 57 | 33 | 57.9% | 18 | 3 |
| 2015 | 15 | 12 | 80.0% | 5 | 0 |
| 2016 | 47 | 26 | 55.3% | 12 | 1 |
| 2017 | 70 | 39 | 55.7% | 20 | 1 |
| TOTAL | 189 | 110 | 58.2% | 55 | 5 |
Though the largest hole in his game remains dropping back in the pocket and delivering the ball downfield consistently, Barrett was at his best when asked to roll out and move laterally. Luckily, the Buckeye coaches had a bevy of sprint-out concepts that suited this skillset, always leaving their quarterback with an option to take off if there was nothing there.
This sprint-out passing game provides us with our first guess as to how the Buckeyes will look to replace Barrett's production in these short-yardage situations come the fall. While Joe Burrow appears athletic enough to pick up yards on the ground, he's rarely been asked to do so when not wearing a black, no-contact jersey. His top competition for the job, Dwayne Haskins, is no statue back in the pocket but appears to lack both the quickness and strength to be an effective short-yardage runner, making up for this deficiency with traits similar to that of a more traditional, pass-first quarterback.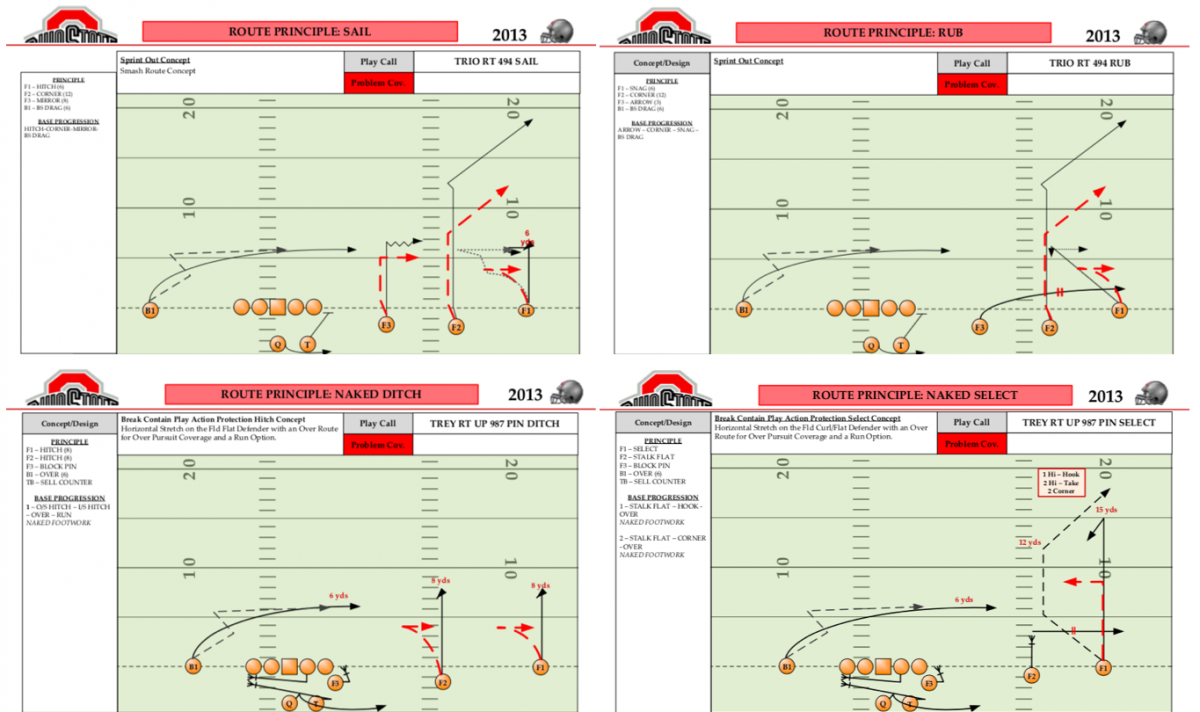 If Burrow ultimately wins the starting job on September 1st against Oregon State, it'll likely be due to the fact that he's shown he's capable of picking up yards with his legs. But even if he does, it's hard to see a scenario in which Meyer and his staff lean on a first-year starter to the same degree they did with Barrett.
Instead, it's likely that the Buckeyes will not only continue to employ an arsenal of roll-out passing concepts like those above, keeping the opponent from keying additional defenders into the backfield. However, the continued evolution of the Buckeyes' run/pass-option game will be crucial to their success on 3rd downs and in the red zone.
Adding a short, outside pass route like a bubble screen or arrow route to the tight end can stress the defense in a manner very similar to that of the traditional zone-read, as an edge defender is left unblocked and put in conflict to choose whether to fill a run gap or cover a receiver. We saw some of this on display in the spring game, as new run/pass combinations were unveiled, like adding a bubble screen to the counter-trey concept, though this time the running back received the handoff instead of the asking the QB to run for himself.
But defenses will quickly begin to look for such combinations, moving extra defenders around like chess pieces to take away both options. One way to combat such moves is the addition of pre-snap movement, specifically from the 'H' receiver coming across the formation on a Jet motion.
By sending a receiver across the formation at full speed, the balance of the defense shifts, forcing players to quickly communicate changes in coverage, often as the ball is being snapped. This commotion can create confusion and hesitation within the defense, and on 3rd & 2, even the slightest delay in filling one's responsibility can be the difference between the next play being 1st or 4th down.
As the season progresses, however, it will be incumbent on the staff to find new ways to keep defenders on their heels in these situations. Simply handing off on 3rd & short with no threat of attacking the edges isn't a recipe for success, regardless of how talented your runner and offensive line may be.
But one way in which personnel can trump scheme is on the outside at the X receiver spot. Since Thomas' departure after the 2015 season, the Buckeyes have struggled to find a reliable threat that could use his body to shield defenders and create space on quick, three-step passing routes like hitches, outs, slants, and fades.
Given their large frames, Noah Brown and Binjamin Victor were often tasked with doing so in 2016 and 2017 respectively but failed to deliver results with any consistency. Victor showed some promise in this department during his breakout spring game performance, physically manhandling smaller cornerbacks to gain separation. But his counterpart at the position, Austin Mack, may be the best bet to find success in this department, leading the team in receiving yards against USC in the Cotton Bowl.
Additionally, K.J. Hill proved to be a reliable option as a receiver from the slot, turning short passes into decent gains with his quickness after the catch (as seen above). Though many of his receptions came on screens and crossing routes, he and the team may benefit from calling on the H-Option concept that was so successful for Samuel in 2016 but was mothballed after the hiring of Ryan Day to coordinate the passing game.
Given what we saw last fall with Day, though, it's likely that we'll see the shallow crossing routes of his beloved Mesh concept even more often in short yardage situations in 2018. Despite the play's simplicity, Day showed that the concept could be employed from an array of personnel groupings and formations to keep the defense from expecting it. However, USC seemed prepared to face it in the 2017 finale, which was a major reason the Buckeyes converted only 2 of 12 third downs that night in Dallas.
By now it should be clear that Meyer, Day, and fellow coordinator Kevin Wilson will have plenty of options when faced with a short-yardage situation next fall, and fans will undoubtedly cheer when the sticks move after something besides a five-yard run from the quarterback. The real question, though, is how they'll react if the down marker is changed to say 4 instead of 1. Maybe the boring old zone-read won't seem so bad after all.