Although Baylor's Corey Coleman, TCU's Josh Doctson and others have put up cosmic receiving statistics this fall, Ohio State wide receiver Michael Thomas is the one ESPN draft analyst Todd McShay has atop his list of the top NFL prospects at the position. This isn't news to most Buckeye fans, given that those rankings were on a constant scroll beneath Saturday's 28-3 win over Illinois, yet the reason for his lofty spot may not be apparent to all.
Listed at 6-foot-3 and 210 pounds, the redshirt junior from Los Angeles appears to have the requisite size for a 'prototype' wide receiver in the NFL, comparing favorably to players like Julio Jones or A.J. Green. Yet Thomas lacks the pure, freakish athleticism both players showed at this point in their college careers. While he has shown the ability to go up and get jump-balls and still get a toe inbounds, he doesn't offer the same threat as the others to blow by defenders with ease.
Though it's often mentioned by evaluators as a skill for players like Thomas, 'route-running' is a difficult trait to master, especially since it requires different things depending on where a player lines up. Tight ends like Jimmy Graham or Rob Gronkowski often get open by using their superior athleticism to simply out-run bigger defenders while using their size to shield smaller ones. Slot receivers are rarely jammed at the line, and use their quickness to create separation before recognizing soft spots in zone coverage.
But for outside receivers like Thomas, they're often greeted on the line by a jam of some sort, and then shadowed by a player with equal or greater athleticism. When a player with top-end speed or acceleration like fellow Buckeyes Jalin Marshall or Braxton Miller moves to that spot, fans immediately get excited by the prospect of having a clear advantage in either department on the outside, simply awaiting for deep balls to rain from the sky.
Yet getting open takes more than running whatever route is drawn on the sheet in the playbook. Instead, Thomas stands out to evaluators because of the little things he does that are often done away from the focal point of TV cameras, namely what he does with his hands. Yes, the most important thing a receiver does with his hands is catch the ball, but in order to have it thrown his way, he must first use those same appendages to get open.
On Ohio State's second possession against the Illini, Thomas use those hands multiple times to pick up two big gains and a touchdown. To bring in the first, Thomas drives immediately upfield before breaking inside on a post.
Thomas has already set up the cornerback for his route by the fourth step, gaining inside position and swatting away any attempt by the defender to slow down or alter his path. But Thomas creates separation with a slight step and head-fake, actually getting closer to the Illini defensive back before breaking hard inside and making the catch.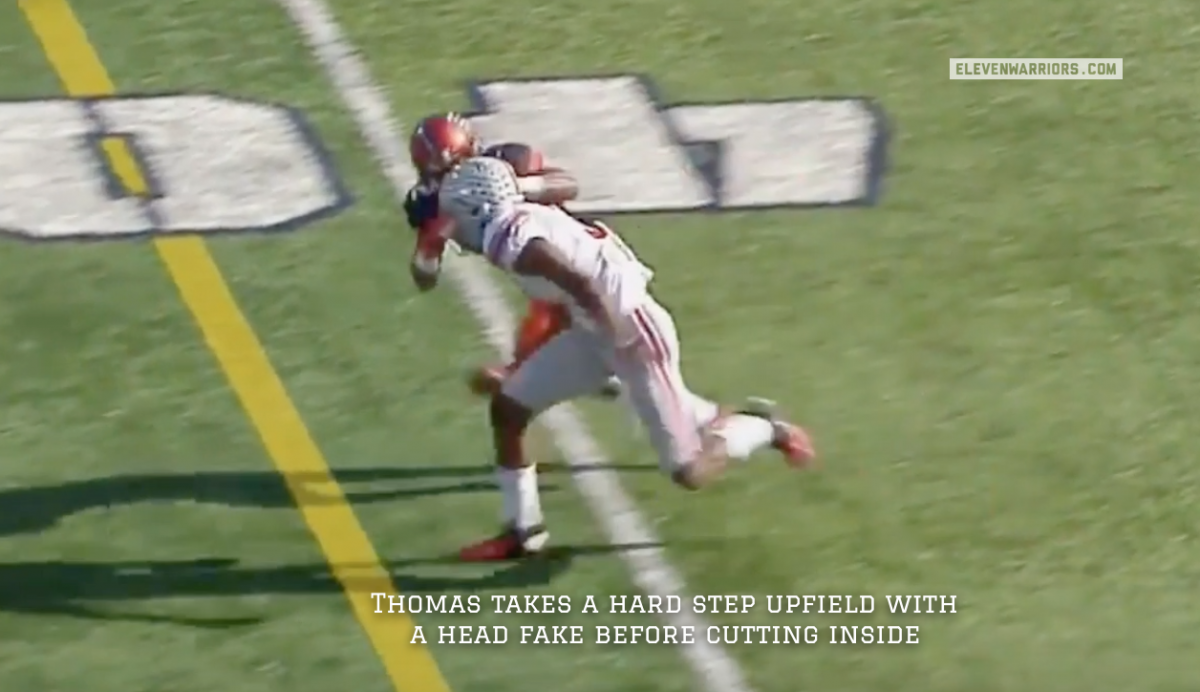 Though lined up against a different player on the opposite side on the very next play, Thomas would make another big play with his hands, this time for a touchdown.
Most corners are taught to allow an outside release from the receiver, using the sideline as a 12th defender and pushing him out of bounds if possible. Yet Thomas never lets the cornerback gain the leverage necessary to do so, instead controlling the exchange the entire way down the field. Meanwhile, the receiver keeps enough distance between them to create a window for him to go up and get the ball.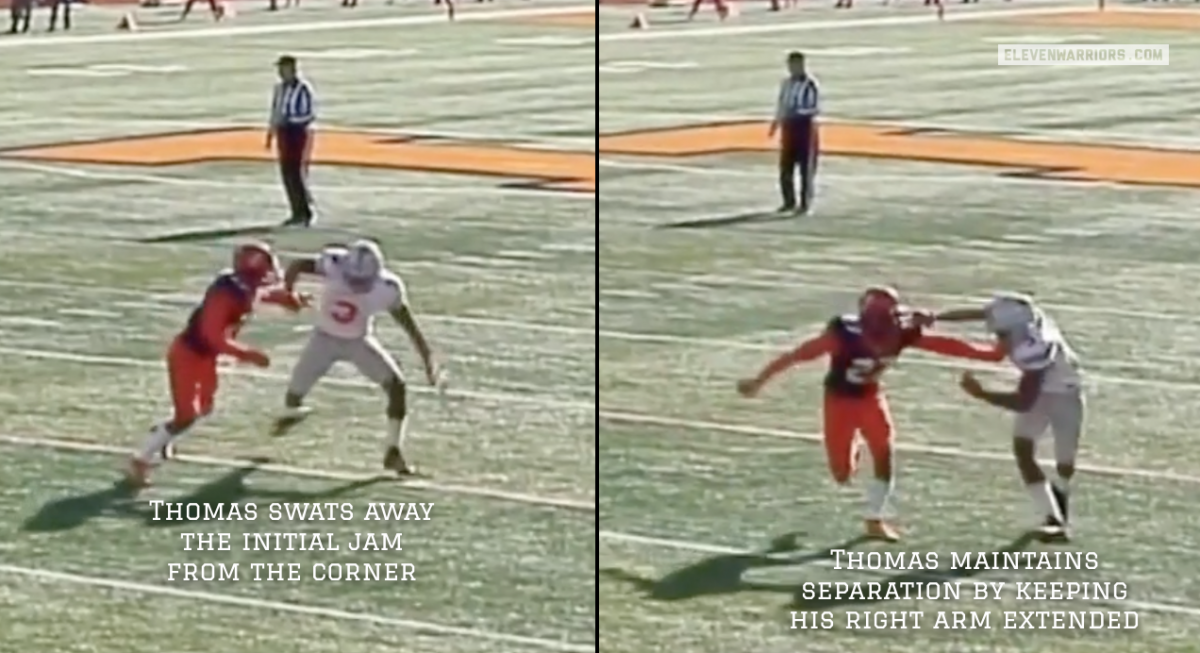 With the defender never dictating Thomas' path or speed, it doesn't matter how fast the receiver is, as he is free to run his route. Additionally, the defender is now trailing and trying to simply make up the ground between them instead of looking for the ball, allowing Thomas to go up and get the deep pass down the sideline with relative ease.
The job of any cornerback is to not get beat deep, as they're usually responsible for the deepest zone on their side in a Cover 3 or Cover 4 set, the two most common schemes found in the college game today. Having beaten the defender over the top once already though, Thomas now began seeing softer coverage on short routes allowing quarterback J.T. Barrett to get the pass off quickly. 
The defenders have become so worried about giving up another deep ball that they rarely even tried to jam the receiver anymore. This allowed Thomas even more room to run his routes, such as this "whip" pattern that looks at first like another slant before breaking to the outside, using his big frame to shield the ball from the defender.
Nearly every time Thomas would break inside or out on a route, he'd make sure to get his opposite hand across the defender, often slapping away any contact and squaring his shoulders for the quarterback. Not only does this get the receiver in a much more comfortable position to catch the ball, he's given the QB a nice, big target to throw toward.
Thomas would haul in six passes for 76 yards that afternoon, his fifth game this year with five catches or more. This puts him on pace to have the highest catch total of any Buckeye in one season since David Boston in 1998, depending on how many postseason games they ultimately play.
However, that total could be even higher through no fault of his own. Cardale Jones ultimately lost his starting job thanks in part to an inability to hit his top target consistently, and Barrett has seemed to suffer the same issue on occasion as well.
Yet on multiple occasions against Illinois, Barrett had to force the ball out erratically thanks to pressure coming from the right side, missing Thomas on potential big gains such as this shallow cross that would've likely converted a third down.
As the Buckeyes hit the most difficult stretch of their schedule with Michigan State, Michigan and potentially Iowa in the Big Ten championship, Thomas may have to play an even bigger part in the game plan. All three teams possess run defenses in the top 20 nationally and will undoubtedly key on shutting down the ground attack of Barrett and Ezekiel Elliott. 
Meanwhile the OSU passing attack has yet to hit its stride outside of Thomas this fall. Though Marshall caught four passes against the Illini, only one came downfield while Miller's only receptions came on screen passes that failed to gain any positive yardage. 
Those two are often the beneficiaries of play-action passes downfield, which Barrett rarely had time to complete against Illinois. The constant pressure coming from the right side proved too much for the Buckeyes offensive line, a problem that certainly must be addressed.
Until it is though, Ohio State will be relying more on Thomas than ever. His ability to get open off quick slants, outs, hitches, and fades without giving away which pattern he's running in the first five yards will be critical for the offense to get the ball outside. He is one of the few players on the roster that can create separation between he and a defender completely on his own, and Barrett and the Buckeyes will need to look his way more than ever over the next month.
For a coach that pride himself on getting the ball to his most dangerous players when it matters the most, it's looking more and more like the young man wearing No. 3 is one of the best in any uniform.