Ohio State will take an 11-0 record into The Game.
 
Q1
Q2
Q3
Q4
 

#2

 Ohio State
7
6
17
7
37
MINNESOTA
0
0
0
3
3
The Buckeyes took care of business in their final home game of the season at Ohio State, defeating Minnesota 37-3 in their last of six games at Ohio Stadium in 2023.
After a slow first half for the offense in which Ohio State scored only 13 points, the Buckeyes quickly pulled away with 17 points in the first five minutes of the second half, aided by two defensive takeaways.
Ohio State rushed for 56 yards en route to a touchdown on its opening possession of the game, on which TreVeyon Henderson ran for a 9-yard touchdown to cap off an eight-play, 85-yard drive.
TreVeyon Henderson is a TD machine. @TreVeyonH4 x @OhioStateFB

: @BigTenNetwork pic.twitter.com/KpNXWAeQHe

— Big Ten Football (@B1Gfootball) November 18, 2023
That would be the only touchdown of Ohio State's five first-half possessions. Jayden Fielding delivered Ohio State's next three points with a 47-yard field goal, his longest of the season, on the home team's third possession. The Buckeyes would drive inside Minnesota's 10-yard line on their next possession but ended up settling for a 26-yard Fielding field goal with 4:51 to play before halftime.
Ohio State forced Minnesota to all five of its first-half possessions as the Buckeyes held the Golden Gophers to just 90 first-half yards.
Henderson made the score 20-0 on the very first play from scrimmage of the second half as he ran for a 75-yard touchdown.
TreVeyon Henderson continues to show he is so back. @TreVeyonH4 x @OhioStateFB

: @BigTenNetwork pic.twitter.com/MdsvlGYqfd

— Big Ten Football (@B1Gfootball) November 18, 2023
The Buckeyes got the ball back just one play later when Jack Sawyer – who also had 2.5 tackles for loss in the first quarter – strip-sacked Minnesota quarterback Athan Kaliakmanis on the Golden Gophers' first offensive play of the second half. Fellow Ohio State defensive end JT Tuimoloau recovered the fumble.
BUCKEYES FORCE THE TURNOVER @OhioStateFB gets it right back! pic.twitter.com/a8Ehix3G9w

— FOX College Football (@CFBONFOX) November 18, 2023
That quickly led to another Ohio State touchdown on a 4-yard pass from Kyle McCord to Marvin Harrison Jr.
It was only a matter of time before Marvin Harrison Jr. got into the end zone, right?@MarvHarrisonJr x @OhioStateFB

: Big Ten Network pic.twitter.com/FSa29i9sPO

— Big Ten Network (@BigTenNetwork) November 18, 2023
Jordan Hancock made another takeaway on Minnesota's next possession, intercepting a Kaliakmanis pass and returning it to the 11-yard line, though the Buckeyes lost 15 yards on an unsportsmanlike conduct penalty for a group celebration. Ohio State would settle for a 32-yard Fielding field goal to make it 30-0.
Another big pick for OSU! @OhioStateFB pic.twitter.com/cFV1shNZlM

— FOX College Football (@CFBONFOX) November 18, 2023
| OHIO STATE   | METRIC |   MINNESOTA |
| --- | --- | --- |
| 434 | TOTAL YARDS | 159 |
| 215 | RUSHING YARDS | 70 |
| 35 | RUSHING ATTEMPTS | 29 |
| 6.1 | AVERAGE per RUSH | 2.4 |
| 2 | RUSHING TOUCHDOWNS | 0 |
| 219 | PASSING YARDS | 89 |
| 22-32 | COMPLETIONS–ATTEMPTS | 11-19 |
| 10.0 | AVERAGE per COMPLETION | 8.1 |
| 2 | PASSING TOUCHDOWNS | 0 |
| 23 | 1st DOWNS | 10 |
| 67 | TOTAL PLAYS | 48 |
| 6.5 | YARDS PER PLAY | 3.3 |
| 10-16 | third down conv | 3-12 |
| 5-43 | PENALTIES | 1-15 |
| 31:22 | POSSESSION | 28:38 |
A 1-yard touchdown pass from McCord to Cade Stover made it a 37-0 game with 13:43 to play in the fourth quarter.
With backups in the game for Ohio State's defense, the Buckeyes lost their shutout with 6:43 to play on a 54-yard Dragan Kesich field goal.
Henderson led the Buckeyes' offensive efforts for the day with 146 rushing yards (172 total yards from scrimmage) and two touchdowns on 15 carries (17 total touches) while Emeka Egbuka was Ohio State's top receiver with five catches for 83 yards. Sawyer was the star of the day on defense, recording a team-high six tackles with 3.5 tackles for loss.
With its six home games of 2023 now complete, only one regular-season game remains for Ohio State: The Game, which will kick off at noon next Saturday in Ann Arbor.
The Big Ten East title will be on the line as Ohio State and Michigan both bring 11-0 records into their annual rivalry game for the second year in a row.
Game Notes
21 Ohio State seniors were recognized during the pregame Senior Day ceremony: K Parker Lewis, QB Tristan Gebbia, OL Jack Forsman (retired), OL Grant Toutant (retired), QB Chad Ray, DB Andrew Moore, OL Quinton Burke, DB Cameron Kittle, OL Trey Leroux, TE Patrick Gurd, DT Jaden McKenzie, RB Miyan Williams, LB Cody Simon, LB Steele Chambers, WR Julian Fleming, S Lathan Ransom, S Josh Proctor, RG Matt Jones, WR Xavier Johnson, TE Cade Stover and LB Tommy Eichenberg
Ohio State was without three defensive starters for the game: Mike Hall, Tommy Eichenberg and Lathan Ransom. Eichenberg did not play after being listed as questionable on the pregame injury report.
With a 16-yard catch on the game's opening possession, Cade Stover surpassed 1,000 receiving yards for his Ohio State career, becoming the third tight end in school history to reach that milestone.
Matt Jones went back to the locker room before the end of the second quarter and was replaced at right guard by Enokk Vimahi for the remainder of the first half. He returned for the start of the second half.
Dallan Hayden made his third game appearance of the season.
Patrick Gurd made the first catch of his Ohio State career in the third quarter.
104,019 was the attendance for the game.
Former Ohio State players in attendance for the final home game of the season included Ryan Shazier, Anthony Gonzalez and Zach Harrison.
The Los Angeles Chargers, New Orleans Saints and New York Jets had scouts in attendance.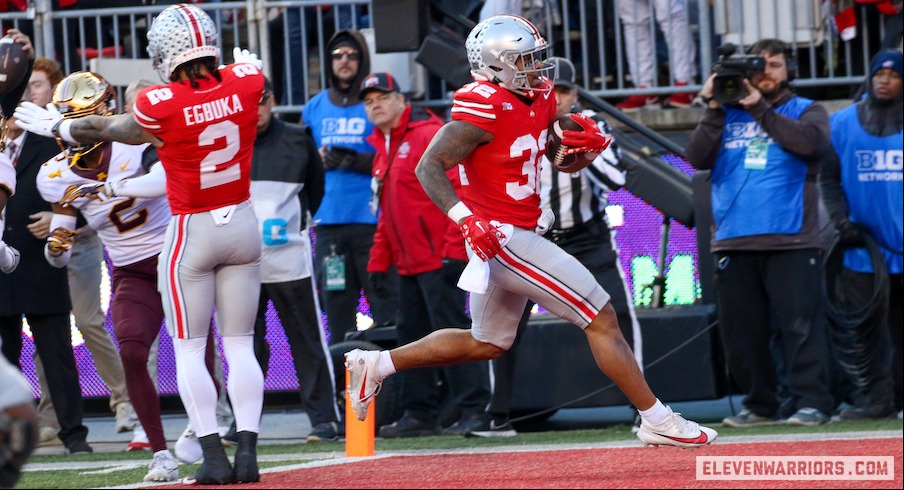 #2 Ohio State 37, Minnesota 3
Nov. 18, 2023 • Ohio Stadium • Columbus, OH