Ryan Day gave the aura of a coach with one foot in this week's contest and one foot into a much bigger contest that awaits Ohio State next week.
While Day felt the Buckeyes did a great job staying focused on Minnesota this Saturday, the page immediately turns to Michigan and the ultimate test of Ohio State's progress over the course of the season.
Day also said that Ohio State expects a full arsenal back on defense next week, including Tommy Eichenberg and Mike Hall.
On when his mind turned to Michigan: "No comment. I can't get into that. I would just say that our team did a great job staying focused this week ... everybody stayed in the moment."
On the second-half start: "We wanted to win the first five minutes, we ended up scoring 14 the first (two minutes). ... Good to see us come out like that."
On Kyle McCord's performance. "You can see when he's on rhythm ... we've got the weapons and he's got the talent. It's all built up toward this week to swing as hard as we can and play our tails off."
It was a battle to convince Tommy Eichenberg not to play against Minnesota, Day said. "It was almost a fistfight, but I won. ... This is a guy that's put so much into this program ... I just explained to him, 'There's just too much on the line moving forward.'"
Day said you can't focus on holding guys back and not going full go in a game like this before a much bigger contest next week. "You can't go in there and try not to get people hurt, it doesn't work that way."
Day admitted he should have just run it going into halftime on Ohio State's final third down of the first half, and that it's his job not to worry about what will be popular with the crowd.
On TreVeyon Henderson's touchdown run: "He's a home run hitter and the more opportunities he gets to the second level ... it's everybody's job to get him there."
Day feels the defense has took another step, but now it's time to pay off the progression. "It's all going to be tested next week."
Day said Ohio State expects to get "everybody back" on defense for Michigan, including defensive tackle Mike Hall.
On Jack Sawyer's play: "He's been playing hard, his attitude has been great. ... Good news is his best football is ahead of him. Another guy who's been putting a bunch of time in."
Dallan Hayden should be able to play extra games in the postseason, with only one game left to maintain his redshirt, Day said.
Day feels that Ohio State has established the identity it wants and now it's time to go achieve its goals, even if there's always room to improve. "We're here now."
Jim Knowles
Kyle McCord
Cody Simon
Jack Sawyer
Jordan Hancock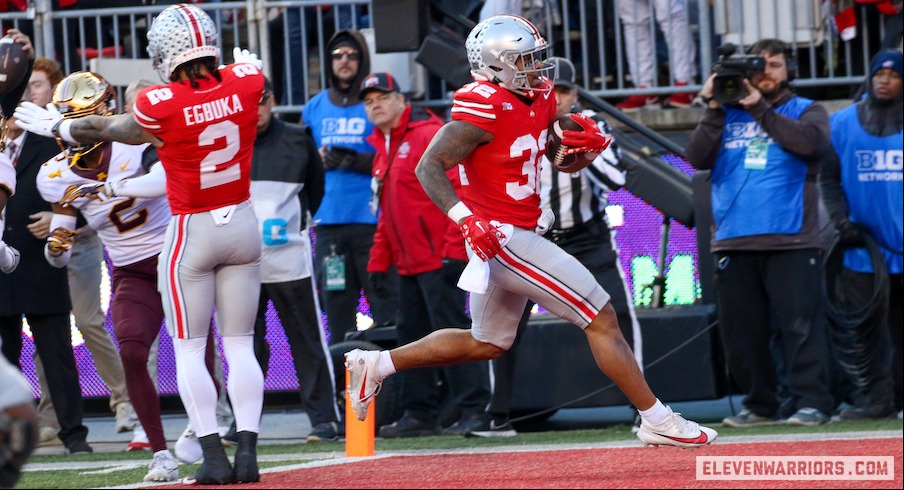 #2 Ohio State 37, Minnesota 3
Nov. 18, 2023 • Ohio Stadium • Columbus, OH