Ryan Day felt called upon to make a statement in Saturday's game against Notre Dame.
Centering around the comments of former Notre Dame head coach Lou Holtz, Ohio State's head man took to heart questions aired about the physicality and toughness of his bunch.
"In life, when people start talking and saying things about you, at some point, you've got to put your foot in the ground, and our team did that," Day said. "It was a life lesson. It was. We always say ignore the noise, but every once in a while, someone's poking at you, you've got to stand up for what you believe in. That's the way I was raised, and that's the way I'm going to be moving forward."
That's exactly what he felt his team showed by beating Notre Dame in the nature it did.
Down four points with 4:12 remaining and the Fighting Irish jogging back onto the field following a failed Buckeye fourth-down conversion, the team could have thrown in the towel and written off any chance of a victory.
Instead, the defense responded to back-to-back 11-plus-play touchdown drives it had allowed and made a stop, then Kyle McCord and the offense got the ball back and managed to crawl down the field to punch the ball in with a 1-yard scoring run with one second remaining for a 17-14 win.
"I've got a bunch of guys that I love, that I work with every single day and to hear some of the things that were said – I get Ohio against the World, but we needed to go play like that today," Day said. "We needed to win like that to go stop that narrative because it's not true. And to win like that, the way we did, I think it's going to do that. I know it is."
There was certainly a time in Saturday's game when Ohio State looked like it wouldn't dispel those narratives.
Ohio State failed to convert on both a 4th-and-goal at the 1-yard line in the first half and a failed 3rd-and-1 followed by a 4th-and-1 conversion to hand the ball back to Notre Dame in the fourth quarter.
Still, Chip Trayanum managed to plunge across the goal line from a yard away when it mattered most Saturday.
"I'm sick over those short-yardages we didn't finish, but that's the game," Day said. "The last matchup game we were in (against Georgia), we were one play short. This play we finished it the right way, and I'm really proud of our team."
Ohio State quarterback Kyle McCord echoed Day's sentiment.
"The narrative around us is that we aren't tough," McCord said. "I don't know how else you would want to draw it up: Last play of the game, top 10 opponent, no timeouts, three seconds left – either we get that yard and win, or we don't get that yard and lose. And I think that says a lot about the boys up front. I know they're tired of hearing that narrative, too. I think it's crazy how we all came together like that."
It wasn't just Holtz that got under Day's skin. It seemed a broader national narrative surrounding Ohio State's physicality got through to him.
"That's not even close to true," Day said. "We had one bad half a couple of years ago up in Ann Arbor, we did. The second half. But every game we play in, we're physical. We are. I don't know where that narrative comes from, but that ends tonight. This team right here showed toughness, they showed grit, they didn't give up and they found a way to get that last yard."
Such storylines especially befuddled Day, he noted, because of the method with which Ohio State beat Notre Dame in 2022.
Opening the season at home against the Fighting Irish, the Buckeyes beat Marcus Freeman's bunch with stout defense and a rushing attack that wore on their opponent. TreVeyon Henderson and Miyan Williams both surpassed 80 yards on the ground, averaging 6.0 yards per carry or better, the latter making a particular impact on Ohio State's 14-play, 95-yard touchdown drive in the fourth quarter that sealed a 21-10 win.
"We physically got after them last year, we did," Day said. "Put the film on. A lot of people make a lot of comments that don't watch film. Put the film on and watch what goes on."
"We always say ignore the noise, but every once in a while, someone's poking at you, you've got to stand up for what you believe in. That's the way I was raised and that's the way I'm going to be moving forward."– Ryan Day
That's what made it a necessity that Day called a straight-ahead run play when Ohio State needed a yard to win the game, he said. He felt it was the right call for the situation but also felt there was something that needed to be demonstrated from his bunch.
"Not only do we need to get that yard for this program, but I thought it was the right thing to do schematically," Day said.
Overall, the coach hopes that Ohio State fans appreciate the effort his squad put forth.
"That was a heck of a win for our team," Day said. "It was a great win for Ohio State, it's always been 'Ohio Against the World,' and it continues to be to this day. I hope everybody in Buckeye Nation enjoys that win."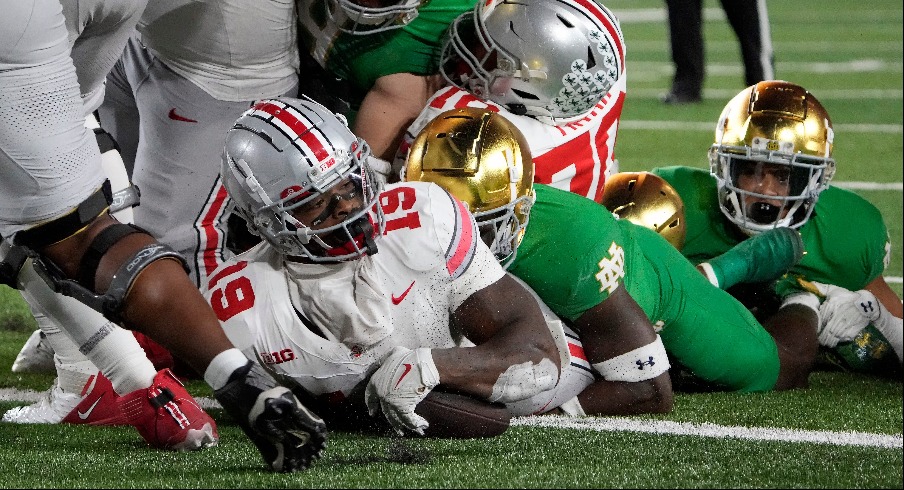 #6 Ohio State 17, #9 Notre Dame 14
Sept. 23, 2023 • Notre Dame Stadium • South Bend, IN