The turtle survives!
Not the actual turtle, it died years ago due to an acute case of "being neglected by drunken frat bozos", but thanks to the Big Ten getting rid of divisions, Ohio State's greatest football rivalry with a team from Champaign, Illinois has been miraculously revived.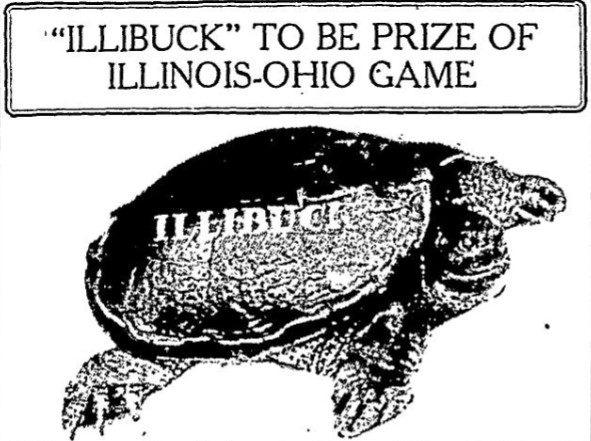 But to be resurrected, it first had to be killed. So let's start with that.
The Buckeyes and the Fighting Illini have played over 100 times in their history, and in terms of familiarity only Michigan has played Ohio State more often. Like that Michigan rivalry, there have been periods of dominance for both teams; Illinois dominated the Buckeyes as recently as the 1990's, winning 8 of 12 games (including five in a row) from 1983 through 1994. They also won the last game I saw in Ohio Stadium as a student in 2007, which makes their subsequent woes against the Buckeyes all that much sweeter to me.
Plus, I just really like the trophy. It's just great. You probably know that Illibuck was originally a live turtle, purchased from a fish dealer in Champaign in 1924 with the intent to etch the scores of each game on its back as it was passed back and forth between the winner of each game.
This is a terrible idea in large part because turtles don't wear their shells with suspenders like in Looney Tunes, it's an actual part of their bodies and digging a knife into their shells to write "ILLINOSE SUX" is now generally considered animal abuse. Plus, while being passed around from frat to frat-adjacent organizations, Illibuck mostly inhabited bathtubs and rain barrels, which is also not great for a live animal.

So it died, and was replaced with a series of wooden turtles that we all now know and love. The Buckeyes played Illinois every year from 1914 until 2003, when it was unceremoniously dumped for the (relatively) new kid on the Big Ten block: Penn State.
I say relatively because Penn State joined the Big Ten in 1990, and had played Ohio State every year since 1993. Penn State was a national powerhouse with a legendary coach, and in the 90's the split between the two teams was fairly even in terms of wins and losses. Illinois, on the other hand, had fallen off the football map; from 1995 through 1998, the Buckeyes outscored the Illini (and I swear this is true) by a score of 171-9. While the two teams continued to meet, OSU hasn't played Illinois since 2017, infuriating me personally.
So I'll grudgingly admit that if you were making up future schedules for the Big Ten and wanted to give Ohio State a second rival, Penn State was probably your best bet over a turtle-toting group of nobodies.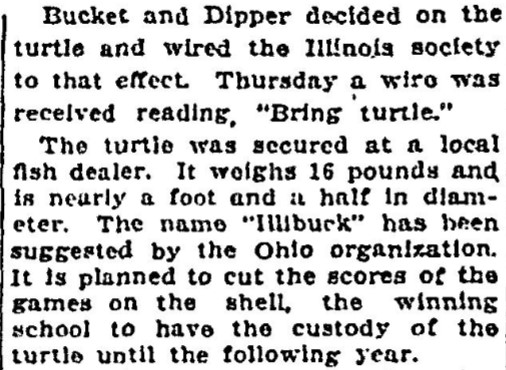 Then a funny thing happened: horrible human Joe Paterno pooped his pants on live TV. Also funny was Penn State losing to Ohio State throughout the 2000's on a consistent basis, beating the Buckeyes only five times in the past two decades and some change. Maybe Penn State wasn't the best choice for a second rival after all! Maybe the Nittany Lions are a bunch of paper tigers who never really deserved priority over the likes of literally Purdue, and maybe their giant erector set of a stadium is filled with rubes who will never see their team win a national championship ever again.
That's hyperbole, obviously. Ohio State has kicked the ass of everyone in the Big Ten for the past two decades on a consistent basis, and Penn State being on the receiving end of said ass-kicking isn't unique or particularly damning. Hell, even Wisconsin hasn't beaten the Buckeyes since 2010 (including three Big Ten Championship losses in a row). PSU remains a pretty good football program with enough talent to win against anybody in college football.
But when the Big Ten decided to go to a "Flex Protect Plus" schedule with the addition of USC and UCLA to the conference, Ohio State's not-rivalry with the Nittany Lions probably wasn't the stickiest of band-aids to rip off. OSU has exactly one protected rival that they'll play every season, Michigan, and the rest of the conference will rotate through.
Notably, Illinois will be back on the schedule in back-to-back years for the first time in almost a decade, and that means the turtle is back, baby!
In a college football world that is becoming increasingly disconnected from its past, it isn't hard to get at least a little excited about the prospect of bringing this kind of joy back to Columbus:
JT Barrett sings Carmen Ohio for the final time in Ohio Stadium cradling the Illibuck .

: @The_Photo_Queen pic.twitter.com/uopJhSEcTv

— Ohio State on BTN (@OhioStateOnBTN) November 19, 2017