Tony Alford remembers what people were saying about him when Ohio State signed Miyan Williams as its only running back in the recruiting class of 2020.
"That guy couldn't recruit."
The signing of Williams came after Ohio State had pursued a multitude of more highly ranked running backs in the class. Five-star running back Bjian Robinson was Ohio State's top target at the position, silently committing to the Buckeyes at one point before ultimately signing with Texas. Kendall Milton and Jaylan Knighton were among the four-star running backs Ohio State recruited heavily before they chose Georgia and Miami, respectively.
When Alford reflects on that recruiting cycle now, the Ohio State running backs coach acknowledges Williams wasn't the Buckeyes' first choice.
"We were on some other guys," Alford said, raising his arm upward as if pointing at the top of a board. "He was always right there, and we were always talking to him, but at the end of the day, we didn't know where it was going. And it kind of fell back into his lap a little bit."
As a result, Ohio State had ground to make up when it ultimately offered Williams during his senior season at Winton Woods High School in September 2019. Williams had been committed to Iowa State for over two months at that point, and Alford initially thought Williams was uninterested when Ohio State began trying to flip him.
"Quite frankly, I think he was pretty pissed at me. No, I know, he was pissed at me," Alford said with a laugh. "He wasn't very responsive to things that I was trying to say to him or do with him as far as calls and text messages and driving an hour and a half up here. So I was kind of going, 'Maybe he doesn't want to be recruited by us.' But it really came down to I think he might have felt that I had slighted him a little bit."
Alford's relationship with Williams grew closer, however, after Alford drove down I-71 to Winton Woods and told Williams he hadn't given him enough credit.
"I remember sitting him down in the weight room, we were sitting there, and I did, I said, 'I have to apologize to you. Whether you come to Ohio State or not, I have to clear my chest here. I have to apologize to you because I had the wrong impression of you. And I was wrong,'" Alford said. "And I hope to think that was probably a big moment in our relationship that 'Hey, I was wrong.' And as I've gotten to know him more, I saw, 'No, this kid's got something about him.' And he may not talk a lot on the onset, but he's listening and hearing everything. And he's about as respectful as a young man as you can get."
While Ohio State eventually landed Williams, he was widely viewed as a consolation prize after the Buckeyes missed out on the higher-profile prospects they had recruited before him. The only three-star running back the Buckeyes have signed as a scholarship player out of high school in the past decade, Williams – the No. 627 overall prospect in the 2020 class – was the lowest-ranked running back signee of Alford's tenure at Ohio State by more than 250 spots in the 247Sports composite rankings.
However, the first five weeks of the 2022 season have proved Williams was far more than a consolation prize.
Now a redshirt sophomore, Williams leads Ohio State with 497 rushing yards and eight touchdowns this season after rushing for 189 yards and a school-record-tying five touchdowns this past weekend against Rutgers. His 7.77 yards per carry this season is the highest average among all FBS players with at least 50 rushing attempts this year, and he currently holds the best Pro Football Focus grade (90.7) of any running back in college football.
"He's a guy that this entire program leans on and loves him." – Tony Alford on Miyan Williams
When Alford was asked Tuesday if Williams has exceeded Alford's expectations from the day Williams signed, Alford didn't answer directly, saying he never wants to put a ceiling on any player. But he said he believed Williams was a player who could make the Buckeyes better and help them win, which is exactly what he's become.
"A lot of people would have said, 'Well, he's not that highly recruited,' but we saw some things in him, obviously," Alford said. "Just some sheer raw toughness. Just the way he plays the game. He's an Ohio kid, you know, and if we can recruit Ohio players, that's what we're gonna do."
Ryan Day also believed in Williams' ability despite his lower recruiting ranking.
"We just felt like he just ran really hard," Day said. "Maybe he wasn't as highly recruited. But we just felt like we saw something in a kid from Cincinnati who ran hard. Winton Woods has a great winning tradition. They're a great program. They produce really good football players. And again, being from Ohio means a lot. And so, we wanted to always invest in Ohio guys. And so we certainly saw the talent in him, but it was mostly just the way that he was built low to the ground, his vision, his power running the ball."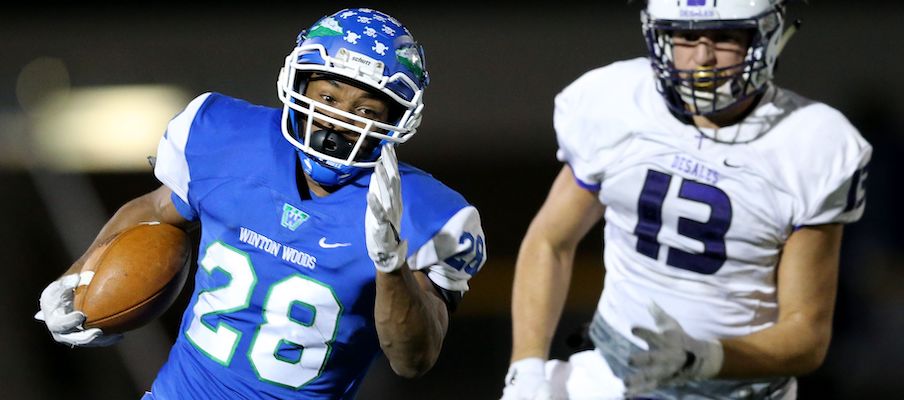 Ohio State chose to prioritize Williams over some of the other running backs it could have pursued late in the 2020 recruiting cycle because it believed it had found a gem in Williams, and the Buckeyes' faith in Williams has been rewarded through his development over the past two-plus years.
While it quickly became apparent Williams might have been an underrated recruit when he flashed in limited action as a freshman, his growth since he arrived in Columbus has enabled him to become one of the nation's best running backs. Day said in September that Williams was "ahead of where I where I thought he would be" going into his third year as a Buckeye, and Day said Tuesday he thinks "the overall awareness of what it takes to be a college football player" has led to Williams taking his game to new heights this season.
"When he first got here, you could see in that first Clemson game (in the College Football Playoff in 2020), you could see the ability, you could see the feet, you could see the quickness and the vision," Day said. "I think when you make that transition from high school to college, you think you can bounce everything and outrun everybody, and he's really learned to make those ugly three- and four-yard gains five and six, and the big plays come. And I think his vision has really improved. I think his pass protection's improved, just overall awareness of the game and football IQ."
Miyan Williams vs. Other Top Running Back Targets in 2020 Class
Player
School
Composite Ranks
2022 Rushing Stats
BIJAN ROBINSON
TEXAS
#15 OVR/#1 RB
88 carries, 513 yards, 8 TD
KENDALL MILTON
GEORGIA
#54 OVR/#7 RB
45 carries, 269 yards, 4 TD
JAHMYR GIBBS
ALABAMA*
#76 OVR/#8 RB
43 carries, 378 yards, 2 TD
JAYLAN KNIGHTON
MIAMI
#106 OVR/#10 RB
21 carries, 95 yards
BLAKE CORUM
MICHIGAN
#129 OVR/#12 RB
93 carries, 611 yards, 10 TD
TRE BRADFORD
LSU
#130 OVR/#13 RB
Left team
SAM ADAMS II
WASHINGTON
#287 OVR/#11 ATH
2 carries, 4 yards
MIYAN WILLIAMS
OHIO STATE
#627 OVR/#45 RB
64 carries, 497 yards, 8 TD
*Transfer from Georgia Tech
On top of what he's accomplishing on the football field, Day and Alford are just as proud of the growth they've seen from Williams as a person. Both of them say they've been impressed by the way Williams has persevered through adversity he has dealt with in his personal life. While they did not specify what he's dealt with off the field, Williams' grandmother died last month, leading to several tributes from the Ohio State running back on social media.
Every time you forget, ima remind you #ForGranny pic.twitter.com/GgKjhM4T5K

— Chop (@Miyannnn3) September 26, 2022
"I give Miyan a lot of credit. He's been through some different things over the last year or so. Lost some people in his life, but he's continued to work through those adverse times," Day said. "So to see him play like the way he's playing right now, going through everything he went through, and that's not something he typically puts out there, but he has been through a lot. And it's not easy for these guys when they go through different things, and I give him credit for that. And I know the guys around him and his friends have pulled for him and helped him through that."
Alford showered Williams with praise on Tuesday, saying he is "extremely, extremely proud of the young man that he's become."
"He's a guy that this entire program leans on and loves him," Alford said. "I gotta be honest, when I first met him in recruiting, I was like, 'Who the hell is this? This guy doesn't talk.' But as you get to know him, he's got the kindest, biggest heart. He cares about his teammates. He's a consummate team guy. He's fun. He's engaging. He brings so much value into the running back room just with his infectious attitude."
On the field, the lingering question now is whether Williams' performance against Rutgers – which came with TreVeyon Henderson sidelined by injury – and all year to date will lead to Williams replacing Henderson as the Buckeyes' starting running back. Neither Alford nor Day tipped their hand on that Tuesday when they were complimentary of Henderson, who has rushed for 318 yards and three touchdowns on 50 carries this season.
"He has not played poorly whatsoever," Alford said of Henderson. "He has done some really good things for this offense, and he will continue to."
Regardless of who gets the first carries of the game going forward, Alford says he views both as starters and will utilize them accordingly.
"I look at it as we have two starters. I have the whole time," Alford said. "I have not looked at and said, 'Well, you know, this guy's got to be, he gets so many more carries or this,' I just don't function that way. We have two guys that are capable of being starters here. We have two guys that are capable of playing championship-level football, we believe. And we're going to use them according to how we need to use them to help win games."
Henderson, a five-star recruit who was ranked as the No. 1 running back in the class of 2021, was always expected to be that caliber of player from the moment he arrived on campus. On the other hand, Williams has had to prove he's that caliber of player. But he's made it clear he is with the critical role he's played in helping lead Ohio State to a 5-0 start this season.
"He brings so much value to this football program, and he's a damn good football player," Alford said.