"We're guaranteed to win if 16 can't play."
That's a text I received during the 3rd quarter of the 2017 Michigan game, from a friend I've known since forever. He knew I had no tolerance for J.T. Barrett slander. I always felt Barrett's critics were misguided, especially after what he did to Penn State a month earlier.
This friend knew better. I'm at peak fragility during The Game, let alone while the toughest guy on the team and one of the program's greatest leaders is being gingerly peeled off the field by medical staff. Against Michigan. Again.
I can barely hold a conversation while the Buckeyes are playing the Wolverines, so I generally avoid having them. His text did not merit a response. He would not wait for one. My phone lit up once more.
We're undefeated with headband quarterbacks in Ann Arbor. W incoming
What is this nonsense? He must have been having a seizure. He followed that text with another that just said Tuba, which made even less sense. Seizure, confirmed. Ohio State was on the ropes, the world was ending and he was texting gibberish. And then:
Tupa*
Ah, autocorrect. Ohhhhhh, the Earle game. Tom Tupa did wear a headband that day. Everyone did.
Back in 1987 Tupa was a senior quarterback (and punter!) who had plenty of consequential football to his credit. But in 2017, Ohio State's senior quarterback was abruptly unavailable. Redshirt freshman Dwayne Haskins and redshirt sophomore Joe Burrow were OSU's two options.
We had only ever seen them play during blowouts, with the other backups. Neither had registered a single play in any game where the Buckeyes had anything less than a 30-point lead. It's still live football, but the stakes are nonexistent. They're there to get experience and protect starters from injuries.
At that moment, Ohio State was trailing Michigan by six. Its starter was already injured.
So this was the antithesis of garbage time. It was the most important moment of the most important game of the season, every season going back to an era preceding World Wars. Titanic was unbuilt. Ice cream cones did not exist. The Game transcends our own version of ancient history. It's always been our most important moment.
These moments define the program. They impact our mood for an entire year. Ohio State's football practice facility is an homage to what happens annually at that important moment.
In 139 years of football, Michigan never allowed an opposing QB more than four TD passes in a SINGLE game. IN 2018, DWAYNE Haskins threw six.
A special clock at the Woody counts down to this moment all year long. It's counting down while the facility is teeming with players and coaches, and its march to this moment continues at night when the building is empty and silent. It's counting down as you read this.
It's a moment backup quarterbacks generally experience just like the rest of us, as neurotic spectators. And I was getting texts about Tom Tupa in 2017 at that moment. The world was crumbling.
Tupa was part of a legendary moment on that same field 30 years earlier to the week, but this was grasping at straws. Sure, he wore a headband that game - and it was a notable event in program history. Haskins wore a headband all the time; this was not the same thing. We had officially entered the Denial stage of the grieving process with six minutes still remaining in the 3rd quarter.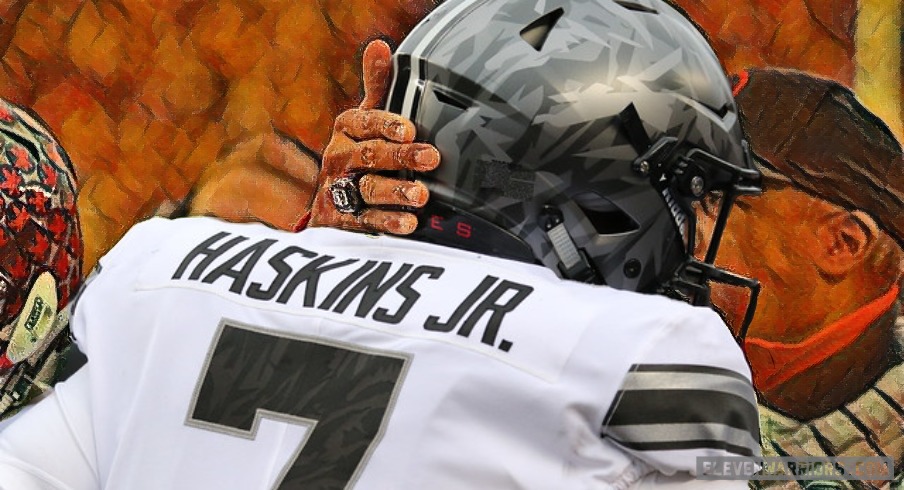 Haskins' headband disappeared beneath his helmet as he entered his first consequential college football experience, where he would participate in crisis snaps. He was seven days removed from his previous appearance in a live game. The scoreboard showed Ohio State 38, Illinois 0.
Haskins handed the ball off five times to accelerate that game's ending. On his sixth snap, he fumbled. An Illini defender scooped it up and raced 58 yards for a touchdown, ending Ohio State's Senior Day shutout.
When the Buckeyes received the subsequent kickoff, it was Barrett who re-entered the game. Haskins had officially lost his garbage time opportunity. Two Barrett encore drives later, Burrow got the call.
Haskins was given one final opportunity to not allow Illini garbage time points. He succeeded.
A week later he was entering a game with a slightly bigger challenge than hey, try not to gift the other team a touchdown again. This scoreboard showed Michigan 20, Ohio State 14. The Buckeyes had 3rd & 1 at their own 31-yard line. It was late in the 3rd quarter. And it was deafening.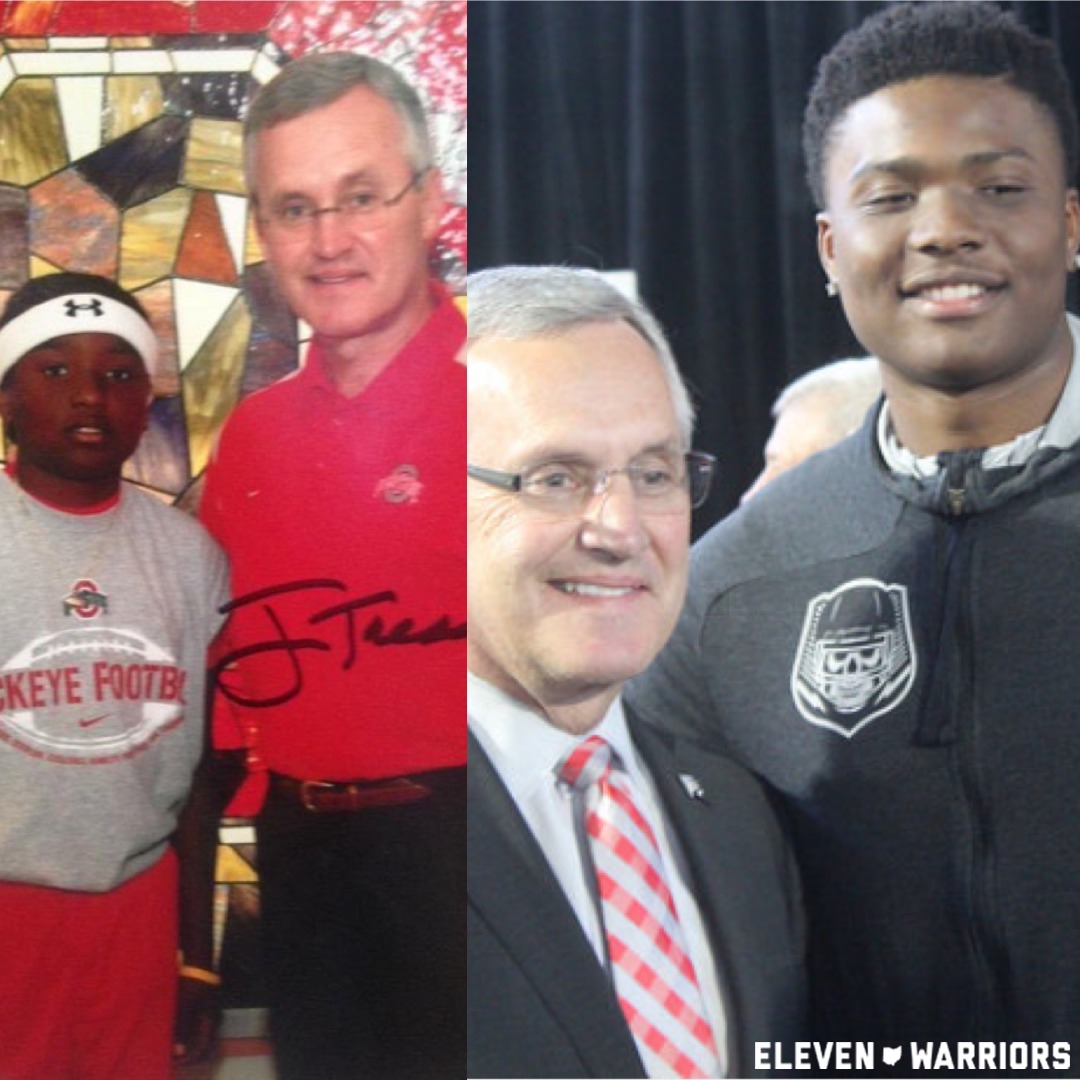 Michigan Stadium was absolutely rocking. This was unhelpful for obvious reasons, let alone for an offense that had grown up activating itself at the direction of Barrett's particular cadence and bark.
That 3rd & 1 could have degraded into 3rd & 6 without wasting any clock, as a new voice in a hostile environment shouting at offensive lineman who were rarely still on the field when he normally got into games was the disruptive kind of different. But Haskins did get the snap off, he shoved the ball into JK Dobbins' gut and four yards later my phone lit up again.
hashtag: the headband prophecy
Idiot. Michigan's defense didn't know who Haskins was, and neither did Ohio State's fans. What do you learn about a quarterback who only plays with the twos and threes against teams trailing by five touchdowns? Nothing. They're in there to waste time and get experience.
Cardale Jones appeared in seven games before eviscerating Wisconsin in the 2014 B1G championship game. And yet, we knew nothing about Cardale entering that game except for one bad tweet. After that night in Indy, it felt like we had known him forever.
That's all it takes. Be supernatural in a big game, just once. It's that easy.
Dwayne, without a bad viral tweet to his credit, was still a mystery, outside of being the guy who had given Illinois a garbage time touchdown the previous Saturday. Maybe he was the 11-year old kid from the adorable, unearthed video at the OSU practice facility to some of us.
Recruiting enthusiasts knew him as the quarterback the Buckeyes pursued and got instead of Jarrett Guarantano. He was a Maryland commit until Ohio State stole him. But outside of garbage time? A mystery. Just like most backups.
In 364 days Dwayne would rematch with Michigan as a 4.5-point underdog, which despite the shortcomings of the 2018 Buckeye defense seems comical now based on what we discovered about him. Or as my texts were calling it at that moment, the headband prophecy.
After converting that 1st down, the next five plays were designed for Dobbins. And then, that shaking stadium and unfamiliar cadence resulted in two consecutive OSU false starts, turning 3rd & 3 into 3rd & 13. It had taken a few plays for the QB voice and cadence changers to make their negative impact.
And that's when Haskins revealed his identity. We were introduced to him on 3rd & 13.
Twenty-seven yards, down six with the game slipping away after consecutive false starts while the stadium was shaking. Two plays later, he reached the Michigan one-yard line off a 22-yard scramble.
Dobbins punched it in a play after that, and Ohio State had taken its first lead of the game while Barrett was on the sideline still struggling to put pressure on his injured leg. I decided to test my fragility and send my first text of the afternoon.
it's not the headband
The Buckeyes would complete the comeback and win 31-20, sparked by Haskins being forced into playing consequential football for the first time. He wouldn't see the field again in 2017, as Barrett returned to lead wins in both the B1G title game and Cotton Bowl.
But Ann Arbor had been more than a glimpse. It served as the encapsulation of who Haskins would forever be to Buckeye fans. A season later, he became the seventh quarterback in NCAA history to throw for over 4,000 yards and 50 touchdowns in the same season.
Dwayne would be Ohio State's Male Athlete of the Year and the B1G's most valuable player in 2018. He would make his first start that September and throw for over 300 yards with five touchdown passes in slightly less than three quarters of work, which turned out to be The Usual.
Haskins proceeded to blast Ohio State's single season passing records into archaic little fragments, putting on weekly aerial displays that made the decades which had preceded his time in Ohio Stadium look like a different sport.
When Haskins got the Wolverines again - this time, at home and with the type of consequential experience playing behind Barrett had rarely provided him - he humiliated the number one defense in the country for four hours.
This time Michigan knew exactly who Dwayne was. They were pissed off about their previous meeting. They knew what he had done to them coming in cold a year earlier, on their field and without any consequential game experience to his credit. This time, they had actual film to study.
Michigan wanted revenge for 2017, and it was not shy about it.
And yet, that afternoon the Wolverines were humbled like they had never been humbled before in 139 years of playing organized football. Prior to that Saturday, no Michigan team had ever allowed an opposing quarterback to throw more than four touchdown passes in a single game.
In 2018, Haskins threw six. Only coaching decisions preventing him from having eight.
A week later, he pasted Northwestern's defense for 499 passing yards, topping the previous high against the Wildcat defense that season by over 150. A month later he was the Rose Bowl MVP.
We had long known who Dwayne was by then. We were sure of what he would become. Nothing was impossible. The only version of him we had ever seen was simultaneously supernatural and The Usual.
Haskins WOULD START only 14 games, COMPLETING his Ohio State career with 28 school records. HE AVERAGED two broken records per start.
He was one year from winning his first NFL start. Three years from the abrupt realization he had taken his own success for granted. Four years from turning the page, hitting the reset button and starting fresh in Pittsburgh.
Less than five years from a candlelight vigil in his memory. Immortal at 20. Gone at 24.
The days following his death have led grieving Buckeye fans to re-examine the radical transformation of their beloved football program, which took place over the 14 games where Haskins was its starting quarterback. It's a blip in time that had been taken for granted.
Do you know how long it took for Ohio State fans to take Haskins for granted? It wasn't 2018. It didn't abruptly happen after he passed away. It took one drive. He was still in Ann Arbor and the Buckeyes had that one-point lead.
This is how we're wired; the consequence of being told for as long as most of us can remember you better enjoy this era of Ohio State football because it won't last forever.
We expect and demand greatness, always - it doesn't matter if you're up 38 in garbage time and facing Illinois on Senior Day or in Ann Arbor clinging to a one-point lead. Barely six minutes had peeled off the game clock since Haskins' 3rd down conversion to Mack.
He was now the guy. Barrett wasn't returning. No one was handicapping the standard for Dwayne.
Ohio State was faced with 3rd & 4 at its own 43 with everything still undecided. Haskins now had exactly two consequential passing attempts on his college resumé, both from the previous drive. The home team was still looking to win a game it had commanded for the majority of the afternoon.
Twenty-nine yards. Dwayne found the only open guy on the field and hit him in stride. After the Mack completion we just sort of expected 3rd down conversions like this from him. Text incoming:
what did I tell you about the headband? Please remind me.
Ohio State's coaches understandably put the heavy lifting on Dobbins' seasoned shoulders when Haskins was thrust into the game, but moments later they leaned on a guy with one non-garbage time completion in his life to extend a critical drive in a rivalry game. They didn't handicap their standard either. Ohio State fans and coaches: righteously aligned.
This was part of a blur which began the moment Barrett was helped off the field in Ann Arbor, up until Dwayne was smiling on the dais in Pasadena with a long-stemmed rose hanging out of his mouth. He started only 14 games, completing his Ohio State career with 28 school records.
Let's distill that for purity: Dwayne Haskins averaged two broken records per start.
When Ohio State faced Michigan in 2017, the Buckeyes' drive chart began like this: Punt, Punt, Touchdown, Touchdown, Punt, Punt, Punt. Barrett was then injured on a 10-yard scramble during the eight drive, which forced Haskins into the game.
Their drive chart ended with Touchdown, Field Goal, Missed Field Goal, Touchdown. I still have no tolerance for J.T. Barrett slander and will always believe his critics were misguided. He operated under three QB coaches, and prior to Brian Hartline's WR room transformation. The locker room was a reflection of his leadership for years. This is when I pause and awkwardly mutter...but.
That Saturday in Ann Arbor, Ohio State stopped punting when Haskins entered the game.
The Buckeyes would not punt on any drive where Haskins was the quarterback for three games, a streak that ended during a 52-3 win over Rutgers the following season. And Ohio State would need a savior leading its offense like never before in 2018, fielding a defense that would surrender over 30 points on five different occasions.
A traditional Buckeye quarterback would not have been able to overcome that type of deficit. How many Ohio State quarterbacks had led eight touchdown drives against Michigan in one afternoon? The answer was one - Dwayne.
How many Ohio State quarterbacks could produce a 13-1 championship season that ended in Pasadena while carrying a defense that had a 7-5 ceiling? This is a matter of opinion - very few. Dwayne pulled it off the season after he bailed out the Buckeyes in Ann Arbor.
As that game drew to a euphoric close, my phone became more active with other peers who wisely choose to avoid conversations during The Game. The one conversation I had engaged in from the moment Barrett went down came to its rightful conclusion, and the joy of Ohio State beating Michigan finally allowed me to relish it.
what did I tell you about the headband? 2-0. Tell me I was right. SAY IT
I couldn't give him the satisfaction. Dwayne didn't immortalize himself in Ohio State-Michigan history with a headband. No one was crediting what he was wearing when he did it again the following season. It was clear in that moment he was made for that moment.
In 1987 the headband had been a symbol of solidarity. Thirty years later it meant nothing.
SAY IT
He wasn't going to leave it alone, and I was never going to sign up for the headband prophecy so I was forced to counter. It looks like a headband on television. It's actually a halo.
And that was how we left it. Thank you, Dwayne. You'll be cherished and missed forever.